A Serene Hideaway Weekend
What's the ultimate antidote to the stress of modern living? Slow you down! It's a Norfolk saying and excellent mantra for a life well lived. Green and blue spaces are proven to boost your mood so de-stress with an idyllic autumn retreat in Norfolk. Try a tranquil boatyard glamping pod in the Norfolk Broads, where golden light burnishes wildlife-rich waterways, a wonderland to explore on foot and by kayak. Or be held by Mother Nature in a healing tree bath at Cozy Nook where fabulous therapies will free your mind and recharge your batteries. Dreamy!
Day 1
Build stamina, improve your core and upper body strength, pump up the cardio, reduce stress, top up your Vitamin D and then go to the pub. Sounds perfect, right?
Three Rivers Pitch and Paddle gives you a new opportunity to get out on the water in October and March with paddling tips from an experienced local guide. Hop into either a canoe or kayak and learn new skills or build up your confidence as you explore the River Waveney, gracefully winding through the stunning Broads National Park and pretty countryside near the picturesque village of Geldeston in Norfolk.
Breathe in the beauty of the tree lined riverside as your guide tells you about the landscape and wildlife. At this peaceful time of year on the quiet river, you're more likely to see Little Grebes, Herons, Cormorants, Red Kite, Shrike, and Cetti's Warbler and maybe even a splashing otter!
These sociable tours are designed for small groups of people who'd like a few tips on making the most of their paddling. Book with friends or make new ones! You'll get stuck in for around 45 to 60 minutes, then stop at community owned The Locks Inn for a welcome drink (not included in price) before heading back to the Three Rivers. The Locks pub garden is a gorgeous scenic riverside spot, lovely on a golden autumn day or when early spring awakens before the crowds of summer nab all the tables!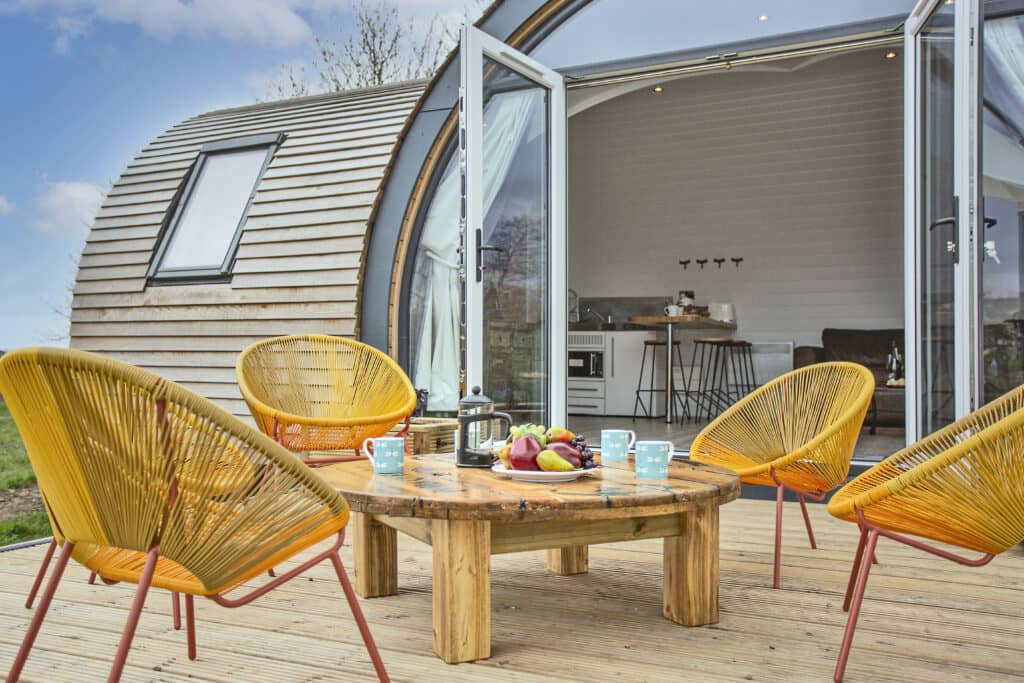 Messing about on the river is magical if you have the water all to yourself. When the busy summer season shifts to golden autumn snuggle into a tranquil heated hideaway by the beautiful River Waveney. Secret Garden is a new land-based glamping pod at Hippersons Boatyard, a unique award-winning holiday destination of quirky houseboats at Beccles in the Broads National Park.
It's self catering, but there's no need to lift a finger because Beccles Station Café will bring a scrumptious Norfolk breakfast straight to your deck. You'll also love tucking into delectable local treats delivered in winter hamper tailored to your tastes.
This special 2-night package includes a stunning guided walk led by your host Mary Sparrow, who knows this watery wonderland inside out. Pull on your boots for a gentle 45 minute stroll, where she'll point out wildlife, often more visible in colder months. If you fancy more challenging terrain, strike out for an invigorating 2 hour hike to get cheeks rosy and appetites up. It's a five minute walk to Oakfired Pizza at the cosy Royal Oak pub. Award-winning specialists in True Neapolitan Pizza, they do take-aways if you'd rather head back and wrap up on deck, surrounded the river sounds at dusk, idyllic for a romantic getaway.
If you stay in October, book an optional 2-hour Kayak or Canoe guided tour to explore the river's bewitching waterscape at this most captivating time of year.
Day 2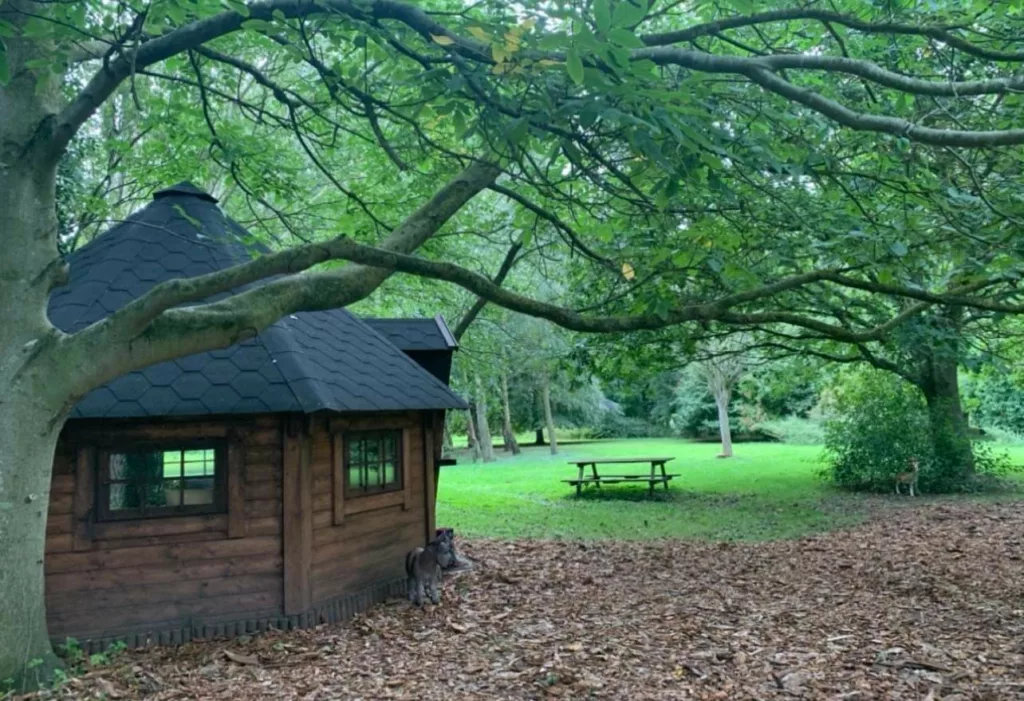 Tucked amongst the trees in an enchanting 3 acre woodland meadow is 'Cozy Nook', a serene and spiritual haven where the air is bewitched by birdsong and whispering wind. Here, Mother Earth cradles you in tranquil bluebell woods, Feel taut emotions, stress and anxiety melt away, as you're held by the healing power of a tree bath. Sit quietly on the rocking chair in the magical circle of silver birches, becoming aware of the sounds and scents around you, woody, green and fresh. Listen to the steady rhythm of your breath and heart beat as you find your peace in the natural world.
There's also a thinking chair for two. Give each other much needed time to focus on what matters most. No wonder this place attracts musicians and artists, romantic proposals and honeymoon couples. This unique adults-only glamping accommodation is snug as a Hobbit's home, with total privacy and various relaxing therapies available during your stay. Try reflexology, chakra healing, meditation, spiritual readings, craft and art therapy counselling, weight loss or menopause advice. This delightful little sanctuary is a place to heal, convalesce and rediscover the person you want to be.
And at the end of a long, luxurious day, there's nothing better than pouring a glass of wine, cooking a feast on the BBQ and toasting marshmallows over a cosy fire pit. Above you are millions of stars and maybe the hauntingly beautiful Barn Owl, flying into the mystic. Such stuff as dreams are made on.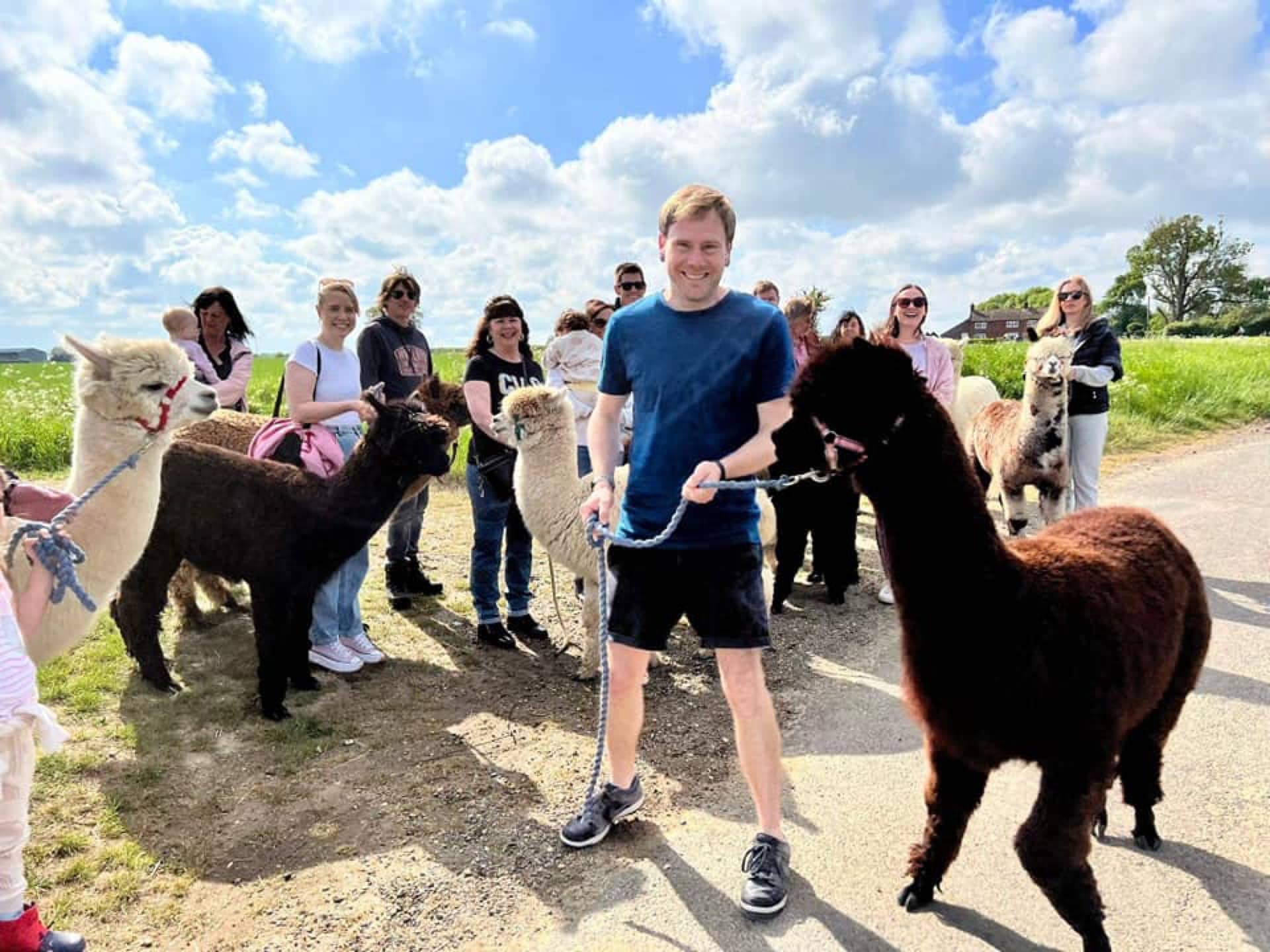 Did you know that you can take a walk with alpacas? Animal lover wanting a bit of extra alpaca contact? The Stubbs Farm alpaca walk experience is the perfect treat for you! You'll have the full Meet and Greet experience, stroking, feeding and learning about the alpacas, PLUS your group will get to take a super friendly alpaca each around the farm for a 30-40 minute walk. It is a great way to have some one-on-one time with individual alpacas – they all have their own distinct personalities! And a gentle hike with alpacas is relaxing, these characterful creatures are such good-natured company. You'll have a relaxing stroll in the Norfolk countryside and a fantastic opportunity for some stand out selfies with your floofy friends!
Cousins to llamas, guanacos, vicuñas, and camels, alpacas are hardy animals, native to the mountains of South America. It's thought that over 6,000 years ago the Incas farmed them for their silky fleece. Today you can buy beautifully soft natural yarn, grown by the very alpacas you'll meet at Stubbs Farm's own shop on Etsy. And because it lacks lanolin, it's hypoallergenic and more breathable than sheep's wool – perfect for your thermal knits!
Weekends get very busy, so book well in advance. Private experiences are available too. And Alpaca experience vouchers make an delightfully memorable Norfolk activity gift. The alpaca team at Stubbs Farm can't wait for you to fall in love with alpacas too and see what all the fuss is about!
If you fancy creating your own itinerary for a day trip to Norfolk or a longer visit, it couldn't be simpler. Just go to Search Activities and select from our wide range of free and paid-for experiences, saving any that capture your imagination with the click of a button.
Once you've finished, you'll find all the information stored in My Favourite, where you can drag and drop activities to create your own day-by-day itinerary! You can download this to a calendar and even share it with friends.