Trying new things brings incredible benefits, from improved mood and memory to boosting self-confidence and simply having fun! So we've found four life-enhancing all-season experiences for a hit of dopamine (nature's feel good chemical). Choose one or do all four! Get close to majestic owls, with their mysterious, expressive faces, then spend an afternoon at Norwich Castle Museum exploring cabinets of stunningly beautiful Victorian butterflies collected by an indomitable Victorian female adventurer. Solve a thrilling escape game underneath the city streets and craft a unique recycled paper portrait of a place you love – like Norwich for instance!
Day 1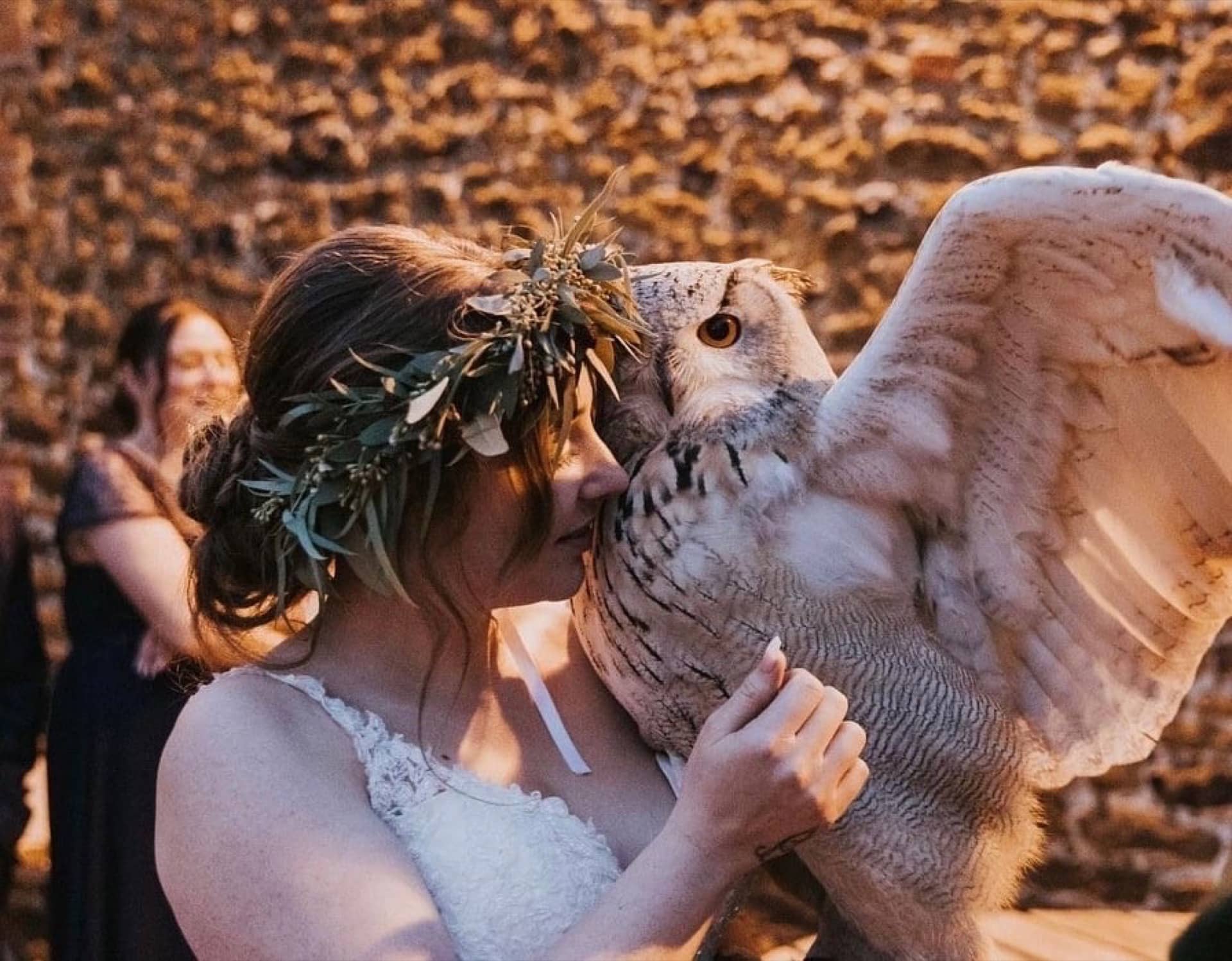 Meet a member of parliament in your own home! A 'parliament' is the collective term for owls and Norfolk Owls have a precious collection of these magnificent birds of prey. They'll bring the owls to your chosen destination for a unique interactive owl handling experience. Richard will arrive with 8 or more owls and talk you through how to hold the birds safely so you can learn whilst interacting with some of the world's most mysterious and beautiful birds. You'll meet owls native to the UK and other countries. Several are found in Norfolk, and these are normally included in the session. You'll discover how they behave in the wild and where to see owls in their natural environment.
Norfolk Owls is a local business. Bird waste is composted for local land and the owl pellets are used to teach children in schools. Feathers from moulting owls are sold to the creative industries, including costume makers and milliners. And the owls are often hired to help with pest control by farmers working in harmony with nature. The owls often visit local schools and care homes, so the team is used to working with people who have have particular physical and sensory needs. And because the owls come to you, the experience is fully accessible all year round. Price varies as the whole experience is specially tailored as you wish. The perfect 'Owl Service'!
Gift vouchers are available – a wonderful surprise for owl and nature lovers, witches and Harry Potter fans!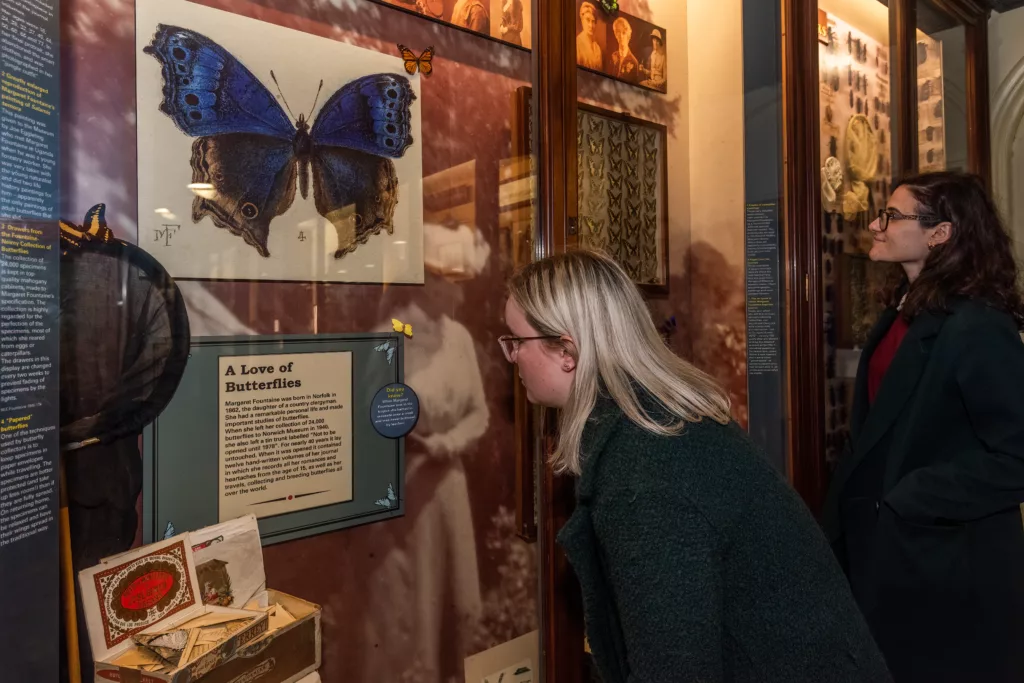 Free spirited Victorian adventurer Margaret Fountaine gave an extraordinary legacy to the Castle Museum in Norwich. On her death in 1940, cabinets of more than 22,000 butterflies were donated to the Museum but the astounding collection came with a condition. The Museum must also accept a sealed black metal box which could not be opened until 15th April 1978. When the box was at last unlocked, inside were twelve thick diaries of over a million words, photographs, pressed flowers, postcards and letters full of colourful detail about Margaret's travels across the globe. She took her butterfly net to sixty countries during fifty years of questing for rare species, often travelling by bicycle, the trusty transport of early female liberation. Begun on her 16th birthday, her diary was kept faithfully until her death, reputedly of a heart attack on a mountain path near Port of Spain in Trinidad, butterfly net in hand.
Her candid memoir records the unconventional life and loves of an independent-minded woman, a pioneer of citizen science. From Turkey to Tibet, Syria to South Africa, she roamed the world often with a male companion, Khalil Neimy, who was 15 years younger than Margaret, and married but not to her. Romantic and courageous, she lived on her own terms, acknowledged by Rosie's Plaques, a guerrilla art project celebrating the radical women of Norfolk. A permanent double case in the Castle Museum's Natural History gallery displays her lifelong work.
Day 2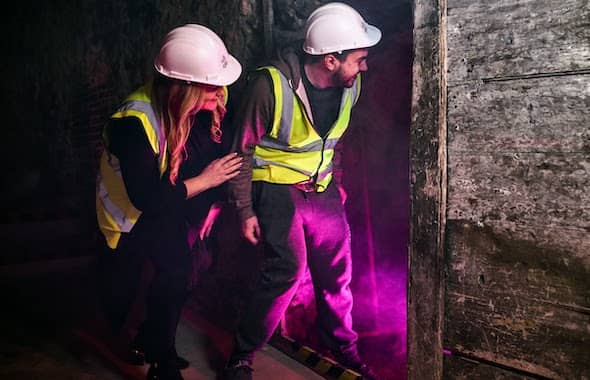 There are dangers lurking beneath the Fine City. Will you be able to escape?
Discover a secret part of Norwich in this thrilling underground escape game beneath The Shoebox. In the shadow of Norwich Castle, Herbert the City Historian was secretly excavating a medieval street hidden below Castle Meadow. Intrigued by tales of secret tunnels, he's hot on the trail of the legendary lost king of the Angles and his treasure trove burial site. Now he's disappeared, leaving only clues about Norwich's subterranean history. But the tunnels are starting to cave in! Are you brave enough to head underground and rescue our hapless historian before the walls collapse and your air runs out?
Don't worry! We'll keep you safe and there's plenty of space to move around. But strictly no photos allowed! After all, some secrets should never see the light of day…
Your team has exclusive use of the game and on arrival your mission will be made clear by our friendly Gamemaster. You'll have a fun hour of immersive gameplay in the hidden medieval street, working together to solve puzzles and unlock clues, while learning a few things about the historic location.
Suitable for families with children aged 10 and up and no upper age limit! There's nothing physically demanding but there are a few steps, so you'll need good general health. And if the excitement gets too much, there's somewhere to sit down if you need to! After all, even Indiana Jones gets tired. Good luck!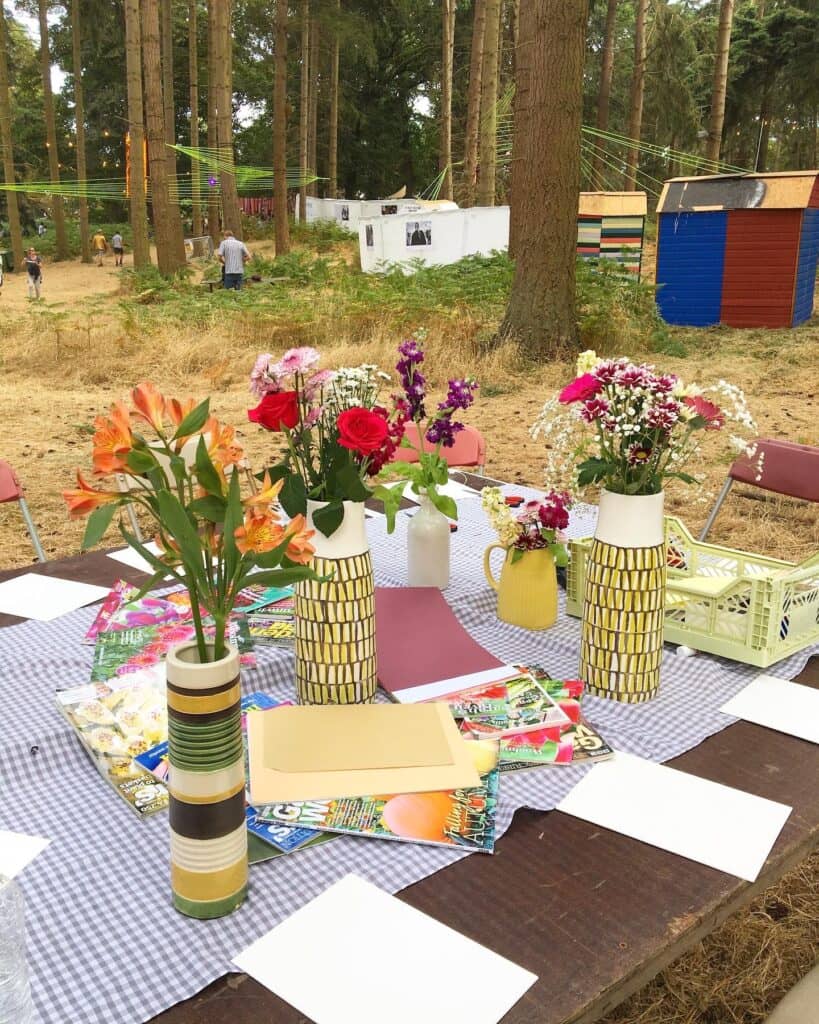 Do you have a beautiful home or favourite building? Craft a unique portrait evoking the place you love by joining Caitlín in Norwich for a fun, relaxing and creative afternoon making your own piece of original collage art. Caitlín will guide you through the process of creating your own artwork from 100% discarded paper such as old magazines, advertising and junk mail. You'll learn how to recycle single-use material that would otherwise be thrown away and make something beautiful and entirely personal.
Different collage workshops are available, including Architectural Portraits (portraits of houses or historic Norwich buildings), Paper Bouquets and Christmas Wreath Collages. The options are continually growing! The idea is for everyone to walk away inspired by having experimented with a new skill and with a personal artwork to be proud of.
All materials are provided and the workshops are suitable for complete beginners. Tea, coffee and cake are included – all artists need to keep up creative energy! The workshops are available all year round but make an excellent indoor winter activity and they're a lovely way to create your own Christmas gifts.
Book with friends or come along on your own. You'll meet like-minded people and the atmosphere is friendly, casual and relaxing so there's no need to worry. Being absorbed by a hands-on, unusual project is a welcome break from social media and life's busy whirl. And it's a hugely enjoyable way to make the most of a rainy autumn or winter afternoon.
If you fancy creating your own itinerary for a day trip to Norfolk or a longer visit, it couldn't be simpler. Just go to Search Activities and select from our wide range of free and paid-for experiences, saving any that capture your imagination with the click of a button.
Once you've finished, you'll find all the information stored in My Favourite, where you can drag and drop activities to create your own day-by-day itinerary! You can download this to a calendar and even share it with friends.