Smugglers Trail: A Route in Beer, Gin & Whiskey Part 3
The Norfolk Broads is a watery maze. Uniquely beautiful…and full of secrets. Before the days of pleasure boats, criminal gangs silently navigated these narrow channels through reed and willow. The smugglers' code warned of lurking revenue men. At the signal outlaws vanished like ghosts in mist, their contraband disappearing until the all clear. Today you don't need to smuggle booze under cover of night because some of the UK's best beer is brewed right here alongside these peaceful waterways. Tour a brewery, tuck into good Norfolk grub and settle down to sample the excellent local ales, all deliciously legit!
Day 1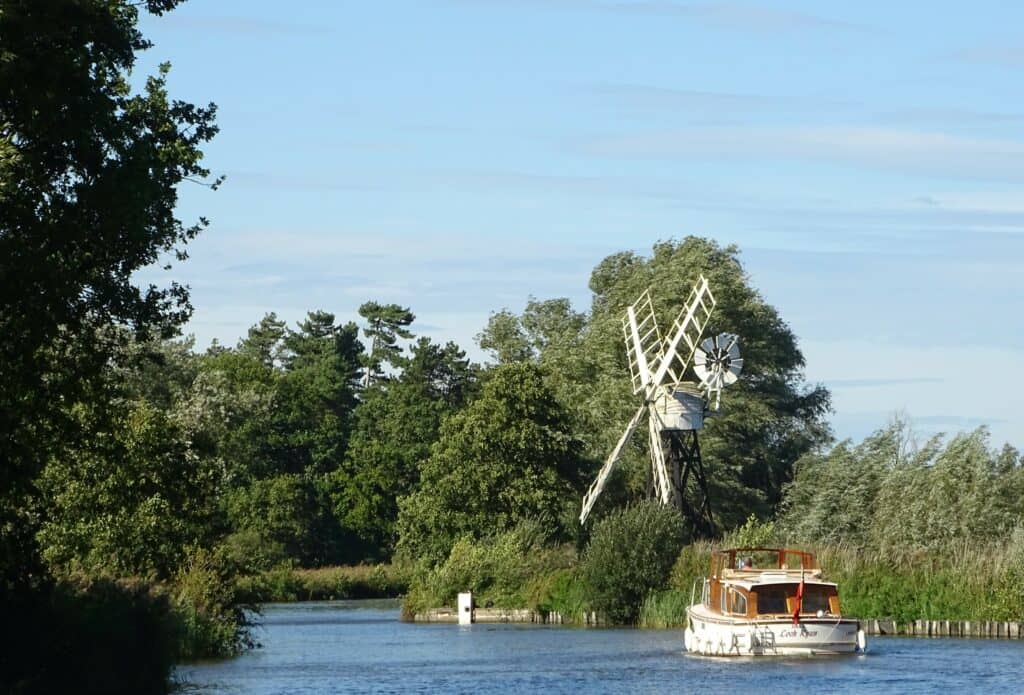 In the 1700s, rich and poor alike hated the government's Customs and Excise surcharges on goods like brandy, wine, tea, gin, tobacco, lace and silk. In east Norfolk the intricate waterways of the Broads became illegal channels for avoiding import duties. But smuggling gangs didn't work alone.
Studded with graceful windmill sails, Norfolk's narrow dykes, rivers and seedbeds were known only to locals. If customs men were on their way, bargemen, mill owners and marsh men raised the alarm using a special Norfolk Broads code. If the nearest mill was turning, the sails were briefly stopped, positioned at St Stephens diagonal cross. Once the next mill responded by doing the same, the first mill continued turning and so on, in a chain which, it's said, could pass a message from Great Yarmouth to Horsey in a mere quarter of an hour. If there was no wind, a boy climbed the sail and pushed it to the coded position. Even with the fastest horses, customs men could not compete. When danger had passed, the sails were set to St George (square) – the all clear. If a wherryman saw the sails stop, he'd swiftly submerge tubs of contraband, marking the spot with a discreet reed float.
So now you're in on the Smugglers' Code, just like those who once frequented the inns of the Broads. When you order a gin in a riverside pub, ask yourself, if someone offered you a chance to pay less tax, would you take it?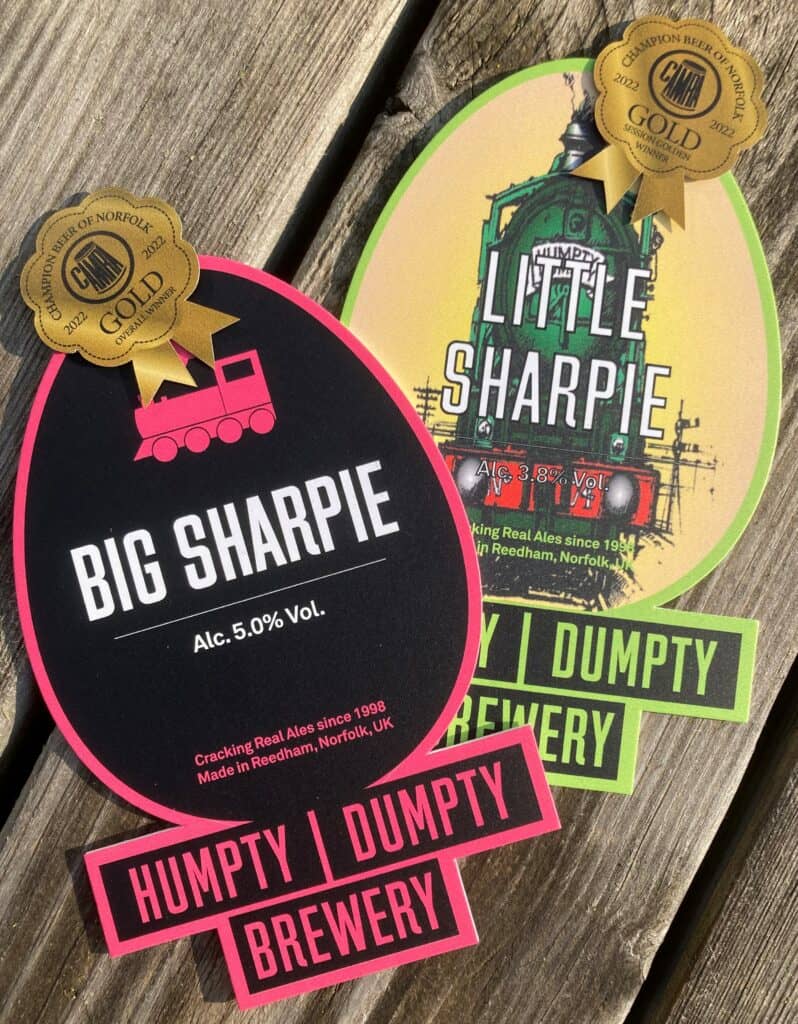 This Humpty Dumpty never sat on a wall and the name is nothing to do with the nursery rhyme! It's a friendly multi-award winning microbrewery at pretty Reedham in the heart of the Norfolk Broads National Park, delivering cask and bottled real ales to pubs and venues across East Anglia. The 11 barrel brewplant, produces a wide range of award-wining real ales and very fine locally brewed Broadland beers. This is a chance to visit the brewery, try a few beers & source delicious local produce. Learn how the champion beers are made & how the different Humpty Dumpty brands are developed, many created in collaboration. And find out how a heritage train gave the brewery it's name!
If you're looking for foodie presents or gifts for beer lovers, browse the brewery shop, stocked with lots of East Anglian produce from brilliant local independents. It's great way to support several local businesses at once, as Humpty Dumpty sources materials locally as possible, employs local people and sends their spent grain to local farms as feed for cattle. You'll find their Humpty Dumpty's range of bottled beers and tasty ciders, gins, wines, cookies, honeys, preserves, hot chilli sauces and lovely fresh local eggs. You can grab a pint or takeout jug too. Look out for guest ales from other East Anglian breweries and delectable seasonal specials. Humpty Dumpty loves autumn, as September is hop harvesting time. And ends with UK-toberfest, Oktoberfest with a British twist!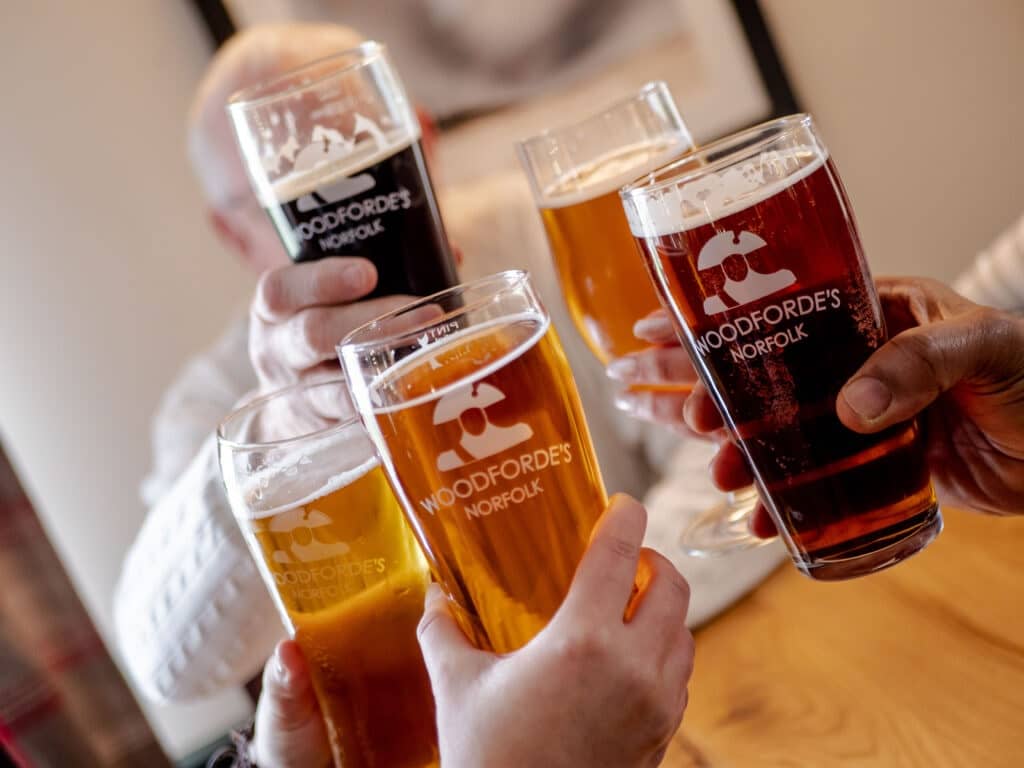 Named after Parson James Woodforde, a jolly 18th century clergyman whose lively diaries celebrate his love of good food and great beer, Woodforde's have been brewing award-winning beers for over four decades. And you'll taste Norfolk pride and passion in every single drop. So what makes traditional ales like Wherry and Nog distinct from the modern beers developed by Woodforde's Head Brewer, such as Conquest Imperial Lager & Voltage IPA? Find out from the experts on a tour of the brewery itself.
In the heart of the Norfolk Broads, you'll explore the fascinating world of local brewing, learn about the brewery's history and find out why Woodforde's beer has Norfolk written into its soul. You'll be considered a trainee brewer and see the beer being made from the best locally grown malt and whole hop flowers. Discover each stage of the brewing process and learn how the Head Brewer makes sure every beer leaving the brewery meets top notch quality standards.
Then you'll get to the best bit…tasting! Woodforde's have their very own brewery tap, The Fur & Feather Inn, just metres away with the full range of beers and the best tasting Woodforde's around.
After the tour, perhaps book a table in the restaurant where the chefs use fresh, seasonal ingredients to create flavours complementing Woodforde's very special local brews. Everyone tucking into a Fur & Feathers meal will have a 10% discount in the brewery shop, perfect for treating yourself to Woodforde's memorabilia and take-home beers.
In the interest of safety and child protection, we are sorry to inform that we are unable to accept under 18s on our brewery tours.
Day 2
Build stamina, improve your core and upper body strength, pump up the cardio, reduce stress, top up your Vitamin D and then go to the pub. Sounds perfect, right?
Three Rivers Pitch and Paddle gives you a new opportunity to get out on the water in October and March with paddling tips from an experienced local guide. Hop into either a canoe or kayak and learn new skills or build up your confidence as you explore the River Waveney, gracefully winding through the stunning Broads National Park and pretty countryside near the picturesque village of Geldeston in Norfolk.
Breathe in the beauty of the tree lined riverside as your guide tells you about the landscape and wildlife. At this peaceful time of year on the quiet river, you're more likely to see Little Grebes, Herons, Cormorants, Red Kite, Shrike, and Cetti's Warbler and maybe even a splashing otter!
These sociable tours are designed for small groups of people who'd like a few tips on making the most of their paddling. Book with friends or make new ones! You'll get stuck in for around 45 to 60 minutes, then stop at community owned The Locks Inn for a welcome drink (not included in price) before heading back to the Three Rivers. The Locks pub garden is a gorgeous scenic riverside spot, lovely on a golden autumn day or when early spring awakens before the crowds of summer nab all the tables!
If you fancy creating your own itinerary for a day trip to Norfolk or a longer visit, it couldn't be simpler. Just go to Search Activities and select from our wide range of free and paid-for experiences, saving any that capture your imagination with the click of a button.
Once you've finished, you'll find all the information stored in My Favourite, where you can drag and drop activities to create your own day-by-day itinerary! You can download this to a calendar and even share it with friends.