Peddars Way: Procession and Protection
Most Roman roads cut straight across country, an efficient expression of conquering power. Many are vanished into the landscape but some became long-distance foot paths, like ancient Peddars Way in Norfolk ('peddar' from Latin for 'on foot'). Historically it was known as a procession way, travelled by pilgrims and kings. This itinerary begins at the Norman fortifications of Castle Acre, ending at windswept Holme beach, where 'Seahenge', an enigmatic wooden circle lay hidden for millennia, since long before the first Romans arrived. See it at Lynn Museum. Thus Roman roads march on through time, a direct route into the past.
Day 1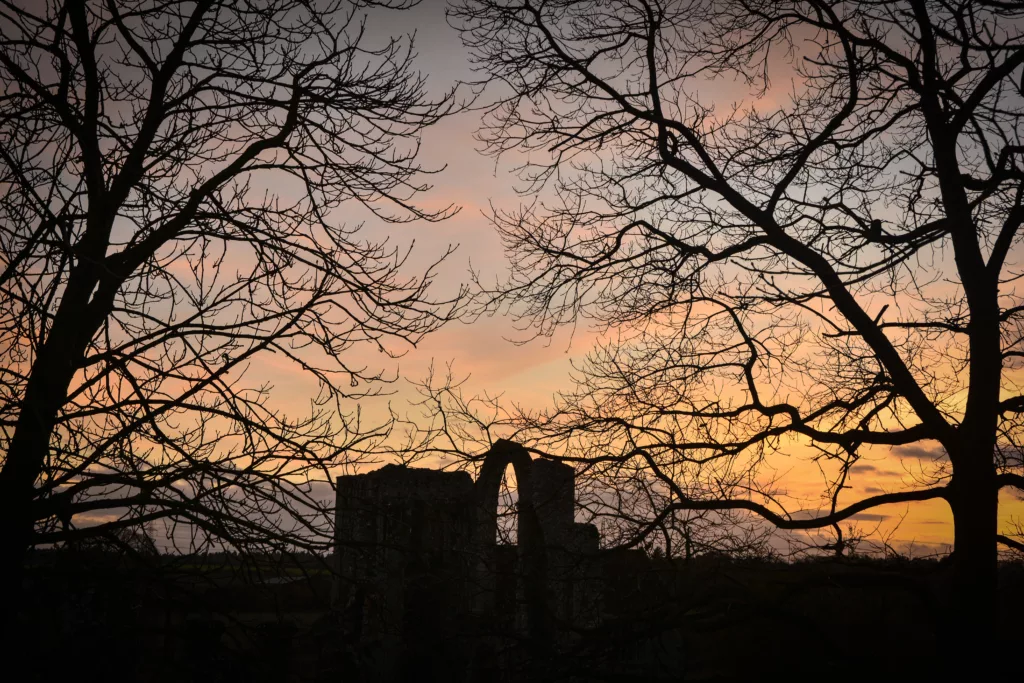 The village of Castle Acre overlooks the ancient Peddars Way where it crosses the River Nar. This idyllic chalk river valley holds an extraordinary wealth of history. Walk down sunken hedge lined lanes, across grazing marshes and along the river to discover a remarkable example of town planning, Norman style. The complete survival of a fortified Norman settlement is rare, but that's what you'll find at Castle Acre. It includes a castle (of course!), a parish church and one of the best-preserved monastic sites in Britain.
As well as historical gems, Castle Acre has natural treasure to explore. Chalk rivers are habitats of international importance and these winding upper stretches of the beautiful River Nar seem largely to have escaped the historic human compulsion to straighten everything in sight! Here crystal-clear water flows over gleaming stones, around gnarled roots. You might glimpse a trout peering up from shallow water or see an otter, though you'll need to be patient and wait quietly.
By now you'll be so relaxed it'd be a shame to leave. So settle in for the night and book a room at The Ostrich, a cosy 16th century inn on Stocks Green right in the middle of the village. The local food, great drinks menu and friendly welcome are exceptional.
Before you leave the area, fancy taking home a Castle Acre speciality? Head to nearby Swaffham for a Castle Acre sausage, made to a top secret heritage recipe by the local butcher. It's a banger!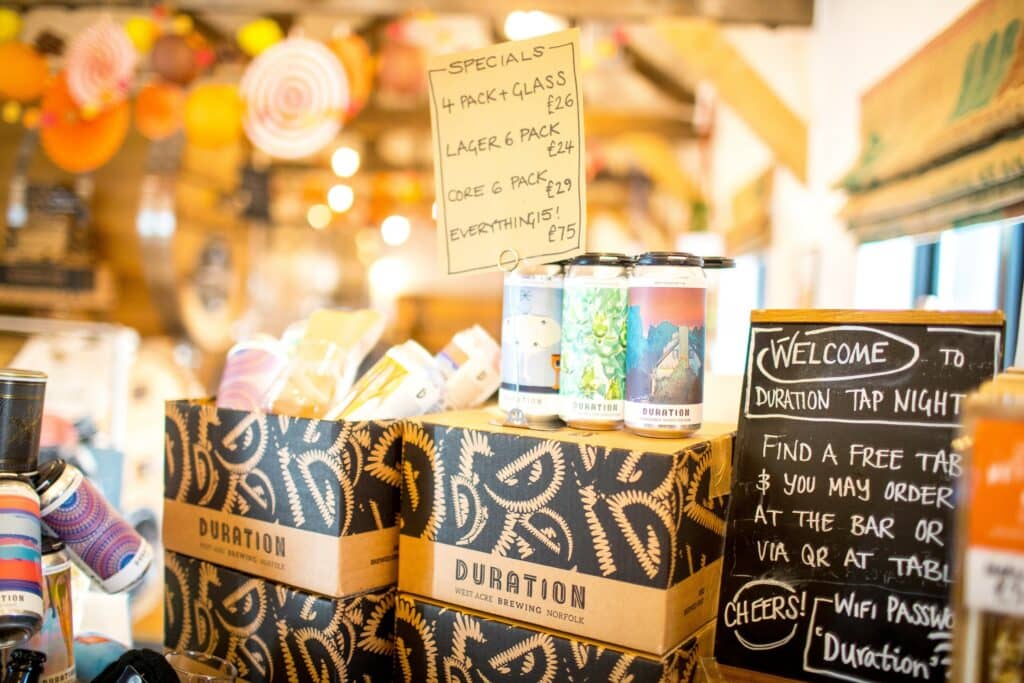 Few things are more tempting than the darkly delicious aroma of freshly ground coffee. Unless it's the pleasing balance of a well poured beer! Both are waiting for you at the 'Cellar Door', Duration Brewing's characterful Kiosk shop, set in the barrel store of their historic West Acre home.
If you're off on a Norfolk adventure, pack your knapsack with wholesome treats like kettlecorn, coffee, sausage rolls, and of course small batch beers!  There's something for everyone, whether you prefer American Pale Ale, West Coast IPA, Wheat Beers or Stouts. Not sure? Duration Brewing's friendly staff are always on hand to shared expert knowledge of their full range. Or book a weekly Tap Day (Friday and Saturday afternoons) and tuck into a tasting board to see what takes your fancy. There's no better way to sample farm-to-glass beers than right in the place where they're brewed!
As well as refreshments, Duration's got you covered for unusual sustainable gifts. There's locally roasted artisanal coffee from The Brew Project, beer box gift sets and handmade walking sticks from a local whittler. If you've booked an event like a Brewery Tour & Tasting, or Yoga & Beer Session, this is the place to pick up fabulous souvenirs.
The Kiosk opens Monday to Saturdays, it's dog and family friendly and there's no appointment required. Plenty of free parking too! Everyone's welcome to browse the superb range of award-winning fresh beers and wild ales, all inspired by the richness of Norfolk's landscape.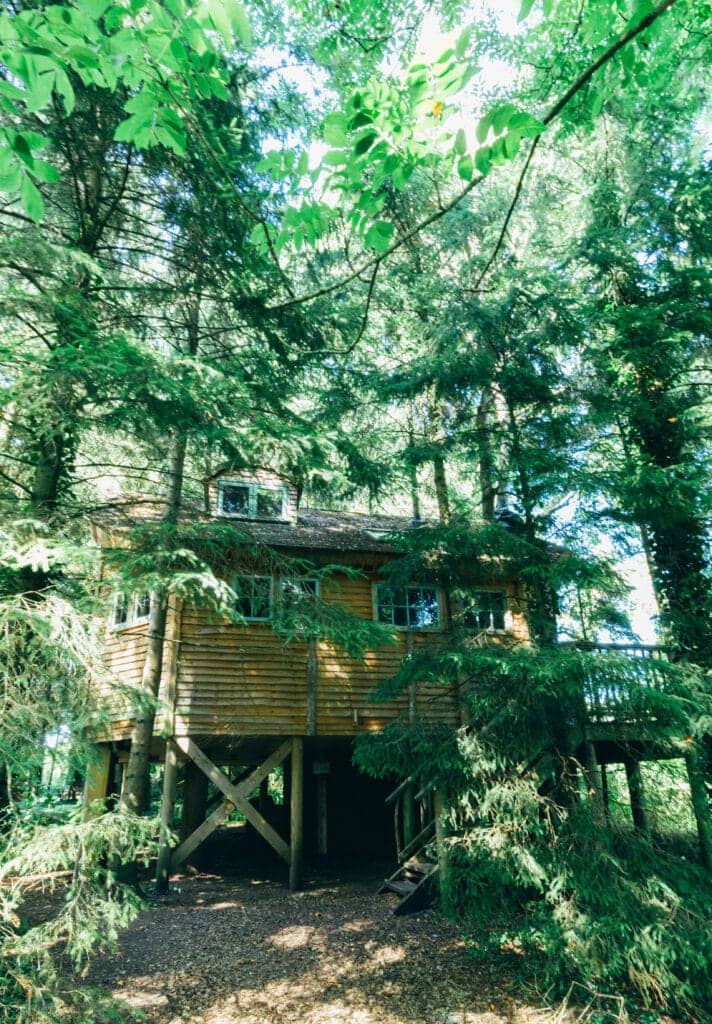 Life moves pretty fast. Wouldn't you like slow it down once in a while? Simplify the To Do List and just: relax, unwind, explore. All you need is the magic of West Lexham.
Discover a luxurious, alternative range of glamping accommodation stretched across 21 acres of lush garden, woodland, lake and river. Your home-from-home could be a boutique bell tent on the shore of a lake, cool, quirky cabin or peaceful treehouse in the leafy embrace of a forest. West Lexham's eco-friendly paradise is perfect for back-to-nature adventure holidays and enchanting escapes for couples seeking some very special together time. Each bewitching treehouse is as different and full of character as the trees it sits among, blending rustic boho design with the finest contemporary comforts.
West Lexham is a spellbinding, healing environment that's all about connection, nurture, creativity and transformation. It's not just an Instagrammable place to sleep. West Lexham is a holistic retreat, snuggled down in an idyllic river valley alive with majestic ancient trees, abundant wildlife and nights full of stars.
To nourish your body the Manor gardens provide fresh seasonal produce for the restaurant, and the innovative kitchen team will get your jaded old taste buds tingling again. Almost entirely powered by renewables, West Lexham a place to unplug, unwind and recharge, away from the world's noise and mayhem. Chill and wander with nature as you find your own little corner of calm to reflect, breathe and just be. Bliss.
Day 2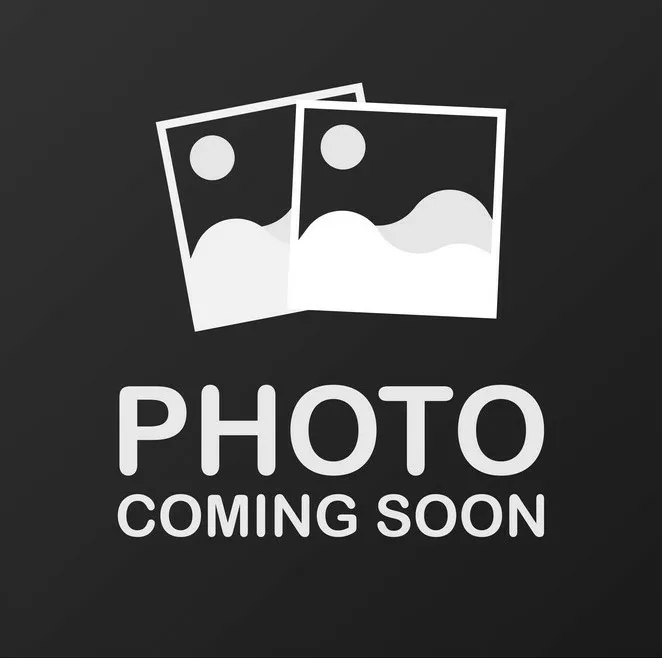 It's surprising to learn what thrives in the unique habitats of north-west Norfolk.
This walk takes in the River Hun, one of Norfolk's nine mineral rich chalk streams, running from Hunstanton Park to Holme-next-the-Sea. And on to Ringstead Downs, the country's largest chalk grassland, a Site of Special Scientific Interest. Scented with summer rock rose and wild thyme, it's also home to the delightfully named squincywort. The chalk is exposed on the Downs' wooded southern edge, at Chalkpit Plantation, a locally run community nature reserve.
Once, locals with very different intentions scurried through these rural habitats. Ruthless smuggler gangs! And, by fear or favour, they had plenty of help. When 3 smugglers were tried for murder at Thetford Assizes in 1785, all were acquitted. At the retrial, all were acquitted again. It seemed no Norfolk jury would ever convict free traders!
But there were victims. Look for two 1784 graves at St Mary's Church in Old Hunstanton. One faded inscription reads 'Here be the mangled remains of poor William Green an Honest Officer of Government who in the faithful discharge of his duty was inhumanely murdered by a gang of smugglers in this parish.' Close by lies William Webb, a soldier of the Light Dragoons, shot during the same incident.
Call into Ringstead's fabulous award-winning pub, 'The Gin Trap'. Once describing a gamekeeper's spring-loaded device, the name now has a double meaning. Must be quite a tonic for the relieved rabbits of Ringstead Downs.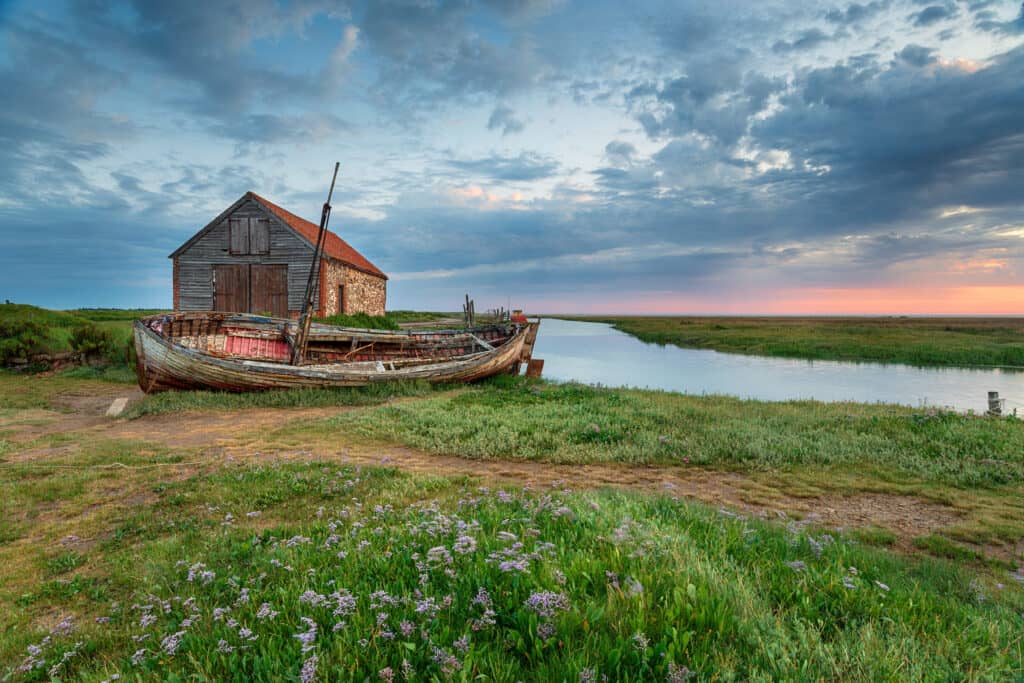 Picture the Industrial Revolution. Does Norfolk spring to mind? Many think industrial history bypassed this rural region but Norfolk's industrial heritage is dotted all across the landscape, from water and windmills to railways, canals, timber plantations, chalk works, sand quarries and factories for making fertiliser, brushes or canning fish.
True, no coal mines opened in Norfolk, but there were coal merchants. Nathaniel Woods was last to use the port at Thornham. His ship, the Jessie Mary, left packed with grain and returned with coal. Her last voyage was in 1914, but Nathaniel's coal barn still stands on Thornham harbour, although the granary was demolished after the great flood of 1953. There's a dedication to Nathaniel on the lych-gate at All Saints' Church.
The church was renovated in part thanks to donations from another enterprising and socially progressive local. Edith Ames Lyde founded the Thornham Art Ironworks in 1887 to provide entertainment, employment and training for villagers. Renowned for highly decorative pieces such as signs, railings, balconies, fire screens and weathervanes, the works made gates and lamps for Sandringham and other great estates including Balmoral Castle, plus royal commission for exhibitions across Europe.
Edith died on a design research trip in Shanghai in 1914 and that fateful year led to most employees becoming casualties of the First World War. In 1920 the Ironworks closed. You can see a sign produced at Thornham Ironworks hanging outside The Orange Tree, still advertising the pub's original name, The Kings Head.
In the quiet churchyard of St Mary in Old Hunstanton, seek out the graves of two 'honest officers' of the government. William Webb was 'shot from his horse' and 'poor' William Green 'inhumanely murdered by a gang of Smugglers' in 1748. Allegedly, the gang's guilt was beyond question, yet a local jury found them innocent. Furious, the thwarted prosecuting counsel tried the smugglers a second time. And again the jury cried 'innocent'. So…was this coastal community intimidated into silence or were they (whisper it) complicit?
After all, who was most familiar with the inlets of Norfolk's tidal creeks or knew secret paths on moonless nights? Which farmer might have lent a horse, provided a storeroom, hidden a key? Who were the 'tubmen', hauling contraband miles inland? And whose wealth provided the capital for these illicit ventures? How did the draper afford that fine silk or the parson get such cheap tea? Is it surprising the squire preferred his wine duty free? In a tight-knit, and even tighter-lipped community, it seems no-one was telling.
Here's a clue to local loyalties; in 1822, revenue officers impounded 80 tubs of contraband at nearby Snettisham. Over 100 people armed with bludgeons and rifles rocked up to seize it back. Clearly Norfolk's smugglers had determined support.
The idea of buccaneering free traders is certainly romantic, but also deadly. In an age when punishing taxes often left rural populations on the edge of starvation, which side would you have been on?
Day 3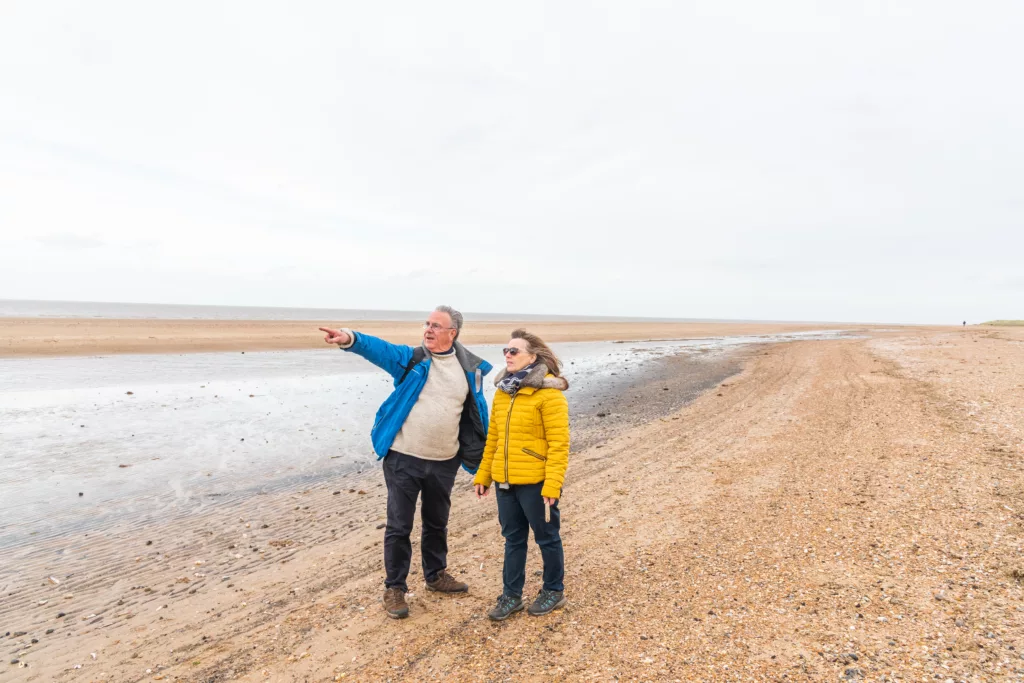 In spring, 2049 BC, early Norfolk dwellers gathered at a place of sacred ground. Impressive oak trees, felled with flint tools, had been carried here to the saltmarsh. The largest stump was placed upside down in a pit, roots pointing up to the sun and moon. It was surrounded by a timber wall, made of 56 stakes standing two metres tall. About 100 metres to the east, further circles of wicker and timber were made. Seahenge and its sister.
Before being discovered in 1998, these ancient timbers had not been touched by human hands for over 4,000 years. What did this liminal place of earth and water mean to our ancestors? Was this where the dead lay under open sky as their spirits moved on? Did the careful placing of mighty trees relate to the pattern of the stars? And in the sister circle, logs seem positioned to bear a coffin or revered object. One of the most important archaeological sites in East Anglia, Seahenge is now conserved and partly on display in Lynn Museum.
Walk across the marshlands of Holme and Thornham where the mystical land shivers with deep history. Then snuggle up, winter rain at the window, and tuck into Elly Griffiths' addictive Ruth Galloway mystery novels. Start with The Crossing Places, featuring a Bronze Age henge discovered on a lonely Norfolk saltmarsh…
The stories of our prehistoric past are written in wood and mud. What do we learn about ourselves from these wild and ancient places?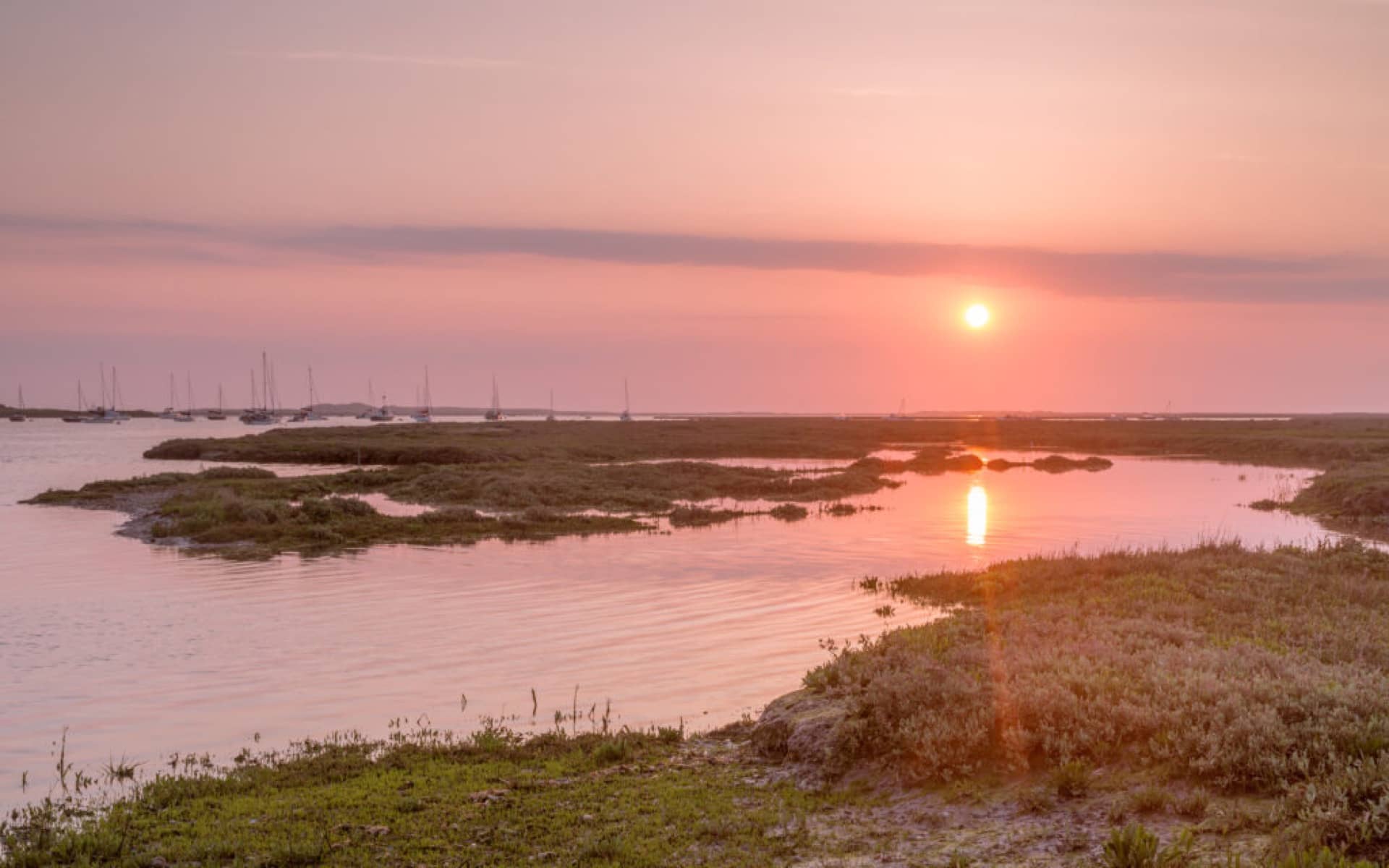 Walk the wind-scoured Norfolk coast when brooding winter skies break into breathtaking shafts of light. Buried deep beneath your feet are relics of an Empire in crisis. The 3rd century were dark days for Ancient Rome. Weakened by civil wars, Roman society was fracturing, riven by the violent deaths of short-lived emperors. The barbarians were at the gates. And in Britannia (Britain) they attacked from the sea.
Down the North Sea coast, and along estuaries on both sides of the Channel, was a chain of forts, built for trade shipping. Now they became strategic defences against raiders. Branodunum sat between Brancaster and Brancaster Staithe, one of Britain's eleven Saxon Shore Forts, military garrisons for over 150 years as the ailing Roman Empire collapsed into history. Earthworks are all that remain. Once at the frontier of Roman Britain, Branodunum's flints and stones were gradually stolen away and reused, still here embedded in this historic area's architectural fabric.
The Bronze Age, Roman occupation, and the Saxon and Norman periods have all left their mark on the landscape around Brancaster Staithe. Saxon jewellery has been found here, and a mile to the south the small hill at Barrow Common is believed to be a Bronze Age burial mound. St Mary's Church at Burnham Deepdale has Saxon origins, although the beautiful font is Norman. Depicting the 'Twelve Labours of the Months', it includes December feasting, so on that note…it's time to head to a cosy country pub!
If you fancy creating your own itinerary for a day trip to Norfolk or a longer visit, it couldn't be simpler. Just go to Search Activities and select from our wide range of free and paid-for experiences, saving any that capture your imagination with the click of a button.
Once you've finished, you'll find all the information stored in My Favourite, where you can drag and drop activities to create your own day-by-day itinerary! You can download this to a calendar and even share it with friends.