See the Norfolk Broads like a local. Which means you don't necessarily need a boat. Check out our itinerary for exploring the Norfolk Broads on land. Well, mostly. After all, who doesn't want to get out on the water at least once?!  Whether you give your core muscles a paddle board workout or tuck into afternoon tea on a cruiser, is up to you. Honestly? We'd do both! Back on the bank, hire a bike and pedal to your heart's content. How about learning some bushcraft? Then settling in for ghost stories, fire lit and rain on the roof. Magic!
Day 1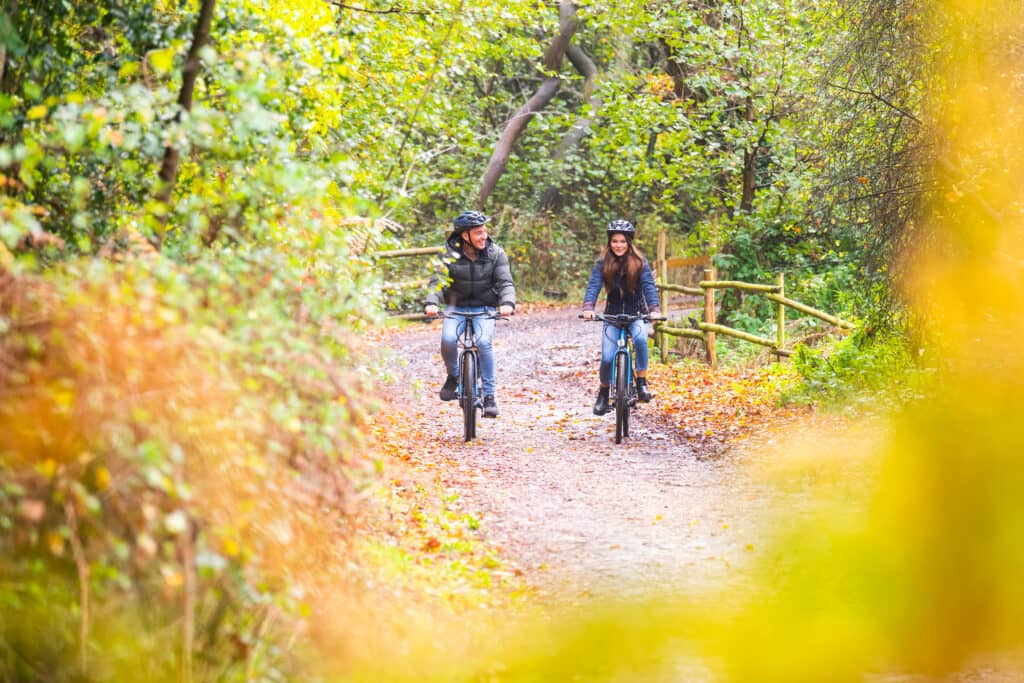 Britain's magical waterland is a shimmering lattice of rivers and open broads, complemented by a hinterland of winding paths. Criss-crossing the land these trails are best explored on two wheels. Broadland Cycle Hire have in-depth local knowledge, giving you the richest experience of the Broads National Park, whatever the time of year. They have cycles to hire for everyone, including adult tricycles, tag-alongs, dog buggies, tandems, hybrids, mountain bikes and e-bikes. Plus helmets, baskets, locks and pumps so all you have to do is turn up! Though do note – pre-booking is essential from October to March.
Cycling is healthy, relaxing, eco-friendly and fabulous value for money. It's a wonderful way to travel off the water, moving peacefully among the wildlife rich habitats of this extraordinary landscape. It's a special place of quiet lanes and gently undulating countryside, where, travelling car-free, you'll be alive to the sounds around you, the whirr of your wheels, wind in the reeds and nature's wild harmonies.
Broadland Cycle Hire is part of the network of cycle hire points throughout the Broads National Park, supported by the Broads Authority, who produce fantastic route maps showing all landmarks, nature reserves, churches, pubs and tearooms. There's even a stretch out to the coast at Horsey. With links to off-road routes connecting with the Bure Valley Railway path and National Cycle Route 1, via North Walsham and Aylsham, they cover a range of distances to suit energy levels and experience.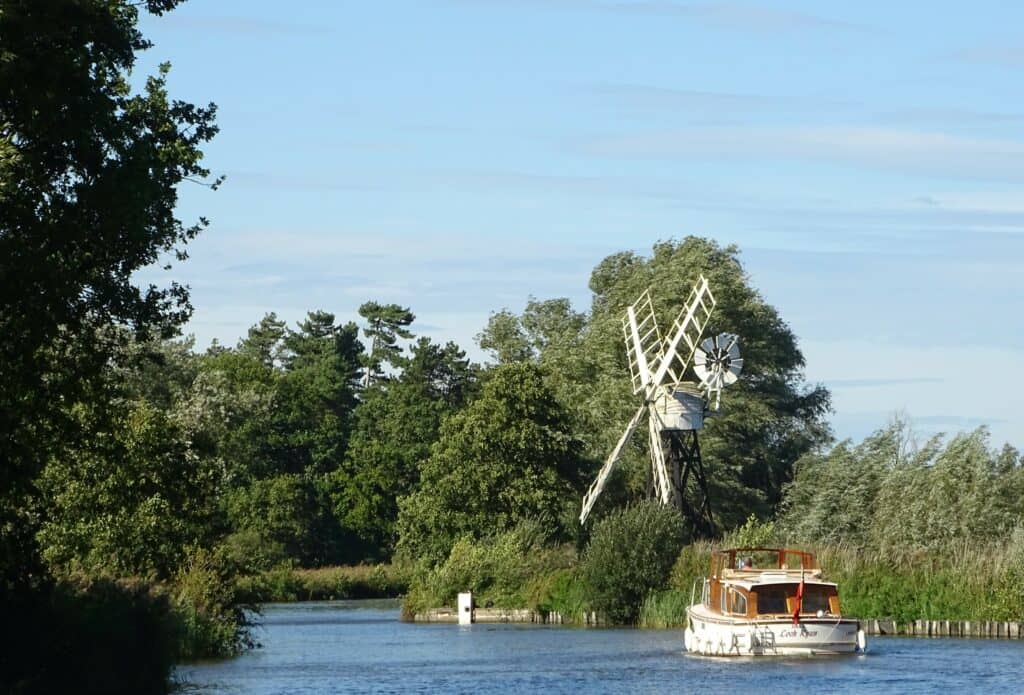 In the 1700s, rich and poor alike hated the government's Customs and Excise surcharges on goods like brandy, wine, tea, gin, tobacco, lace and silk. In east Norfolk the intricate waterways of the Broads became illegal channels for avoiding import duties. But smuggling gangs didn't work alone.
Studded with graceful windmill sails, Norfolk's narrow dykes, rivers and seedbeds were known only to locals. If customs men were on their way, bargemen, mill owners and marsh men raised the alarm using a special Norfolk Broads code. If the nearest mill was turning, the sails were briefly stopped, positioned at St Stephens diagonal cross. Once the next mill responded by doing the same, the first mill continued turning and so on, in a chain which, it's said, could pass a message from Great Yarmouth to Horsey in a mere quarter of an hour. If there was no wind, a boy climbed the sail and pushed it to the coded position. Even with the fastest horses, customs men could not compete. When danger had passed, the sails were set to St George (square) – the all clear. If a wherryman saw the sails stop, he'd swiftly submerge tubs of contraband, marking the spot with a discreet reed float.
So now you're in on the Smugglers' Code, just like those who once frequented the inns of the Broads. When you order a gin in a riverside pub, ask yourself, if someone offered you a chance to pay less tax, would you take it?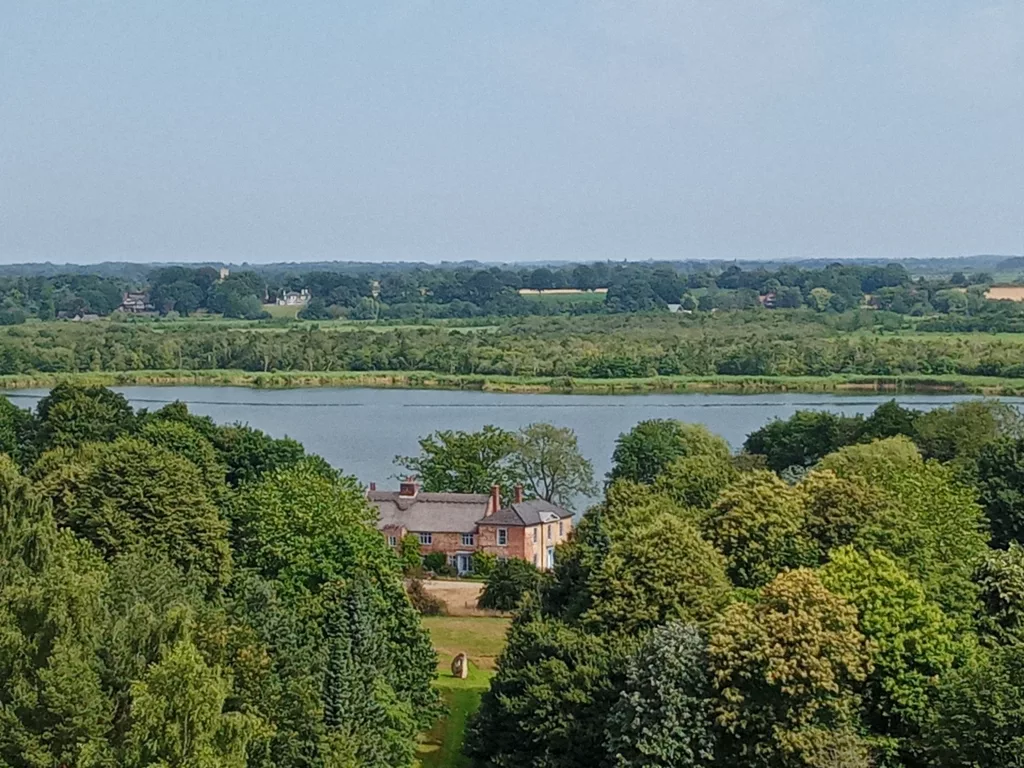 A tranquil autumn walk works wonders for body and soul, particularly when it takes in a gorgeous wildlife haven and heart-pumping climb up a medieval tower – don't worry, that bit's optional!
This half day guided tour (about 4 miles) explores the west side of Fairhaven Woodland and Water Garden, lovely village of Ranworth and magnificent St Helen's Church, known as 'the Cathedral of the Broads'.
Fairhaven is a beautiful Broadland garden, a Norfolk jungle of dense foliage and huge water plants crossed by wooden bridges and walkways. As the season changes, low autumn sunlight deepens the kaleidoscope of rich colours, glinting bronze and gold through falling leaves. You'll discover the mighty King Oak, a sapling at the time of William the Conqueror, survivor of storms for almost a thousand years.
A peaceful bridleway connects Fairhaven with Ranworth and Malthouse Broad, sparkling in the crisp air. Soaring from the watery land is St Helen's Church, dating from the 1300s. Whatever your belief, this place, suffused with centuries of human hope, tugs the heart. And nothing gets it going like tackling 89 steps, two ladders and a trap door! Even more breathtaking are the glorious panoramic views at the top, over patchwork fields threaded with shining rivers.
Back on ground level, there's a lavishly decorated 15th century rood screen, one of the country's finest, and superb 15th century illuminated manuscript. The walk ends with coffee/tea and cake at Fairhaven, all the more satisfying in cooler weather.
Day 2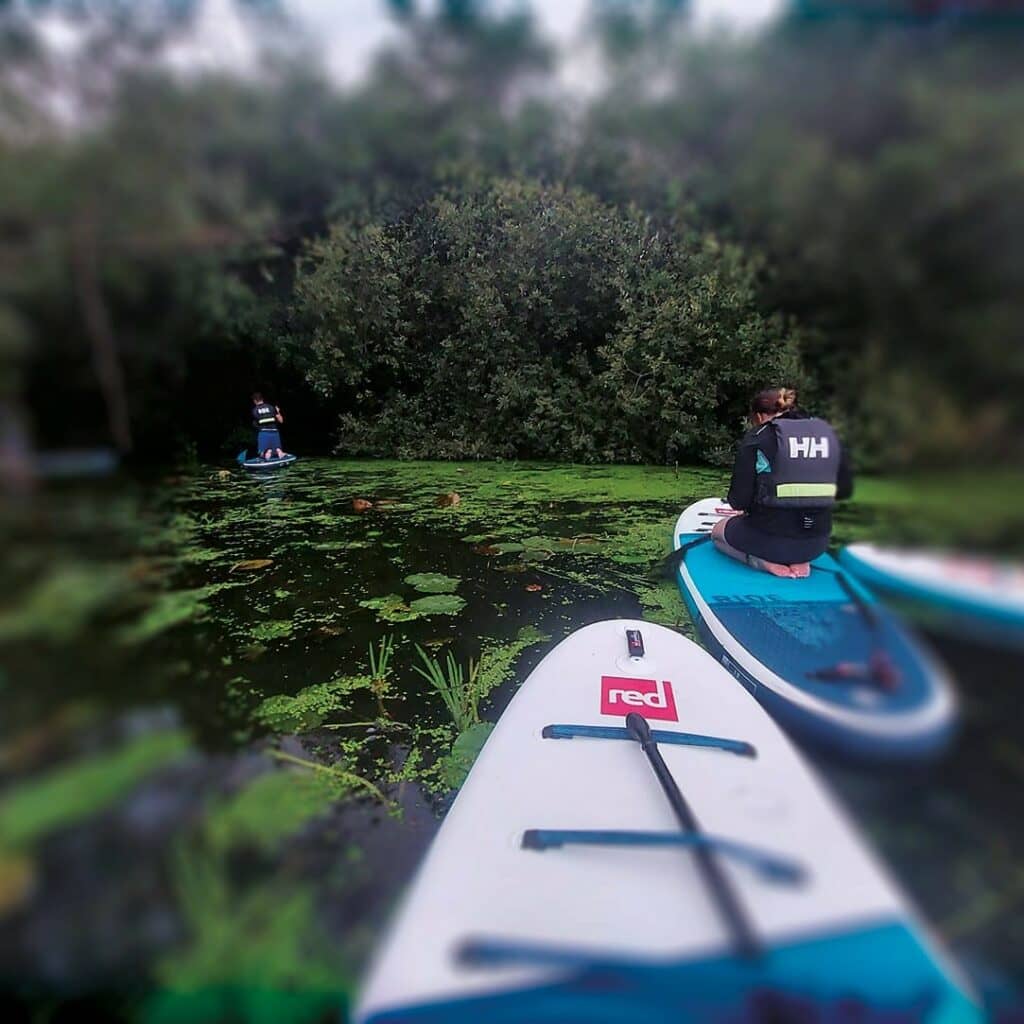 Go Paddle Norfolk is lucky enough to be based on one of the most brilliant waterways in the UK – the Broads National Park. There's plenty of variety with slow, winding rivers running through pretty villages out into some of the most spectacular open Broads. Those in the know think some of the best paddles can be experienced in the cooler months of the year. Most of the summer visitors have (reluctantly) returned home and more of Norfolk's incredible wildlife comes out to play.
The SUP Safari experience is a great way to get on the water with an experienced guide who can point out wildlife, give you some expert paddle tips and get you paddling past some of the loveliest riverside houses. Seriously dreamy! We are a fully certified BSUPA School (British Stand Up Paddle Association), fully insured and fully loaded on fun and adventure. Go Paddle provides all the kit, including wetsuits and boots – just remember your own bobble hats!  And wear quick drying clothes – no jeans! After your paddle come back into HQ for a lovely hot shower and warm your hands up on a steaming mug of hot chocolate.
What happens if you fall off? You're attached to the board and wearing a buoyancy aid – just in case – so you just climb back on and keep having fun! The Go Paddle team has grown up on these waters and can't wait to share the best bits with you.
Come on in, the winter's lovely!
Do you yearn for the innocent days of hand knitted jumpers, headscarves and making the best of whatever the English weather blows in? In recent years we've rediscovered a fondness for home and simple joys. From letter writing and baking to gardening and crafting, there's a new appreciation of living life at a slower pace and nostalgia for the pleasures of an old school British holiday. If this sounds like heaven, head back in time aboard a beautifully restored 1950s classic wooden Norfolk Cruiser out on the water in the beautiful Broads National Park. A perfect treat in autumn, winter, and early springtime, you'll be warm and cosy inside her immaculate heated cabin.
This is a fully skippered cruise, inviting you to sit back, relax and enjoy the ride as you release your cares and let them drift away downstream. You'll find out about how the unique landscape of the Broads was formed, discover some local history, spot visiting birds on their eastern migratory paths and see wildlife as you glide along these magical Broadland waterways. Each season conjures new colours across the land and you often see more wild creatures than in the busier summer months. Otters are a particular delight, if you're lucky! Add a warming drink, mulled wine and a delicious afternoon tea for a most idyllic way to make lifelong memories with friends and family.
Afternoon Classic Cruise – with Afternoon Tea & mulled wine onboard. 1-4pm. Up to 5 people from £250.00 for the group.
Day 3
Ever dreamed of living in a Jane Austen novel? Then stay at stately Hoveton Hall Estate, surrounded by glorious Broads countryside, winding lanes, pretty villages, iconic windmills and Norfolk's spectacular wide skies.
Your hosts, Harry and Rachel Buxton, will personally welcome you to their beautiful family home. This is a rare opportunity to explore the grounds in peace, outside the busy summer season. England's cooler months are the perfect time to hibernate in good company with fine food, luxury and plenty of gossip, Bridgerton style!
Revel in the beauty of this elegant Regency house during a unique Autumn/Winter 2-night short-break package, either in the hall's luxury B&B or the self-contained East Wing holiday cottage (sleeps 6). Head outside for expertly guided foraging and woodland walks, try your hand at bush-craft activities, then cosy up in your magnificent bolthole. Perfect for couples, groups (up to 6) and families with children aged 10 and over.
Delectable meals of seasonal produce, often from the Estate, will be served in the dramatic wood-panelled library or, for larger groups, in the stylish dining room.
Includes:
2-nights' accommodation (1 room with min. 2 sharing)
Full English breakfast each morning
Guided tour of Hoveton Hall Gardens by the owner or head gardener
Light lunch
Either an afternoon of clay pigeon shooting or fungi forage, depending on time of year
Two-course dinner with half bottle of wine per person plus coffee each evening
If you fancy creating your own itinerary for a day trip to Norfolk or a longer visit, it couldn't be simpler. Just go to Search Activities and select from our wide range of free and paid-for experiences, saving any that capture your imagination with the click of a button.
Once you've finished, you'll find all the information stored in My Favourite, where you can drag and drop activities to create your own day-by-day itinerary! You can download this to a calendar and even share it with friends.