Take a short winter break on the North Norfolk coast. Cycle the trails of ancient ancestors, who walked here when the sea was land, connecting us to mainland Europe. Explore sacred Iron Age ground and Roman earthworks, where powerful traces of human history vibrate in time. Listen to the cries of birds over the saltmarsh, learn a tradition rural skill and then cosy up in The Jolly Sailors for a pint of Smuggler, named after inn keeper William Hotching, a local rogue whose side hustle involved hiding contraband in the cellar before spiriting it off to America.
Day 2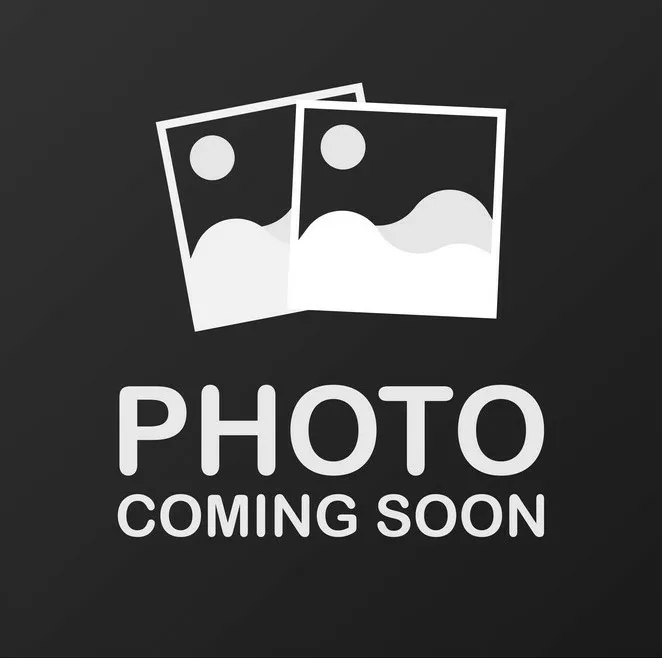 Barrow Common is a nature-rich County Wildlife Site and there's a long human history here too. The remains of an ancient mound and round barrow mean you walk in the footsteps of the ancestors. And as a designated Dark Sky site, you can look even further back, into deep time and the ancient cosmos. Barrow Common is classed as a 'Milky Way Plus' site, meaning there's the potential for breathtaking views of the stars on clear nights. The local astronomy club has fantastic telescopes, so check out their website to find regular open public events at Barrow Common and around West Norfolk.
Predominantly acid grassland the rolling Common is edged by woodland, part of a mosaic of natural habitats. From high on the ridge there are dramatic views over a patchwork of natural coastal habitats out towards the sea. This strategic vantage point was well used in less peaceful times. In 1940 a Second World War radar station was built facing the sea, installed with a 'bedstead' aerial mounted on the roof, intended to detect suspicious low flying aircraft up to 35 miles across the North Sea. The lookout was manned until 1944, after which it was closed, but can still be seen on the north-west side of the site.
A good starting point for a winter walk is Brancaster where the Jolly Sailor and the White Horse are two excellent foodie pubs to fuel up before your adventure or to settle in for a cosy evening afterwards.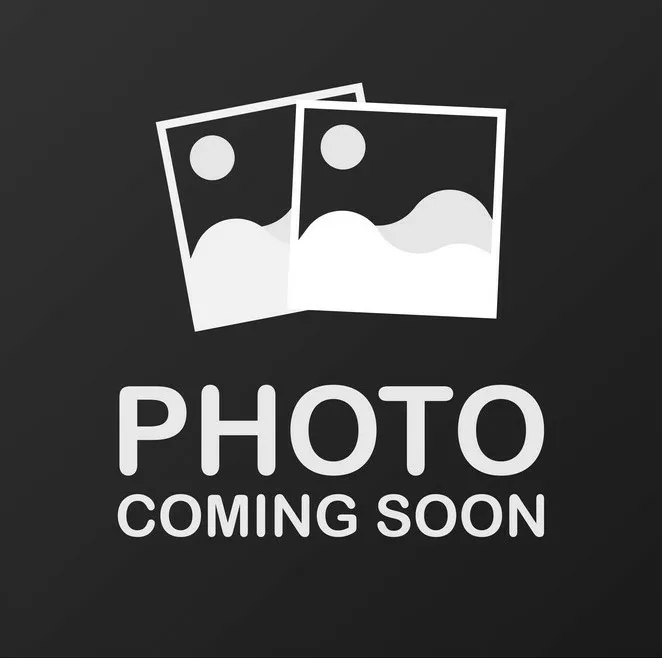 Discover the traditional country skill of green woodworking with rural crafter Richard Rood.  The cosy days of autumn and winter are a great time to take up new hobbies, especially when you're learning in a beautiful old brick barn up near the North Norfolk coast. If you're a regular at Deepdale you might have chatted to Richard on his stall at Dalegate Market's Popup Shops or seen him demonstrating woodworking skills at the Deepdale Spring Market. Now's the chance to have a go for yourself, in a small friendly group of like-minded people, learning to make beautiful and useful things for your home.
Try a one-day introduction to green woodworking and, if you get a taste for it, there's a two-day extension course for beginners to craft a lovely little stool. The range of wood working courses may well expand so feel free to get in touch and see what else could be arranged.
You'll learn about the properties of wood and how to handle it while getting familiar with tools such as the draw knife and pole lathe. Richard will take you through the basics, starting with a log, using the draw knife to shape and prepare it, then moving on to the pole lathe to carve it into something useful. All tools are provided as are hot drinks throughout the day. So just bring a packed lunch and don't forget to wear old clothes! To book have a look at the Deepdale website.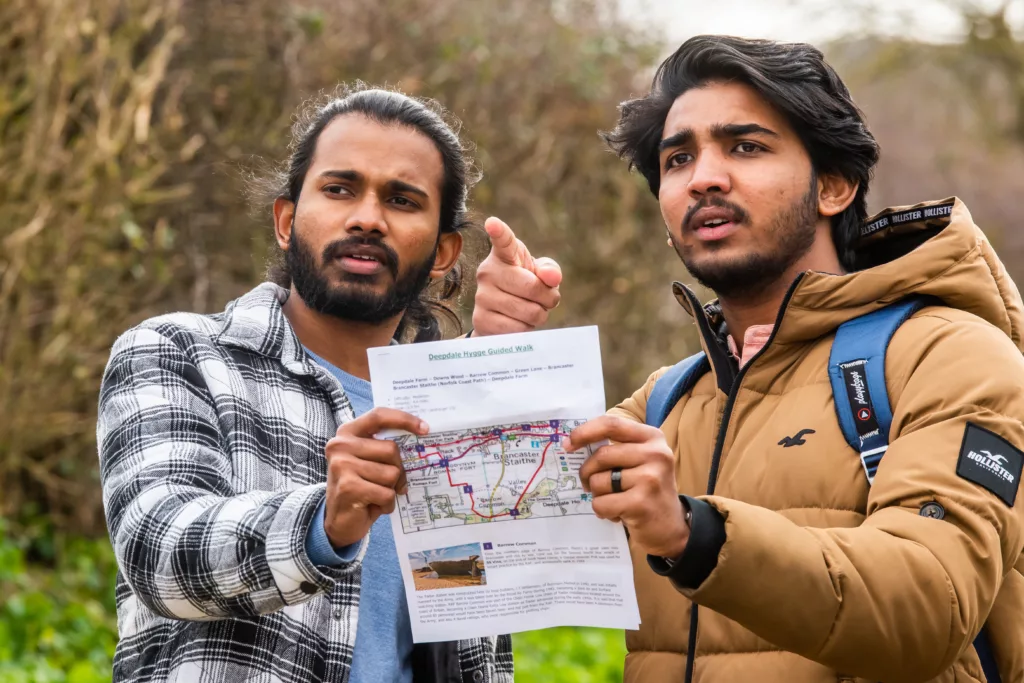 City, country or coast, wherever we live, we're all connected by the land. Urgent conversations around global sustainability grow ever louder, affecting us all, within our communities and homes, and also impacting on our mental and physical health. A new generation of farmers is exploring solutions to problems our grandparents never imagined, mindful of managing both food production and ecological stewardship. Learn about our most vital industry on a guided walk round a working organic farm, led by a member of the Deepdale Farm team.
Find out about how the land works here under Norfolk skies and which crops and techniques are helping transform farming practices and soil fertility. See regenerative and organic farming in action and look at practical nature conservation suited to this wind scoured coast. Discover what's being done to support hedgerows and woodland, so wildlife can thrive in and around farmland healing from past intensive use.
Covering about 3km, the walk takes around 1.5 to 2 hours. You'll see parts of the farm not usually open to the public and find out how to get involved through conservation volunteering and other activities. Want to know more? Read 'Rooted' by Sarah Langford and 'English Pastoral' by James Rebanks, deeply moving true stories about farming, family and changing landscapes.
Walks take place on the first Thursday of each month. Come dressed for the weather, with decent walking footwear, as the route's not always level and mud is a fact of farming life!
Day 3
Explore the atmospheric Norfolk coast by bike, cycling through unique landscapes in this Area of Outstanding Natural Beauty with a surprisingly radical past. Follow the ribbon of the road weaving round salt marsh, rivers and beach, past knapped flint cottages and ancient ruins, down winding lanes into pretty market towns and through majestic forests. Norfolk's curves are gentle, but its history is fierce. You'll be cycling the wake of warrior queens and rebel heroes. And there are plenty of great pubs and cafés to refresh your legs along the way!
The Bike Hire Centre at Deepdale Camping & Rooms has some of the best quality bicycles in North Norfolk. Located close to the National Cycle Network, it also has an award-winning campsite in walking distance of two nationally acclaimed pubs, The Jolly Sailors and The White Horse. And there's a backpackers hostel open all year round, including Christmas and New Year. With easy access to the beautiful North Norfolk Coast and surrounding countryside, Burnham Deepdale the ideal base for getting acquainted with this unforgettable region.
Free route maps are available, as is plenty of excellent local knowledge! All bikes come with a strong lock, pump, repair kit and helmets. Hire rates are very competitive and flexible, with group rates and special offers for longer rentals. Deepdale is a supporter of Sustrans, which promotes of cycling across Norfolk.
A fun, healthy way to get out and about, cycling is ever more popular, so it's definitely advisable to book in advance.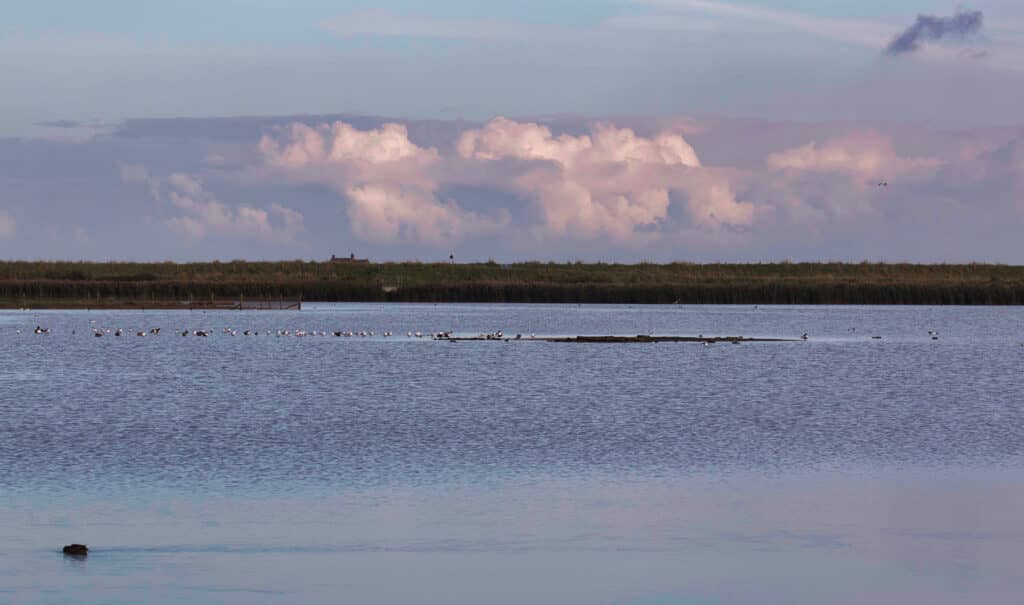 All year round you'll see something special at Titchwell but it is especially renowned for its wading birds, wildfowl and geese. These gather in epic numbers from mid-autumn onwards with the arrival of migrant birds from Scandinavia and Northern Europe. Explore this evocative landscape by booking onto one of the RSPB led experiences. There's a range of options including seasonal exclusives and the possibility of arranging bespoke guided walks.
From woodlands to shoreline, this mosaic of varied habitats creates different homes for nature, all ecologically important for wildlife to thrive. Your guide will introduce you to many of the different bird and animal species that live at Titchwell or visit throughout the year. Listen for the bell-like 'pting' of bearded tits flitting amongst the vast reedbeds, look for delicate ebony and white avocets (the RSPB emblem bird) on the marsh and watch the spring skies for majestic marsh harriers sky dancing overhead. You'll have a chance to stop and look for other key bird species too, without feeling overwhelmed.
This magical, liminal place where land and water merge into salt marsh was once farmland, learn about the history of these landscapes and discover how the RSPB is future proofing the reserve against the impact of climate and coastal change. Before saying goodbye, your friendly and knowledgeable guide will highlight other areas of the reserve for you to explore at your own pace. Come for a walk and stay all day, winter's early sunsets are glorious!
If you fancy creating your own itinerary for a day trip to Norfolk or a longer visit, it couldn't be simpler. Just go to Search Activities and select from our wide range of free and paid-for experiences, saving any that capture your imagination with the click of a button.
Once you've finished, you'll find all the information stored in My Favourite, where you can drag and drop activities to create your own day-by-day itinerary! You can download this to a calendar and even share it with friends.