Accessible and Sensory Nature Days
Everyone's needs are different and getting outside brings us together. This itinerary lists some of Norfolk's most accessible spots to immerse yourself in the sounds and textures of Nature. The RSPB offers special guided walks and at Snettisham people with limited mobility can park 100 metres from the first bird hide for a fabulous view of winged winter visitors. RSPB Titchwell has wheelchair friendly paths and is particularly good for sensory experiences. The same goes for hard trails through pretty woodland on the Sandringham Royal Estate. Or enjoy a vehicle-based tour of stunning landscapes at Wild Ken Hill.
Day 1
Sandringham is a right royal abode. Most royal residences, such as Buckingham Palace and Windsor Castle are owned by the Crown, but Sandringham is the personal property of the King. For decades the Queen celebrated the royal family Christmas in Norfolk and in 1957 broadcast her first televised Christmas message from her Sandringham home.
As the Queen's favourite festive bolthole, the house, gardens and church are sometimes off limits, but the 600 acres of stunning royal parkland and fantastic courtyard facilities stay open year round, a fabulous destination for winter walks. Worries fade when you wander in the woods. Majestic trees soar upwards, an uplifting cathedral of Scots and Corsican pines rising from banks of dark glossy rhododendrons. Among them, twisted oaks, sweet chestnuts and birches are ancient relics of Norfolk's wild landscape before forests were managed.
Breathe in the earthy scents and listen closely. Squirrels rustle in falling leaves, there's the rat-a-tat-tat of a spotted woodpecker and maybe a creeping nut hatch pecking away on a branch. High in the white winter sky lonesome red kites are mewing and the sighing wind gives elegant winter trees a haunting music of their own.
There are two way-marked trails along tarmac and shingled paths, ideal for exploring by wheelchair or mobility scooter, and many more dog-friendly unmarked paths to walk or cycle. After a good stroll in the fresh air, head back to the visitor centre for tea, cake and Sandringham's famous heritage apple juices.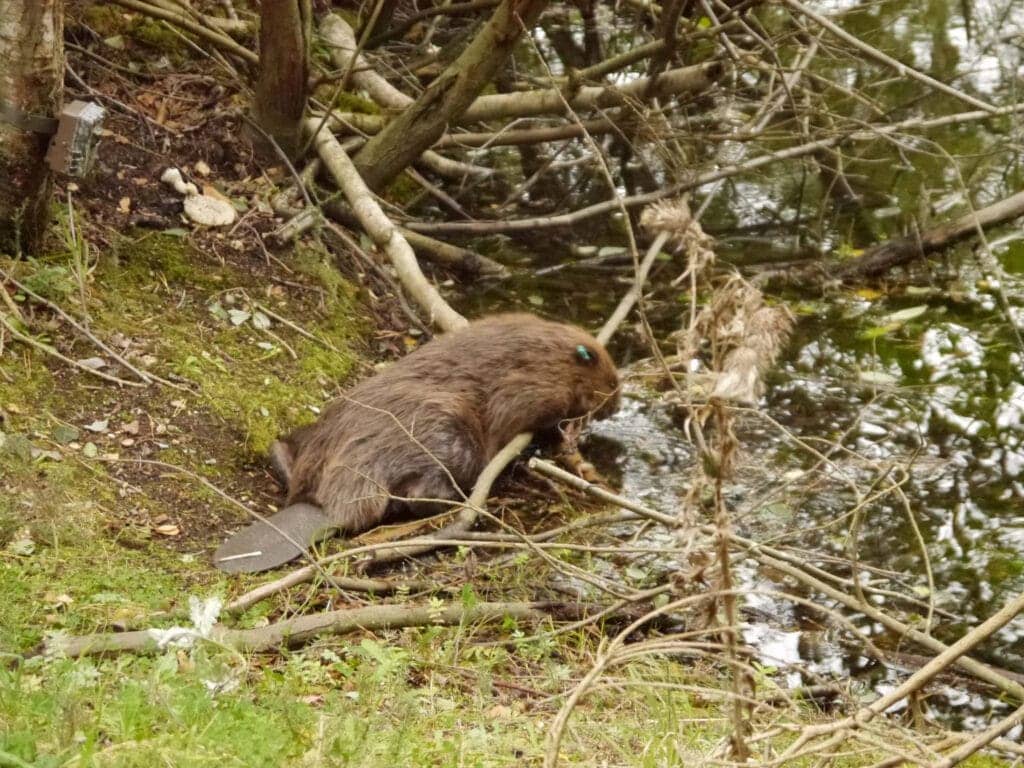 The beavers are back! Native to Britain, until the 16th century beavers were widespread throughout these islands. But 400 years ago, we hunted them to extinction in the UK and most of Europe, killing them for fur, meat and 'castoreum', a vanilla-like secretion used in perfume making and food flavouring. Yet the beaver is a 'keystone species', with a significant positive effect on its environment. And that's good news for humans too. Beaver activity reduces flood risk, shapes wetlands to mitigate drought, improves water quality and supports fellow animals.
This tour gives you the chance to learn how and why Wild Ken Hill reintroduced Norfolk's first beavers for hundreds of years. An expert guide will take you into the 50 acre enclosure to find out just how these remarkable eco-system engineers are shaping the landscape. Wandering through wet, tangly woodland, you'll see their intricate dams and structures, highly visible signs of their feeding, and maybe other wildlife like water voles, frogs, toads, ducks, birds and insects who thrive in their shared home. Beavers are largely nocturnal but occasionally out and about in the day, so once in while visitors are lucky enough to make their acquaintance. You'll hear guides on daily patrol sharing the thrill of seeing nature's charismatic architects and recalling the excitement of beavers being released into the new enclosure. Connecting to the land, you'll leave with a profound understanding of why it's so vital we reinstate this magnificent animal in the UK.
If you love BBC Springwatch, Winterwatch and Autumnwatch, you'll have seen Wild Ken Hill on screen. Now experience the restorative power of nature in person. The solace of connecting to Nature has never been more urgent or more vital. As presenter Chris Packham says "I get a big hit when I come to Wild Ken Hill as you can see farming working alongside nature and both doing really well." If climate chaos gives you sleepless nights, a visit to Wild Ken Hill will help restore balance.
This walk gives you the big picture, showing how the estate's diverse seasonal activities work in harmony with natural cycles. You'll explore the ground beneath your feet and learn about growing food sustainably, mindful of the soil's best interests. In the rewilding area, you'll understand the marvellous work of grazing species – Exmoor ponies, Tamworth pigs and Red Poll cattle. Every season reveals its own wild treasures, and, depending on the time of year, your guide will point out fungi, bright starry flowers, browsing deer, songbirds, butterflies or bats. The resident beavers are nocturnal so will probably be resting, though you'll see evidence of their inexhaustible efforts, beneficial to the wetlands. Gaze at sweeping vistas over the sea, where curlew, avocet and lapwing wade in The Wash and come to understand the significance of deadwood and glades in the woods. Across Ken Hill Plain, where purple heather blooms, your eyes will be opened to the rich abundance of species who make this their home.
Day 2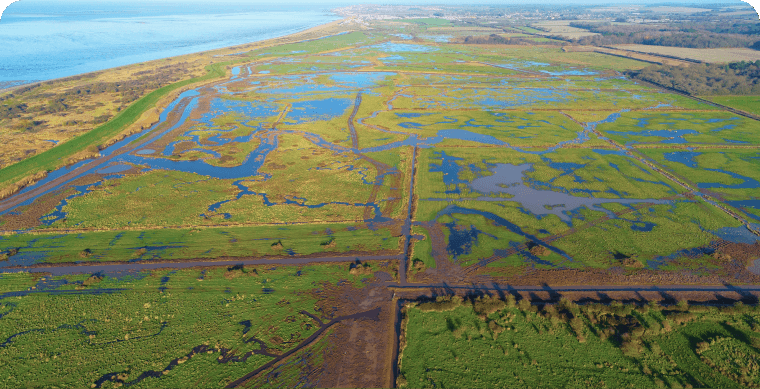 Rewilding is a promise to the future. It's a story of restoration and reconnection, of people engaging with the natural world. It's an active expression of hope. This guided tour captures a moment in time: Wild Ken Hill in the early stages of its rewilding journey. So what does rewilding really mean on the ground?
During this rewilding deep dive, you'll discover the benefits of letting Nature follow its own course and how it works in practice. Your expert guide will describe how this marginal land was managed historically and how it's now returning to a landscape rich in wildlife. You'll learn about naturalistic grazing and hear about Wild Ken Hill's approach and what informed the decision to introduce Exmoor ponies, Red Poll cattle and Tamworth pigs – all already having a phenomenally positive impact on the vegetation structures. You'll look at the scrub margins alongside hedgerows and explore their importance to birds, insects, and other wildlife, as well as their ability to carbon capture, vital to combating climate chaos. And you'll be introduced to Norfolk's only Beavers, discussing the tangible benefits from reintroducing this characterful creature, a native British keystone species.
Wandering through Wild Ken Hill's precious rare habitats, winter woods, glorious woodland pastures and open heathland, you'll develop your own understanding of these vital places and their natural cycles. Step outside, become aware of the breeze, the scurrying of small creatures, sudden birdsong, leaves falling. Here you'll deepen your connection to Nature and take its healing power to heart.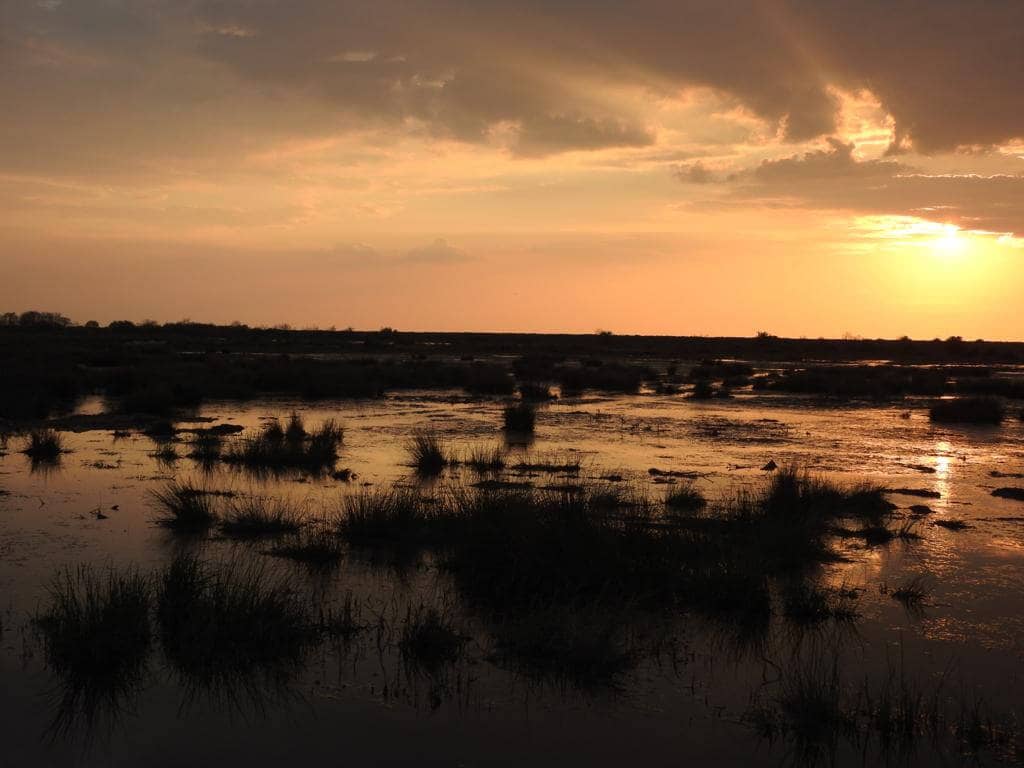 Winter dusk falls early and you might just be thinking of settling down by the fire with a glass of wine. But who says you should stay inside on shorter days? Break your routine and venture into the Twilight Zone. Breathe in the earthy night air on a magical micro adventure by taking a guided walk at Wild Ken Hill marshes.
Caged by electric light, shut away from natural surroundings, we cut ourselves off from a sense of ancient wonder. As the light dies and colour fades, your senses sharpen, clearing away the mental clutter of the day. Spectacular winter sunsets shift into subtle shades of gathering night, transforming familiar landscapes into a whole new world, all silhouettes and purple glimmer.
From the open-air lookout on the freshwater marshes you might see short-eared owls and ghostly barn owls silently quartering the land, hunting for supper, while kestrels and buzzards settle down for bed and marsh harriers put on aerial displays, jostling for top roosting spots. Peregrine falcons hover ominously above duck and waders, chattering out on the silvery Wash. You might hear wigeon whistling and the haunting cry of pink-footed geese, flying home in ribbons across darkening skies.
Henry David Thoreau wrote "Many men walk by day; few walk by night. It is a very different season." And evening walks are good for mind, body and soul, helping you to unwind, boosting immunity and strength, and connecting you with Nature and a good night's sleep.
Day 3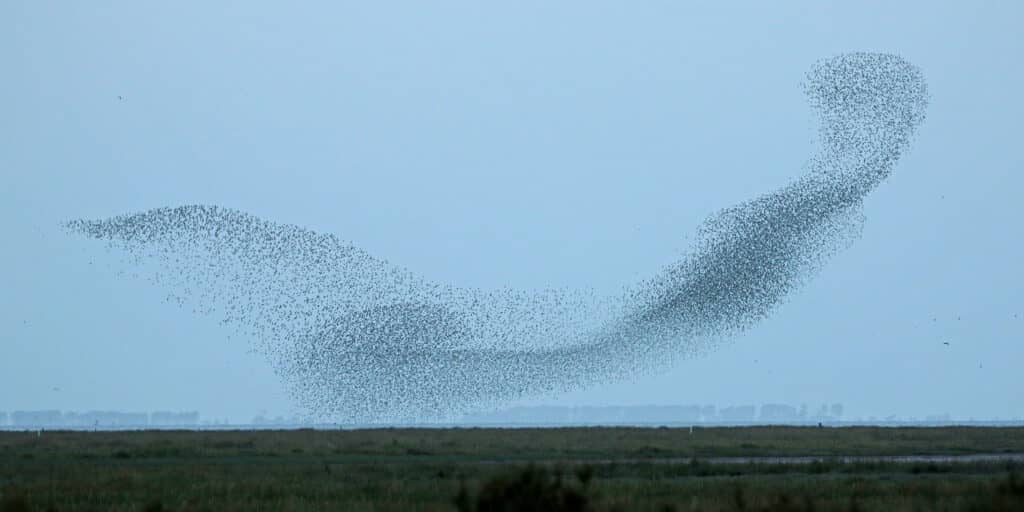 Join the RSPB for an exclusive bird spectacular at their Snettisham reserve with panoramic views over shining mudflats and salty lagoons. Without question, this is one of the most memorable and enthralling natural events to be seen anywhere in Britain! Witness the noise, chaos and wild drama of the whirling waders as the sky roars to the exhilarating sound of ten thousand wingbeats.
Take your place at the Wader Watch point or in the Shore hide for this exclusive Snettisham experience and watch all the action in the company of an experienced and knowledgeable guide. When the birds have taken flight and the Wash falls quiet, you'll spend time with your guide looking for other shorebirds and gulls feeding on the mudflats or resting in the saline lagoons. During the morning you'll have a chance to learn more about these dynamic birds, their breeding and migration behaviours and why The Wash is such a unique and special eco-system. Finish the tour at Knots Landing, a new hide opened by Chris Packham, and watch bird action in the pits.
This event coincides with one of the highest spring tides of the year and public parking is always very limited. Your VIP ticket will guarantee you premium parking for this ever  popular occasion, as well as the opportunity to spend the morning with an RSPB ranger.
To see the birds up close bring binoculars or a scope. And remember to bring your camera to capture the sheer thrill of nature's magnificence.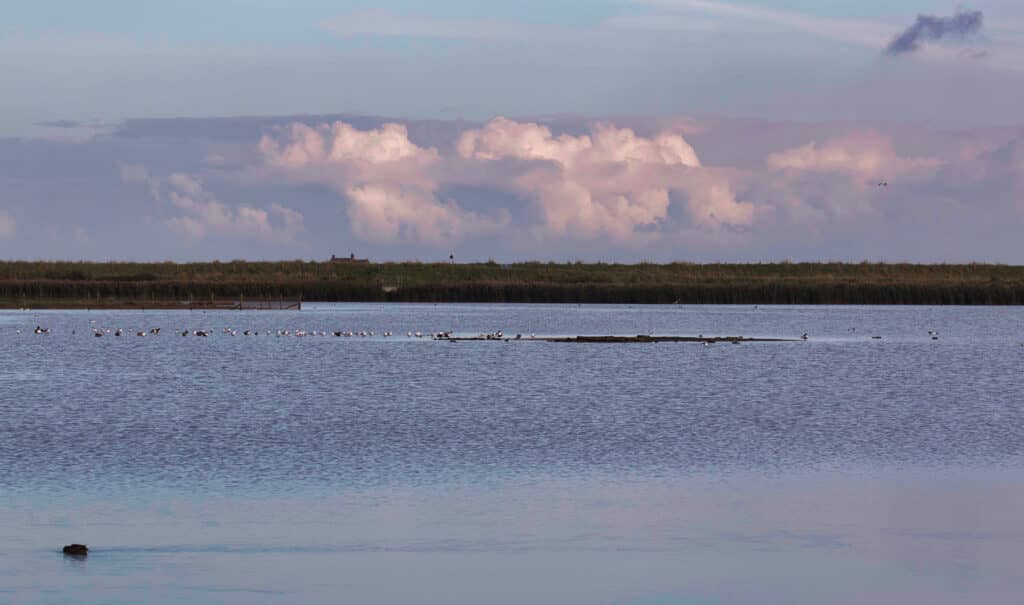 All year round you'll see something special at Titchwell but it is especially renowned for its wading birds, wildfowl and geese. These gather in epic numbers from mid-autumn onwards with the arrival of migrant birds from Scandinavia and Northern Europe. Explore this evocative landscape by booking onto one of the RSPB led experiences. There's a range of options including seasonal exclusives and the possibility of arranging bespoke guided walks.
From woodlands to shoreline, this mosaic of varied habitats creates different homes for nature, all ecologically important for wildlife to thrive. Your guide will introduce you to many of the different bird and animal species that live at Titchwell or visit throughout the year. Listen for the bell-like 'pting' of bearded tits flitting amongst the vast reedbeds, look for delicate ebony and white avocets (the RSPB emblem bird) on the marsh and watch the spring skies for majestic marsh harriers sky dancing overhead. You'll have a chance to stop and look for other key bird species too, without feeling overwhelmed.
This magical, liminal place where land and water merge into salt marsh was once farmland, learn about the history of these landscapes and discover how the RSPB is future proofing the reserve against the impact of climate and coastal change. Before saying goodbye, your friendly and knowledgeable guide will highlight other areas of the reserve for you to explore at your own pace. Come for a walk and stay all day, winter's early sunsets are glorious!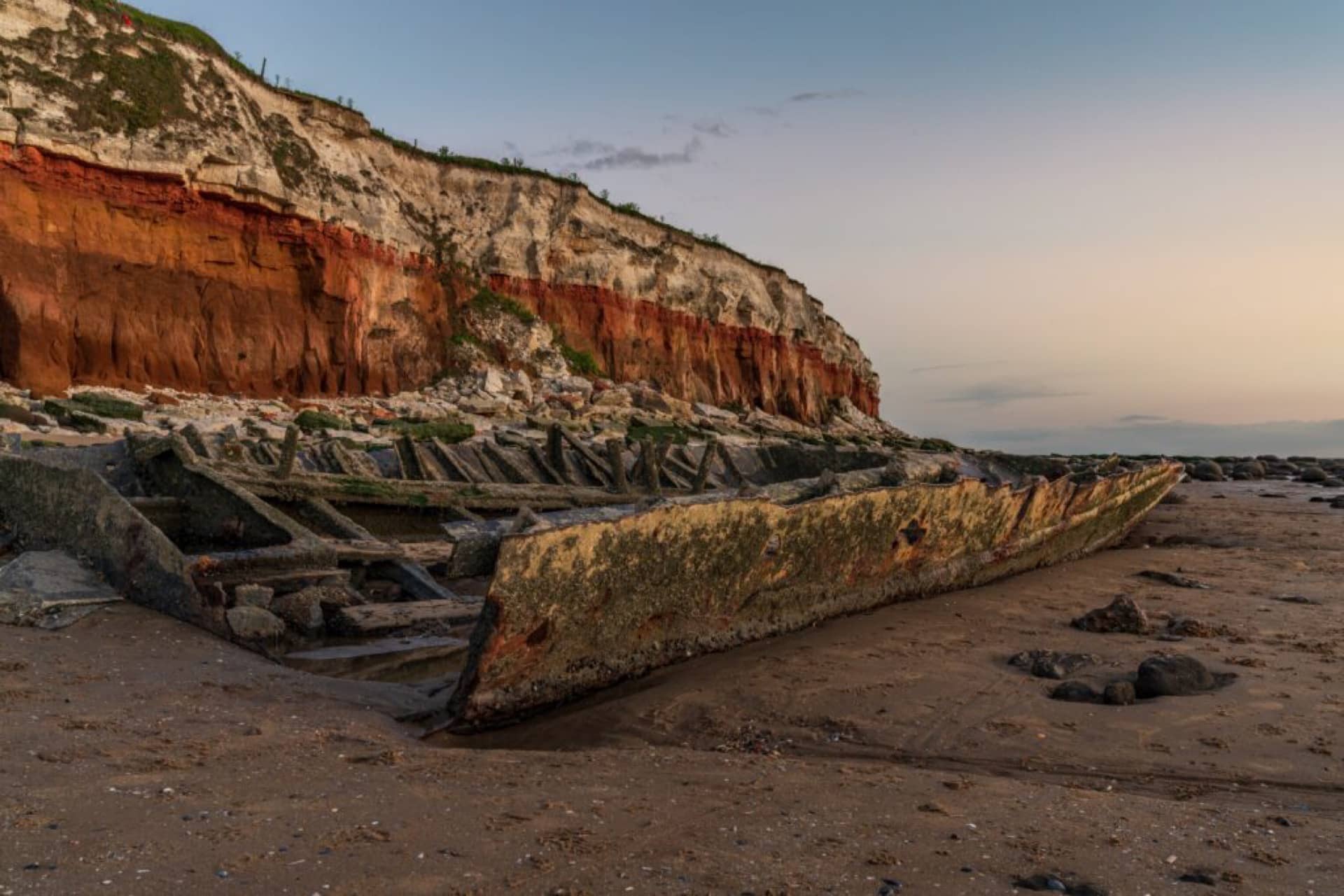 When the tide retreats, the sea reveals its secrets. At St Edmund's Point near Old Hunstanton, the skeleton of the Sheraton lies in its last resting place on a bed of sand and rock, worn to the bone by waves and weather. Like all ships wrecked on the Norfolk coast, this once sturdy old steam trawler has its own story.
The Sheraton was built as a fishing vessel in Beverley, Yorkshire in 1907, designed to withstand the ruthless power of the North Sea when her crew set their nets off Grimsby. When the First World War broke out she was requisitioned by the Royal Navy and used for anti-submarine defences. And in the Second World War the Sheraton was busy serving her country again, now fitted with a six-pounder gun to patrol the waters of the North Sea coast. After the war she was painted daffodil yellow and used as an RAF target ship.
The Sheraton made her final voyage on the night of 23rd April 1947 when a wild gale howled in. Caught in the storm, the Sheraton broke her moorings off Lincolnshire, blew across the Wash and smashed into rocks in the shadow of Hunstanton's striped cliffs.
Many years later, punk band The Stranglers rolled into town to pose on the beach near the remains of the Sheraton's rusty rib cage, using Norfolk's only rocky cliff as a backdrop for the cover of their aptly named album 'Norfolk Coast'.
If you fancy creating your own itinerary for a day trip to Norfolk or a longer visit, it couldn't be simpler. Just go to Search Activities and select from our wide range of free and paid-for experiences, saving any that capture your imagination with the click of a button.
Once you've finished, you'll find all the information stored in My Favourite, where you can drag and drop activities to create your own day-by-day itinerary! You can download this to a calendar and even share it with friends.