Women of Norfolk (Part 2)
When 8th March rolls around, celebrate International Woman's Day by investigating the stories of Norfolk's phenomenal women through time. Discover heroic wartime nurse Edith Cavell, medieval mystic Julian of Norwich and their countrywoman Alice Burroway, whose life was shaped by coincidence of a most tragic kind. Then spend a day at the Castle Museum getting acquainted with Margaret Fountaine, an unconventional butterfly collector and pioneer of citizen science. And of course, Boudica, warrior queen of the Iceni. Ingenious, adventurous, resilient, rebellious; every one of them courageous in the face of social censure, personal anguish and life-threatening danger.
Day 1
Outside Norwich Cathedral's arched entrance is a memorial to one of Britain's bravest women. The likeness of Edith Cavell, in her nursing uniform, gazes over Tombland while a soldier, carved in relief, reaches up to hang a laurel garland honouring her extraordinary courage.
Born in 1865 and raised in the Norfolk village of Swardeston, Edith registered at The London Hospital School of Nursing in 1896. After qualifying she worked at various infirmaries, before starting the first professional school of nursing in Brussels in 1907. When the First World War broke out in 1914, Edith nursed soldiers from both sides of the conflict. Meanwhile, she joined the Belgian Resistance, sheltering well over 200 Allied soldiers, helping them escape into neutral Holland. But Edith was betrayed. She was arrested on 5th August 1915, court-martialled and sentenced to death by firing squad. Ignoring the international outcry, Edith Cavell was shot at dawn on the 12th of October 2015. Her last words were: 'Standing as I do in view of God and eternity, I realise that patriotism is not enough. I must have no hatred or bitterness for anyone.'
After the war her body was brought home to be given state funeral at Westminster Abbey, followed by a burial at Norwich Cathedral. In the east side of the grounds, a graveside service is held in her memory every 12th October. If you go, afterwards raise a glass to this remarkable daughter of Norfolk in the Tombland pub that bears her name.
There's a perplexing inscription on Alice Burroway's gravestone at St Mary's, Martham. 'And there lyes Alice, who by hir Life was my Sister, my Mistres, My Mother, and my Wife.' Confused? Well, you know what they say about Norfolk. But joking aside, there's a harrowing tragedy hidden in the riddle of poor Alice Burroway's 18th century grave.
Once the nuns of Norwich Cathedral found a baby left on the steps. Strong with loud cry, he had a distinctive birthmark just under his shoulder blade. Who would abandon this bonny little lad? It seems a teenager called Alice had become pregnant by her own brutish father, who forced her to abandon the child and never speak of him again. Years later, after her father's death, Alice inherited the family estate and hired a farm hand called Christopher. A hard worker, he became her steward. And her lover. Alice was no longer a young woman so was surprised by a late pregnancy. The couple married. On their wedding night, they undressed fully for the first time. In the firelight, Alice saw Christopher's birthmark, a distinctive shape just under his shoulder blade. Stricken, Alice collapsed. How appalling it must have been for Alice to tell her new husband he was also her long lost son, born from the horror of incest. The shock killed Alice and within months Christopher was dead too, victims of a truth too terrible to endure. And no, this tragic story is far from being normal for Norfolk.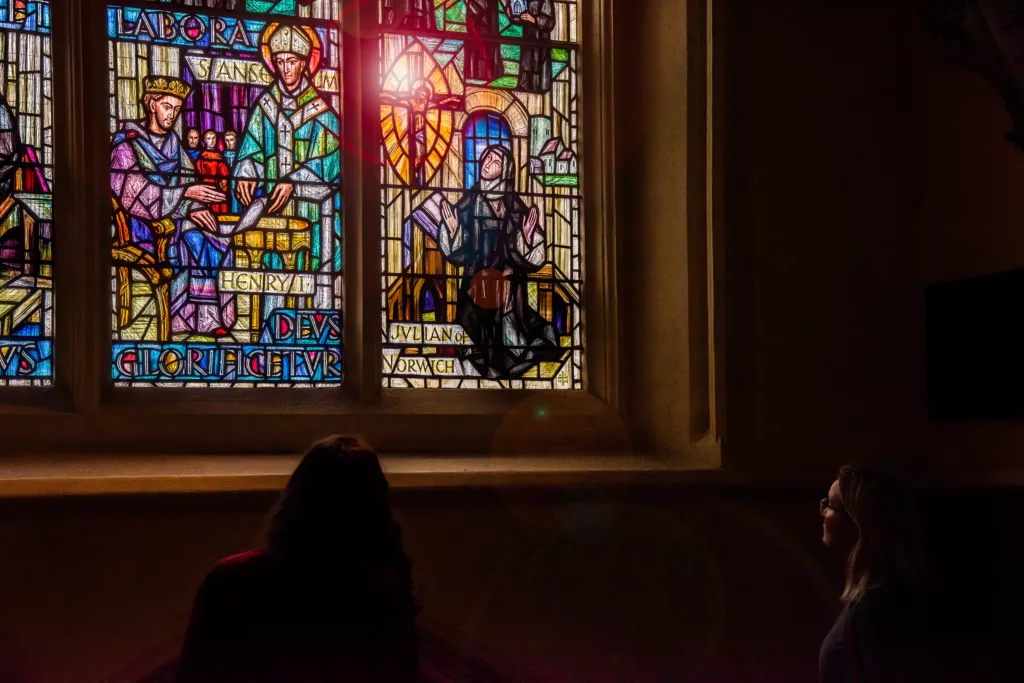 Julian of Norwich certainly understood social distancing. A compassionate medieval mystic born around 1342, she's the author of the first surviving book written by a woman in English. Revelations of Divine Love is a unique blend of orthodoxy and innovation, including passionate descriptions of her visions of the crucified Christ. Contrary to religious doctrine of the time she wrote that God should be seen as all-loving, rather than all-powerful. Pretty revolutionary in a world controlled by patriarchal domination.
Mentioned as a spiritual counsellor in the The Book of Margery Kempe, it's through her own writing we know the woman known as Julian of Norwich. We're not even sure if Julian was her given name, or one she took from the church of St Julian in Norwich. One of the oldest churches in the city, it's here she lived in solitude for 40 years as an Anchoress, remaining in a cell adjoining the church. Prudent, as during her lifetime the country was devastated by contagious waves of the Black Death. In modern Covid times, her calm optimism exhorts us to keep the faith that 'All shall be well and all shall be well, all manner of thing shall be well'.
Although Julian's cell was destroyed in the Reformation, a chapel is built on the original foundations. Walk along the River Wensum to Cathedral Close. At the West Porch of Norwich Cathedral you'll find a contemporary statue of Mother Julian by sculptor David Holgate, a remarkable woman still watching over Norwich.
Day 2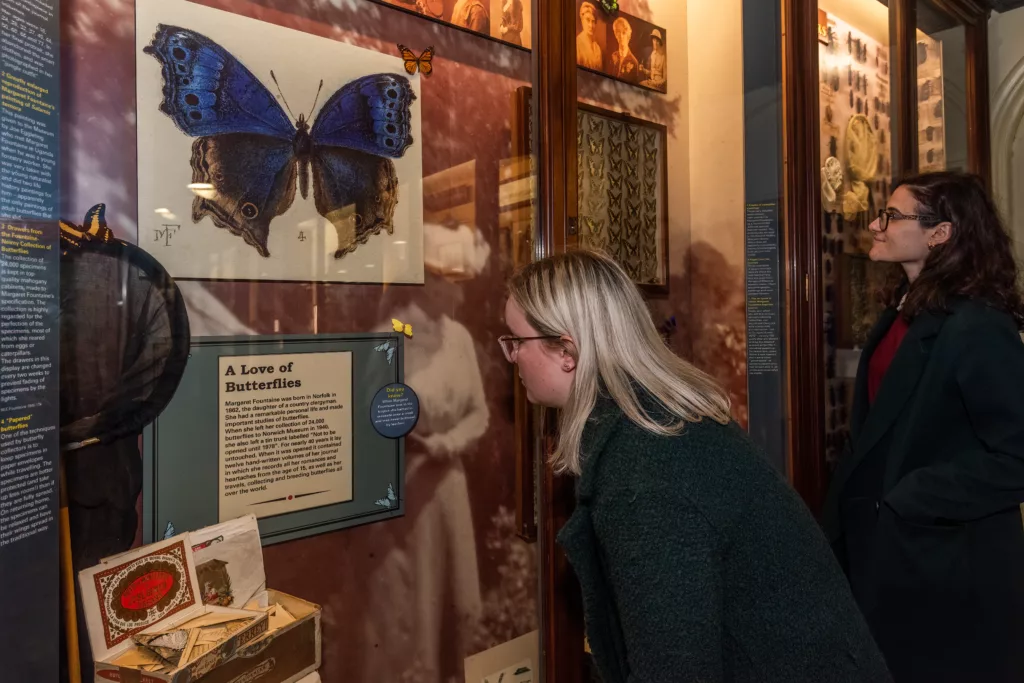 Free spirited Victorian adventurer Margaret Fountaine gave an extraordinary legacy to the Castle Museum in Norwich. On her death in 1940, cabinets of more than 22,000 butterflies were donated to the Museum but the astounding collection came with a condition. The Museum must also accept a sealed black metal box which could not be opened until 15th April 1978. When the box was at last unlocked, inside were twelve thick diaries of over a million words, photographs, pressed flowers, postcards and letters full of colourful detail about Margaret's travels across the globe. She took her butterfly net to sixty countries during fifty years of questing for rare species, often travelling by bicycle, the trusty transport of early female liberation. Begun on her 16th birthday, her diary was kept faithfully until her death, reputedly of a heart attack on a mountain path near Port of Spain in Trinidad, butterfly net in hand.
Her candid memoir records the unconventional life and loves of an independent-minded woman, a pioneer of citizen science. From Turkey to Tibet, Syria to South Africa, she roamed the world often with a male companion, Khalil Neimy, who was 15 years younger than Margaret, and married but not to her. Romantic and courageous, she lived on her own terms, acknowledged by Rosie's Plaques, a guerrilla art project celebrating the radical women of Norfolk. A permanent double case in the Castle Museum's Natural History gallery displays her lifelong work.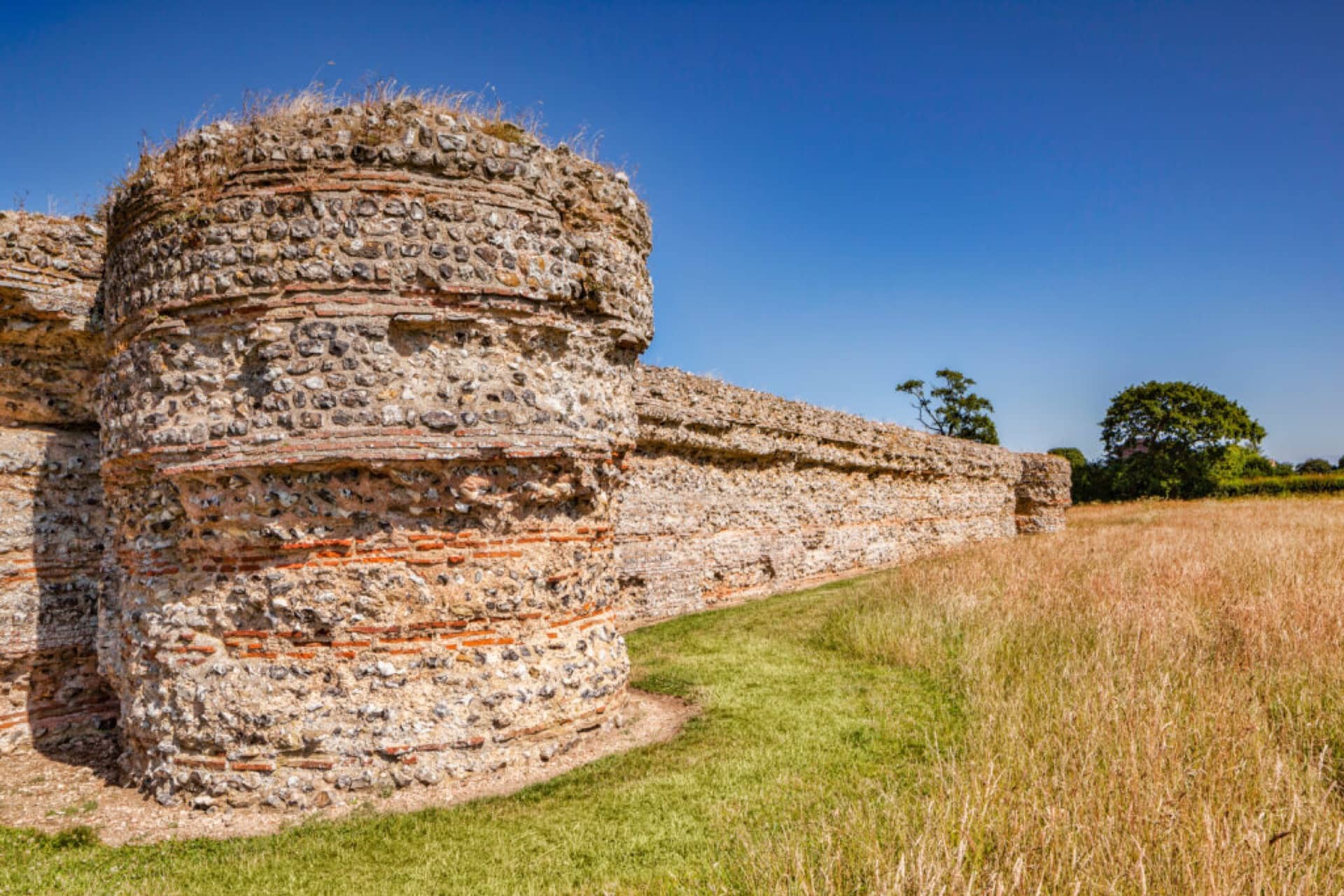 She was the Roman Empire's worst nightmare. Yet we don't really know much about Boudicca. Was Boudicca, 'Bringer of Victory', her name or a title? Was she even a queen? Certainly, according to Roman historian Tacitus, she was a merciless Celtic warrior – badass is an understatement! When her husband, Prasutagus died, Boudicca became ruler of the East Anglian Iceni people. But the Romans seized the Iceni's land and property, publicly flogging Boudicca and raping her daughters.
Out for vengeance, her warriors, boiling with resentment at Roman rule, crushed the Roman Ninth Legion and destroyed Colchester (Camulodunum), capital of Roman Britain. She burned London (Londinium) and St Albans (Verulamium) massacring tens of thousands of Romans and Britons. Finally, in around AD60, on the verge of defeat by a Roman army led by Paulinus, it's thought Boudicca poisoned herself. The site of the battle is a mystery, although 'Boudicca Tomb', unknown in real life, is familiar to gamers playing 'Assassin's Creed Valhalla'.
So, where can you walk in Boudicca's footsteps? She'd have had her vengeful eye on the Roman forts at Caistor St Edmund and Burgh Castle and the Iron Age earthworks at Warham, Tasburgh and Thetford are strong in Iceni history. It's likely Boudicca would have visited the sacred Bronze Age site at Gallows Hill, Thetford. A listed monument, it now neighbours an industrial estate. But hey! King Richard III was found under a Leicester car park, so when it comes to unearthing Norfolk's ancient past, never rule anything out!
If you fancy creating your own itinerary for a day trip to Norfolk or a longer visit, it couldn't be simpler. Just go to Search Activities and select from our wide range of free and paid-for experiences, saving any that capture your imagination with the click of a button.
Once you've finished, you'll find all the information stored in My Favourite, where you can drag and drop activities to create your own day-by-day itinerary! You can download this to a calendar and even share it with friends.