The lonely sound of a train whistle blowing signalled the end of the pre-industrial era, yet today many of those railway lines have returned again to nature. Both Marriott's Way and Weavers' Way largely follow the path of old tracks, now beautiful country walking trails and peaceful cycle paths. Yet Norfolk's railway heritage lives on. Alongside parts of these four Broadland walking routes, the Bure Valley Railway holds the line, and steam still billows through the trees. Look out for artworks celebrating the past and pointing to the future as you explore a secret world of mills and marsh.
Day 1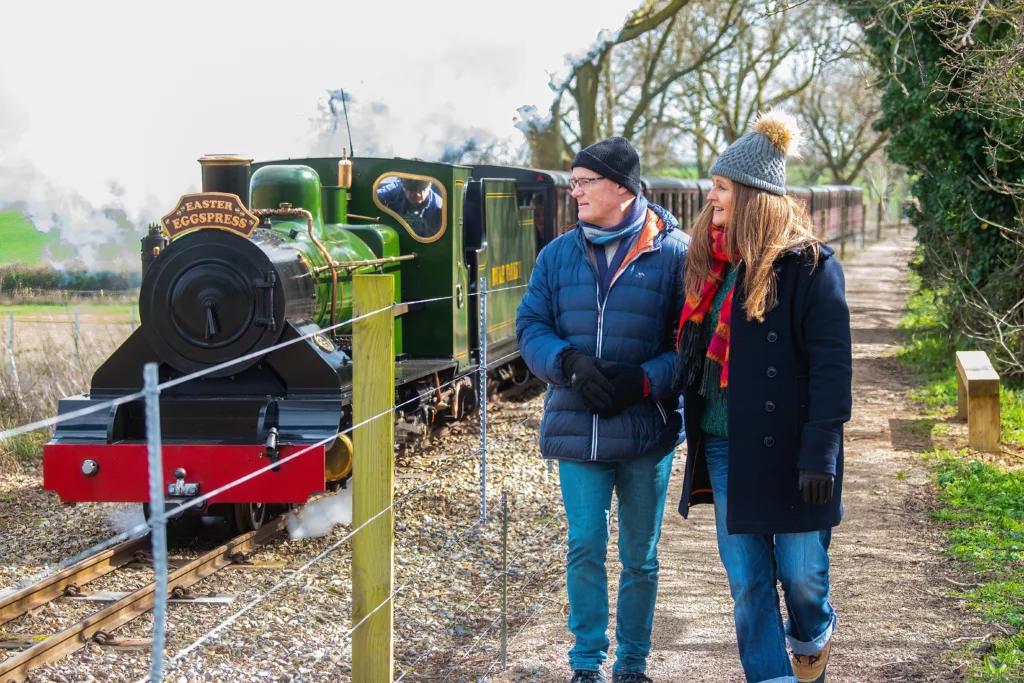 Don't let shorter days keep you indoors. Winter has its own magic and even a brief walk boosts health and banishes gloom. Belaugh is the quintessential English village. On a bend of the River Bure, it's the setting for one of the best short walks in Norfolk.
This circular route in beautiful Broadland countryside, takes in fields and picturesque riverside paths, also following alongside the miniature Bure Valley Railway – maybe you'll see a jaunty stream train chugging by! The path begins at the river moorings, so it's lovely to arrive by boat. If you come by car, park in Upper Belaugh, as parking is scare elsewhere. It's an easy 6.6km, good for those who favour gentler scenic walking trails. Depending on how long you like to stand and stare at the view, it takes about an hour and half. There's no pub here, but Coltishall is a pleasant mile and a half walk across the fields.
Unusually for Norfolk, Belaugh perches on a hill, formed by one edge of the Bure Valley. Peaceful even in high summer, there's just a pretty staithe, boatyard, a few houses and the 14th century church of Belaugh St Peter, on a steep slope above the village. And of course there's a ghost. This one is Richard Slater, a thieving servant who drowned in the river during a scuffle with the rector in 1695. Each night he rises from the quiet and lonely water, eternally dragged back by the weight of his stolen loot. Or so they say.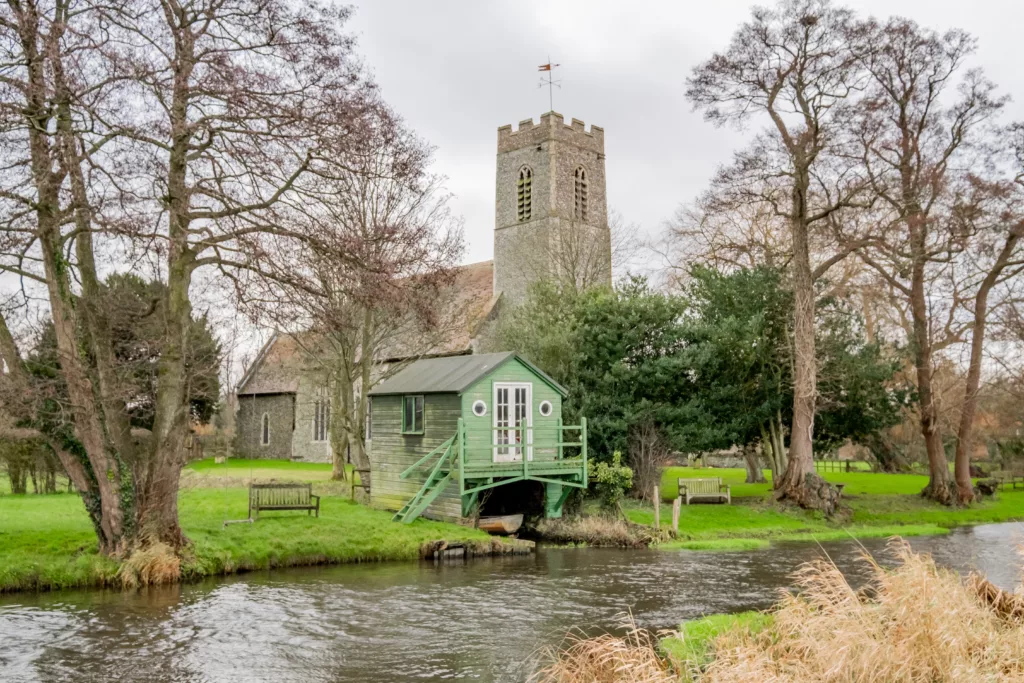 Buxton, an ancient village mentioned in the Domesday Book of 1086, is a place of natural beauty. Locals love its serenity, tucked away from crowds even in the hazy days of high summer. In spring hedgerows froth with Queen Anne's Lace before the warm harvest sun ploughs autumn fields with golden light. And imagine walking out on a winter's morning when Jack Frost crowns the landscape with nature's sparkling jewels. Pink silver mist glitters, breath steams in crisp bright air and cheeks glow with the simple joy of being alive on such a glorious day. Take a flask of coffee and enjoy!
Start at the car park at the end of Stacey Road, opposite the Bure Valley Railway Station. It's an active station, with steam trains stopping between Aylsham and Wroxham, so please be very careful when crossing any train tracks! The route follows the Bure Valley path to reach pretty Brampton, continuing past this idyllic Norfolk village where June roses tumble across cottage walls, to reach the banks of the River Bure, from where this riverside path takes you back to Buxton.
Wandering through pretty farmland, well away from crowded tourist honeypots, these paths are generally used only by locals in the know. It's so peaceful, it's unusual to meet any other people while you explore this trail through quintessential English countryside. Considered moderately challenging, the route is great for hiking, running and walking. Get off the beaten track and make this your next Norfolk adventure!
Day 2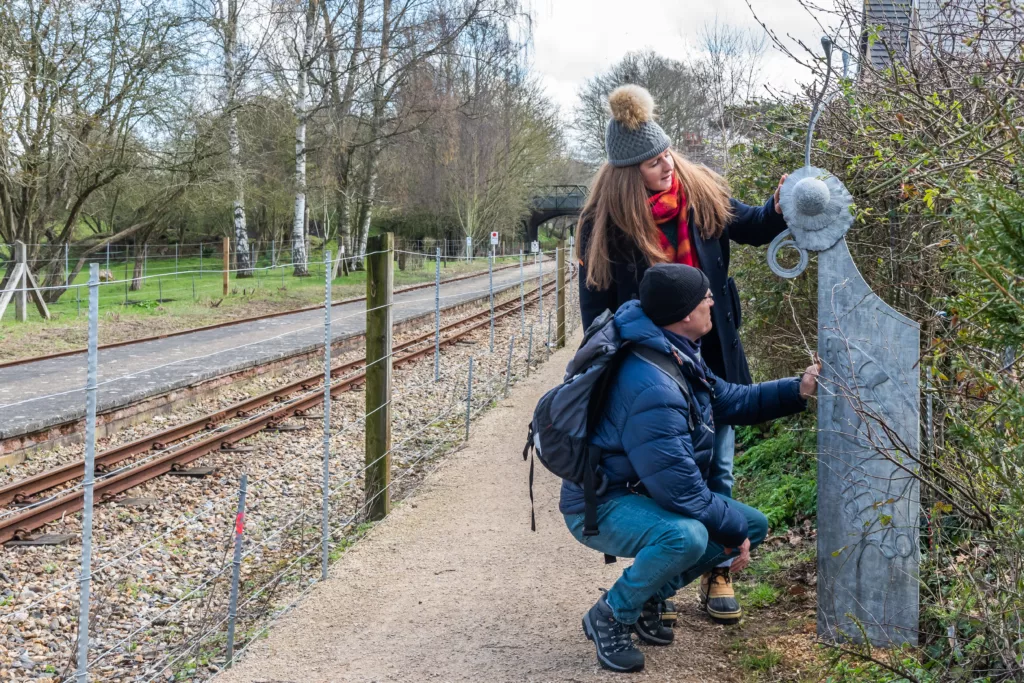 Coltishall is a pretty riverside haven, often called the 'Gateway to the Broads' as it marks the start of the navigable portion of the River Bure. Bustling with visitors in summer, this lovely spot is idyllic for an autumn stroll, when serenity returns and wildlife emerges to enjoy quiet sunlit days.
This little Norfolk village, mentioned in the Domesday book, is one of the most picturesque in Broadland, with thatched churches and the old Coltishall Station on the Bure Valley Railway, where this gentle walking route starts. Pick up the Bure Valley Path and follow the waymarked trail north west towards Little Hautbois and Buxton. Near here you cross the river to follow riverside paths back to Coltishall via Mayton Bridge and Mayton Hall.
Once you've finished, sit at a riverside pub with a Norfolk Real Ale and let your mind drift with the flow of peaceful water and watch the boats bob at their moorings. You'll find plenty of good food with delicious local produce on the menu, so there's no rush to go. And when you do, enjoy a ride on the Bure Valley narrow gauge Railway. Running from Coltishall station, the nostalgic little steam trains take you between Aylsham and Wroxham through beautiful Broads scenery. From February, nearby Hoveton Hall has spectacular snowdrop walks and not far away is enchanting Ranworth Broad with its nature reserve. There's an award-winning luxury hotel too. Just right for cosy winter staycations and glittering riverside strolls on a frosty morning.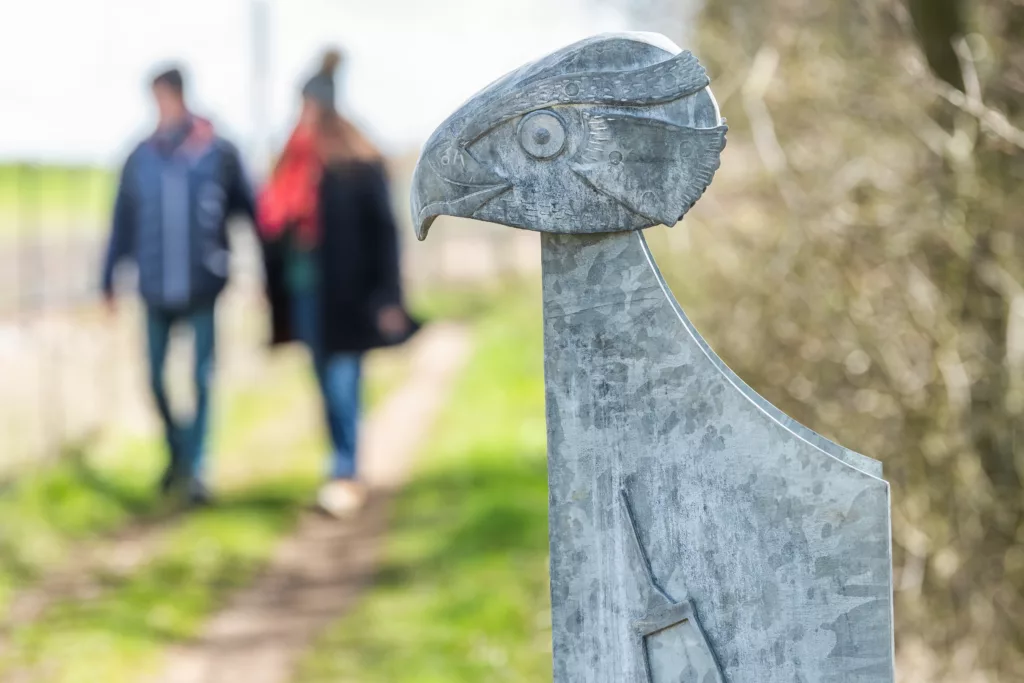 The Vikings and Anglo-Saxons would have known Buxton in Norfolk, an ancient settlement whose name derives from a blend of Old English and Old Norse, meaning 'bucca' or deer. Today its pretty cottages sit amid rolling farmland by the River Bure. It's the home village of Anna Sewell, author of Black Beauty. She's buried in the village of Lamas, just over the river.
The area is peppered with clues to past rural industries. In fact, a merchant called William Pepper rebuilt the Buxton watermill, mentioned in the 1086 Domesday Book, in 1772. The building has survived trials by water and by fire. In 1912 the River Bure broke its banks, flooding fields, drowning livestock and destroying locks along the river where wherry boats carried goods from the coast to Aylsham. When milling stopped in 1970, it became an art gallery until a fire in 1991. The indomitable mill is now private apartments. You'll see it along this walk.
Begin at the old railway station car park. Head past the converted mill and along the road winding beside the river to join a public footpath on a farm track. Follow it over the hill to Little Hautbois Hall (pronounced Hobbis). Ignore the Bure Valley Way path and bear left. Continue along here until you cross a bridge and turnstile into a meadow. Be cautious of cattle in subsequent fields, until you walk under the railway bridge and cross a footbridge to reach the river. Cross the rail track and return to your start point.
If you fancy creating your own itinerary for a day trip to Norfolk or a longer visit, it couldn't be simpler. Just go to Search Activities and select from our wide range of free and paid-for experiences, saving any that capture your imagination with the click of a button.
Once you've finished, you'll find all the information stored in My Favourite, where you can drag and drop activities to create your own day-by-day itinerary! You can download this to a calendar and even share it with friends.