Walk Your Way Through Thetford
From Irish fairy paths to China's feng shui and Britain's ley lines, world cultures connect the landscape to ancient energies, running through time and place. Local lore doesn't just weave fascinating stories about pagan Britain, it reconnects us to nature, the seasons and the future of our planet. Exploring Norfolk's weird and uncanny history is an excellent reason for a winter walk. Ideally with a good pub thrown in! Thetford's beautiful Breckland countryside is full of riddles, from a monstrous phantom rabbit (!) to enigmatic Grimes Graves, a setting for Elly Griffith's The Last Remains, her final Ruth Galloway mystery. For now…
Day 1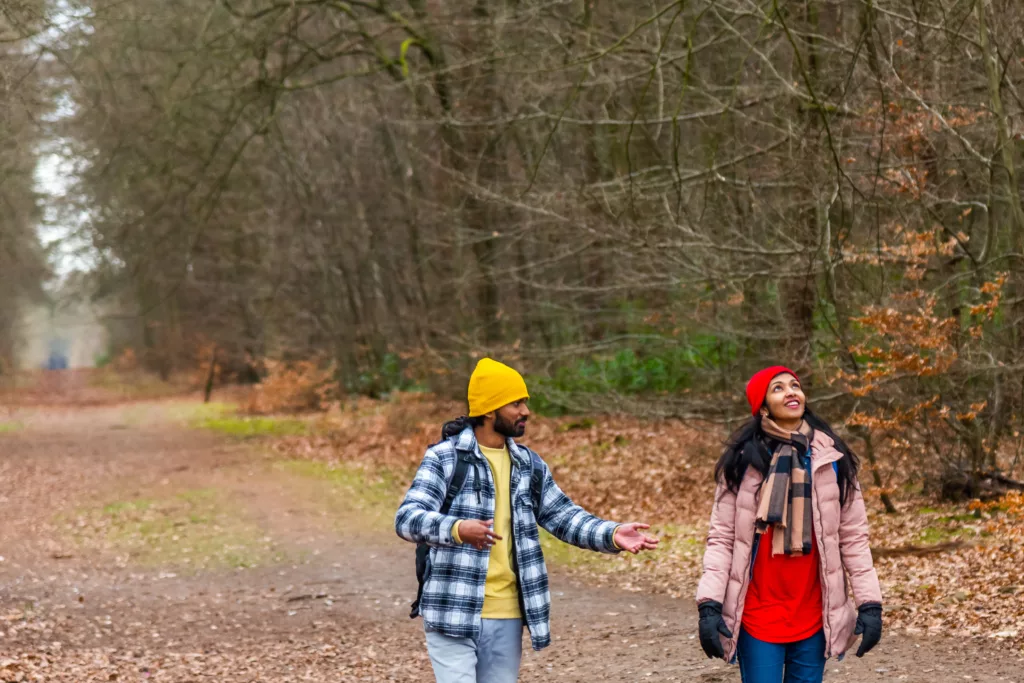 Think Black Shuck is terrifying? You ain't seen nothing yet! Slavering hell hounds bow to Thetford's phantom rabbit. It guards the doorway of a rare medieval rabbit warrener's lodge, where thousands of rabbits were once raised – and killed for food and fur. If you're wondering what could be scary about a cute little bunny, be warned that this one is a giant ghost with flaming red eyes. Oh, and seeing it is an omen of death. Just saying.
If blood-curdling rabbits aren't hair-raising enough, some speak of an unsettling figure wandering the woodland walks around the lodge, muttering in strange dialects from a shuddering two-dimensional face. Horrifed witnesses say this chilling visage peers from the first floor window where another ghastly face is sometimes glimpsed, with gaping black holes where the eyes and mouth should be. Trouble is, there is no first floor anymore. Gulp! The lodge at Thetford was built to accommodate hunting parties on the 'sands' of Breckland. Perhaps that should be haunting parties?
Once this lodge was the most prolific producer of rabbit meat and skins in the county, but rabbits aren't actually native to these islands. It's likely they were introduced by the Romans so there's no Old English, Celtic or Germanic word for rabbit. We've borrowed ours from French. There was an older term, 'coney', pronounced like the Irish and derived from the Latin 'cunīculus'. It was dropped when British slang picked it up as a pun for something rather different.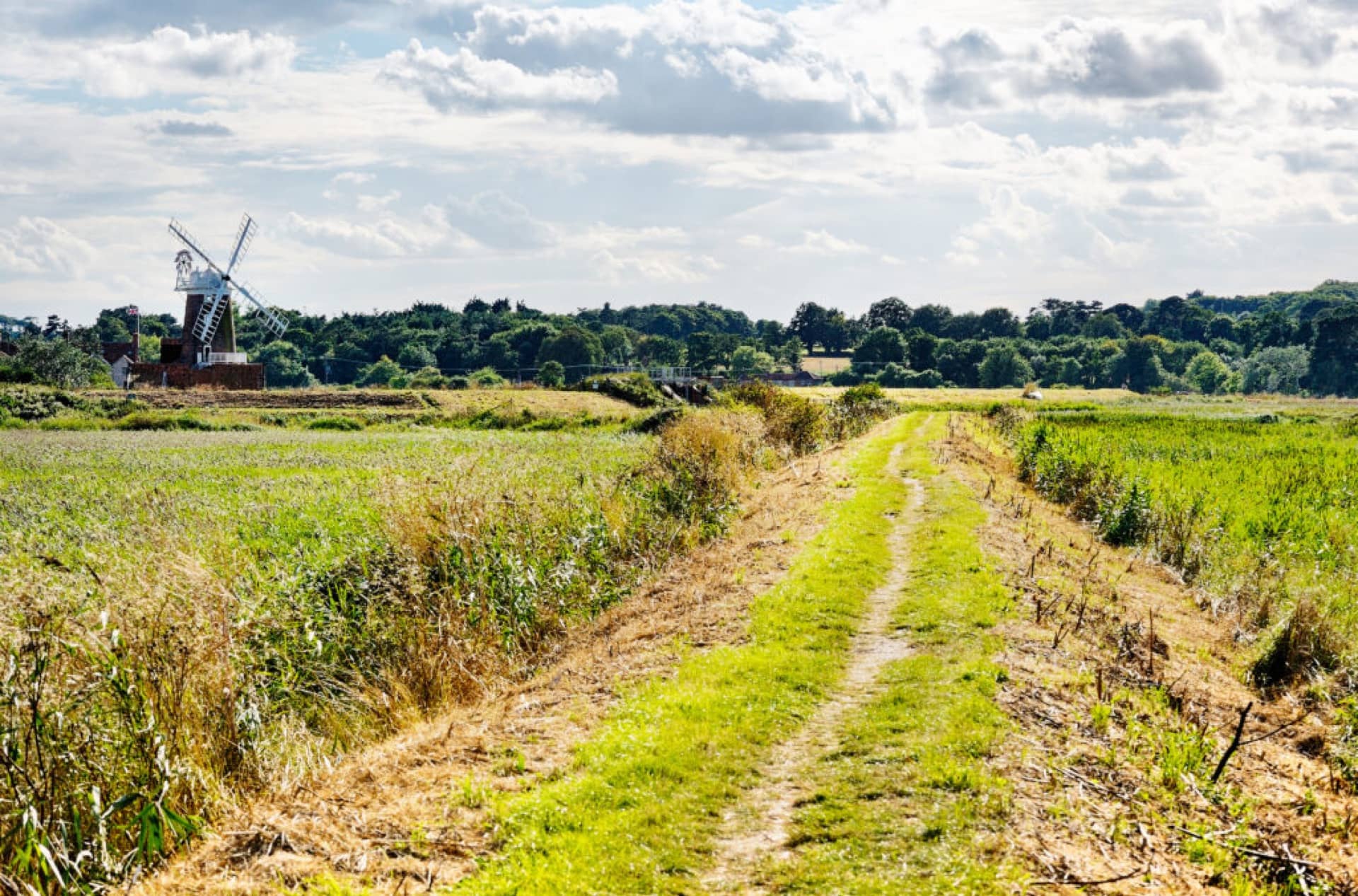 Up to no good? Divert attention Norfolk-style by summoning a ravenous, fire-breathing hellhound! And if you can't find one, there's always a sheep in wolf's clothing…
Tales of Black Shuck, Norfolk's monstrous, one-eyed demon dog, weren't just fireside yarns spun on wild nights when the wind came howling in from the sea. They were also used as distractions by a shadowy network of smugglers and their accomplices.
Legend has it that anyone who sees Black Shuck is doomed to die, but in case that wasn't  terrifying enough Norfolk's smugglers had another trick to discourage prying eyes. They dressed a huge black ram as the Shuck, his face up-lit by a lantern on his collar to cast distorting shadows, a trick later used in horror films.
Moving contraband cross country was a lucrative business and, when waterways were being watched, quiet green lanes and ancient tracks like Peddars Way were favoured routes for slipping under the noses of any revenue men who couldn't be bribed.
Peddars Way runs from the wooded Brecks close to Thetford to the coast near Hunstanton. The section north of Massingham was once so busy with nefarious traffic that locals called it Smugglers' Way and the sandy track near Bodney was known as Smugglers' Road.
To experience these haunting paths as smugglers once did, take a winter walk in their footsteps. The perfect prelude to a cosy night of seasonal ghost stories.
Wait! What's that sound? Probably just the wind…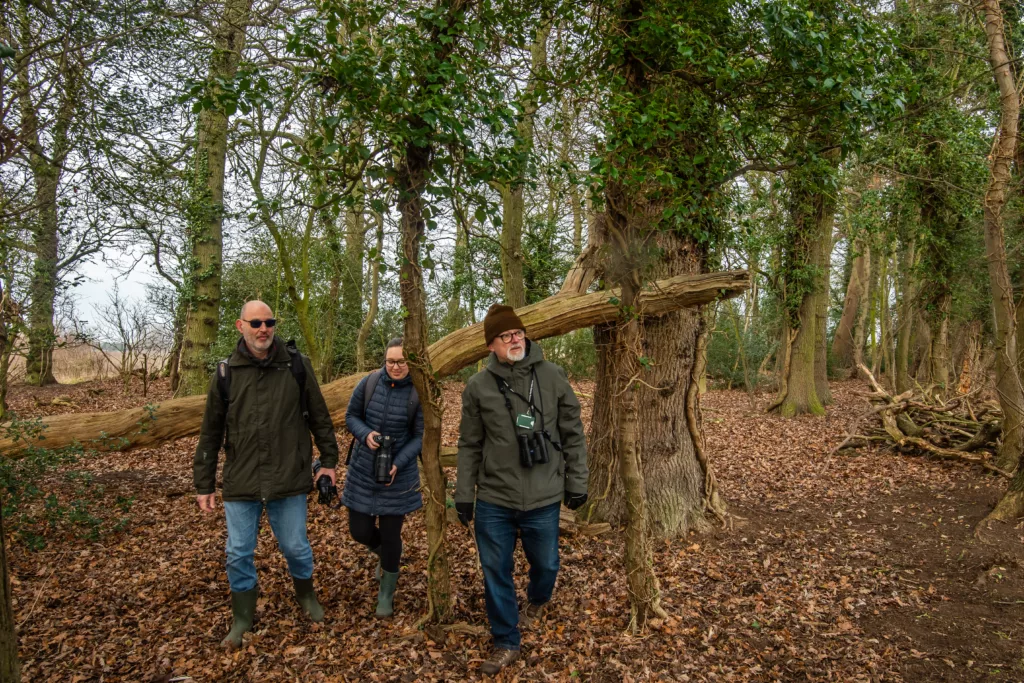 Once upon a time all England was covered by an untamed, tangled forest. Now only pockets of ancient Wild Wood remain and to walk in them is like stepping back in time. One, mentioned in the Domesday Book, is Wayland Wood in south Norfolk. From April bluebells cover the ground amid hornbeam, oak, hazel, bird-cherry and field maple. Yellow archangel, water avens, wood anemone, early purple orchid and the rare yellow star of Bethlehem have all been found here. It's an immensely pretty place for walks in early spring.
But in winter a more menacing atmosphere takes hold. Wayland Wood is the setting for the 'Babes in the Wood' and a winter walk brings the dark legend alive. An orphaned brother and sister were left in the care of their uncle at nearby Griston Hall. Should they die, this villain would inherit their father's fortune so in the dead of winter he took them deep into Wayland Wood and abandoned them. When death came, a robin covered their frozen bodies with leaves. It's said their little ghosts wander the wood, wailing in the dark. The oak tree where they died, huddled together, was struck by lightning in 1879.
Inside the half light of folk stories a local truth often hides. Were the babes real? Wayland Wood keeps its secrets in the shadow of oak, ash and thorn. And the Watton town sign remembers them, two shivering children under an oak tree, waiting for help that never came.
Day 2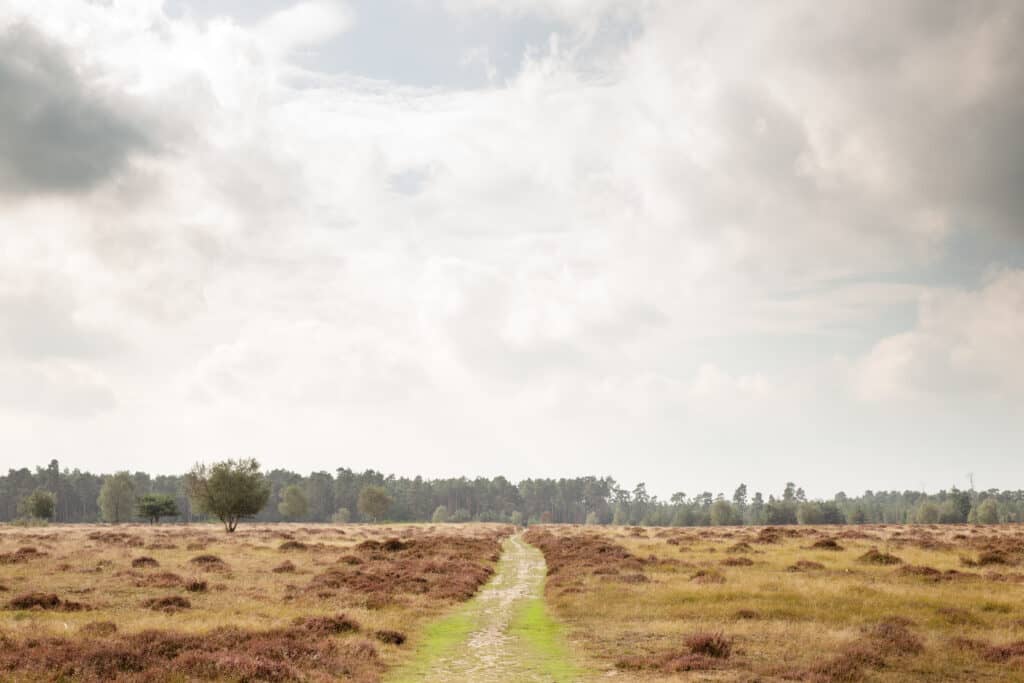 How peaceful to take deep, slow breaths wandering among the tall pines of Brandon Country Park! Forest bathing, or shinrin-yoku, is the ancient Japanese practice of walking slowly and intentionally in the woods, absorbing their quiet healing powers. Cool, lemony pine is a particularly calming fragrance for mind, body and spirit. So good you could drink it! We're not even joking…herbalists and indigenous peoples have been brewing pine needle tea for centuries. It's the perfect natural remedy for winter sniffles, a known decongestant and expectorant with anti-inflammatory and antimicrobial properties to boot!
So take a thermos flask of boiled water on woodland walks and you'll be ready for an impromptu foraged brew!
The Eastern White Pine (Pinus strobus) makes fabulous tea and is easily identified by clusters of 5 long needles growing brush-like from each branch. WARNING! Some conifers are toxic to humans so, as with all foraging, be 100% certain you're taking the needles from the right kind of tree and don't leave room for any doubt.
Once you're sure it's safe, gather your needles and perch on a sheltered tree stump to rustle up a brew. Here's how:
take a fist full of clean, green pine needles
snip them into small pieces (discard the brown bit holding the cluster together)
Steep the chopped needles covered by 2 cups of boiled water (take a thermos flask)
Leave 10-15 minutes
Strain, sweeten with honey if you fancy. Thank the trees. Breathe deeply. And enjoy.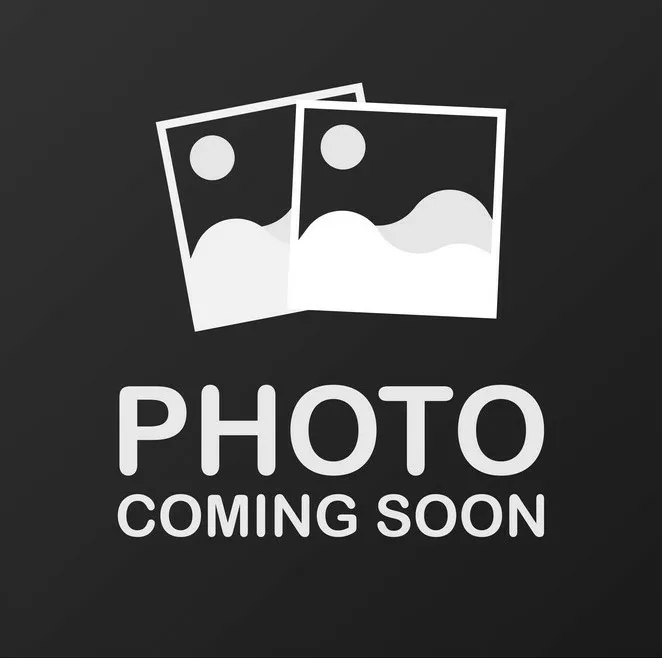 Tucked away in majestic Thetford Forest there's a mysterious lunar landscape, as if a huge meteorite shower once pounded the Breckland heath. Precisely 433 craters spread over 90 acres, strange hollows that seem hammered by a Norse god. No, not the mighty Thor but his pal, Odin. Odin's Anglo-Saxon name is Woden, nicknamed Grim. Hence, Grimes Graves.
So was this fascinating place really created by ancient gods? The truth is, this heritage site was a Neolithic flint mine, made by humans some 5,000 years ago. In the days before our ancestors forged metal, super sharp flints were 'knapped' into tools, weapons and ceremonial objects. At Grimes Graves miners dug vertical shafts up to 13 metres deep and excavated narrow galleries which they crawled along, gouging out flint with pickaxes made from deer antlers. But what else might have taken place down in those dark tunnels? Animal bones and even a human skull have been found, along with evidence of underground fires, suggesting this was once a place of sacred rituals. And it's likely what you see today is only part of the subterranean labyrinth which probably extended far under the pine forest.
Visitors can descend 9 metres (30 ft) by ladder into an excavated shaft to see the jet-black flint, which is itself another layer of deep time. Flint is the fossilised remains of soft-bodied sponges once swimming in the warm Cretaceous seas which, millions of years ago, covered the very place you now stand.
Day 3
After the First World War the British Government kicked off a massive national drive to plant huge blocks of coniferous trees for secure supplies of home-grown timber.
The sweeping sandy heathlands of the Brecks were no use for farming, good only for grazing sheep and rabbits. But they were prime real estate for millions of trees. Planting began around Thetford, eventually transforming the open grasslands to huge tracts of forest. First cleared by prehistoric farmers, wild expanses of the original heathland are rare and very special to explore.
Of the 12,550 wildlife species in the Brecks, 30% are nationally rare and some can be found only on these unique heaths. Just over the border in Suffolk is Knettishall Heath, and Norfolk's Brettenham Heath is a 200-hectare National Nature Reserve, on chalk bedrock, tens of metres thick, laid down during the Cretaceous period.
In some places the rock is close to the surface, breaking through the sandy soil. Where the soil is thicker it also becomes slightly more acidic, subtly changing the variety of plants and wildlife. This part of Norfolk was free of ice during the most recent glacial period resembling a treeless northern tundra or steppe. Part of a mosaic of heaths, forests and farmland, Brettenham is a beautiful place for a winter walk. And if you love Geology, head for the central and eastern part of the heath, where one of the country's best examples of acid soil and polygons of chalk can be seen.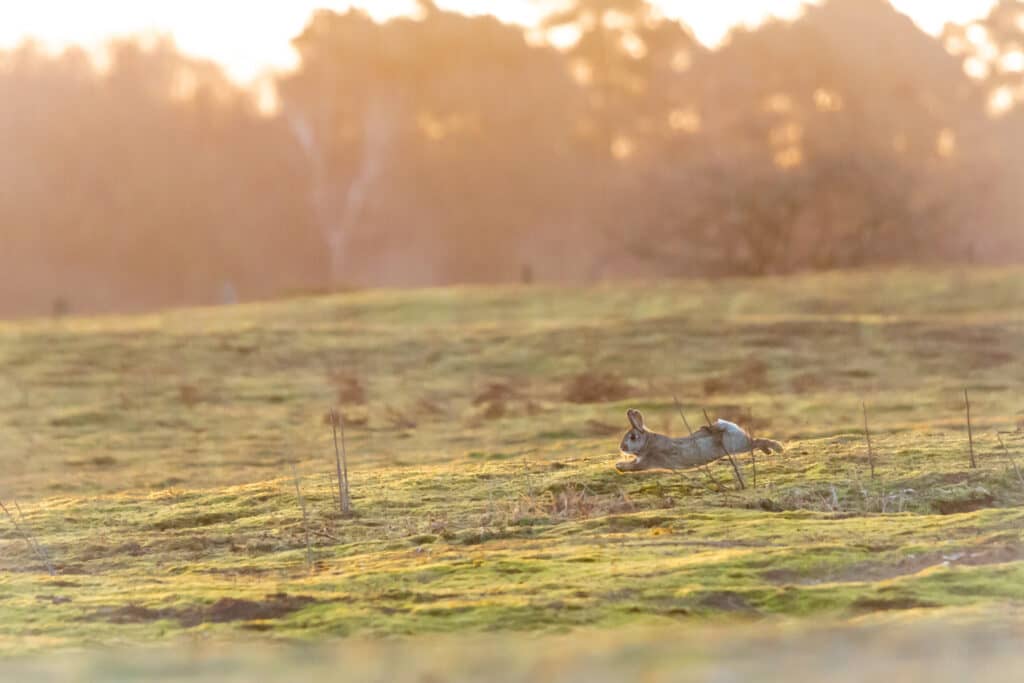 Think of Breckland and you might picture sunlight slanting through scented pinewoods. Yet it was once a so-called 'inland desert', open heathland created by prehistoric farmers who felled the ancient wildwoods. A walk on East Wretham Heath takes you through the pre-forestry landscape of our ancestors. Rabbits graze among windswept grasses under a blue sky, for even in winter it rarely rains here. As one of Britain's driest places, wild south-westerly winds once whipped up sandstorms so dramatic that, in the 1660s, they completely overwhelmed the village of Santon Downham.
Large scale pine plantations have transformed these wind scoured places into productive land and much of the open sandy Brecks has been lost. Little vegetation grows in the thin soil of the remaining pockets, so only specialist plants and animals can survive. East Wretham Heath is one such place. The Norfolk Wildlife Trust purchased the land at the start of the Second World War, making it Breckland's oldest nature reserve, complete with gnarled Scots Pines planted at the time of Battle Waterloo. In wartime, part of the land was ploughed, now restored by careful management – and the help of local rabbits! Rabbits share the close-cropped, springy grassland with many rare plants and insects, scarce breeding birds and wily stoats with black-tipped tails and gleaming russet coats.
There are two mysterious meres (lakes), with fluctuating water levels, Ringmere and Langmere. Visit the hide at Langmere for fabulous views of migratory birds in autumn and spring.
If you fancy creating your own itinerary for a day trip to Norfolk or a longer visit, it couldn't be simpler. Just go to Search Activities and select from our wide range of free and paid-for experiences, saving any that capture your imagination with the click of a button.
Once you've finished, you'll find all the information stored in My Favourite, where you can drag and drop activities to create your own day-by-day itinerary! You can download this to a calendar and even share it with friends.