Walk, Cycle and Stretch in West Norfolk
One of the finest ways to experience Norfolk's ancient landscape, historic architecture and rolling countryside is to explore on foot. Or perhaps you prefer the gentle rhythm of two wheels? Hire a bicycle from Vintage Velos, and bowl along the lanes of West Norfolk. You can investigate both the lost village near Leziate and Pentney Abbey in one day or enjoy a leisurely ride, lingering over two days to really take in the views. Need a good stretch after all that cycling? Round off your trip with relaxed yoga and a beer at award-winning Duration Brewery.
Day 1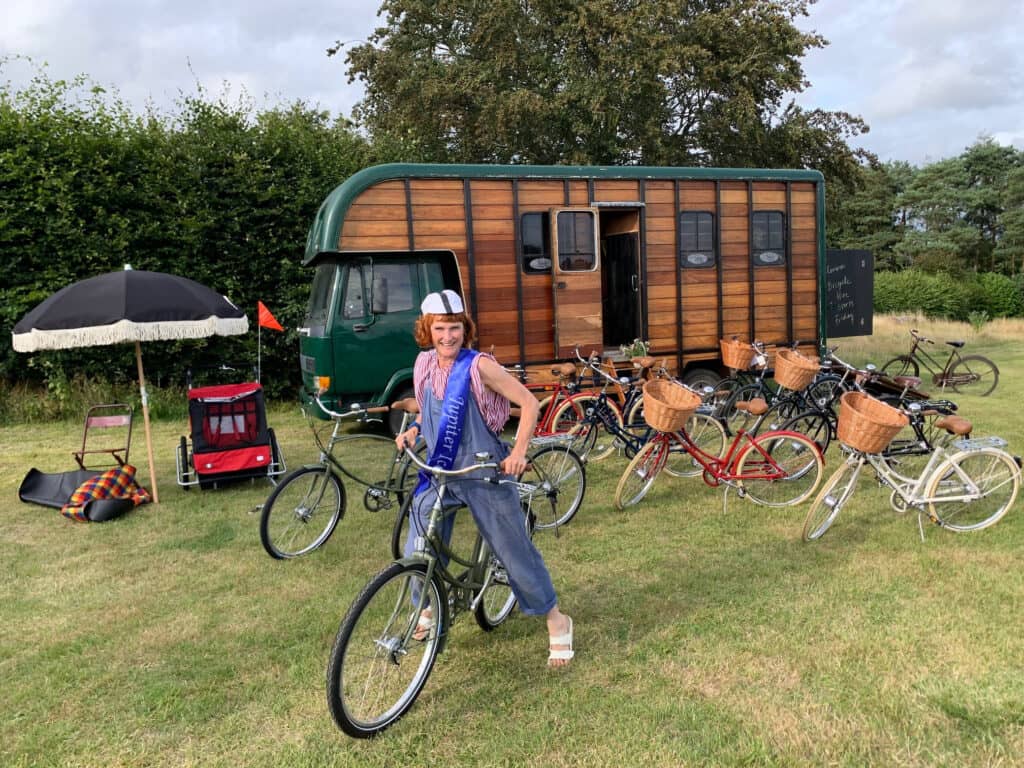 Author Laurie Lee wrote that in a car the 'hunched up traveller races at gutter height, seeing less than a dog in a ditch'. So hop on a bike and see more! Hire a brand new hand-built Pashley bicycle from the Vintage Village Velos horse box at Abbey Farm in West Acre and explore the quiet byways and secret lanes of Norfolk's enchanting countryside at a gentle pace.
Pedal past picturesque priories, ancient castles and pretty villages. Sit by a chalk stream and watch the fish, paddle in the shallows at Castle Acre, pause in the woods, listen to birdsong and the music of leaves in the wind. Picnic in a secluded spot, tuck into a good pub lunch, pop to a café for homemade cake, or be wild and free foraging in the hedgerows. Admire the views, discover local landmarks, stop in the stillness of a church, watch local wildlife or just hang out with friends!
There are no electric bikes, the ethos is about old school simplicity, going slow and just meandering around, feeling like you're a kid again. Cycling's good for the heart and muscles, easy on the joints and it's social too. Plus it puts a smile on your face, bowling along with the wind in your hair, breathing in the beauty of an autumn afternoon or a morning in early spring. Winter wanders are brilliant to get the blood moving too!
Between October and March please phone to book your cycles in advance.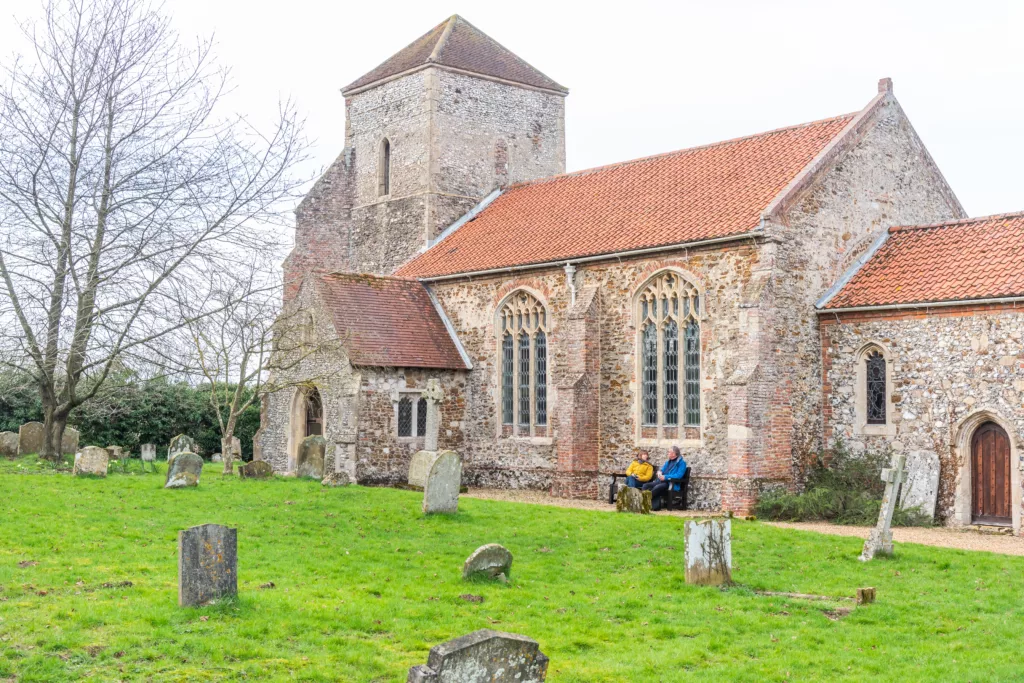 Medieval villagers farmed open fields, cultivating strips of land, making collective decisions on local matters. From Tudor times enclosure summarily took communal land into private ownership, extinguishing commoners' rights and dramatically changing the course of English society. From the 1750s, enclosure by parliamentary Act became the norm. Between 1604 and 1914 over 5,200 enclosure Bills were enacted by Parliament relating to over a fifth of the total area of England, some 6.8 million acres.
Many communities disappeared completely, such as the north west Norfolk village of Holt near Leziate which became depopulated after Thomas Thursby, a local landowner, enclosed the traditional open field system as pasture for his sheep. Wool production was very profitable in the medieval period and many arable fields were converted to grazing for flocks. Villagers no longer had anywhere to graze their own livestock and had little choice but to leave their homes in search for work away from the land. Holt House, is the only reminder a village ever existed. The Leziate Circular Walk passes from a landscape pock-marked by modern sand quarries, some of which have become lakes, into countryside still dominated by farmland.
Thomas Thursby also owned land around Glosthorpe but a search for Glosthorpe on modern maps would be in vain. All that remains are cropmarks tracing the layout of the lost village in fields to the south-west of All Saints' Church. Once the heart of the community, All Saints' now stands remote and alone in empty fields.
Day 2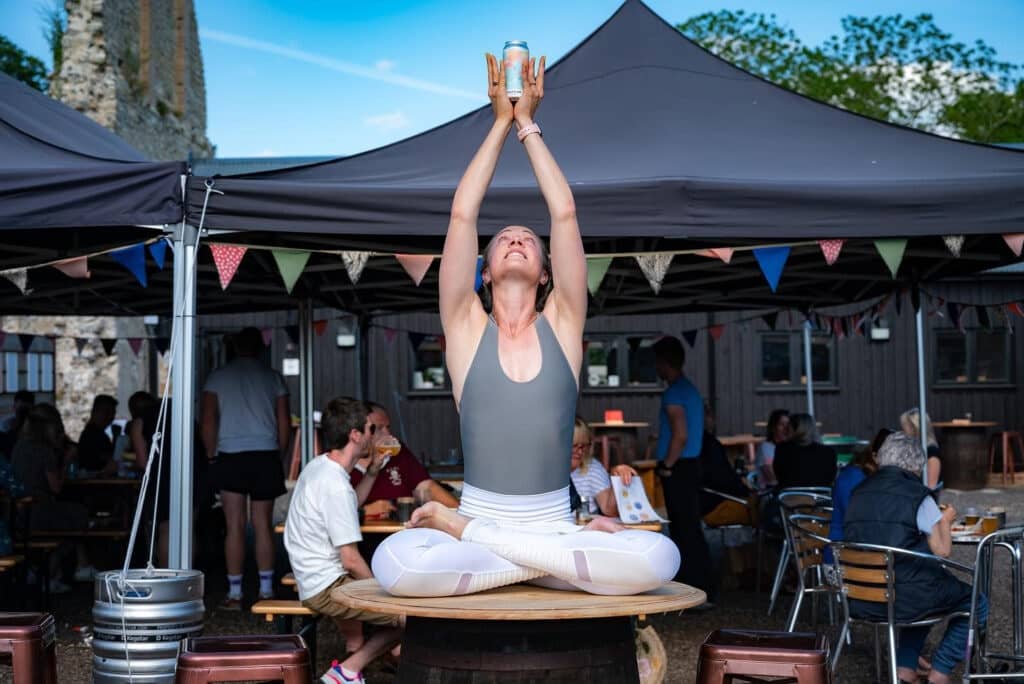 Sometimes you need yoga.
Sometimes you need beer.
Sometimes you need Yoga & Beer!
Lift your spirit, release your stress, sooth your soul and brighten up Saturday mornings with Yoga & Beer at Duration Brewing! Kick off the weekend with an hour of power yoga in the West Acre Gallery, right behind the vibey artisanal Duration Brewery. Steph, your skilled and knowledgeable tutor will guide you through a session rounded off by 10 minutes of meditation to set you up with renewed clarity, fully energised and ready for everything. Let go of any previous ideas you had about yoga. You don't have to be bendy, Steph, from Ascent Yoga, makes everyone feel welcome. She believes there's no such thing as being 'good at yoga' and will help you find your own way! Known as a natural antidepressant, those feel good endorphins will soon be floating through your body. After your yoga session, join the Duration team for a much-deserved complimentary pint over in the Barrel Store. What a groovy way to dive into the weekend! You'll be smiling all the way to next Friday!
Yoga & Beer sessions take place at 11am on the first Saturday of every month. £10 includes class and a pint! Children and expectant Mums also welcome and Duration can swap pints for a soft drink + snack. For a treat, The Yoga Bundle adds a branded mini face towel and keepsake glass (extra £10).
All ages and abilities welcome! Please bring your own mat or towel.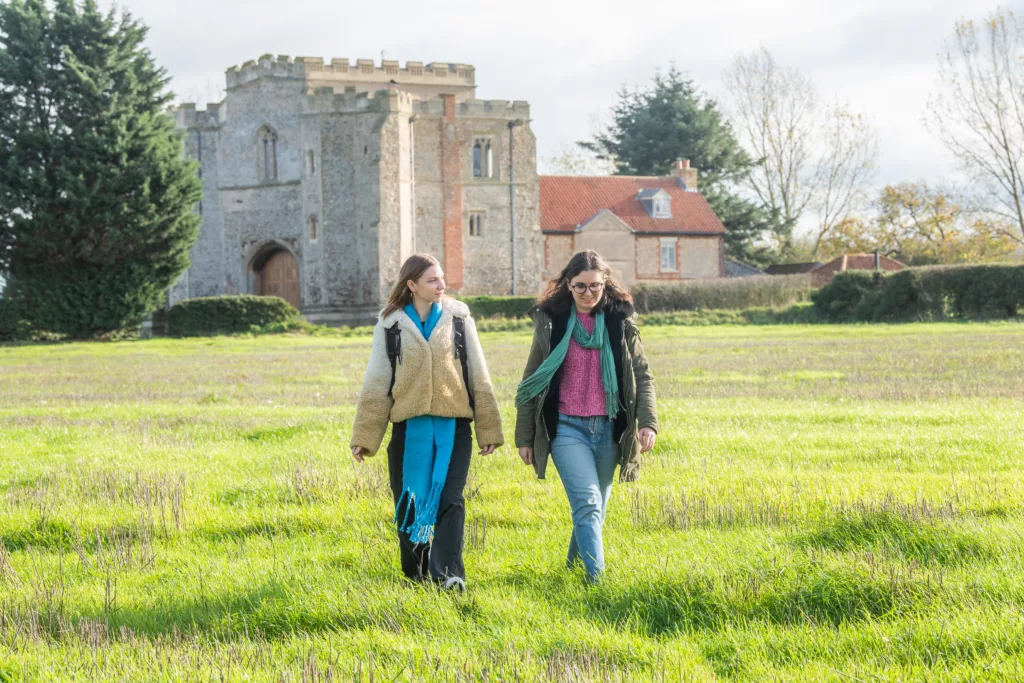 Walk through 'Norfolk's Holy Land', so called by 19th century cleric and writer Augustus Jessop, due to numerous priories and abbeys dotted along the Nar Valley. Ancient Romans, Danes and various religious sects made their homes on the isolated little islands surrounded by a sea of marsh; 'Pentney' means 'Penta's Island'. A starkly beautiful place, for centuries this landscape of quiet power has inspired philosophical thinking, ideal for pondering the meaning of life on winter walks. Around 1130 an Augustinian priory was founded here, by Robert de Vaux who came to England with William the Conqueror. For centuries it was a prosperous place of teaching and farming, although not without political upheavals. It was closed during Henry VIII's Dissolution of the Monasteries and today only the fine gatehouse survives, although Barnack stone from the ransacked priory was used in many local buildings.
Pop into the village and have a look at the 14th century Pentney Wayside Cross, near St Mary Magdalene's Church. Symbols of Christian faith, such crosses marked the way for medieval voyagers finding their way through unknown terrain. Before this became a churchyard, even further back in the 9th century, someone hid a hoard of exquisite silver brooches here. Likely to be a personal jewellery collection, for hundreds of years the six intricate brooches lay in secret under the earth until they were uncovered by gravedigger William King in the 1970s. Skilfully worked with animal and plant motifs, the treasure trove is now displayed in the British Museum.
If you fancy creating your own itinerary for a day trip to Norfolk or a longer visit, it couldn't be simpler. Just go to Search Activities and select from our wide range of free and paid-for experiences, saving any that capture your imagination with the click of a button.
Once you've finished, you'll find all the information stored in My Favourite, where you can drag and drop activities to create your own day-by-day itinerary! You can download this to a calendar and even share it with friends.