Guarded by a magnificent candy-striped lighthouse, Happisburgh's capricious coastline is a place where the past resurfaces without warning. Mammoths, lions and antelope once roamed here, hunted by ancestors whose very footprints emerged from ancient mud printed in a riverbank thousands of years ago. Walk the beach as they once did, but beware the gruesome ghost of a lost sailor! Recover with a local beer at Hill House Inn, once a smugglers' haunt and the place that gave Sir Arthur Conan Doyle the idea for the mysterious sequence of stick figures in his Sherlock Holmes story The Dancing Men.
Day 1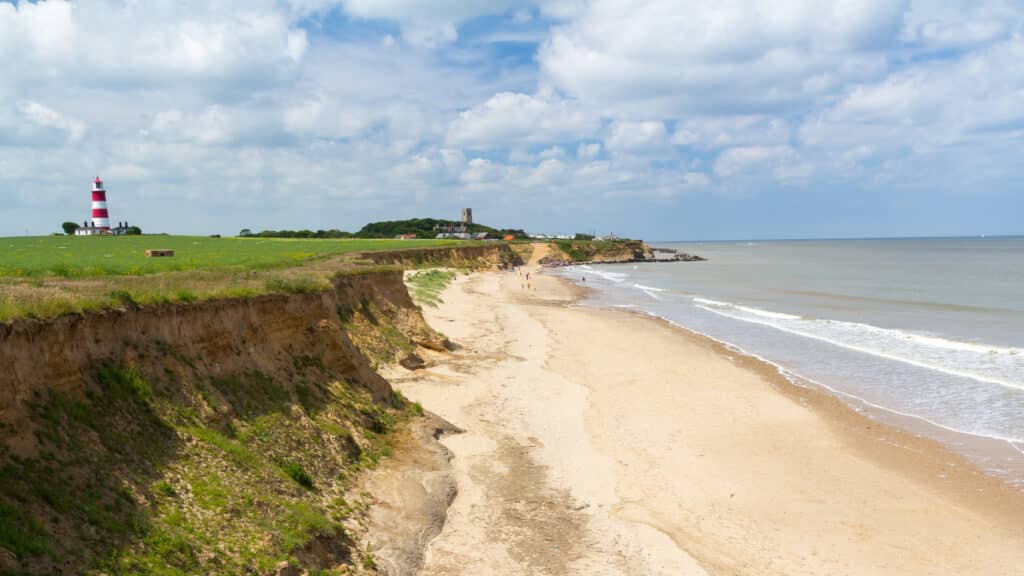 Walkers love Norfolk's stunning coastal paths. If you're one of them, you'll be following in the footsteps of people who've walked here for hundreds of thousands of years.
In fact, actual footprints were discovered at Happisburgh, left in the ancient estuary mud by people roaming this land before the Ice Age. Over 850,000 old, it's possible they were made by nomadic hunters, following migratory animals such as mammoths, bison, rhinos and deer in the days when Britain was connected to mainland Europe by a great plain, similar to East Africa's Serengeti. Or perhaps searching the mudflats for seaweed and shellfish.
Amongst the earliest evidence of humans in Britain, these amazing footprints were found accidently during a geophysics survey in 2013. Around 50 footprints were discovered, two showing details of toes. Approximately five individuals were identified, both adults and children. Their footprints were carefully photographed in 3D before being washed away forever by the tides of the North Sea, lost deep in time.
The course of the river where our ancestors once walked has now moved south and is today known as the Thames. Standing on the flint shingle banks, imagine the rolling waves as a vast flowing grassland of creeks and scrub allowing direct passage from Norfolk all the way to Africa.
Close your eyes and listen intently. The hyena and bison have long gone, but sometimes the sea sounds like swishing grass and wind like the mournful trumpet call of a mammoth.
Day 2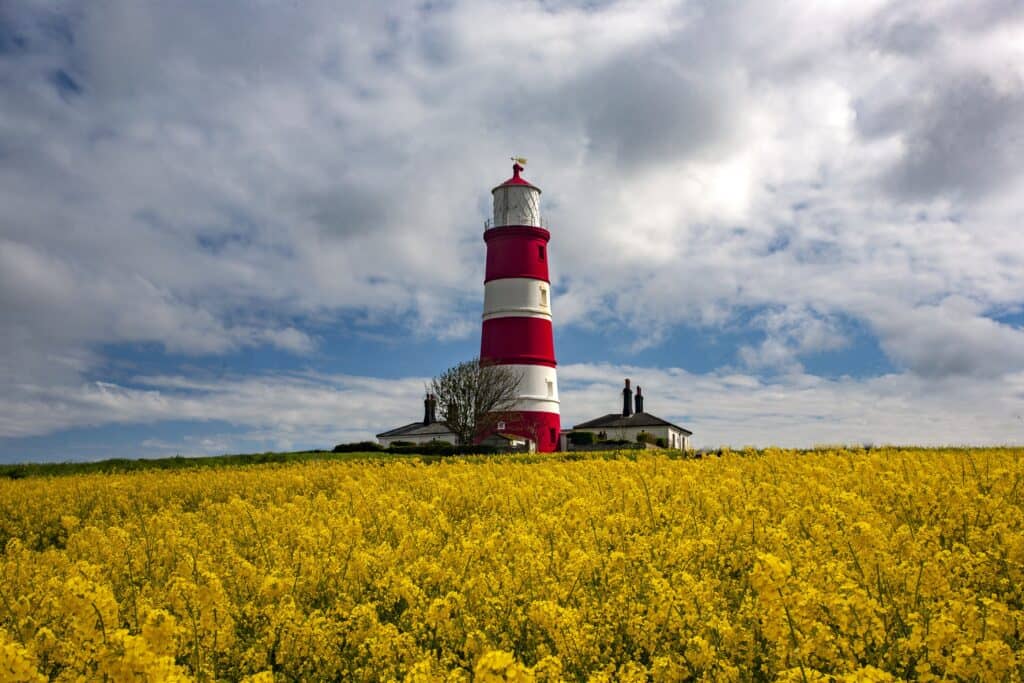 On the east coast of Norfolk stands an enigmatic lighthouse. Facing the sunrise, it sits proudly on Happisburgh's soft sandy cliffs where each morning the first rays of light catch the colourful facade, bathing its red and white stripes in the orange glow of a new day. This photogenic landmark was built in the wake of a terrible tragedy. In 1789 a terrible storm blew up. 70 sailing ships were wrecked in the crashing waters and 600 men lost their lives. The subsequent enquiry drew attention to the lack of warning lights between Cromer and Winterton so in 1791 two lighthouses were constructed. The 'Low Light' is now demolished but the 'High Light' is the distinctive tower that survives today. Once the 'Low Light' had gone, during daylight it was necessary to distinguish the Happisburgh lighthouse from the tower at Winterton and so three spectacular broad red bands were painted on the Happisburgh tower, just as you see today.
In 1987 Happisburgh Lighthouse was one of five lighthouses declared redundant with decommissioning scheduled for summer 1988. But local people were not going to allow their beloved lighthouse to be torn down! They mobilised and in 1990 a Private Bill was granted Royal making Happisburgh Britain's only independently operated working lighthouse. It's also the oldest working lighthouse in East Anglia, looked after by the Happisburgh Lighthouse Trust. It's fascinating to look inside so if you can't make one of the set open days, contact them to arrange a private visit.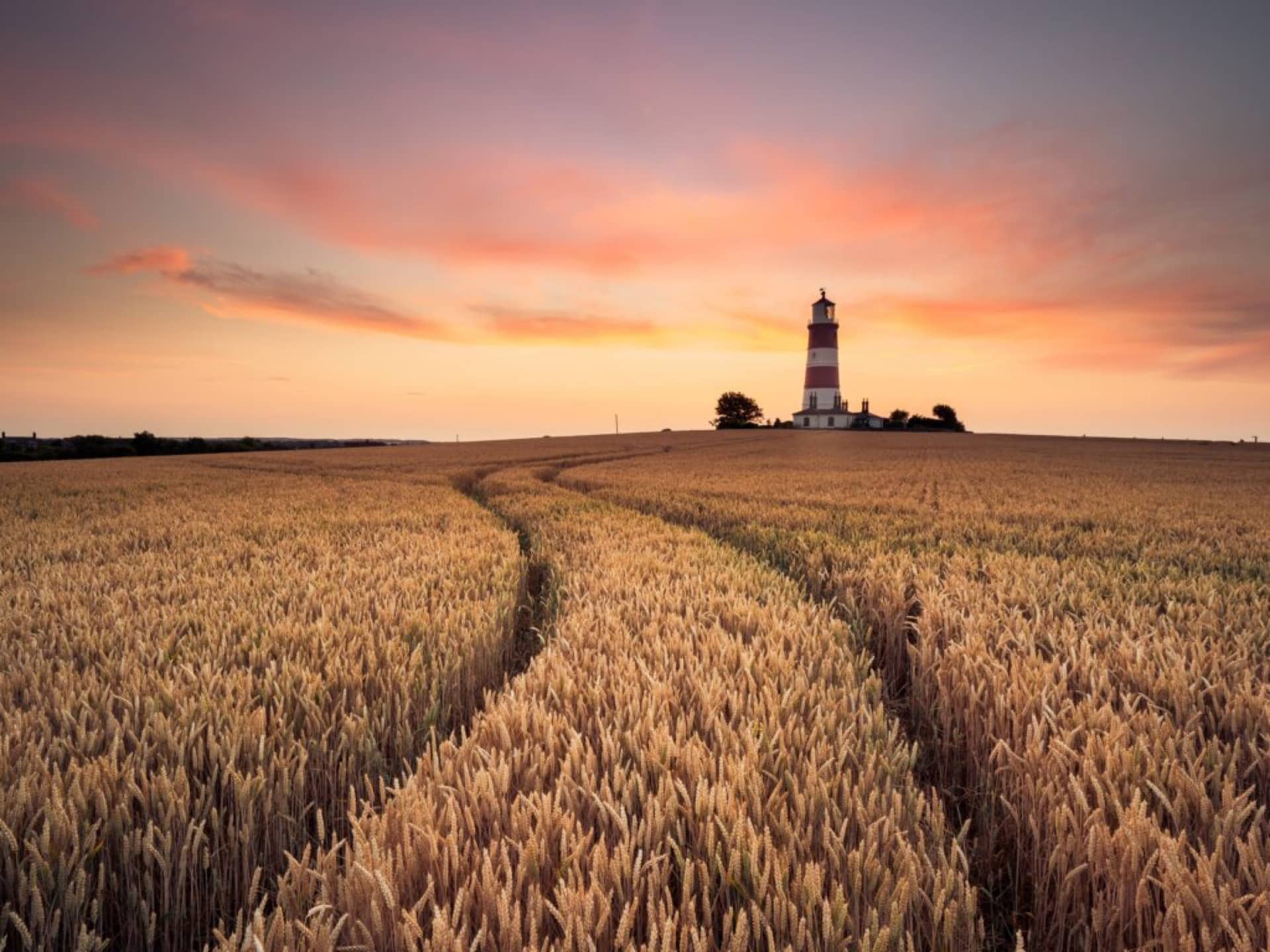 Happisburgh is a place of shifting boundaries, land and sea, time and space, life and death. Even the name changes, depending on where you're from. Those in the know say 'Haze-burr', anything else just sounds strange. And talking of strange things, here's a gruesome ghost story for winter nights.
There were once some farmers heading home for supper and a flagon of ale. Near Cart Gap they saw a figure lurching towards the village, clutching a filthy sack. He seemed to be a poor hunch-backed sailor but something was very wrong. Peering through the gathering dusk the farmers were struck with sickening horror. That was no hump, but a nearly severed head, hanging by a single ribbon of flesh, thudding against the spectre's spine as it walked. Yet how did it walk? For the grisly creature had no legs!
Terrified, the farmers hotfooted it to the inn. (We'd wager the phantom wasn't the only one completely legless that night!) After more sightings, the gruesome ghost was followed to the grassy triangle where Whimpwell Street meets Whimpwell Green and Coronation Road. There it vanished into a well. A brave young man lowered himself down, groping in the gloom. There was the sack! And inside were sailor's boots…with sailor's legs still inside! The well was drained. And there was another sack, containing a torso in sailor's uniform, its hideous skull dangling by a strip of rotting flesh.
Smugglers' tale or true? We dare you to investigate…
If you fancy creating your own itinerary for a day trip to Norfolk or a longer visit, it couldn't be simpler. Just go to Search Activities and select from our wide range of free and paid-for experiences, saving any that capture your imagination with the click of a button.
Once you've finished, you'll find all the information stored in My Favourite, where you can drag and drop activities to create your own day-by-day itinerary! You can download this to a calendar and even share it with friends.