Norfolk's unique coastal location means that for thousands of years it has served as a landing stage for settlers to the country, some more friendly than others… Evidence of settlement and cultural change can be seen throughout the county's rich landscape which is steeped in heritage. Step back in time as you follow this trail and explore the evidence close up. Don't forget to visit one of the county's many museums which reveal more about the hidden histories of the region.
Day 1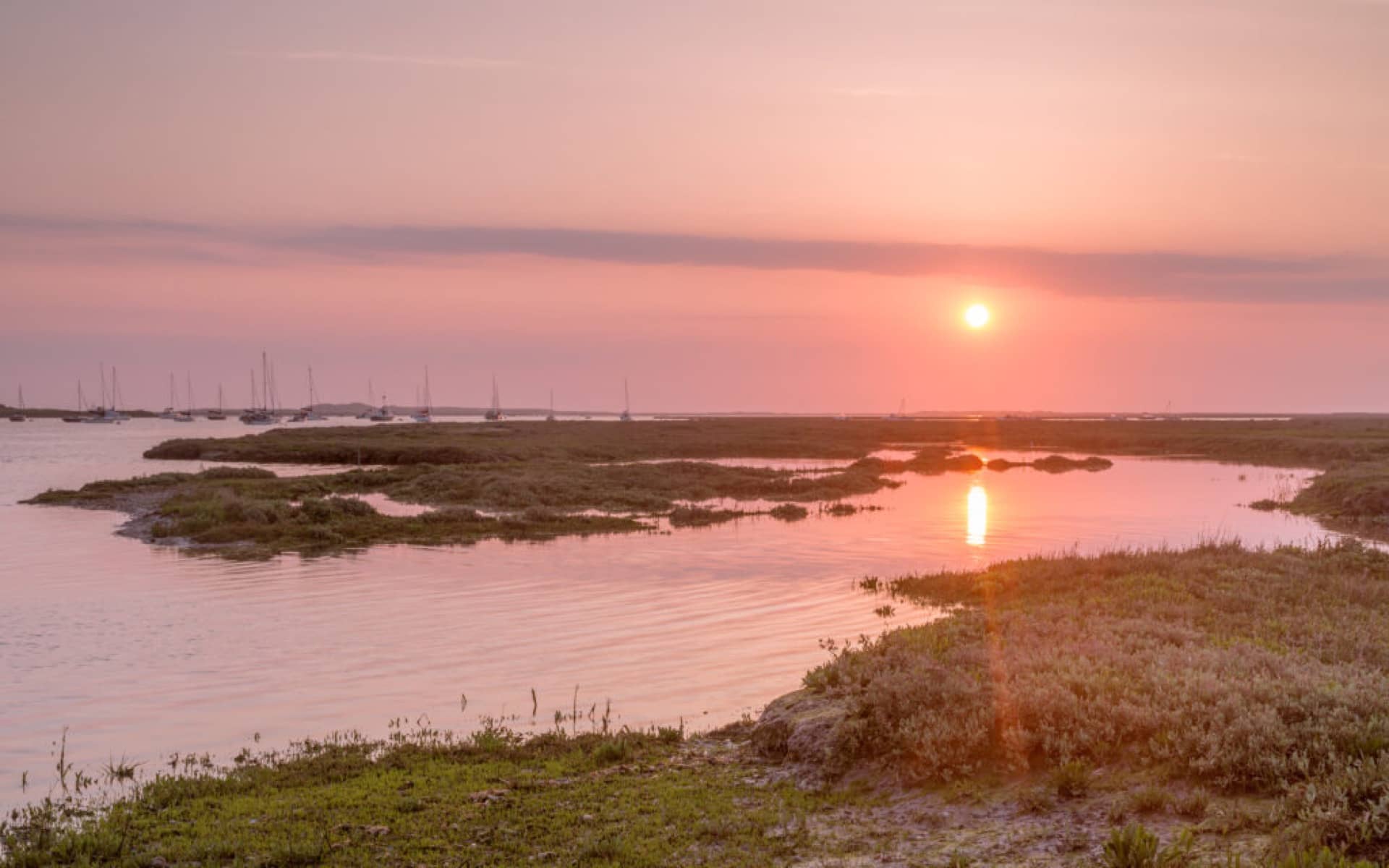 Walk the wind-scoured Norfolk coast when brooding winter skies break into breathtaking shafts of light. Buried deep beneath your feet are relics of an Empire in crisis. The 3rd century were dark days for Ancient Rome. Weakened by civil wars, Roman society was fracturing, riven by the violent deaths of short-lived emperors. The barbarians were at the gates. And in Britannia (Britain) they attacked from the sea.
Down the North Sea coast, and along estuaries on both sides of the Channel, was a chain of forts, built for trade shipping. Now they became strategic defences against raiders. Branodunum sat between Brancaster and Brancaster Staithe, one of Britain's eleven Saxon Shore Forts, military garrisons for over 150 years as the ailing Roman Empire collapsed into history. Earthworks are all that remain. Once at the frontier of Roman Britain, Branodunum's flints and stones were gradually stolen away and reused, still here embedded in this historic area's architectural fabric.
The Bronze Age, Roman occupation, and the Saxon and Norman periods have all left their mark on the landscape around Brancaster Staithe. Saxon jewellery has been found here, and a mile to the south the small hill at Barrow Common is believed to be a Bronze Age burial mound. St Mary's Church at Burnham Deepdale has Saxon origins, although the beautiful font is Norman. Depicting the 'Twelve Labours of the Months', it includes December feasting, so on that note…it's time to head to a cosy country pub!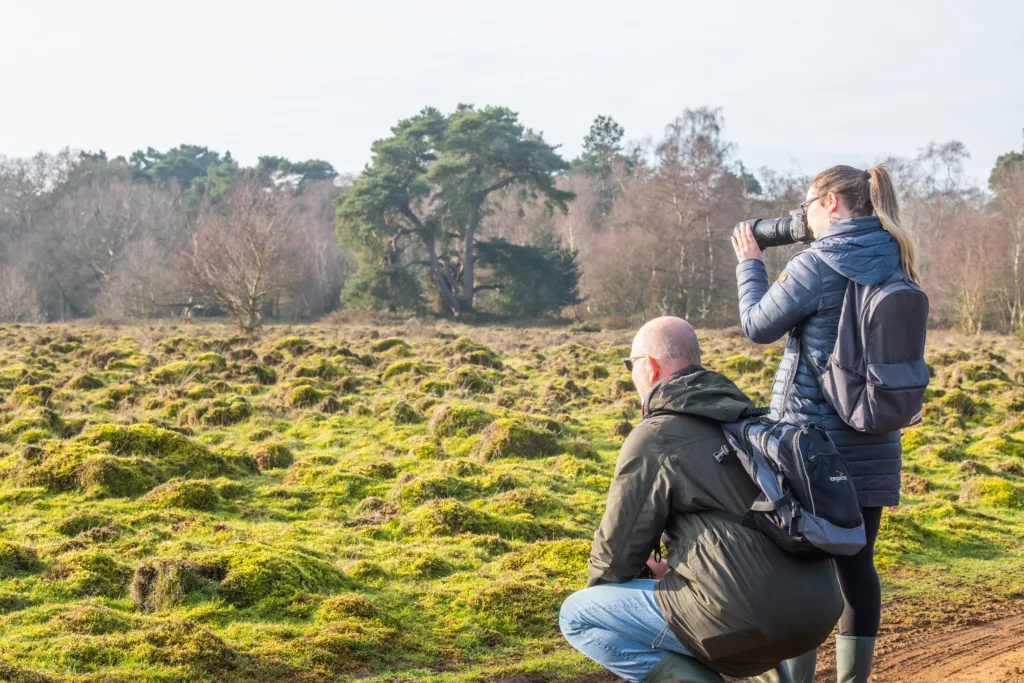 On the surface this is a charming circular walk through the woodland of the Ken Hill Estate with sweeping views out to The Wash. But the past is all around you, for these are ancient places, rooted in the lives of ancestors whose unwritten stories we can only glimpse.
One such insight came from a chance discovery in 1948, very close to the route you're walking. Ploughman Raymond Williamson turned up what he thought were parts of an old brass bedstead, but when the land revealed more pieces of metal, experts from Norwich Castle Museum recognised them as an Iron Age torc. This decorative neck-ring, finely crafted in tubes of gold had last been seen around 2,000 years ago!
Ploughing unearthed more treasures until the 1980s/90s when the British Museum carried out an extensive archaeological dig. The Snettisham Treasure is the largest hoard of Iron Age gold, silver and bronze objects found in Europe, with objects now displayed in the British Museum and Norwich Castle Museum.
If you love programmes like Digging for Britain you'll know archaeology is all about context and ancient treasures are given meaning by where they were found in time and space. This landscape gives away little about the location of these historic discoveries but as you pass through the Lodge Hill Plantation, past the site of a medieval tower, look out towards the sea and remember you walk on fields of gold.
Day 2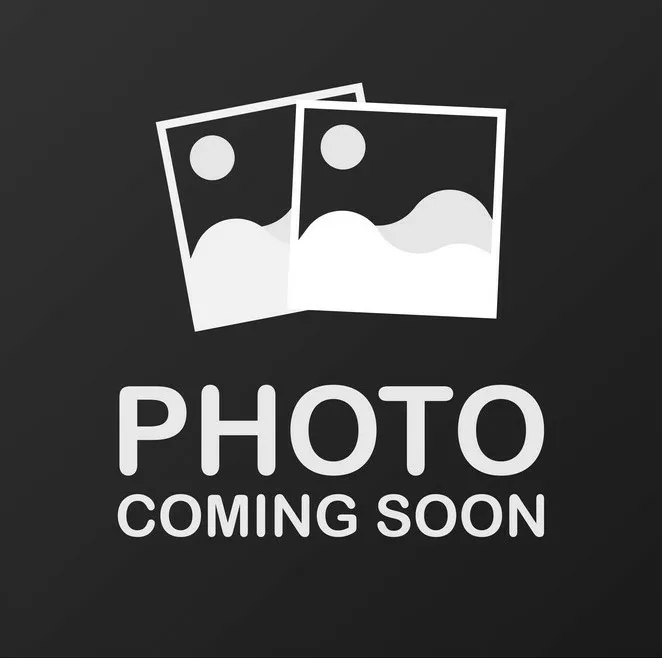 Tucked away in majestic Thetford Forest there's a mysterious lunar landscape, as if a huge meteorite shower once pounded the Breckland heath. Precisely 433 craters spread over 90 acres, strange hollows that seem hammered by a Norse god. No, not the mighty Thor but his pal, Odin. Odin's Anglo-Saxon name is Woden, nicknamed Grim. Hence, Grimes Graves.
So was this fascinating place really created by ancient gods? The truth is, this heritage site was a Neolithic flint mine, made by humans some 5,000 years ago. In the days before our ancestors forged metal, super sharp flints were 'knapped' into tools, weapons and ceremonial objects. At Grimes Graves miners dug vertical shafts up to 13 metres deep and excavated narrow galleries which they crawled along, gouging out flint with pickaxes made from deer antlers. But what else might have taken place down in those dark tunnels? Animal bones and even a human skull have been found, along with evidence of underground fires, suggesting this was once a place of sacred rituals. And it's likely what you see today is only part of the subterranean labyrinth which probably extended far under the pine forest.
Visitors can descend 9 metres (30 ft) by ladder into an excavated shaft to see the jet-black flint, which is itself another layer of deep time. Flint is the fossilised remains of soft-bodied sponges once swimming in the warm Cretaceous seas which, millions of years ago, covered the very place you now stand.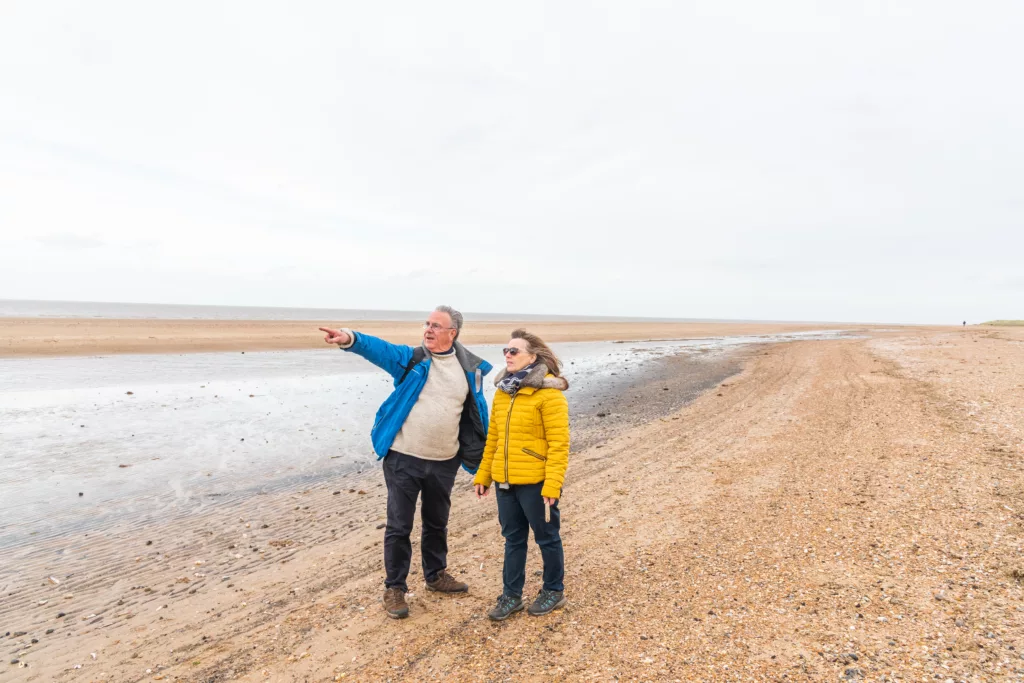 In spring, 2049 BC, early Norfolk dwellers gathered at a place of sacred ground. Impressive oak trees, felled with flint tools, had been carried here to the saltmarsh. The largest stump was placed upside down in a pit, roots pointing up to the sun and moon. It was surrounded by a timber wall, made of 56 stakes standing two metres tall. About 100 metres to the east, further circles of wicker and timber were made. Seahenge and its sister.
Before being discovered in 1998, these ancient timbers had not been touched by human hands for over 4,000 years. What did this liminal place of earth and water mean to our ancestors? Was this where the dead lay under open sky as their spirits moved on? Did the careful placing of mighty trees relate to the pattern of the stars? And in the sister circle, logs seem positioned to bear a coffin or revered object. One of the most important archaeological sites in East Anglia, Seahenge is now conserved and partly on display in Lynn Museum.
Walk across the marshlands of Holme and Thornham where the mystical land shivers with deep history. Then snuggle up, winter rain at the window, and tuck into Elly Griffiths' addictive Ruth Galloway mystery novels. Start with The Crossing Places, featuring a Bronze Age henge discovered on a lonely Norfolk saltmarsh…
The stories of our prehistoric past are written in wood and mud. What do we learn about ourselves from these wild and ancient places?
Day 3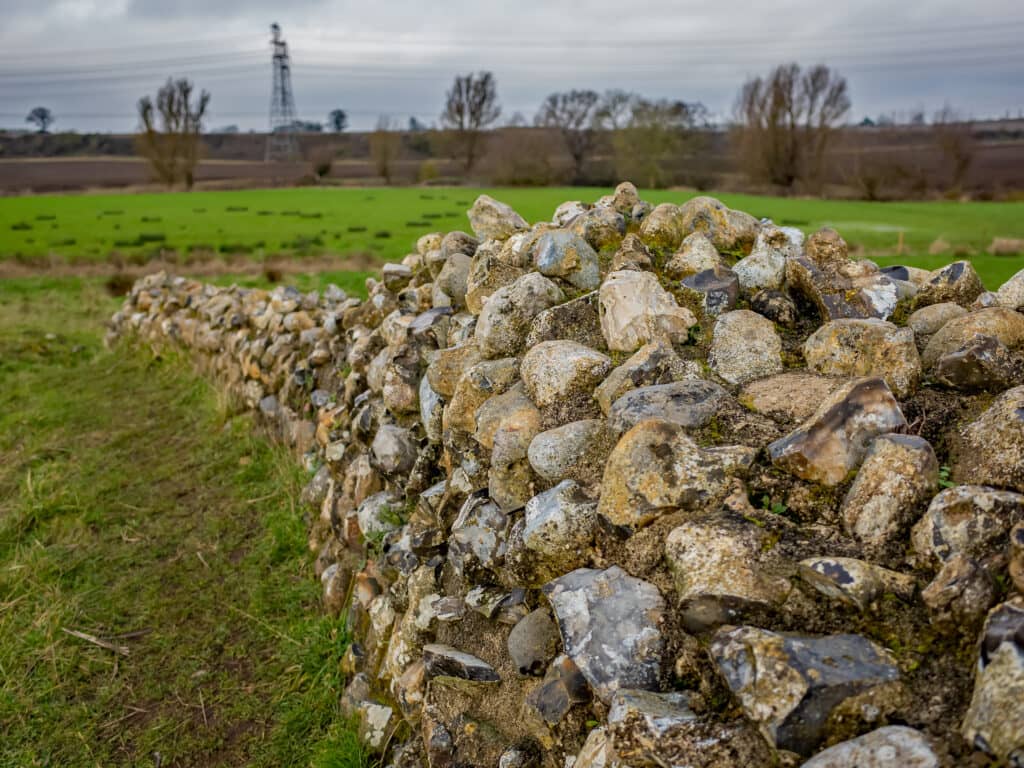 Imagine summoning up an outpost of Ancient Rome in modern Norfolk…
With the free Caistor Roman Town Augmented Reality app you can time travel to Venta Icenorum, once the largest Roman town in East Anglia built in Iceni territory after Boudicca's doomed rebellion. Life was comfortably sophisticated in this elegant settlement, established in AD70. Arranged in a grid of streets, facilities included running water, an amphitheatre, temples, baths, a town hall (basilica) and central public meeting place (forum). Archaeological excavations have revealed remains of inkwells, styli and graffiti, suggesting the 2,000 residents had international links and a high degree of literacy.
On a clear, fresh autumn day, climb up to the circular embankment. The town wasn't enclosed at first, with the banks and walls visible today built in the 3rd century AD. Standing under Norfolk's beautiful big skies you get a fantastic sense of the vantage point used by Roman guards scanning the vast rolling landscape for enemies, or perhaps friends! Using the app, look down into the settlement area to experience the town and its everyday objects brought to life.
Following the fall of the Roman Empire the market town began to decay, finally abandoned in the 8th century when Norwich became the county's main civic settlement. Little Roman masonry still stands at the encampment – although a walk around today's village of Caistor St Edmund gives you a clue as to where it went!
Download the app before heading to Caistor St Edmund. Watch a sneak preview here.
If you fancy creating your own itinerary for a day trip to Norfolk or a longer visit, it couldn't be simpler. Just go to Search Activities and select from our wide range of free and paid-for experiences, saving any that capture your imagination with the click of a button.
Once you've finished, you'll find all the information stored in My Favourite, where you can drag and drop activities to create your own day-by-day itinerary! You can download this to a calendar and even share it with friends.