The Broads by Land and Water
The Norfolk Broads are unfailingly beautiful yet crowded in summer. For real Nor-folk, they come into their own when glowing autumn colours burnish the landscape and peace returns. Wildlife, which keeps itself hidden in peak season, ventures into sight, relishing the serenity of winter days. Low sun sparkles in the reeds and stunning sunsets have everyone reaching for cameras and phones. Explore by boat or on foot. The loveliest trails – and most haunted tales! – are local secrets, made for sharing on winter nights. Our handy itinerary puts you in the know. But don't go telling everyone!
Day 1
Glide quiet through the waters of Sutton Broad RSPB Nature Reserve and experience the magic of this uniquely beautiful waterscape at its most peaceful. Be planet-friendly and sustainable by taking to the River Ant aboard an electric boat, kayak or canoe. This gentle way of navigating the Broads National Park gives you an excellent chance of seeing wildlife emerging to reclaim the land when summer crowds have gone.
Renowned for their friendly professionalism, Sutton Staithe Boatyard is away from the hustle and bustle. Year round, it's a wonderfully tranquil place to start your trip so make the most of the changing seasons. Birdwatchers report regular sightings of the sapphire blue Kingfisher, Bitterns have been heard booming and Harriers soar high in the sky. You might even spot a playful otter. Cruise further down the River Ant and you'll discover the glorious expanse of water at Barton Broad.
Spoil yourself with a locally sourced picnic or hamper starting from £10 per head. If you want a cosy boating day, book an electric picnic boat covered from the elements with a sliding roof and cooker hob to make hot drinks. Enjoy the stunning views from the seating areas and follow the Boatyard's self-guided route telling you which landmarks and sights to look out for.
Sutton Staithe Boatyard is at the end of Sutton Broad in the heart of Norfolk, on the A149 between Stalham and Potter Heigham, next to The Sutton Staithe Hotel. And there's free parking!
Day 2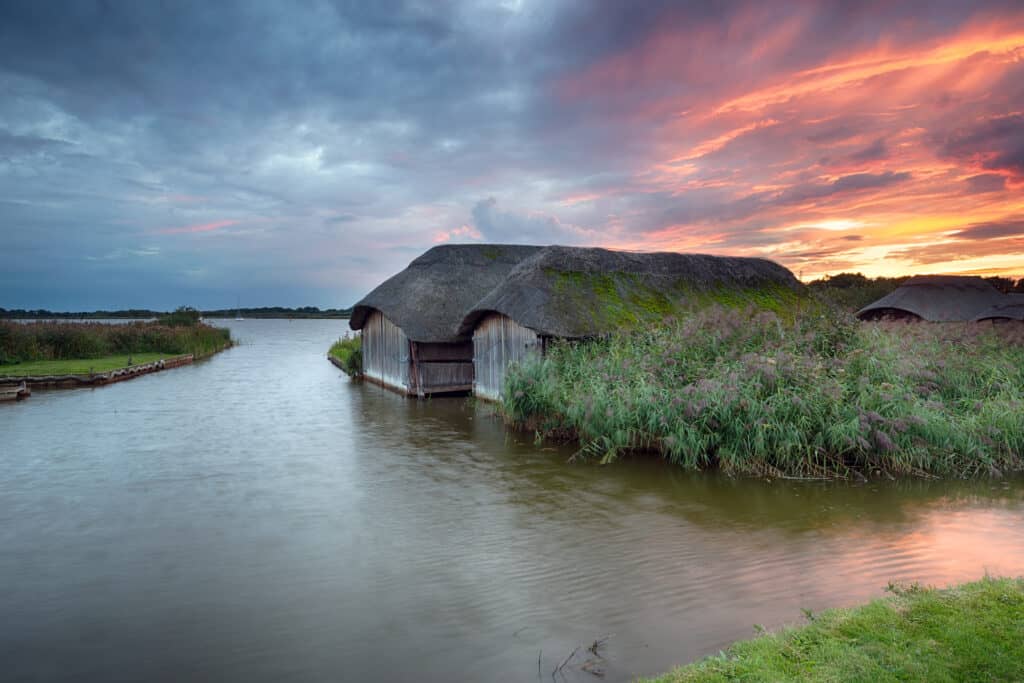 All summer long Hickling Broad teems with holidaymakers from across the world, their pleasure boats and canoes crowding the waterways. Yet in winter the tourists leave, boatyards are shut and a wilder, elemental beauty rises like dawn mist. Pale whispering reeds sway in elegant dances, and paths and boardwalks are all yours. Boats are moored tight against wooden quays, masts clinking in easterly winds. When iron grey cold grips the landscape, the Broads freeze. Stop for a moment. In the clean air there's the sound of a drum. Slow and steady, carried on the wind.
It's an age old story of forbidden love. Two hundred years ago, a carefree drummer boy fell in love with a sweet natured girl. But the boy was poor and the girl's father was rich and proud. He ordered his daughter never to see the lowly drummer boy again. But true love will not be denied so the lovers married in secret. Each night they met on the banks of the Broad. And when Arctic chill turned the water to ice, the boy would skate slowly across, beating his drum, signalling to his young wife. Wrapped against the bitter cold she waited, her heart beating in tandem with the soft rhythm of his drum. One night, the ice cracked like a gunshot. And the beat stopped forever.
Yet, on winter nights, it's said the boy's frozen spirit searches for her still, his drum beating for eternal love, the sound of every human heart.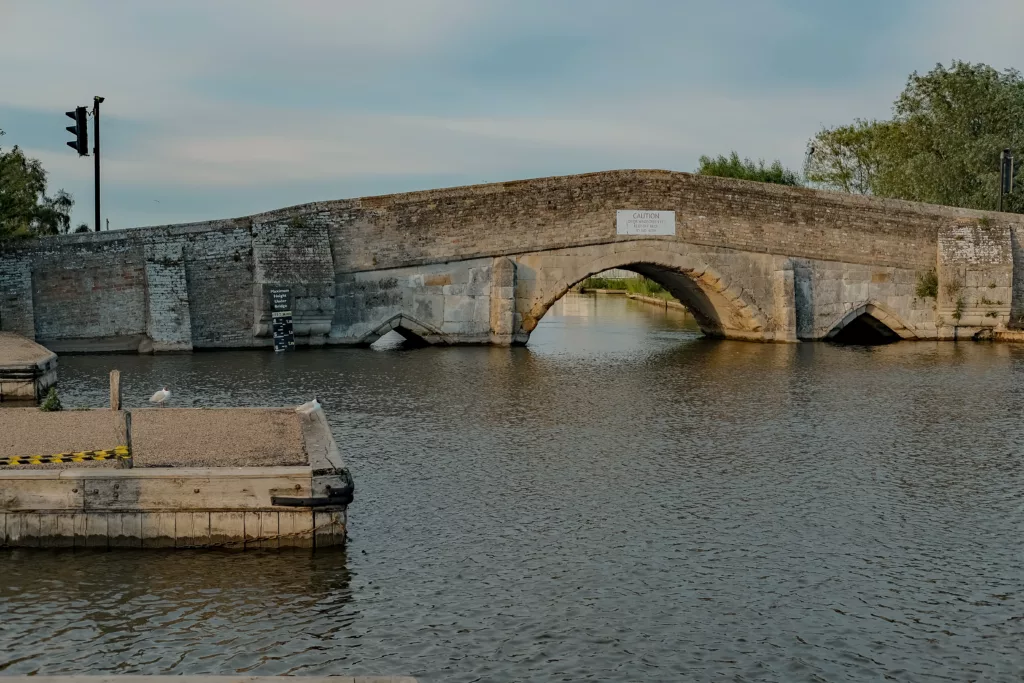 Do you know the pretty little bridge at Potter Heigham? It was built around 1385 and still carries traffic over the River Thurne. But there's good reason to avoid it in spring. Unless, that is, you're a ghost hunter.
In 1741, ambitious Lady Carew of Potter Heigham determined her daughter, Evelyn, should be married. She fixed on astoundingly wealthy Sir Godfrey Haslitt of Bastwick, whether he liked Evelyn or not. Alas, he didn't. Fuming, Lady Carew consulted a witch who boiled and bubbled a powerful love potion. The sorceress wanted no money, instead she demanded that if the potion worked, Lady Carew must swear to give her anything she desired. Foolish Lady Carew agreed so the charmed liquid was secretly slipped into Sir Godfrey's brandy. In moments he fell madly in love, married Evelyn and was soon dancing at his own wedding feast. But as midnight struck the doors flew open! A grinning skeleton grabbed Evelyn in its boney arms, flung her into a coach and galloped off at breakneck speed. The wedding party gave chase but as the coach crossed Potter Heigham Bridge it burst into flames and plunged smoking into the water. Lady Carew had paid for the potion with her daughter's soul.
31st May is the anniversary of that dreadful date. If you dare stand on Potter Heigham Bridge at midnight, thunderous hooves and screeching wheels herald a fiery coach careering into view, hitting the bridge and vanishing into the water. Or so they say.
Day 3
Banish the winter blues with a good stomp outside in magical scenery. Grab your winter boots, pull on a jumper and head to the Broads for a mood-boosting walk on hidden footpaths accessible only by water.
From Martham Ferry Boatyard (car parking is free) you'll be taken on a 15-minute electric boat ride to the start of the path near Hickling Broad. This self-guided walk takes an hour, although you can extend it if you'd like longer. Afterwards, you'll be taken back to the boatyard for a cheery hot drink.
You really get to know the secrets of a place when you see it in all seasons and the stark, tranquil beauty of winter is one of the best times to spot wildlife in this unique landscape.
Those who visit outside of the crowded high season might spot Kingfishers, Little Egret, Common . . Between autumn and early spring it's the season of scarlet berries, restless skies and silver mist rising over the marshes, so bring your camera and wrap up for the weather to explore this breathtaking part of the Broads National Park at its most peaceful.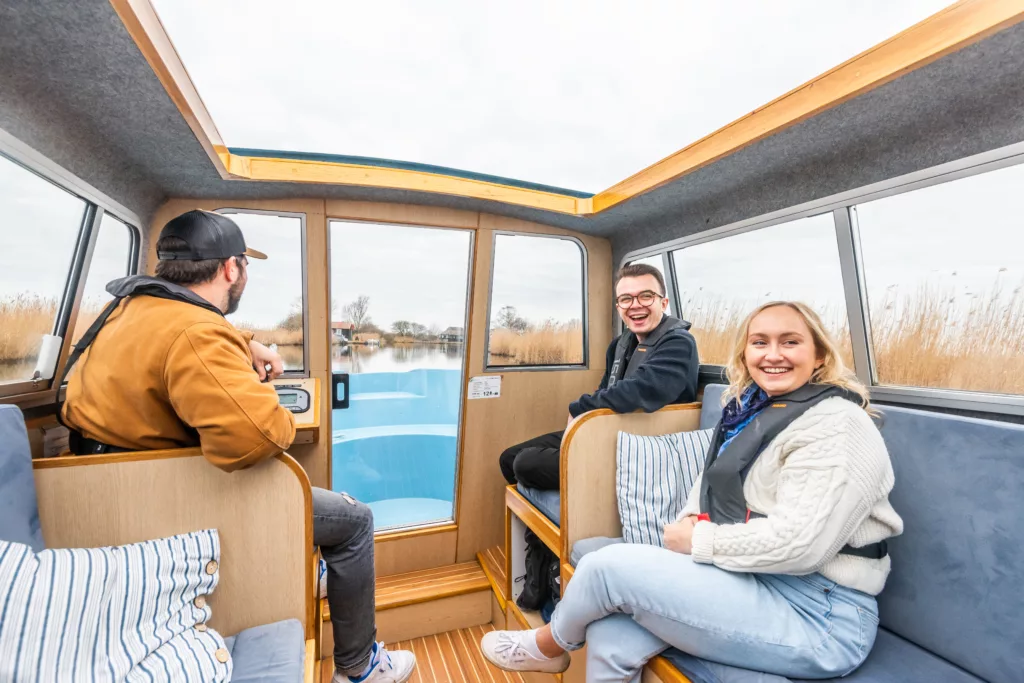 Think you know the Broads National Park? Think again! Winter reveals a whole new perspective, a unique panorama summer visitors never see. This historic landscape, hollowed from the land in medieval times, is now a lacework of rivers and lakes. They're home to an extraordinary variety of wildlife, often easier to see at quiet times of year.
Plan a personal adventure aboard your own dayboat, taking it easy on one of the Norfolk Broads' most peaceful stretches. Pause your self-guided tour for a hearty seasonal lunch at The Pleasure Boat Inn, a newly refurbished riverside pub near Hickling Broad. You can pre-order your food, so it's all ready to enjoy on arrival. Alternatively, motor along Candle Dyke to Horsey Mere and the Horsey Windpump, or glide under the bridge at Potter Heigham and onwards to explore even further. All boats are cosy with heaters and a kettle, so you can make a warming brew. And tea, coffee, sugar, water and milk are ready on board.
The friendly boatyard team will share their local knowledge to help you create a bespoke exploration, whether you're a seasoned sailor or new to the water. Dancing reeds and bare sculptural trees turn this magical part of England into a winter woodcut, a picture from a fairytale. The epitome of slow travel at 4mph, you'll have time to savour it all, navigating atmospheric waterways, sparkling in crisp clean air.
If you fancy creating your own itinerary for a day trip to Norfolk or a longer visit, it couldn't be simpler. Just go to Search Activities and select from our wide range of free and paid-for experiences, saving any that capture your imagination with the click of a button.
Once you've finished, you'll find all the information stored in My Favourite, where you can drag and drop activities to create your own day-by-day itinerary! You can download this to a calendar and even share it with friends.