Tales of The Fens and West Norfolk
Like swirling mist, stories seep from the Fenland mud. This land of shifting light is a crossing place between worlds. Air and sea, salt and sand, the living and the dead. Out on 'the Smeeth' ogres go a-hunting and a drowned girl cries in the dark. Doomed kings trust grey goose feathers, phantom wolves howl and, in an ancient town of holy visions, a witch's heart once flung itself into the river. Chase these tales from the Fens to King's Lynn, and on to the North Norfolk Coast. Take public transport, cycle or the brave can go on foot.
Day 1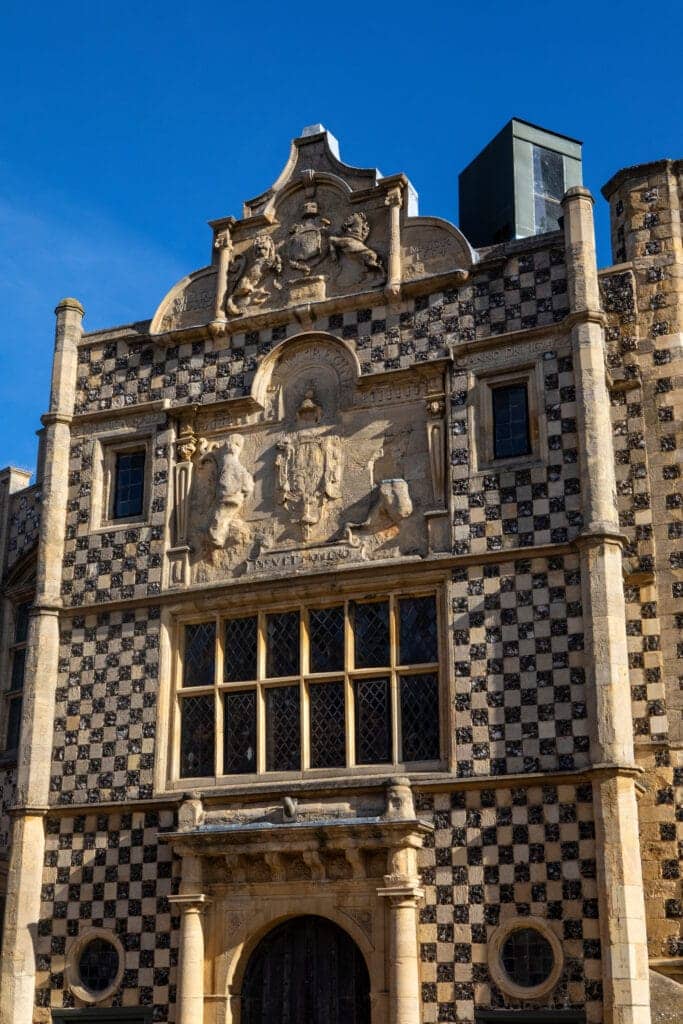 Wife, mother and businesswoman. Sounds like an average Instagram bio. But Margery Kempe was no average woman. Born in King's Lynn (then Bishop's Lynn) around 1373 she was also a pilgrim, visionary and author of the earliest surviving autobiography in English. The Book of Margery Kempe recounts in vivid, candid detail the madness that followed giving birth to her first child when she was about 20, very likely the first recorded account of postpartum depression and psychosis. But this was the 14th century so hallucinatory encounters with devils, demons, the Virgin Mary and Christ were expressed through the lens of a fervently religious society and Margery felt called to the spiritual life. In 1413 she visited the anchoress and Christian mystic, Julian of Norwich, took a vow of chastity (after having 14 children) and then set off on a pilgrimage to Jerusalem, followed by a second to Santiago de Compostela. A courageous, unorthodox woman, she was often accused of heresy yet refuted all false charges against her armed with an extraordinary knowledge of theology. All the more remarkable for a woman who dictated her extraordinary memoir, being unable to read or write.
Find out more about Margery at the fascinating Stories of Lynn Museum. Also on display are town treasures such as the beautiful King John Cup, a 14th-century drinking vessel, lavishly decorated in gilt and enamel, a very rare example of a secular medieval cup.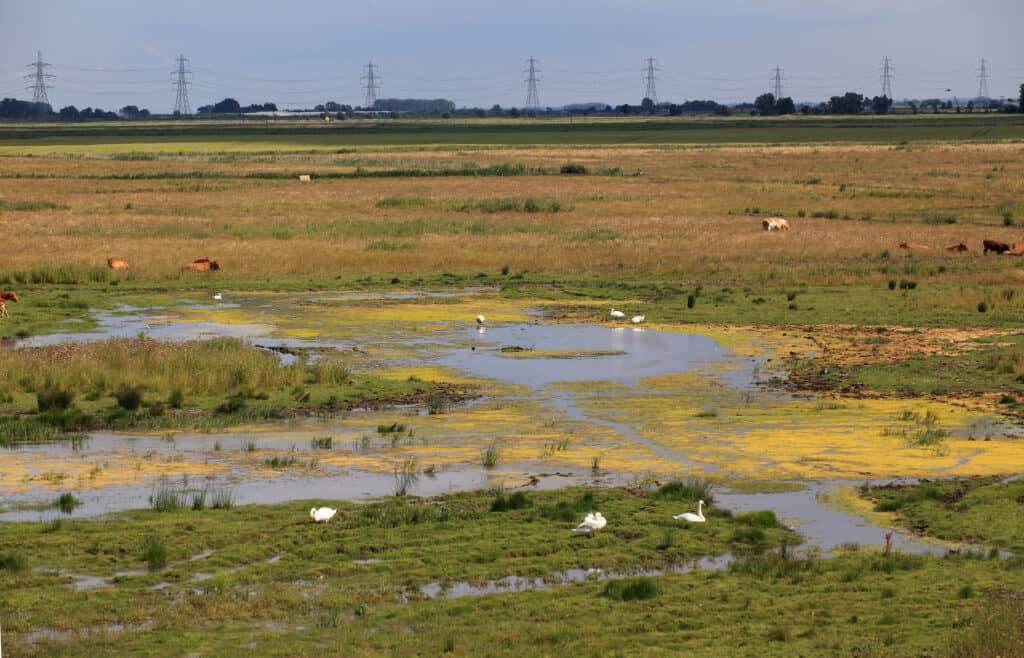 In the long ago days before truth became legend, there lived a West Norfolk boy called Tom Hickathrift. He was an unusually tall lad, strong enough to carry an oak tree. But Tom was lazy and if he could get out of housework, he would. His exasperated mother sent him to work for a King's Lynn brewer, carting beer across the Fens. In those times the Marshland Fen was known as The Smeeth, which is true. And it belonged to an Ogre, which is also true. If you want it to be. The Ogre was bad tempered with shocking indigestion and the dreadful breath that comes from eating terrified travellers without chewing. Not surprisingly local folk avoided the flatlands and took the long way round.
But Tom couldn't be bothered to walk further than necessary. So he set off into Ogre territory. The Ogre smelt the blood of an Englishman – classic Ogre behaviour. And Tom smelt the stench of the Ogre, lurching through the fog, dripping mud and weed. Tom was lazy but he wasn't slow. Swiftly he overturned the cart, snapped the wheel axle to make a cudgel and with one mighty swing knocked the Ogre's head clean off. Calmly reassembling the cart, Tom displayed the Ogre's bloody horrible head on top of a barrel and strolled home to a hero's welcome. Even his Mum was impressed. It's said his grave is in the churchyard at Tilney All Saints. So, part fact, part fiction, part metaphor? Pure Norfolk.
Day 2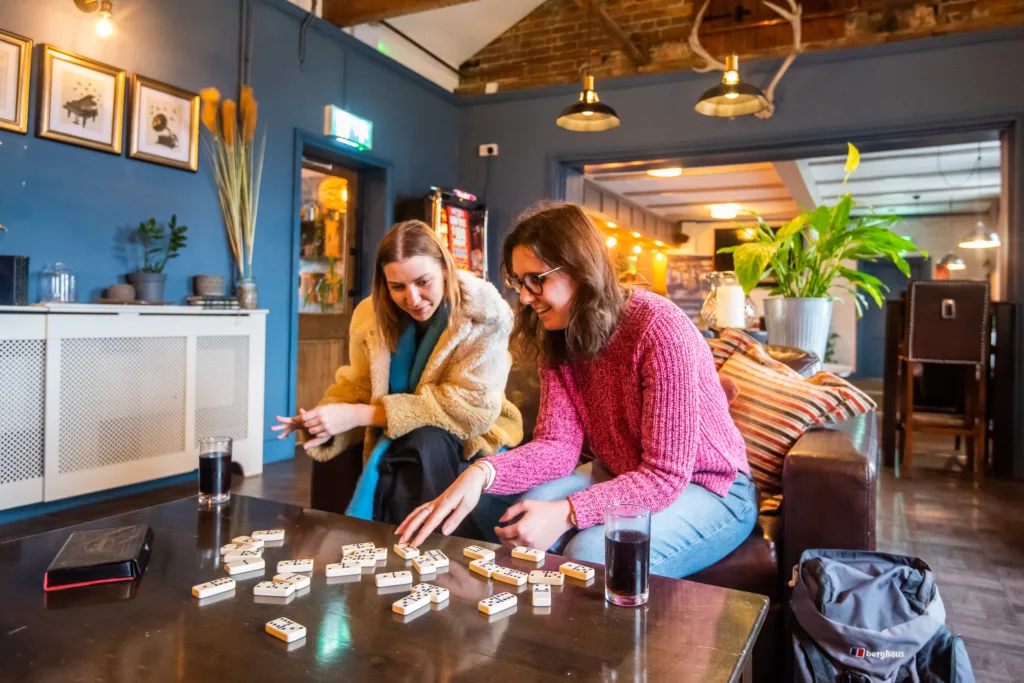 It's the 17th century and England is in the throes of Civil War. Only Fenland people know safe paths through West Norfolk's treacherous quagmire which could suck a man down in moments. Mud defined Fenlanders, seeping even into their names, like Mucky Porter, landlord of the Silver Fleece (now The Old White Bell) in Southery.
Cromwell's men had harried King Charles I across Norfolk. To reach his army in Oxford the King must cross the Fens. Mucky Porter agreed to guide him, but the Royalists suspected this ragged Fenman would betray them. It was the Fenland custom that whoever carried a split goose feather was entitled to protection. So Mucky pulled out a grey feather and sliced it with a knife. Keeping half, he gave half to the King. Bound by honour he guided Charles safely through the marsh.
Eventually, Charles was captured. On the eve of his beheading the King sent a messenger. 'All that His Majesty asks is that he is afforded that due to one who holds this token,'  he said, placing a split feather in front of Cromwell. A Fenlander himself, Cromwell paled. But he allowed the execution. And, perhaps cursed, lost the war.
Twenty years later Charles' son, Charles II, rewarded Mucky with 'several' acres of newly drained fertile land between Southery and Feltwell. That land has been called the Methwold Severalls ever since. And it's still farmed by a Porter. When you stop at the The Old White Bell, raise a glass to Mucky!
It is 855 AD. A small wooden ship cuts through choppy waves, heading for the crew's ancestral home. At the helm is Edmund Wuffing, last of the heroic Wuffing dynasty, guiding his vessel toward the striped cliffs of what is now Hunstanton. He is the ruler of these lands, back from far flung adventures to claim his royal kingdom.
'Wuffing' is the Old English word for wolf, and Edmund was last of a line that had ruled East Anglia for 200 years. Born on Christmas Day 841 AD he was just 15 when came to the throne. Alongside King Alfred of Wessex, Edmund battled the Great Heathen Army, a coalition of Scandinavian 'Viking' warriors who invaded England in 865 AD. In 869 AD Edmund was captured by Ivor the Boneless and his brother Ubba. Refusing to renounce Christ, Edmund was beheaded.
Desperately seeking their fallen king, Edmund's grieving warriors followed the howls of an ethereal wolf who cried 'Hic! Hic! Hic!' (unless the wolf had been swigging ale, this is Latin for 'Here! Here! Here!') They found the spectral beast standing guard over their lord's severed head. Later, Edmund received martyrdom, becoming the first patron saint of England – until St George took over. Goes to show, never work with wolves or dragons.
Discover more about Edmund by following the Wolf Trail at the entrance to the to the Esplanade Gardens. Six 'Wolf Trail' markers lead to St Edmund's Chapel and the handsome oaken statue of a howling wolf.
Day 3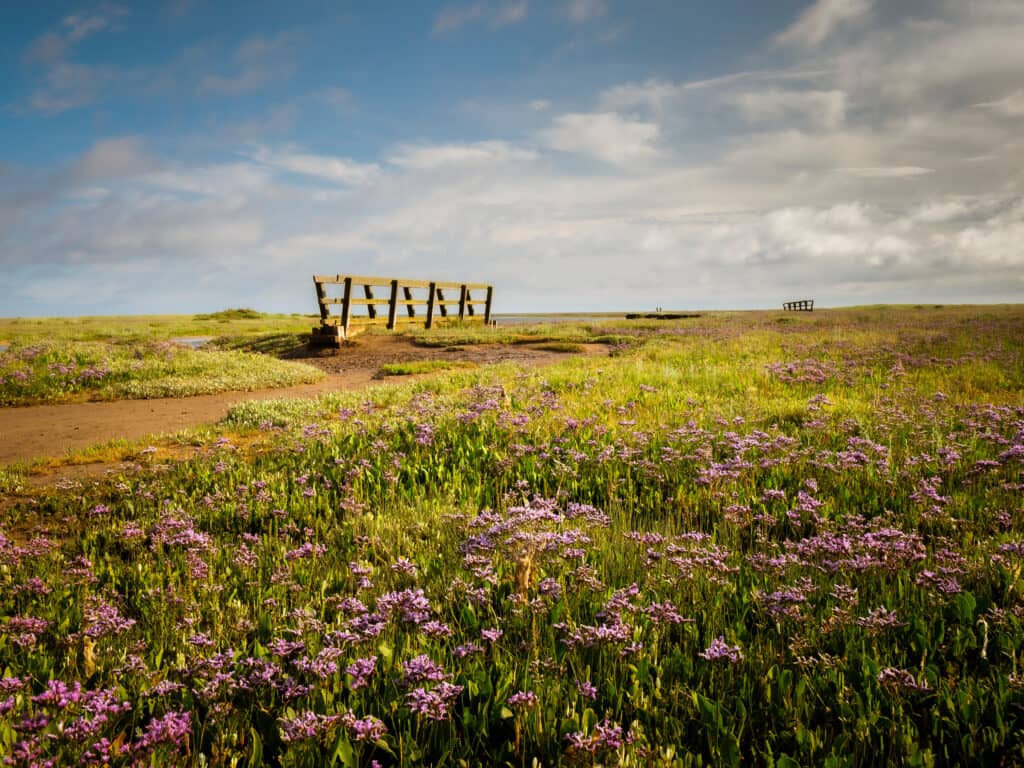 The Stiffkey salt marshes are a magical world of glistening mud flats, rushing creeks and wheeling skies. The sandbanks are famous for 'Stewkey blues', reputedly the best cockle you'll ever taste, a delicacy revered by chefs across England.
Stiffkey wasn't built for cars, these narrow roads require polite patience! And when walking the coast path, Stiffkey is easy to miss. Unusually in a landscape known for wide expanses, the village is hidden in a deep green river valley, more akin to North Devon. Head south along the public right of way and over fields, down into the valley towards the fast-flowing river – one of only 200 chalk rivers in the world.
For all Stiffkey's cosy charm, much of this land has been stolen from the North Sea and sometimes the sea claims a terrible revenge. A local tale tells of Nancy, a girl out cockling on the treacherous marsh. Banks of mist rolled in from the sea and she got lost, cut off by the fast rising tide. Villagers took to their boats as her terrified cries pierced the fog but the sound was distorted and no one could save her. Next day her body was found and she was buried at the local church. But many since have seen her ghost walk, roaming the Stewkey marshes on foggy nights, silence broken by her desperate screams.
Need a bit of comfort after that story?! The Stiffkey Stores serves delicious homemade cakes and exceptional coffee. Phew!
King's Lynn. Friendly isn't it? But this handsome West Norfolk town has a dark heart. And they say it belonged to a witch. Inside a diamond carved into the red brick above a window of Numbers 15 and 16 Tuesday Market there's the shape of a heart, said to be the mark of Margaret Read, aka Shady Meg, who was burned at the stake in 1590. As she screamed in an agony of fire, her still-beating heart ripped itself from her chest, slammed into the wall at the marked spot and defying gravity, flew to the River Ouse where the waters bubbled like a cauldron as Meg's heart sank beneath.
And you didn't have to be suspected of witchcraft to meet a horrifying end. Found guilty of poisoning her mistress, in 1531 a King's Lynn maidservant, whose lonely name is forgotten, was wrapped in chains draped over a gibbet above a cauldron of boiling water. She was plunged in, over and over again, until she died. There are only two other records of execution by boiling water in the UK, both at Smithfield in London, and both servants accused of poisoning.
But the real heartbreak is the way a society consumed by fear and superstition launches violent crusades against the most powerless. And the horror is, we still do. Can there really be justice for our murdered ancestors? How did they spend the last hours of their lives? We can at least bear witness to their infinite sorrow.
If you fancy creating your own itinerary for a day trip to Norfolk or a longer visit, it couldn't be simpler. Just go to Search Activities and select from our wide range of free and paid-for experiences, saving any that capture your imagination with the click of a button.
Once you've finished, you'll find all the information stored in My Favourite, where you can drag and drop activities to create your own day-by-day itinerary! You can download this to a calendar and even share it with friends.