Enjoy a right royal weekend exploring the weird and wonderful stories of Sandringham. From rural backwater to Royal Estate, this place has seen a whole lot of intrigue. Learn why the King of England and Tsar of Russia hitchhiked home, hear how Queen Victoria's son created his own time zone and ponder the mystery of the King's doomed regiment who vanished during the First World War. See the water tower which helped banish the scourge of typhoid and visit the historic Royal station where, it's said, Russian mystic Rasputin once hopped off the train, seeking an audience with the King.
Day 1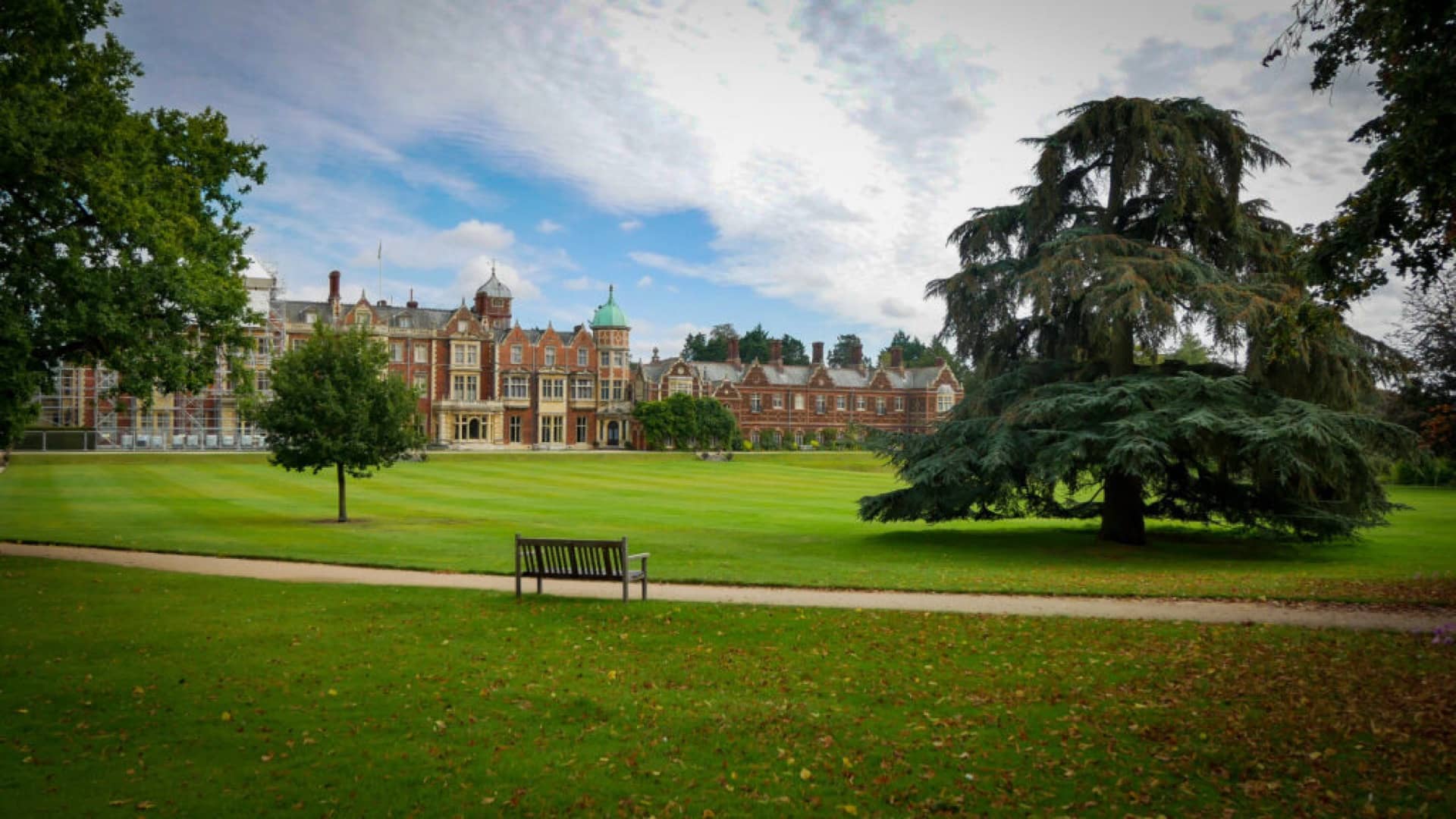 Do you wish for more hours in the day? Before the arrival of the railways the UK had a rather relaxed approach to timekeeping, subject to all sorts of regional variations. However, to achieve an efficient national rail timetable such lackadaisical habits would never do! And so the passing minutes were standardised and from Lands End to John O'Groats all sensibly wound clocks told the same time. Except, that is, in Norfolk. By order of the Prince of Wales himself.
Queen Victoria's son, the future King Edward VII, had been given Sandringham as his country estate. Loving nothing better than riding and hunting, he was immensely irritated when his passions were cut short by the early dark of winter evenings. So his Royal Highness devised a cunning plan. All the clocks at Sandringham were set half an hour ahead of Greenwich Mean Time, thus giving the royal household a whole 30 minutes more daylight. This became known as 'Sandringham Time', later observed at Balmoral and Windsor too. Contrary to rumour, this had nothing to do with the habitual lateness of Queen Alexandra, who happily continued being late regardless.
The idiosyncratic custom continued through the reign of George V until it was abolished by King Edward VIII, who wasn't happy about the confusion over what time his father had died. Neither the Queen nor her father George VI chose to restore it, both finding it perfectly reasonable to accept the same amount daylight as everyone else.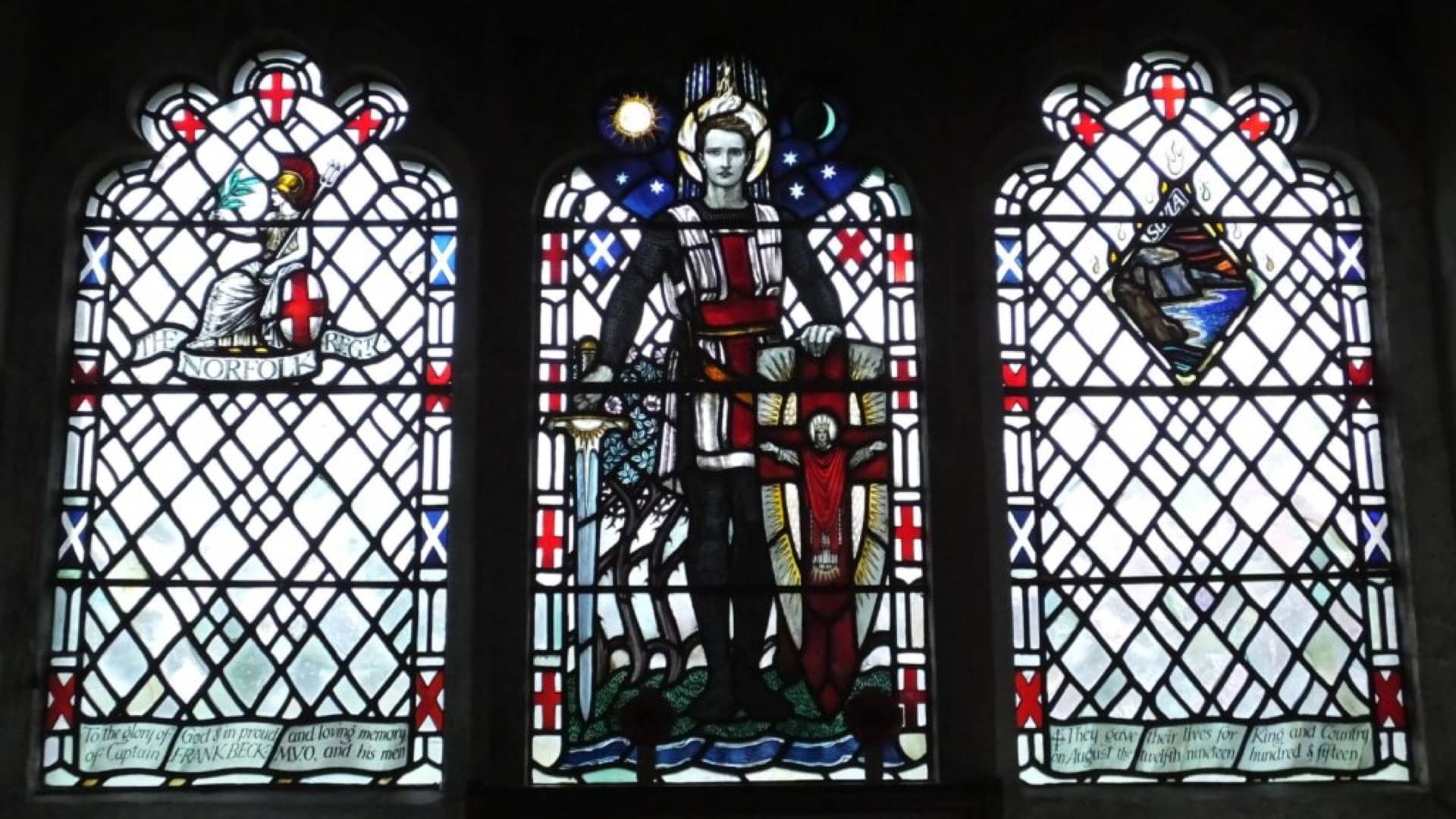 As you explore the peaceful church at West Newton, look for a beautiful Arts & Crafts stained-glass window commemorating Captain Frank Beck and 'E' Company, 5th Battalion Norfolk Regiment. Formed in 1906, the company was made up of gardeners, farm hands, grooms and household staff from the King's estates. These men grew up together, drank beer and played cricket on summer afternoons, never dreaming they were destined to become one of the First World War's strangest legends. On 12th August 1915, far from home under the blistering Gallipoli sun, the men of the Sandringham Estate marched into a barrage of machine gun fire. "On the Norfolks, on" shouted Frank Beck, as the Sandringhams charged forward into the smoky mist…and disappeared. No bodies were found, no prisoners were taken. They had simply vanished.
Perhaps to spare their families' pain, some said they'd been transported straight to heaven, but at the request of Queen Alexandra, in 1918 the War Graves Commission searched the sunbaked battlefields and found a Norfolk Regiment cap badge. Later, Rev Charles Pierrepoint Edwards, 'The Fighting Parson', discovered 122 bodies, each with a single bullet wound to the head. There's little doubt the Sandringham men were captured and executed. So take a moment to remember those doomed sons of Norfolk and the terrible grief of quiet villages they never saw again. And if you'd like to know more, Frank Beck is beautifully played by David Jason in the moving BBC drama All the King's Men (2005).
Day 2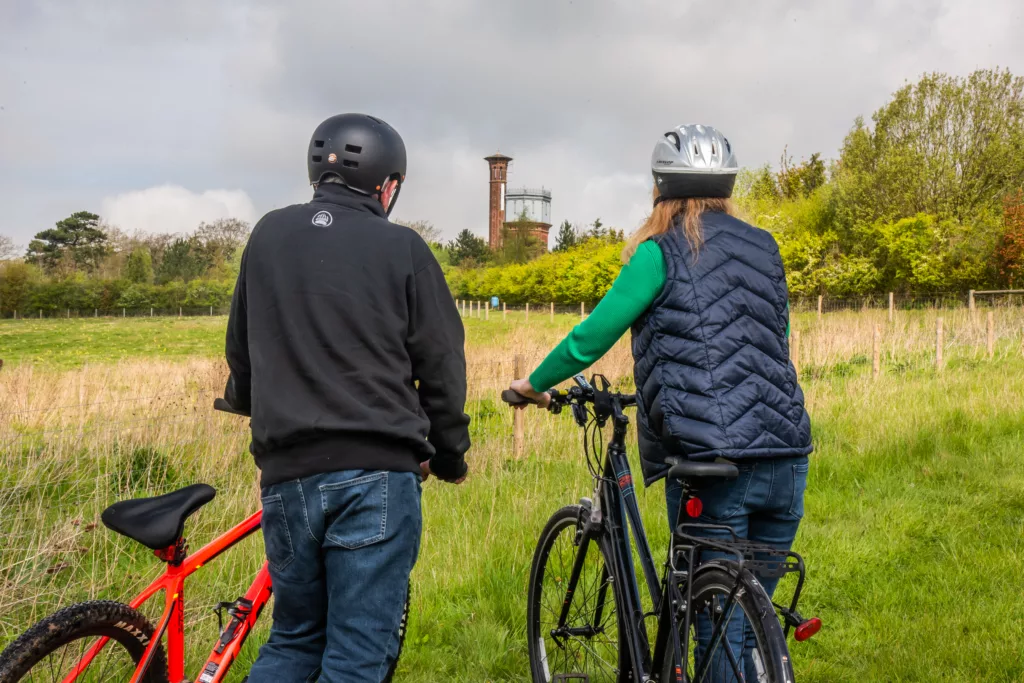 The Appleton Water Tower stands high on a broad chalk ridge overlooking the village of West Newton. This ornate structure is now a unique holiday let, yet it was once a functional pumping station, providing clean water for the Sandringham Royal Estate.
In 1871 Queen Victoria received the chilling news that her son, the Prince of Wales (later King Edward VII) had fallen ill with typhoid at his Norfolk home. It was the same disease that had killed her beloved husband Prince Albert 10 years earlier. Typhoid was rife, caught from drinking filthy water. To avoid infection even children drank beer, as the brewing process killed off bacteria. However, the King's Lynn Times commented 'Evidently the people of Lynn like their sewage and they like it neat'. Clearly something had to be done.
Supervised by Robert Rawlinson, who'd identified the cause of the Prince's illness, civil engineer James Mansergh was appointed to oversee the construction of a new water supply for Sandringham House. He used a natural chalk spring gushing through 750 yards of stoneware pipes to a 32,000-gallon tank. In 1877 the Princess of Wales laid the first foundation stone and within the year the system was complete and Sandringham had clean, safe water.
Making the most of the tower's height, Mansergh added a Royal viewing room overlooking the landscape, with private staircase to avoid workers. So if you stay and bump into someone on the stairs, who knows, it might be a future monarch!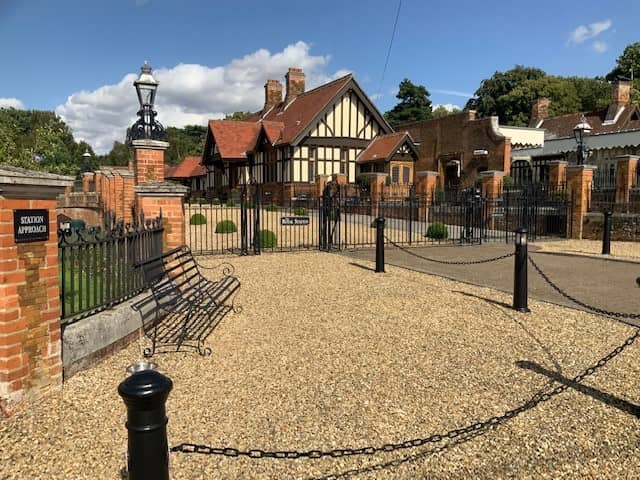 Explore a historic Royal station, 5 miles from King's Lynn on the North Norfolk coast.
A jewel in the crown of train travel's golden age, kings and queens, aristocracy and dignitaries have all passed through Wolferton Station on their way to Sandringham. It's even said that the mysterious Russian mystic, Grigori Yefimovich Rasputin turned up, urgently seeking an audience with the King. The short-sighted culling of Britain's railway network, thanks to the infamous Dr Beeching, sadly means trains no longer run to this once busy station. The line was planned by Henry L'Estrange Styleman Le Strange to bring holidaymakers to Hunstanton and in its heyday 20 trains passed through daily each way, taking day trippers to and fro. With a little imagination you can almost hear them chattering, dressed in their glad rags, excited for a first glimpse of the sea and the prospect of fun and games on the sand. Transport yourself to this bygone age at the Victorian station museum where Royal luncheons were sometimes held in special occasion rooms.
Sir John Betjeman, poet and lifelong railway enthusiast who revelled in Norfolk's church-dotted landscape, also visited Wolferton and recorded his journey there with British Transport films and BBC East Anglia in a charming ten-minute black and white film 'John Betjeman goes by Train', available from the BFI. Now restored as a family home, by prior arrangement it's still possible to explore Wolferton's beautifully maintained platform and grounds.
If you fancy creating your own itinerary for a day trip to Norfolk or a longer visit, it couldn't be simpler. Just go to Search Activities and select from our wide range of free and paid-for experiences, saving any that capture your imagination with the click of a button.
Once you've finished, you'll find all the information stored in My Favourite, where you can drag and drop activities to create your own day-by-day itinerary! You can download this to a calendar and even share it with friends.