Smugglers Trail: A Route in Beer, Gin & Whiskey
On dark nights of foul weather sturdy little luggers snaked silently through the marshes and creeks. For over 300 years, Norfolk's miles of coastline, peppered with isolated beaches and secret streams, made this watery landscape a smuggler's dream. And a nightmare for the revenue men. Unless, of course, they were on the take. Because smugglers didn't work alone. Fishermen, farmers, clergy, gentry, magistrates and excise men were complicit, willing recipients of the gin, brandy-wine and rum they helped move inland. Today microbreweries, tap rooms and gin distilleries are the source of such shenanigans – a fabulous way to sample Norfolk's buccaneering spirit.
Day 2
Love gin? Then there's nothing better than learning how to create your own at an award winning Norfolk distillery! And of course you get to take it home, made to your very own bespoke recipe dontcha know!
Nicky and Jason, owners of WhataHoot Gin, are never happier than when sharing their passion so they've created a fantastic range of experiences and masterclasses welcoming gin lovers to their wonderful boozy world. Go back to the classroom at their purpose-built Gin School in a beautiful heritage building at the heart of King's Lynn.
For this 4 hour Gin Masterclass you'll be welcomed to your workstations, each equipped with its own beautiful copper still, to learn the step-by-step process of gin distillation and discover how botanicals give each gin its distinct flavour. Then it's time to design your own concoction, experimenting with over 30 botanicals from across the world including Madagascar, Egypt and Spain, as well as Norfolk's famous lavender and sea samphire.
Highlights include:
Making a 70cl bottle of gin to takeaway with personalised label
Indulgent 4 Gin & Tonics during your session (per person)
Discover the history of Gin and WhataHoot whilst on a Distillery Tour
Enjoy a Norfolk inspired locally sourced seasonal grazing board supplied by Bank House
Gin Making Experience Photos
A WhataHoot masterclass makes a brilliant present for gin lovers. Why not book for the whole gang? You'll learn loads from top notch tutors while having fun in good company. That's edutainment!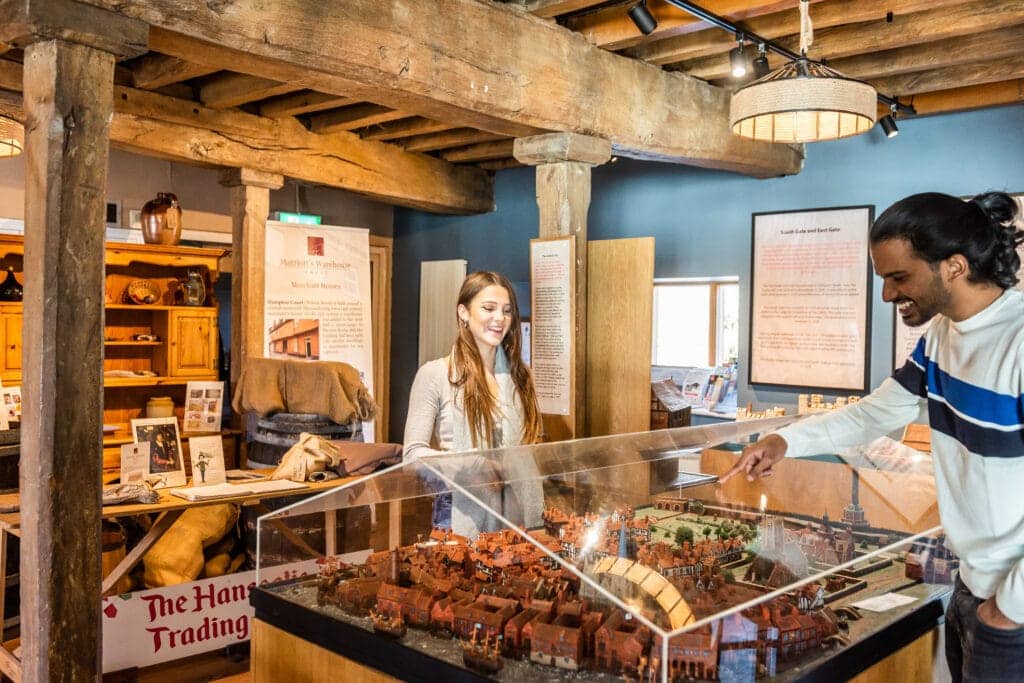 On the banks of the River Ouse in King's Lynn stands the last surviving Hanseatic building in England. The brick Hanse House gets its name from the German traders who once owned it, a relic from the days of the Hanseatic League, the powerful medieval trading bloc that stretched all the way from King's Lynn to the heart of Russia. Lasting hundreds of years, it was one of the most successful trade alliances in history, winning the loyalty of nearly 200 towns around the North Sea and the Baltic and securing the prosperity of north west Europe.
Another reminder of King's Lynn's global trading prominence is Marriott's Warehouse, now a popular restaurant with some of the finest views in town. It's thought to have been built in its present form by local merchant Thomas Clayborne around 1580 as a store for corn, salt and wine. However, some of great oak beams date back to the 1300s, when the site was already a bustling riverside quay. It's quiet down by the river these days, but back then the whole quayside would have been rammed with every kind of landing stage, or 'staithe', both public and private, where cargoes of wax, wool and pepper were unloaded by sailors and merchants, yelling orders and oaths in a cacophony of languages. Then, the tidal waters of the Ouse would have lapped around the warehouses with ships moored right outside, and by evening the town taverns were full of characters from all over Europe.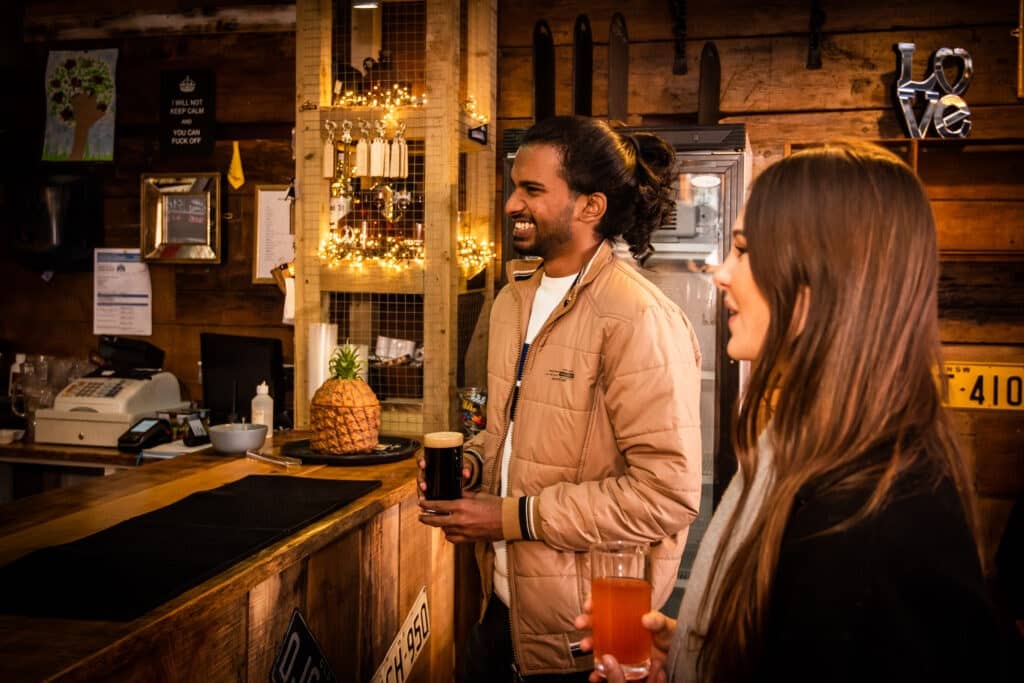 Back in the 1500s you could buy eels and candles from Nip & Growler. But in those days it was called The Bull, a rowdy tavern near King's Lynn's busy riverside quay, packed with sailors letting off steam. Now a Craft Ale House, this award-winning gem is run by two best mates who know their booze only too well. It was designed and built by their own fair hands with local tradesmen using local recycled materials, proving new isn't necessarily better. In fact this site is home to the oldest pub in Lynn, first recorded in 1348 when the Black Death was ravaging the country. No wonder people needed a drink.
With board games and playing cards always available, there's a warm welcome for everyone who loves something memorable and different, great for holing up on a rainy winter evening to savour local ales sourced from nearby micro-breweries. There are 13 ales & ciders on tap, changed daily to introduce customers to a different way of drinking. It's about flavour not quantity, so you can choose your tipple served in ⅓, ½, ⅔ pint measures. If want to discover a new ale or cider to thrill your taste buds just ask for tasters before you buy. There's a good selection of wines and spirits plus soft and fruit drinks and bar snacks. The ales are changing all the time but the owners' attitude to life remains the same. Drink, be merry, be kind and never laugh at a bad joke.
If you fancy creating your own itinerary for a day trip to Norfolk or a longer visit, it couldn't be simpler. Just go to Search Activities and select from our wide range of free and paid-for experiences, saving any that capture your imagination with the click of a button.
Once you've finished, you'll find all the information stored in My Favourite, where you can drag and drop activities to create your own day-by-day itinerary! You can download this to a calendar and even share it with friends.