Smugglers Trail: A Route in Beer, Gin & Whiskey Part 2
From Poldark to Han Solo, smugglers are dashing scoundrels, masters of their own destiny, wild and unpredictable as the landscapes they navigated. Ever dreamed about joining them? In Norfolk, you can! Illicit missions on moonless nights were often a family business. Men hid on the beach, ready to heft barrels into waiting carts, concealing contraband under slippery silver herring. Women and children played their part, on breathless nights of drama, lighting warning fires in case of an ambush, for many locals benefited from tax-free goods spirited up country. The myths and legends live on. Will you uncover their secrets?
Day 1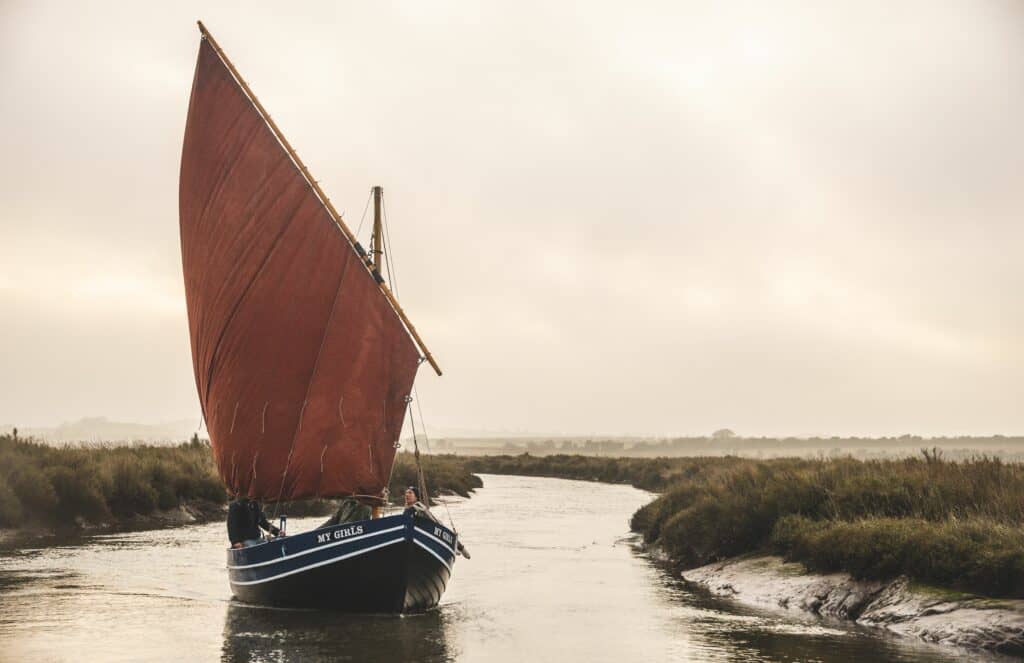 Don't be a tourist. Be an outlaw! Long ago complicit landowners turned a blind eye to 18th century smugglers moving illicit goods into the county. First class local knowledge was essential to navigate the treacherous network of tidal creeks and shift lace, gin, baccy and brandy-wine past the excise men. And that's what you'll learn on this full day or 24 hour immersive sailing adventure.
The Norfolk coast is laced with secret channels, winding inland from the open sea, and somewhere out there is a stash of contraband. You just have to find it! Discover the ways and means of Norfolk's infamous free traders, explore traditional sailing, navigation, the art of smuggling, agent rendezvous, coastal field craft, escape and evasion techniques. On an environmentally friendly restored whelk boat or similar craft, slide past sandbanks and creep through creeks following paths of dark water.
You'll take part in a clandestine operation, required to pick up the goods and make your drop without getting caught. No experience required…unless there's something you're not telling us!
Smugglers need to be well fed, so for breakfast, lunch, and supper you'll tuck into Norfolk's best food, maybe some locally sourced eggs and bacon, artisan sourdough, Norfolk cheeses, pies, soup, cakes and more.
And is there actual contraband? All we can say is ask no questions and you'll be told no lies. Those with the right attitude should drop a discreet line to the Coastal Exploration Company for further details. Shhh!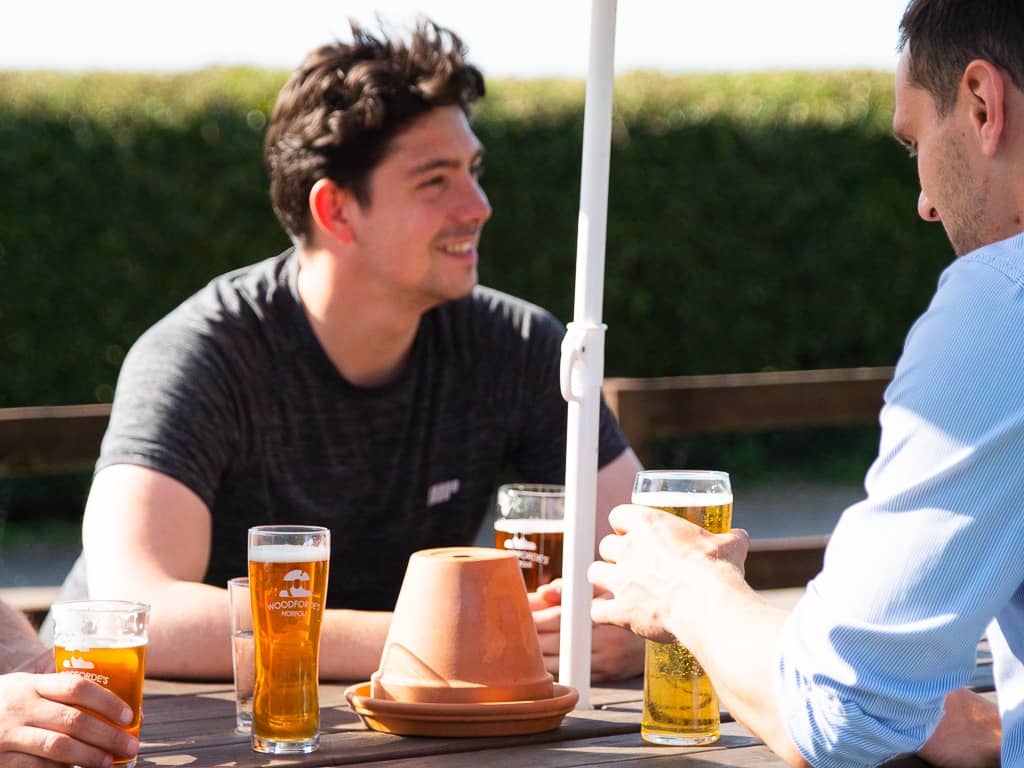 If you admire the Admiral, walk in Lord Nelson's footsteps and have a drink in his local. The Lord Nelson is a beautiful, traditional pub steeped in history, standing majestically near the North Norfolk coast on the edge of Burnham Thorpe where Horatio Nelson was born. And this was once The Plough, a taproom where young Nelson drank and dreamed of a career in the British navy. Renamed after Nelson's victory in the Battle of the Nile, it's an incredibly cosy place, with original snug bars and wood burning stoves, the quintessential winter pub. The look of Nelson's time has been preserved and refined, with wooden settles (including one on which the Admiral sat) and the same stone floors he walked on sensitively restored. There's plenty of Nelson memorabilia on the walls too. With local ales from Woodforde's Brewery tapped from the cask and a fabulous menu celebrating the rich variety of Norfolk's local seasonal produce, it's a wonderful place to stop for lunch when you're out exploring the beautiful Burnhams.
History buffs might enjoy an afternoon on the trail of this area's most famous son. Visit All Saints Church, opposite The Lord Nelson pub where Nelson's parents and brother and sister are buried and the altar, rood screen and lectern are made with timbers donated by the Admiralty from Nelson's flagship, the HMS Victory. There's plenty more to discover too, before a night in the pub, snug by the fire instead of somewhere out there on the wintry sea.
Day 3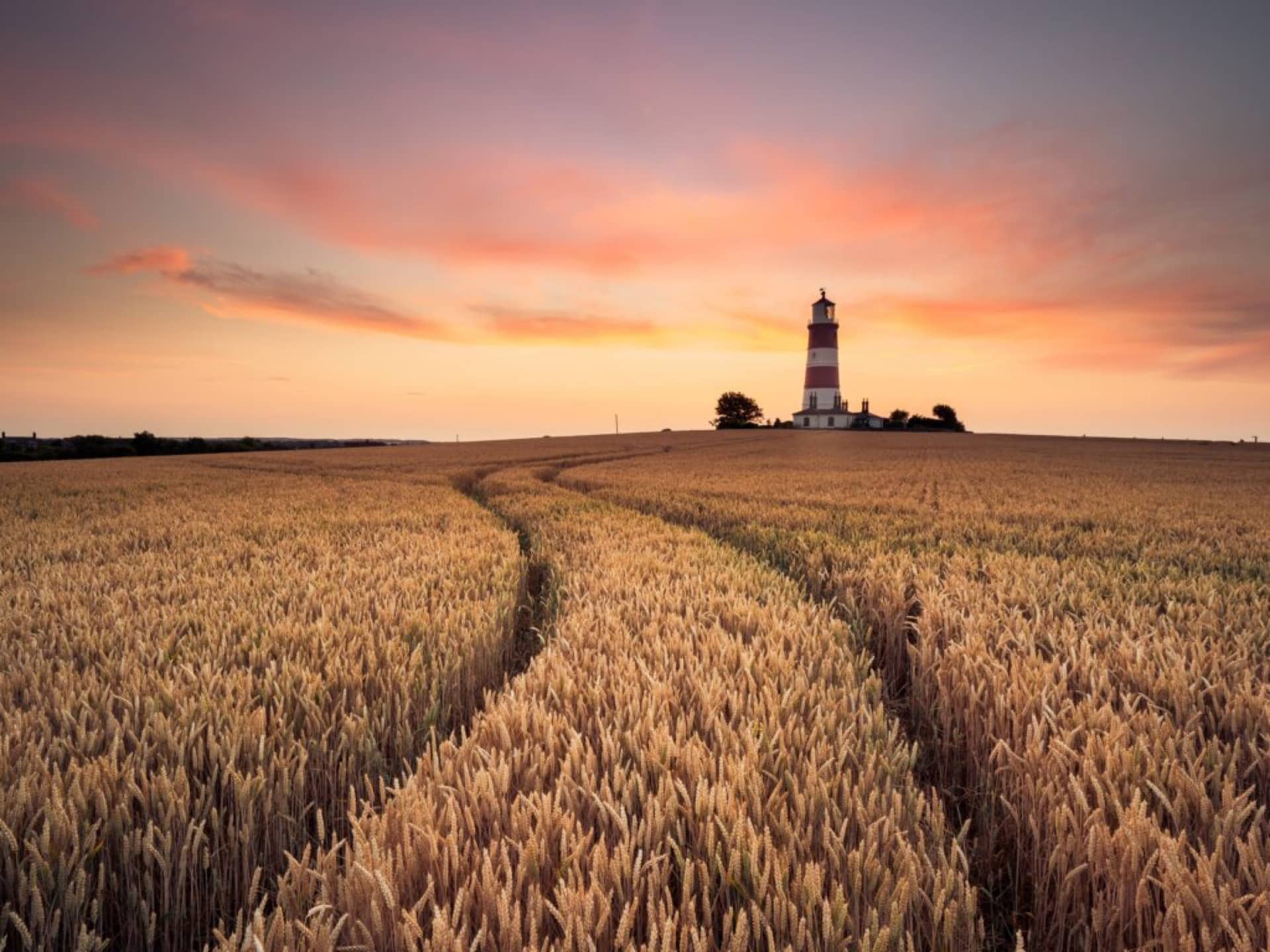 Happisburgh is a place of shifting boundaries, land and sea, time and space, life and death. Even the name changes, depending on where you're from. Those in the know say 'Haze-burr', anything else just sounds strange. And talking of strange things, here's a gruesome ghost story for winter nights.
There were once some farmers heading home for supper and a flagon of ale. Near Cart Gap they saw a figure lurching towards the village, clutching a filthy sack. He seemed to be a poor hunch-backed sailor but something was very wrong. Peering through the gathering dusk the farmers were struck with sickening horror. That was no hump, but a nearly severed head, hanging by a single ribbon of flesh, thudding against the spectre's spine as it walked. Yet how did it walk? For the grisly creature had no legs!
Terrified, the farmers hotfooted it to the inn. (We'd wager the phantom wasn't the only one completely legless that night!) After more sightings, the gruesome ghost was followed to the grassy triangle where Whimpwell Street meets Whimpwell Green and Coronation Road. There it vanished into a well. A brave young man lowered himself down, groping in the gloom. There was the sack! And inside were sailor's boots…with sailor's legs still inside! The well was drained. And there was another sack, containing a torso in sailor's uniform, its hideous skull dangling by a strip of rotting flesh.
Smugglers' tale or true? We dare you to investigate…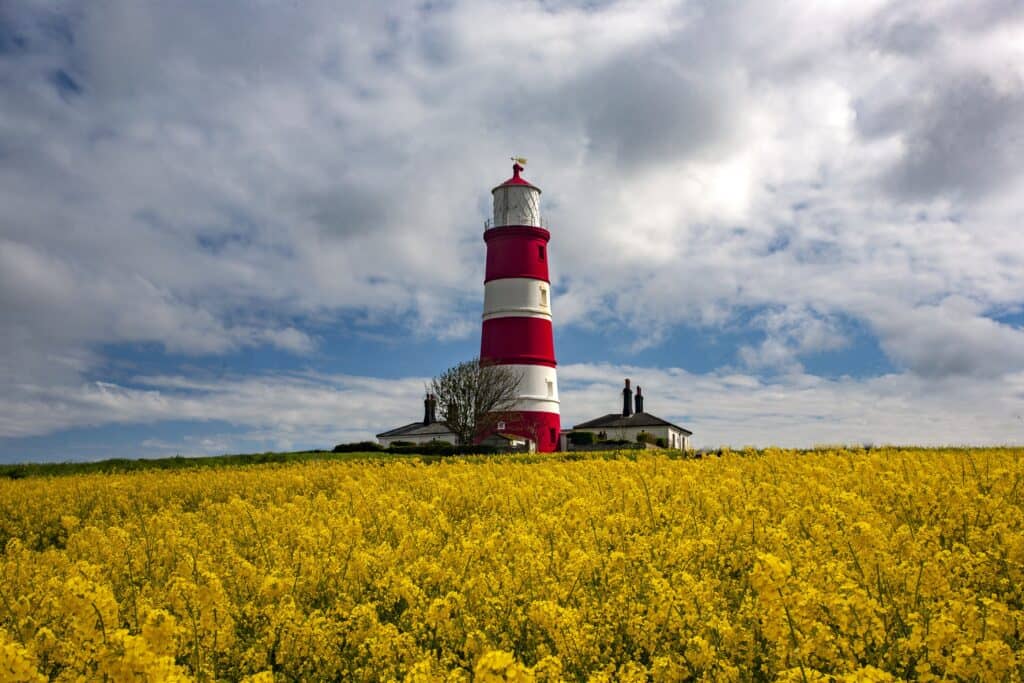 On the east coast of Norfolk stands an enigmatic lighthouse. Facing the sunrise, it sits proudly on Happisburgh's soft sandy cliffs where each morning the first rays of light catch the colourful facade, bathing its red and white stripes in the orange glow of a new day. This photogenic landmark was built in the wake of a terrible tragedy. In 1789 a terrible storm blew up. 70 sailing ships were wrecked in the crashing waters and 600 men lost their lives. The subsequent enquiry drew attention to the lack of warning lights between Cromer and Winterton so in 1791 two lighthouses were constructed. The 'Low Light' is now demolished but the 'High Light' is the distinctive tower that survives today. Once the 'Low Light' had gone, during daylight it was necessary to distinguish the Happisburgh lighthouse from the tower at Winterton and so three spectacular broad red bands were painted on the Happisburgh tower, just as you see today.
In 1987 Happisburgh Lighthouse was one of five lighthouses declared redundant with decommissioning scheduled for summer 1988. But local people were not going to allow their beloved lighthouse to be torn down! They mobilised and in 1990 a Private Bill was granted Royal making Happisburgh Britain's only independently operated working lighthouse. It's also the oldest working lighthouse in East Anglia, looked after by the Happisburgh Lighthouse Trust. It's fascinating to look inside so if you can't make one of the set open days, contact them to arrange a private visit.
If you fancy creating your own itinerary for a day trip to Norfolk or a longer visit, it couldn't be simpler. Just go to Search Activities and select from our wide range of free and paid-for experiences, saving any that capture your imagination with the click of a button.
Once you've finished, you'll find all the information stored in My Favourite, where you can drag and drop activities to create your own day-by-day itinerary! You can download this to a calendar and even share it with friends.