Rivers flow through time, brimming with stories. Listen. Upstream from Pentney, near Marham Fen, the River Nar is feral, twisting, fast and young. It has a whale of a tale to tell you. For here is the abandoned relic of a bloody past at the old whalebone mill. Meander along the riverbank on a vintage bicycle, through the downs and fenland of north-west Norfolk. Stop for a local beer where otters play in gleaming pools, overhung with alders, roots spiralling into crystal clear water. Discover stories of castles, abbeys and ancient spirits. Listen. The river is talking to you.
Day 1
The crystal-clear waters of the River Nar flow white and fresh, full of vigour, channelled by the mill at Narborough. Twisting around stubborn stones beneath bowing trees the water bubbles, sparkling in dappled light. But downstream is the secret relic of a bloody industrial past.
You've heard of flour mills and timber mills. How about mills to grind bone? Norfolk had several bone mills operating through the last century, but Narborough Bone Mill is the only one where substantial workings remain. The mill once rendered bones from slaughterhouses and the whaling industry to make agricultural fertiliser. At the Greenland Whaling Fishery in King's Lynn, the left-over bones from processed whale blubber were transported up the Nar by barge to Bone Mill. Sacks of bone meal were shipped back to Lynn, Cambridge and beyond, until the mill stopped operating in the late 19th century. Little of the building survives, yet the imposing 16-foot metal water wheel still sits on the crumbling foundations lining the river where it flows through the old staunches and mitre gates. See it best from the Nar Valley path, a monumental reminder of a past era, before whaling became illegal.
From about 1830 the mill belonged to the Marriott brothers, who also owned the Narborough Maltings and Marriott's Warehouse in King's Lynn, now an atmospheric place to eat and drink.
Volunteers restored the decaying mill wheel, getting it turning again in 2015. See it in action on National Mills Weekend and Heritage Open Days.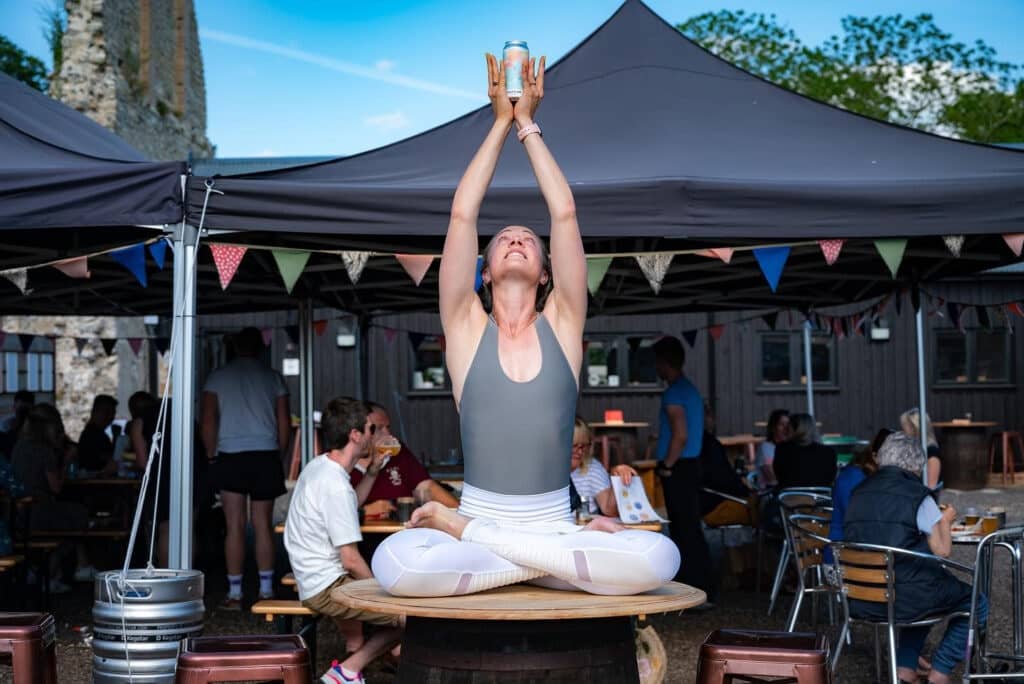 Sometimes you need yoga.
Sometimes you need beer.
Sometimes you need Yoga & Beer!
Lift your spirit, release your stress, sooth your soul and brighten up Saturday mornings with Yoga & Beer at Duration Brewing! Kick off the weekend with an hour of power yoga in the West Acre Gallery, right behind the vibey artisanal Duration Brewery. Steph, your skilled and knowledgeable tutor will guide you through a session rounded off by 10 minutes of meditation to set you up with renewed clarity, fully energised and ready for everything. Let go of any previous ideas you had about yoga. You don't have to be bendy, Steph, from Ascent Yoga, makes everyone feel welcome. She believes there's no such thing as being 'good at yoga' and will help you find your own way! Known as a natural antidepressant, those feel good endorphins will soon be floating through your body. After your yoga session, join the Duration team for a much-deserved complimentary pint over in the Barrel Store. What a groovy way to dive into the weekend! You'll be smiling all the way to next Friday!
Yoga & Beer sessions take place at 11am on the first Saturday of every month. £10 includes class and a pint! Children and expectant Mums also welcome and Duration can swap pints for a soft drink + snack. For a treat, The Yoga Bundle adds a branded mini face towel and keepsake glass (extra £10).
All ages and abilities welcome! Please bring your own mat or towel.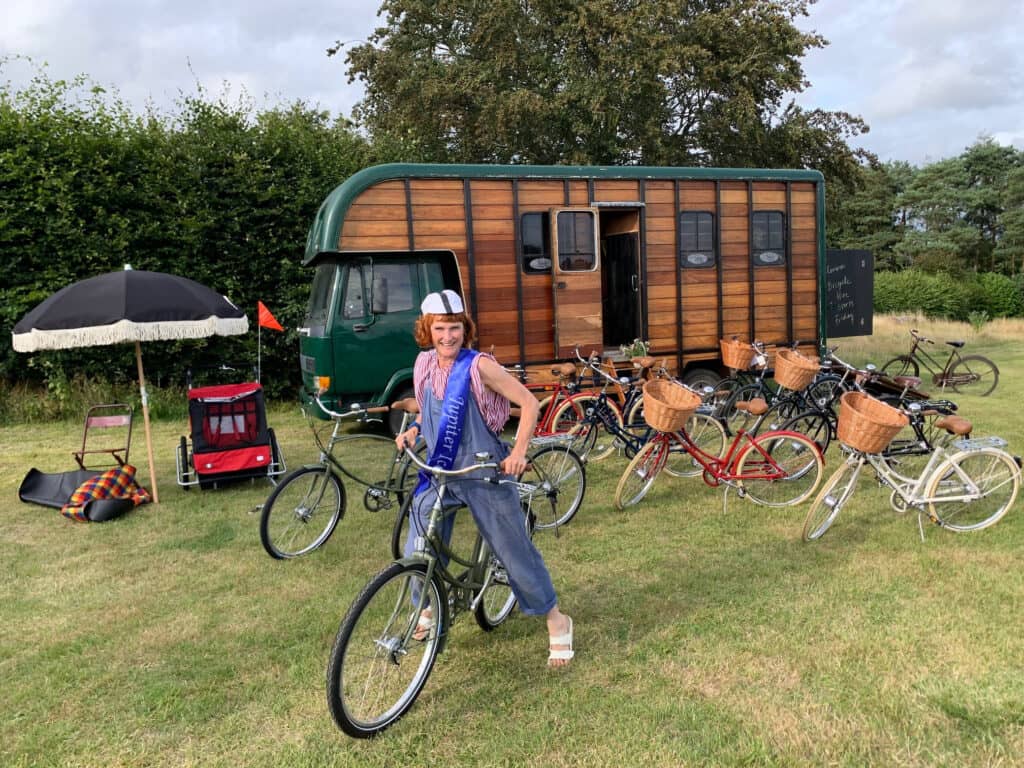 Author Laurie Lee wrote that in a car the 'hunched up traveller races at gutter height, seeing less than a dog in a ditch'. So hop on a bike and see more! Hire a brand new hand-built Pashley bicycle from the Vintage Village Velos horse box at Abbey Farm in West Acre and explore the quiet byways and secret lanes of Norfolk's enchanting countryside at a gentle pace.
Pedal past picturesque priories, ancient castles and pretty villages. Sit by a chalk stream and watch the fish, paddle in the shallows at Castle Acre, pause in the woods, listen to birdsong and the music of leaves in the wind. Picnic in a secluded spot, tuck into a good pub lunch, pop to a café for homemade cake, or be wild and free foraging in the hedgerows. Admire the views, discover local landmarks, stop in the stillness of a church, watch local wildlife or just hang out with friends!
There are no electric bikes, the ethos is about old school simplicity, going slow and just meandering around, feeling like you're a kid again. Cycling's good for the heart and muscles, easy on the joints and it's social too. Plus it puts a smile on your face, bowling along with the wind in your hair, breathing in the beauty of an autumn afternoon or a morning in early spring. Winter wanders are brilliant to get the blood moving too!
Between October and March please phone to book your cycles in advance.
If you fancy creating your own itinerary for a day trip to Norfolk or a longer visit, it couldn't be simpler. Just go to Search Activities and select from our wide range of free and paid-for experiences, saving any that capture your imagination with the click of a button.
Once you've finished, you'll find all the information stored in My Favourite, where you can drag and drop activities to create your own day-by-day itinerary! You can download this to a calendar and even share it with friends.