Fed up with lounging around? Kick off two days of action with an adrenaline hit at Norfolk Snowsports. No snow? No problem. These slippery slopes are a Norfolk thrill-seekers' top destination whatever the weather. Laugh in the face of danger riding in a doughnut. Yes, you read that right. Phew! Ready to unwind? Explore the haunting Norfolk Broads by bike, spinning along surrounded by beauty and whispering reeds. Head back for a fab night out in Norwich. Next day, take to the River Yare in a canoe from Thorpe Island Boats and see the Fine City from a whole new perspective.
Day 1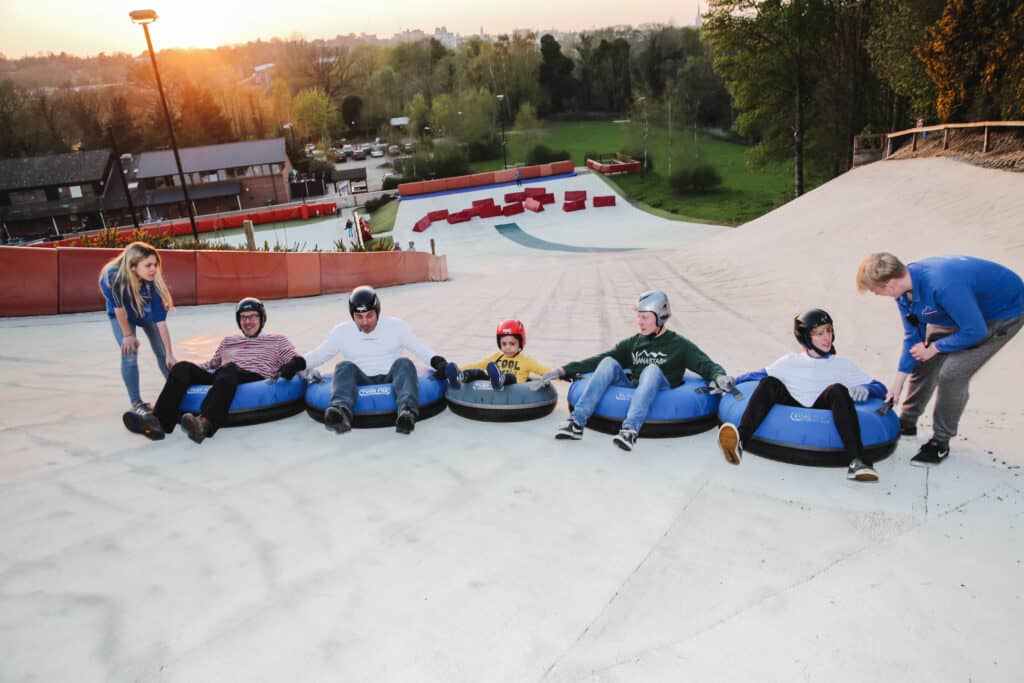 Calling all thrill seekers, adrenaline junkies and er…doughnut lovers! Hungry for a new adventure?! You need the high speed excitement of tubing, a dry ski-slope experience from the reassuring comfort of a big bold inflatable tube – shaped like a massive doughnut! The fun way to burn rubber!
Conveniently close to the Norfolk Broads and the lively city of Norwich, tubing at Norfolk Snowsports allows you to take to the slopes with no previous experience or specialist equipment, making it an exhilarating cold weather sport for family and friends on a winter vacation.
Whether you're part of a big group or a fun-seeking couple, this is an edge-of-the-seat alternative to Norfolk's more traditional recreations.
There are tubing supervisors on hand to give you tips and build your confidence to plunge down the slope at hair raising speeds, maxing-out on fun whilst spinning and sliding down the hill in a specially designed rubber ring!
After an invigorating hour of screams and hilarity – creating plenty of sensational TikTok-worthy content – it's time to indulge in a spot of après ski – the only way to relax after a high spirited session on the slopes! Chill out in the funky fully licensed friendly Alpine bar for a drink and bite to eat whilst enjoying views of the snow-sport action. Tempted by Alm Bar's decadent loaded dirty fries, stacked burgers and refreshing drinks? Of course you are! So tuck in and indulge, you've earned it!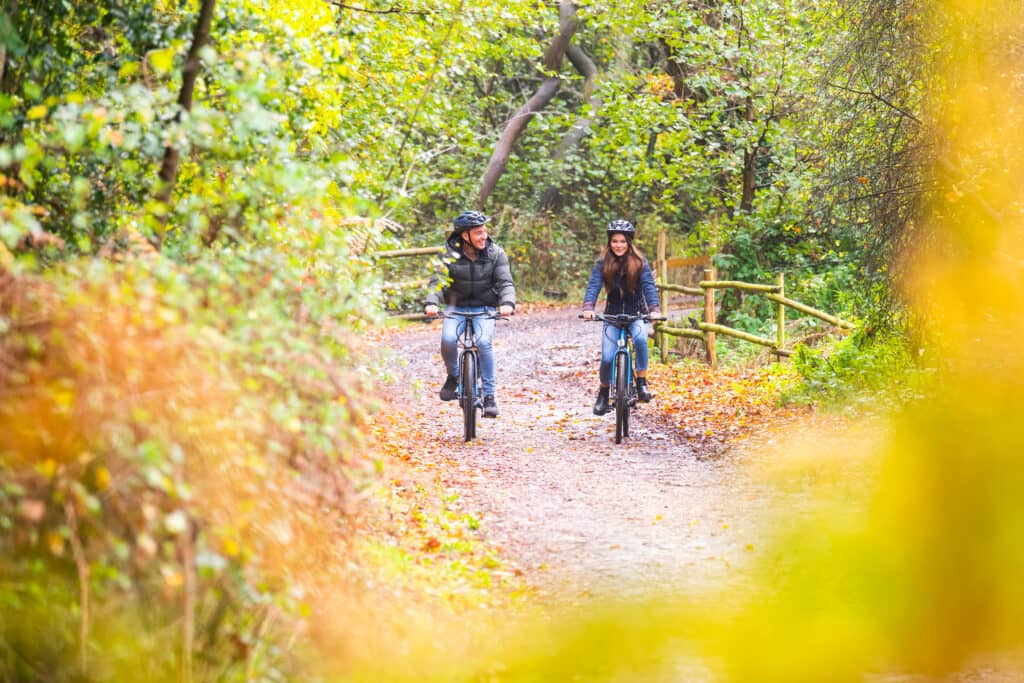 Britain's magical waterland is a shimmering lattice of rivers and open broads, complemented by a hinterland of winding paths. Criss-crossing the land these trails are best explored on two wheels. Broadland Cycle Hire have in-depth local knowledge, giving you the richest experience of the Broads National Park, whatever the time of year. They have cycles to hire for everyone, including adult tricycles, tag-alongs, dog buggies, tandems, hybrids, mountain bikes and e-bikes. Plus helmets, baskets, locks and pumps so all you have to do is turn up! Though do note – pre-booking is essential from October to March.
Cycling is healthy, relaxing, eco-friendly and fabulous value for money. It's a wonderful way to travel off the water, moving peacefully among the wildlife rich habitats of this extraordinary landscape. It's a special place of quiet lanes and gently undulating countryside, where, travelling car-free, you'll be alive to the sounds around you, the whirr of your wheels, wind in the reeds and nature's wild harmonies.
Broadland Cycle Hire is part of the network of cycle hire points throughout the Broads National Park, supported by the Broads Authority, who produce fantastic route maps showing all landmarks, nature reserves, churches, pubs and tearooms. There's even a stretch out to the coast at Horsey. With links to off-road routes connecting with the Bure Valley Railway path and National Cycle Route 1, via North Walsham and Aylsham, they cover a range of distances to suit energy levels and experience.
Day 2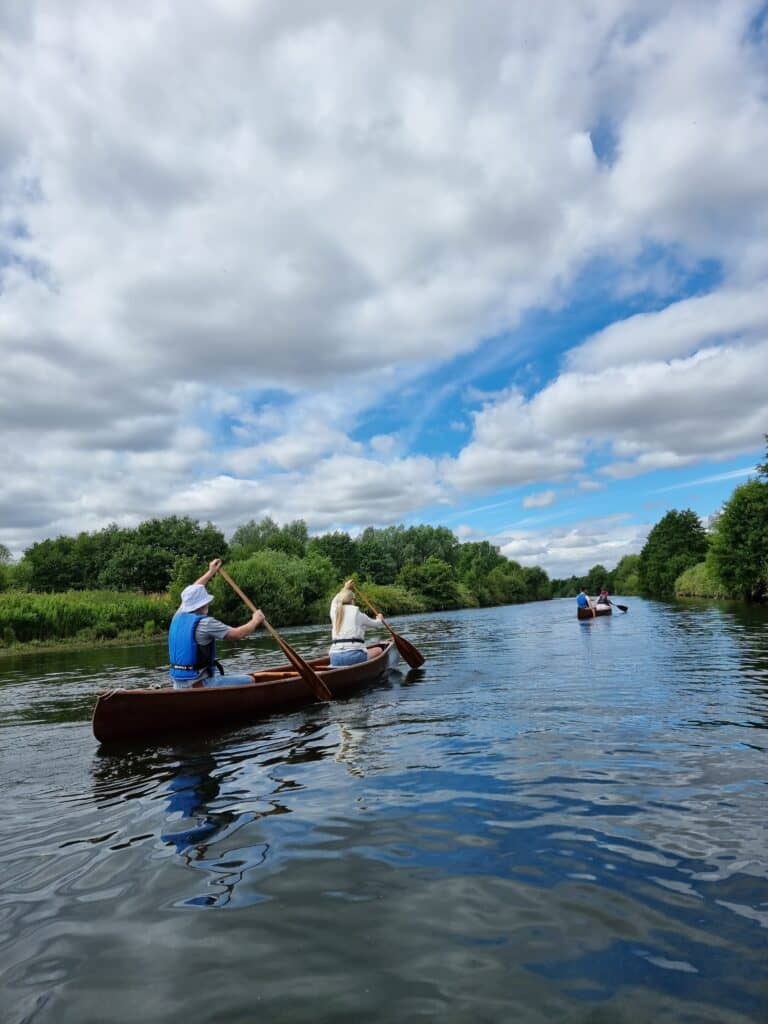 Rising in the heart of Norfolk, the River Yare runs eastwards through the fine city of Norwich to the Broads and on to the North Sea. Ever moving, ever changing, rivers are the flow of the natural world, shaping the land, connecting earth and sea. There is something infinitely calming about steering a canoe, keeping course, steady and rhythmical, in tune with nature's heartbeat. Drift your hand in the flowing water and you're touching time itself, and the essence of all life on earth.
Deepen your sense of local connection by hiring a handcrafted Canadian canoe from Thorpe Island Boats in the pretty riverside village of Thorpe St Andrew. Undisturbed by motors, hear the music of the river in peace, on a self-guided tour on the Yare. Starting from Thorpe River Green, paddle upstream towards Norwich for a tranquil glide through the historic city. Or head downstream, amongst beautiful countryside, joyous with wildlife, birdsong and wind whispering in the trees.
All Thorpe Island Boats' beautiful canoes and stream-lined wooden paddle boards are handmade at their yard opposite the Rushcutters pub. The canoes are stable, fast, and extremely manoeuvrable suitable for novices as well as experienced paddlers!
Whichever direction is calling you, there are some wonderful pub stops along the way, marked on tried and tested 2 or 3 hour self-guided routes. Rentals are weather permitting, gentle rain is a pleasure, high winds not so much! Life jackets provided. And jaunty dogs are most welcome!
If you fancy creating your own itinerary for a day trip to Norfolk or a longer visit, it couldn't be simpler. Just go to Search Activities and select from our wide range of free and paid-for experiences, saving any that capture your imagination with the click of a button.
Once you've finished, you'll find all the information stored in My Favourite, where you can drag and drop activities to create your own day-by-day itinerary! You can download this to a calendar and even share it with friends.