Lost Worlds of Ice and Mammoths
Walk Norfolk's Deep History Coast and follow the path of our hunter-gatherer ancestors, whose feet made clear prints in the mud over 850,000 years ago. This liminal landscape is home to the oldest archaeological site in northern Europe and, at West Runton, the last resting place of a mammoth, whose fossilised skeleton is oldest and largest ever found in the UK. Ice encased this land for thousand of years, forming Cromer ridge as towering glaciers thawed. Walk there for stunning views over the coast, once grass plains where the mammoth once wandered amid rhinos, bison, wolves, bears and hyenas.
Day 1
Norfolk isn't immune from chilly weather. Snowy winds can blast straight in from Siberia but usually the winters are mild with fairly low rainfall. It's wise to pack a bobble hat but there's no need for ice picks! However, the undulating geography around Beacon Hill tells the story of a much colder past. 430,000 years ago you'd be standing in the path of a huge glacier that extended northwards. The treeless land would be barren with no sign of the woods you see now. You'd experience the bitter chill of a vast ice flow, pouring dirty water from melting crevasses as the last Ice Age thawed.
Today's gentle hills and valleys were created by this continental ice sheet whose retreat shaped the land forming what we now call the Cromer Ridge.
The area is now under the careful stewardship of the National Trust and autumn is a spectacular time to explore the woodland tracks. Around Beacon Hill and Lion Mouth near stately Felbrigg Hall, oaks and sweet chestnut trees are a haven for deer and squirrels. You might spot a jay's bright blue flash or shimmer of crow's plumage as the branches drop their leaves for the winter's rest.
And if you're wondering about the 'Roman Camp' on maps, no archaeological remains have ever been found. There are earthworks, but they're not believed to be Roman. The name is likely to have been rustled up by Victorian cabbies, spinning tall tales for tourists. Hope they got a good tip!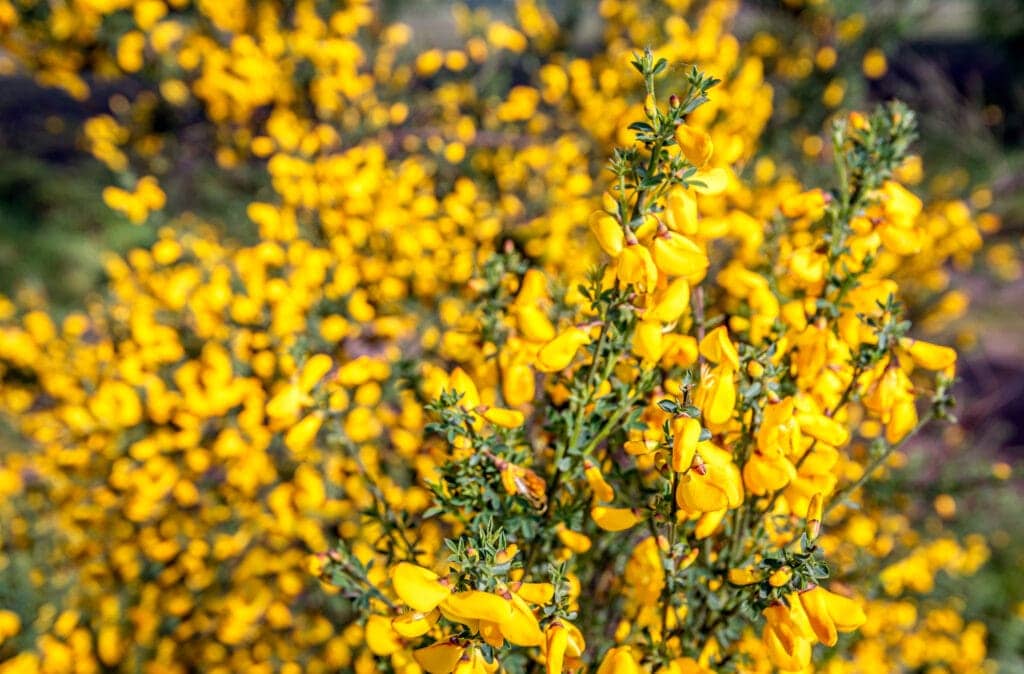 Whatever the time of year there are glorious coastal panoramic views from the pretty heathland of Incleborough Hill, literally one of Norfolk's high points. Amid muted midwinter tones it's a particularly lovely surprise to come across the golden fizz of furze flowers. Bright yellow gorse blossom's warm coconut fragrance is reminiscent of holidays and Piña Coladas, a peachy sunshine scent sweetening Norfolk's coastal paths even in the depths of winter.
On these tranquil slopes you'd never guess there are silent battles taking place right in front of your eyes. And the adversaries are plants.
There's an old proverb 'When the gorse is out of bloom, kissing's out of season', said with a wink, for gorse seems to flower all year. True love is never out of fashion! But the spiky plant's erratic flowering pattern is a deliberate tactic in a relentless evolutionary war between the gorse and its nemesis, the gorse seed weevil. These pesky weevils love to munch gorse petals, but they hibernate in winter, so the cold weather blossoming is a sneaky ploy to outmanoeuvre the tiny enemy.
You might find the gorse cloaked in a web of crimson tendrils. This is the dodder plant, a parasite with no roots or leaves. Looking like a tangle of pink noodles, it rarely kills its host although can weaken it. Always spiralling anti-clockwise it's known as Devil's Guts, Witches' Hair, Strangleweed, Hellbine or Wizard's Net, names which tells you a lot about country folks' opinion of this weird plant.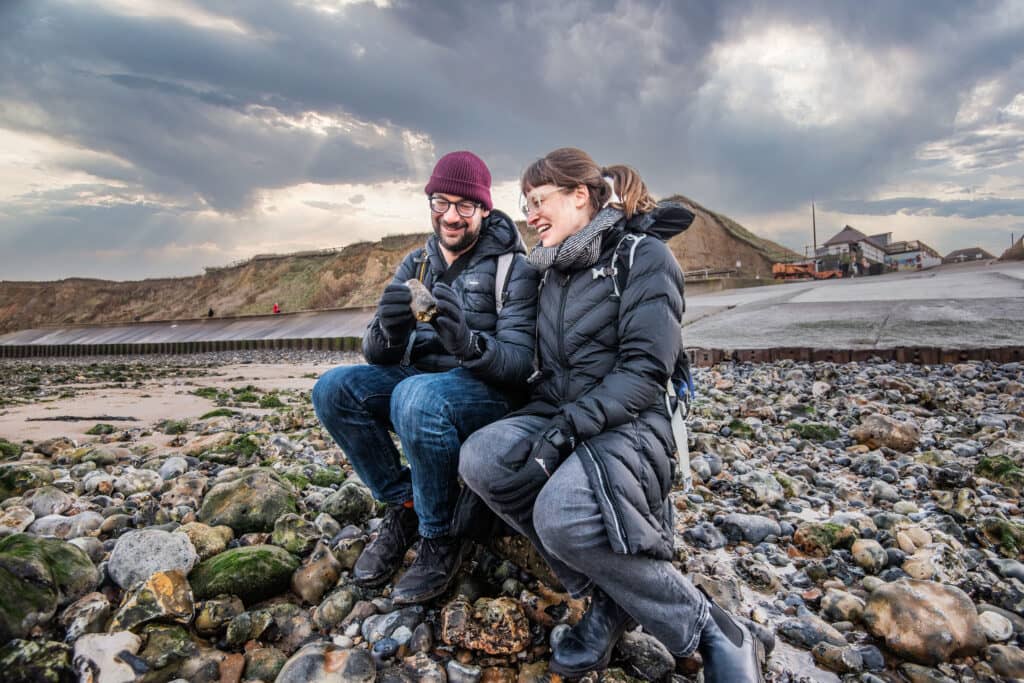 On a winter walk at West Runton you'll probably see a few happy dogs racing on the beach. Yet go back about 600,000 years and you'd be more likely to see elephants. Actually, Harold and Margaret Hems did see one, in December 1990. At least, they saw its pelvic bone, poking out of the cliff after a violent winter storm. Five years later a full excavation unearthed the oldest and largest Steppe Mammoth skeleton ever found in the UK. Standing at 4m tall and weighing 10 tonnes, this gigantic prehistoric mammal has become a local legend.
A towering creature, the Steppe Mammoth – Mammuthus trogontherii – roamed this ancient place with rhino, bison, beaver, hyena and also stone age settlers. But they shared a very different view to the one we see today. In fact our ancestors could have walked from Norfolk to Holland without getting their feet wet because the choppy North Sea was a land of rivers, grasses and savannah. Imagine that as you gaze at the horizon!
The mammoth's near complete but fragile skeleton is preserved by Norfolk Museum Services. You can see part of it in Cromer Museum and find out more at West Runton Beach Café's learning hub.
When winter gales scour the Norfolk coast and chunks of eroding cliff crumble down, a walker might scout a pre-historic fossil, perhaps a fragment of deer antler or mysterious mammal bone. But no one has been as fortunate as Mr and Mrs Hems. At least, not yet…
If you fancy creating your own itinerary for a day trip to Norfolk or a longer visit, it couldn't be simpler. Just go to Search Activities and select from our wide range of free and paid-for experiences, saving any that capture your imagination with the click of a button.
Once you've finished, you'll find all the information stored in My Favourite, where you can drag and drop activities to create your own day-by-day itinerary! You can download this to a calendar and even share it with friends.