Living on the Coastal Edge
Those whose livelihoods depend on the coast have always lived in two worlds. North Norfolk is just such a crossing place, where the sea's wild riches are held in delicate balance with farmland, buffered by liminal zones of marsh and mudflats. These are dynamic landscapes of wind and tide, wonderful for exploration and discovery. Once the sea supported boom time for busy little Norfolk ports, thronging with merchants and traders. But shifting sands silted up the harbours until bustling quaysides gave way to nature reserves, rustling reed-beds and new ways to make a living from this ever-changing edge of England.
Day 1
Across the world communities who live by the sea share legends of seals shifting to human form. And there is something strangely familiar about the gaze of these enchanting creatures from another world.
Operating in all seasons (except during boat maintenance in January and early February) Beans Boats is a family business with over 80 years of getting visitors up close and personal with one of Norfolk's biggest Grey and Common seal colonies. The residents of Blakeney Point are often lolling about on the beach, calmly eyeing inquisitive humans just as we watch them. It's important not to disturb them, so a guided boat trip is the best way to learn and make magical memories.
You'll board one of five custom ferries at Morston Quay, head up Morston Creek and out into Blakeney Harbour. Relax and absorb the Norfolk's wild beauty from the shelter of the harbour. Blakeney Point is one of Europe's most important sites for migrating birds, so there's loads to see on the way to the seal colony. The crew will share local history, passing the old Blakeney lifeboat station towards the tip of Blakeney Point.
Often a curious seal will pop its head from the waves right by the boat, as if checking the crew's tales hold water! There'll be plenty of opportunity for asking questions and taking photos, since the skilled crew will get in close without disturbing the seals' peace. This is their world. It's a great privilege to be guests here.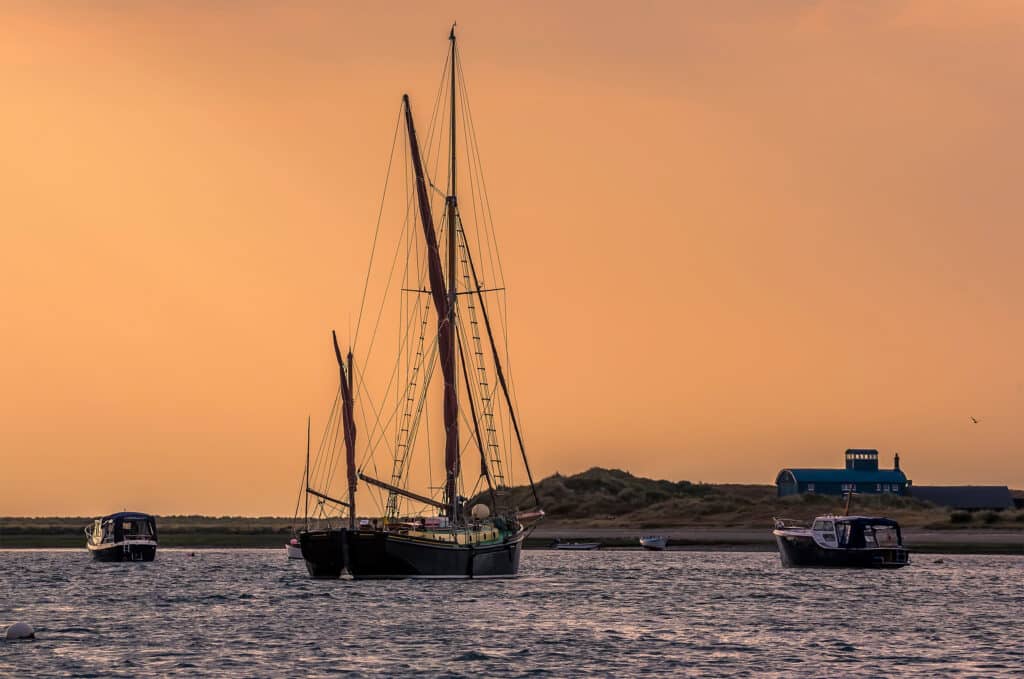 Norfolk is awash with picturesque coastal towns and villages, but the wayward salt marsh has transformed the landscape over the centuries, and with it the livelihoods of places like Cley, Blakeney, Wiveton, and the Burnhams. Hard to imagine as you wander along the seawall listening to the wild gulls call, but these were once important trading ports. Former Stiffkey resident, Tarka the Otter author Henry Williamson wrote:
'Once the coast here was lower, and the sea came up the channels with every tide, bearing wooden ships burthened with cargoes which were unloaded on the quays and taken in inland wagons. Many sailed away with grain, to other ports in England, who wanted the North Norfolk barley for beer. Gold was the medium by which payments were made, but not the paramount purpose of the exchange. The general principle was that exchange of goods in the community. Northumbria wanted barley to make beer to feed the coal miners, and East Anglia wanted coal. So barques with coal left Newcastle and drew into Cley and Blakeney and Overy and Burnham and returned with barley and wheat. The farmer sent his loaded wagon, painted with bright colours, drawn by four horses, from his black barn door to the quayside granary of his merchant, trusting him to pay the right price for the grain, and often as not the wagon came back with a load of coal and other goods.'
Henry Williamson,'Green Fields and Pavements' by permission of The Henry Williamson Literary Estate ©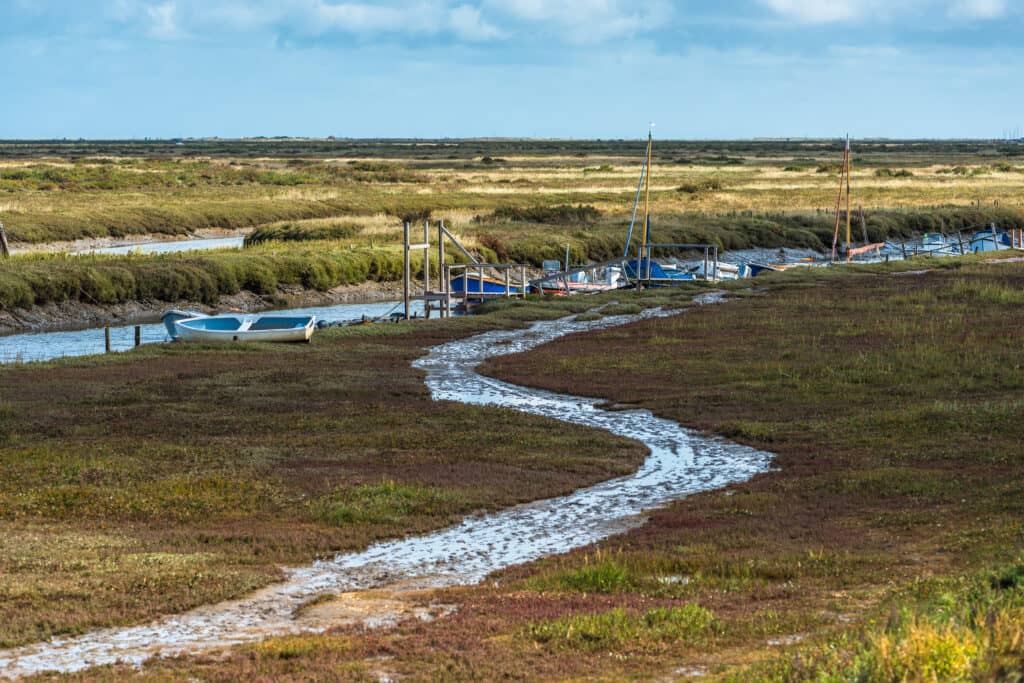 In the Middle Ages, along with Wiveton and Cley, Blakeney was one of the prosperous Glaven ports, sheltered by the long sandy spit of Blakeney Point, these busy harbours jostled with ships taking sheep and salt fish to the Low Countries. And when the Spanish Armada threatened England, the Glaven ports sent 36 ships to join Drake's fleet. Eventually silt blocked the sea channels and only small nimble craft could navigate the marsh, the kind used by smugglers. It's said beneath Blakeney's narrow streets where so many old fishermen's cottages are now second homes, there's a maze of tunnels, created by gangs who once held sway along the North Norfolk coast.
But those underground labyrinths are home to even more elusive beings. Hikey Sprites or Hyter Sprites are rare creatures who haunt woods and marshlands at dusk, peculiar to Norfolk's strange liminal places. Described by some as spider-like, scuttling on spindly legs, by others as flying on leathery wings, it's said they'll suck your blood and steal away children who wander out onto the marsh after dark. Parents warn 'if you go out alone, the hyter sprites will get you', though there are also folk tales of hikeys bringing lost children safely home. It seems, like faeries, sprites are nothing if not unpredictable.
Stories told by smugglers to scare off prying eyes? Or fables to safeguard curious children? Dare you to find out!
Day 2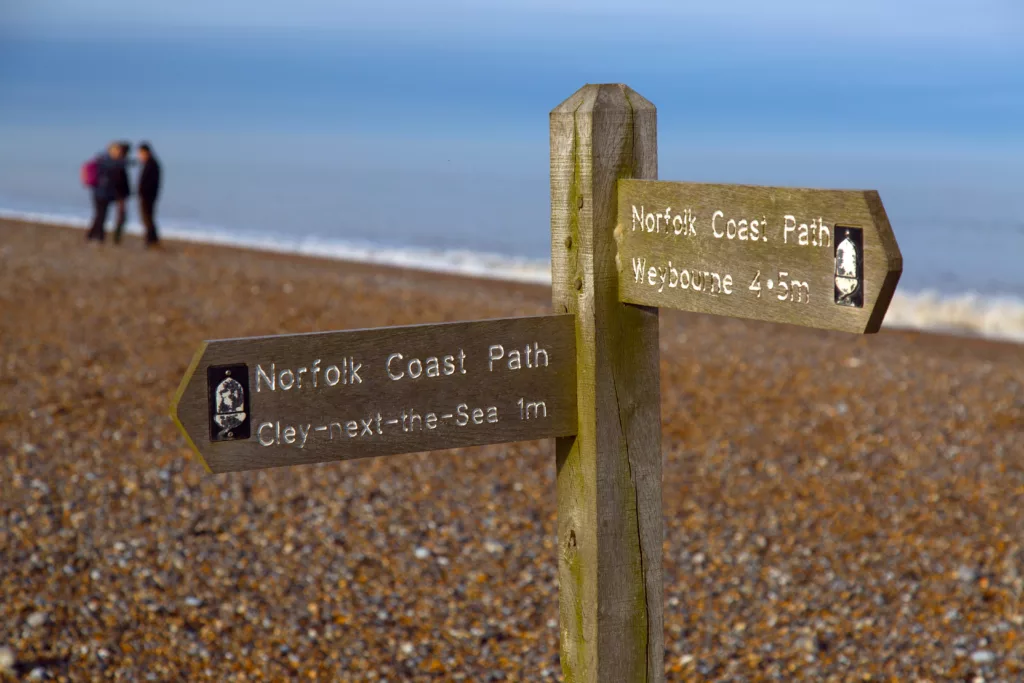 Charge up your Vitamin D, boost your immune function and re-charge your serotonin levels; learn to love the outdoors in winter! Head to Cley-next-the-Sea, where Norfolk's big skies are at their most spectacular. Arctic winds race across the North Sea unhindered until they slam into Norfolk, the first land mass to break their howling path from the far north. Yes, it's cold. But it's also awe inspiring.
Storm chasers will see a stunning elemental clash of land and sea. Stride into the wind towards the shingle ridge at Cley Beach. Pebbles, rounded and polished under your boots skitter back as you cross the divide between shelter and storm. Breaking the ridge, a wild world opens out in front of you; a maelstrom of iron grey sea, waves slashed with white foam, crashing onto the shore. Breakers push and shove the clattering stones, relentlessly moving them along the coast. Embrace the majesty of nature in winter, layer up well and hunker down with a thermos of something hot, protection against the biting cold. You'll meet a few other hardy souls out in the exhilarating wind. Photographers and birdwatchers, looking for gannets, piratical skuas riding the tempest from the far north and rare sightings of puffins, blown off course by driving winds. This season is a time for movement, change and survival. When the wind's pierced every layer of clothing, time to warm up in Cley village. Leave the beach to its storms, take the memories with you.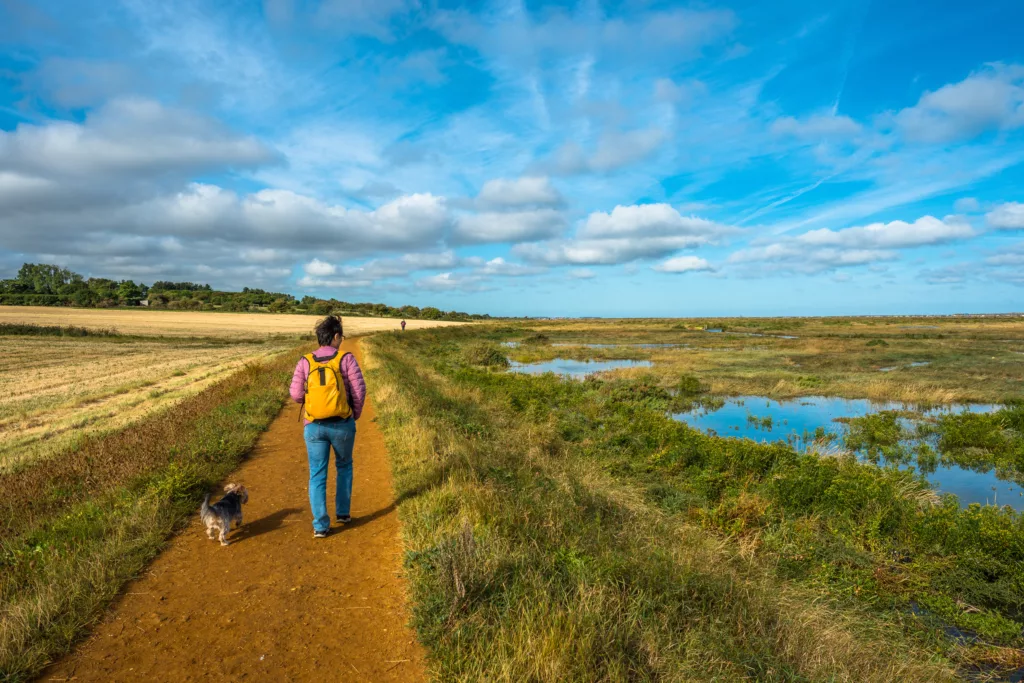 Walking boosts happy chemicals in the dark days after Christmas. So make time to connect with the feeling of your body striding into nature's wild embrace.
Head towards the sea onto the shingle ridge from Cley beach car park. Waves pound with zeal and breath-snatching winds race unfettered from the Arctic. Tuck in your scarf, turn left onto the ridge. Beginning at Weybourne, over time the ridge has grown westwards, forming the spit of Blakeney Point and is now 8 miles (12 km) long. Half-way, you'll find the Watch House. Tiny pale sanderlings skitter nearby where orange-billed oystercatchers probe the reflecting mud for shellfish. It's a good place to stop for a hot drink from your thermos. Leave the complicated world behind, be here now, in this moment of solitude and shifting light.
Carry on for another mile to the sand dunes. Turn away from the sea towards the blue Lifeboat House, keeping dunes and fence to your right. Avoid any seals. They can be aggressive, especially when protecting pups. This is their home, so who can blame them? Do not disturb the very peace you seek. Leave only footprints, take only memories.
Seals have right of way on this land, so if pupping's in progress your walk may be cut short. If not, the crest of the boardwalk marks the end of your path. Don't cross the fence. Beyond belongs to the seals. Stand free under running sky before heading back to a warm Blakeney café.
Day 3
Cley-next-the-Sea is a place of two worlds, a village on the edge, where the land becomes a sea of dancing reeds. Very much part of this landscape, it's built from cobbles, sourced from the earth on which it stands, shaped by local crafts and long tradition. Cley is a beacon for artists, nature lovers and photographers with some of the best coastal walks in the UK. And it's a hotspot for migratory birds from across the globe.
Scenic walkways wind among towering pale gold reeds, ripened by summer sun. Russet seed heads nod in unison, fantastically photogenic against a bright blue winter sky. This is when the reed cutters come to harvest. Reed-cutting is an ancient rural industry, still supporting local livelihoods and sustainable stewardship of the land, cared for here by the Norfolk Wildlife Trust. Cley windmill rises majestically from the panoramic coast path. Five storeys tall, built in the 19th century, the mill is a symbol of change and resilience. A working mill until 1921, it's now one of the most unique places to stay in Norfolk, with stunning views across the reedbeds from the coast road to the banks of the River Glaven and beyond to the seawalls and marshes.
East of the village is Cley Marshes, a wildlife reserve and Area of Outstanding Natural Beauty, with its distinctive visitor centre (NR25 7SA), half camouflaged on the ridge above the coastal plateau. A great place for tea and cake with a view!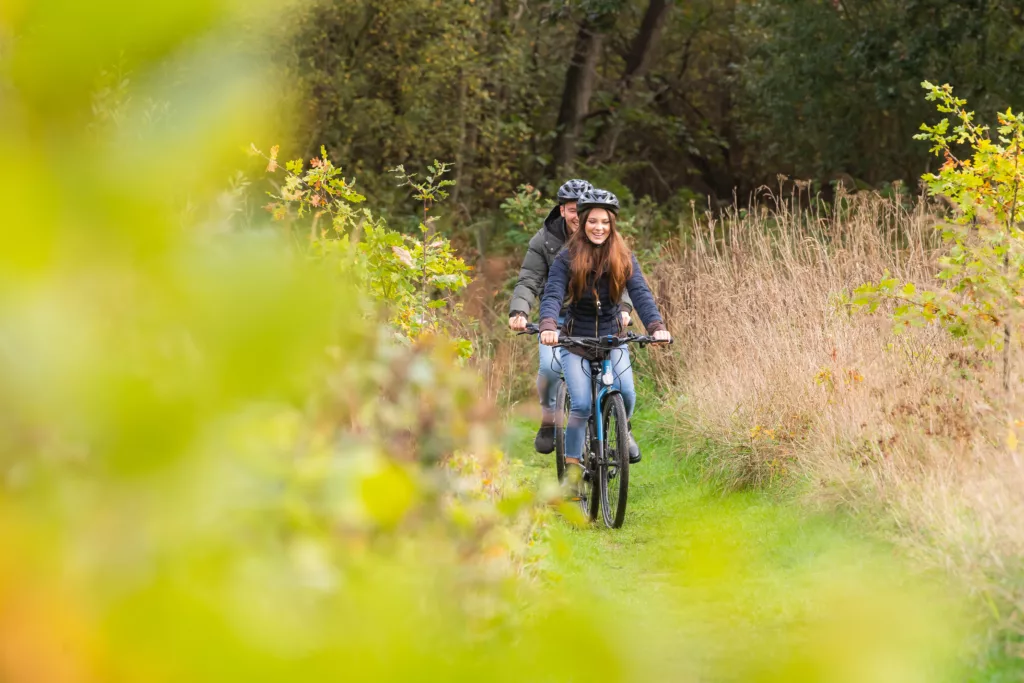 Discover the North Norfolk coast road by bicycle, marvelling at the glorious landscape. Left your bike at home? Just hire one locally! From Hunstanton to Cromer the road hugs the coast, so breathe in the salty air, then find a hidden pub and enjoy a real taste of Norfolk. This poetic landscape is little changed since author Henry Williamson cycled here during the dark days of World War Two:
'I cycled along the coast road, free with a delightful sense of solitude, and so came to an area which probably was painted in peace-time more than any other East Anglian district. Wide marshes and reed dykes, villages of pantiled roofs and crumbling flint walls – many broken by traffic – corn barns with their tall, black double-doors, cattle yards, an old windmill, fields green with barley, distant sea and low, ragged line of sandhills under an azure sky of a clarity unsurpassed in any in any other English coastal landscape.
…To the road again, and over a slow river where reeds rustled in the breeze, and up the steep hill to another village, where stood a grey church tower and a smaller tower, like a child beside its parents. Not much good going down to the quay; the sailing boats were stored away until happier days, and the terns on the Point would be flying undisturbed except for the gulls marauding along of their own wild world.'
Henry Williamson, 'Green Fields and Pavements' by permission of The Henry Williamson Literary Estate ©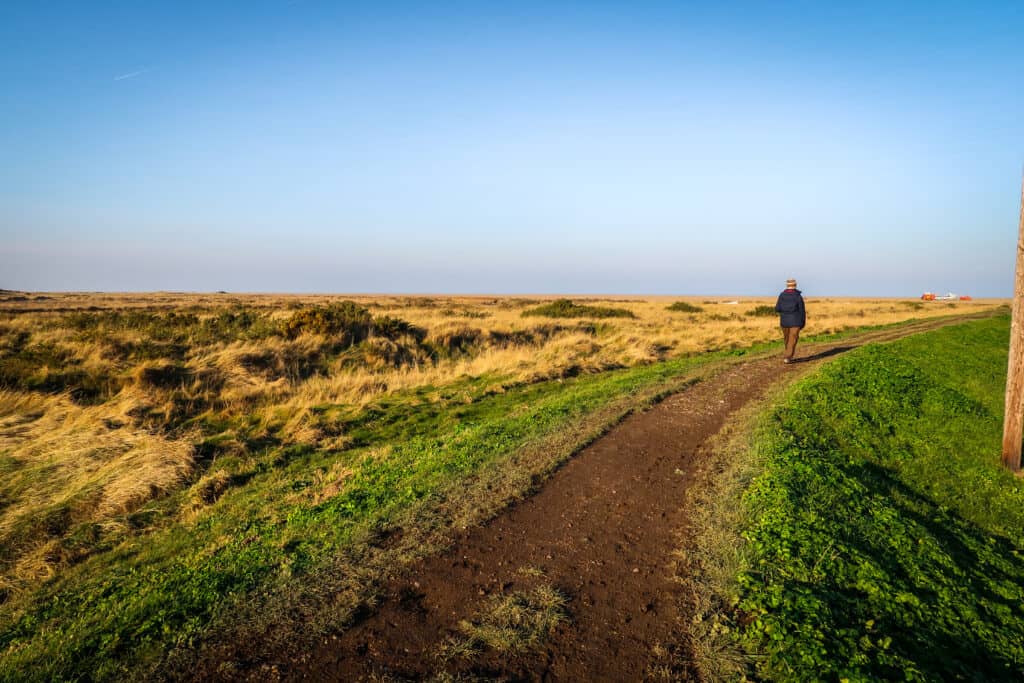 There's something about a winter afternoon in Salthouse that tugs the heart. Perhaps its the pale coastal light pouring through church windows, or smell of woodsmoke from cottages near the Heath. Maybe it's the Heath itself, its wildness and sense of ancient lives whose stories are held by the earth, just beyond our sight.
Salthouse Heath was formed by melting glaciers thousands of years ago and is part of the geological Cromer Ridge. The rich mosaic of dry acid heath and grassland, fragrant gorse and broad-leaved woodland also guards a wealth of archaeological treasures. There are 11 scheduled monuments and a Bronze Age cemetery. And the remains of a World War II radar station to the north of the heath.
Heathland once defined much of Norfolk, yet is now a rare habitat. The 99-hectares of dry coastal heathland at Salthouse is one of the last remaining examples. Stand on this escarpment and drink in the stunning panorama of marsh, water, land and sea. It's one of the most splendid views in Norfolk. From Cley Marsh Visitor Centre head towards the East Bank. Cross the coast road, follow the path through Walsey Hills, up past Great Hulver Hill and continue to Bridgefoot Lane. Turn left until you meet the path across onto Bard Hill, then head across the heath east towards Bloomstile Lane and just follow the road as it saunters down to Salthouse village where The Dun Cow pub will have the fire lit and a welcome waiting.
If you fancy creating your own itinerary for a day trip to Norfolk or a longer visit, it couldn't be simpler. Just go to Search Activities and select from our wide range of free and paid-for experiences, saving any that capture your imagination with the click of a button.
Once you've finished, you'll find all the information stored in My Favourite, where you can drag and drop activities to create your own day-by-day itinerary! You can download this to a calendar and even share it with friends.