Who forgot the tent pegs? Who cares! Go glamping and you don't even need to pack the tent. Relax from the moment you arrive in one of the UK's most beautiful counties. But where to stay? Check out our trio chosen from Norfolk's best glamping retreats. Discover luxury pods in the beautiful Norfolk Broads National Park, a tranquil honeymoon hideaway on the River Waveney, or a bell tent bolthole, nestled in wild grassland for a romantic holiday without the kids. Take your pick. Or try all three! Bewitching birdsong and nights of a million stars come as standard.
Day 1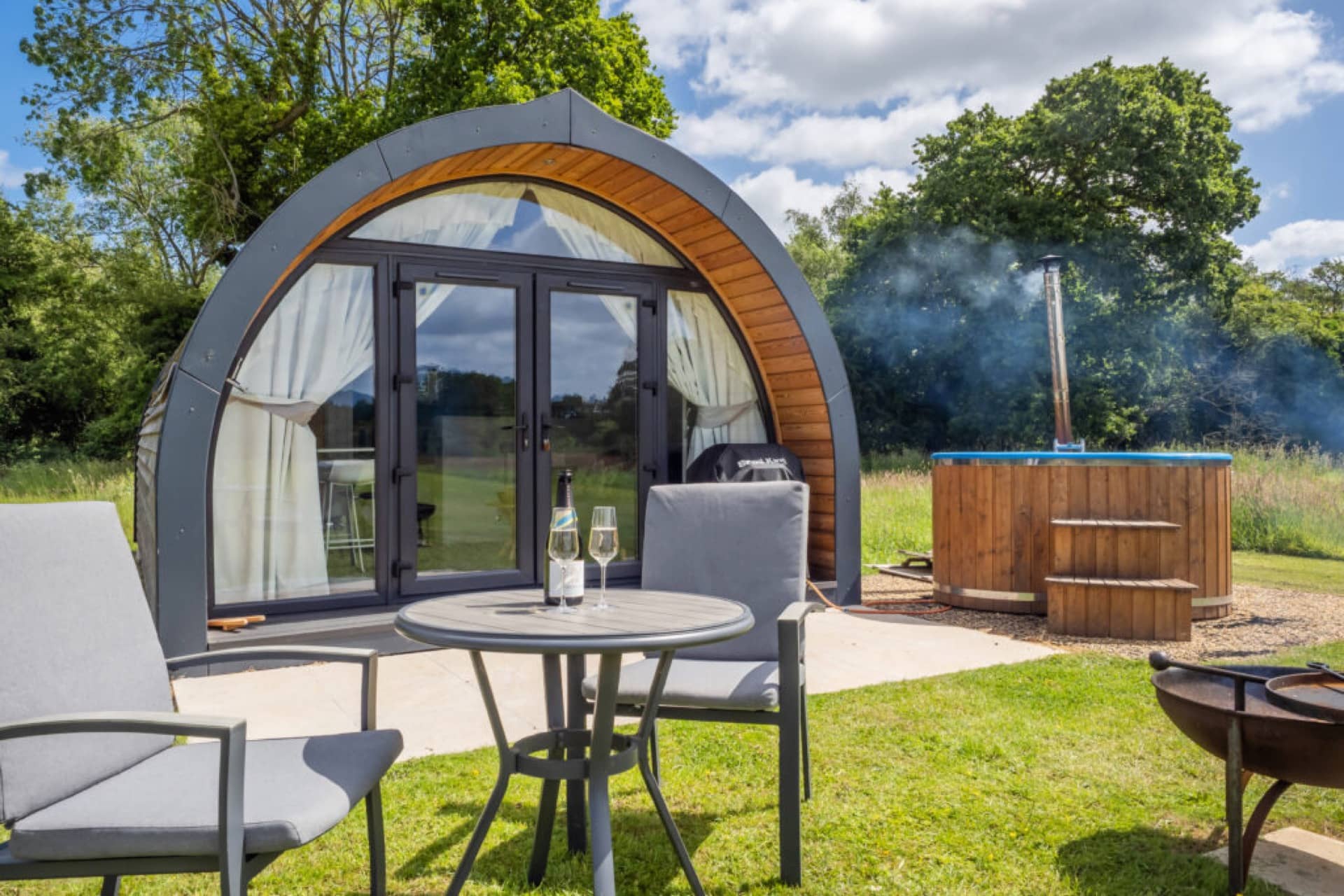 When did you last give each other your full attention? At Dilham Hall Retreats you can reconnect with nature and each other. And do it in style! This is carbon negative glamping for those who appreciate both comfort and the environment. The three luxury glamping pods of Broad Fen Retreats are an idyllic honeymoon hideaway or bolthole for couples with a special celebration. Or just to escape. Remember how it was when you first met? Surrounded by peaceful wilderness in the most northerly part Norfolk Broads National Park, you'll find space for really listening to each other again. But there will be a few distractions!
The birdsong is enchanting, the light mesmerising and the glorious landscape will be calling you to come outside and breathe it in. You'll have exclusive access to Broad Fen, a 95-acre Special Area of Conservation, where many of the UK's rarest, most endangered species thrive in fen meadowlands and magical woodland. Or you might fancy exploring the private canal, waterways or exceptionally beautiful water meadows by canoe or paddleboard, easily hired from Canal Camping or Dilham Hall Canoe Hire. And when your body has that pleasant ache from a day of using it as nature intended, not hunched over a screen, there's a wood-fired hot tub and fire pit. Throw a blanket round your shoulders and pour the wine. The air is perfumed with aromatic woodsmoke and you two are alone together, eyes shining in the fireside glow, under endless fields of starlight.
Canal Camping: bring your own tent or guests can hire one of our bell tents
Tonnage Bridge: family pods (no camping)
Broad Fen: couples pods (no camping)
Guests at all three locations have access to canoe hire.
Day 2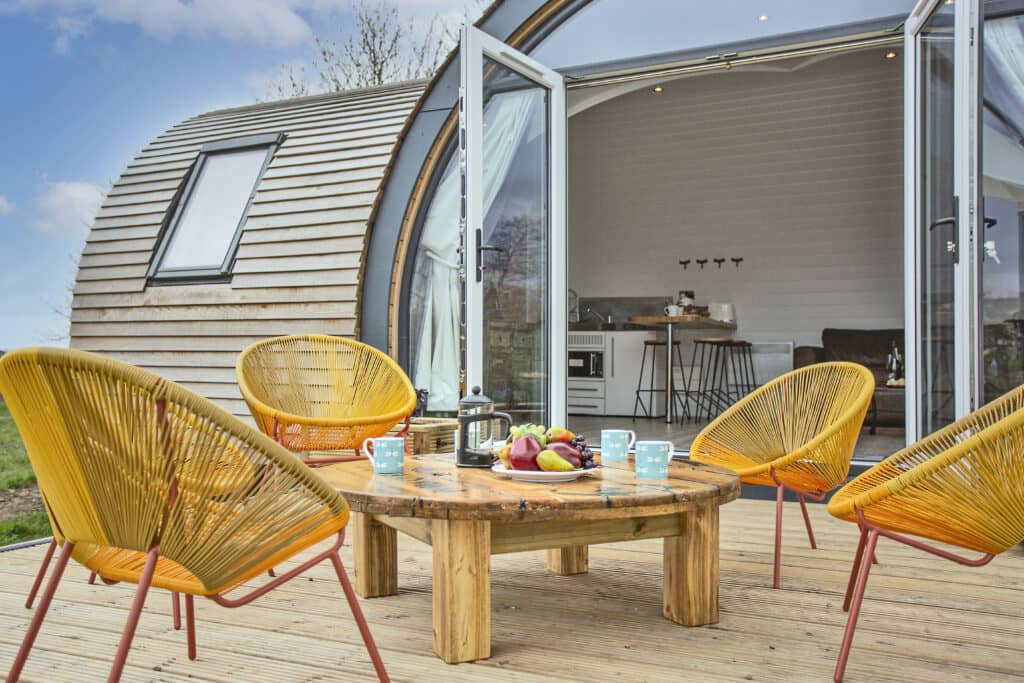 Messing about on the river is magical if you have the water all to yourself. When the busy summer season shifts to golden autumn snuggle into a tranquil heated hideaway by the beautiful River Waveney. Secret Garden is a new land-based glamping pod at Hippersons Boatyard, a unique award-winning holiday destination of quirky houseboats at Beccles in the Broads National Park.
It's self catering, but there's no need to lift a finger because Beccles Station Café will bring a scrumptious Norfolk breakfast straight to your deck. You'll also love tucking into delectable local treats delivered in winter hamper tailored to your tastes.
This special 2-night package includes a stunning guided walk led by your host Mary Sparrow, who knows this watery wonderland inside out. Pull on your boots for a gentle 45 minute stroll, where she'll point out wildlife, often more visible in colder months. If you fancy more challenging terrain, strike out for an invigorating 2 hour hike to get cheeks rosy and appetites up. It's a five minute walk to Oakfired Pizza at the cosy Royal Oak pub. Award-winning specialists in True Neapolitan Pizza, they do take-aways if you'd rather head back and wrap up on deck, surrounded the river sounds at dusk, idyllic for a romantic getaway.
If you stay in October, book an optional 2-hour Kayak or Canoe guided tour to explore the river's bewitching waterscape at this most captivating time of year.
Day 3
Bressingham's crowning glory is its glorious gardens, famed for their innovative planting, designed to enchant in all seasons. Staying here is a unique experience. It's particularly joyous when autumn's fiery tints unfold tapestries of form and colour across the stunning 17 acre site, where guests can wander freely.
In the midst of this undulating landscape, nestled in a secret area of swaying wild grasses, you'll find a pair of spacious bell tents. For adults only, they're perfect for simple, yet luxurious glamping. Each has a roaring tent stove to keep you warm as you snuggle in with a book. Deeply peaceful, nights are for sharing dreams, cosy by the fire pit under skies glittering with crystalline stars. At this magical turning point of the year, you'll be surrounded by nature, yet a home cooked meal can be delivered straight to your tent. This is adventure with a delightful level of comfort! And your stay is sustainable too, friendly to the land and its rich wildlife. Firewood is locally sourced, outdoor lights are powered by solar panels and the tents are served by a comfortable, clean unisex eco-compost loo. Stylish bespoke furniture is made from storm blown oak, ash and walnut gathered from the estate. And the wide bed is SO comfy!
Bressingham Steam Museum and the ancient 'slow town' of Diss are nearby, while the nature reserves at Wortham Ling and Redgrave & Lopham Fen are only a bike ride away.
Glamping is £90 per night for two people
If you fancy creating your own itinerary for a day trip to Norfolk or a longer visit, it couldn't be simpler. Just go to Search Activities and select from our wide range of free and paid-for experiences, saving any that capture your imagination with the click of a button.
Once you've finished, you'll find all the information stored in My Favourite, where you can drag and drop activities to create your own day-by-day itinerary! You can download this to a calendar and even share it with friends.