In a fast-paced age of mass production, slow down and focus on the moment. Bushcraft courses in Norfolk empower you to concentrate on the task in hand, an immensely satisfying form of meditation, especially outside in green spaces with the music of nature all around. Learning new outdoor skills is rewarding practical work, using natural sustainable materials. Carving a wooden spoon for use in your own kitchen or making charcoal to keep yourself warm or cook under an open sky reconnects you to the land around you, and to centuries of human survival in the world's wild places.
Day 1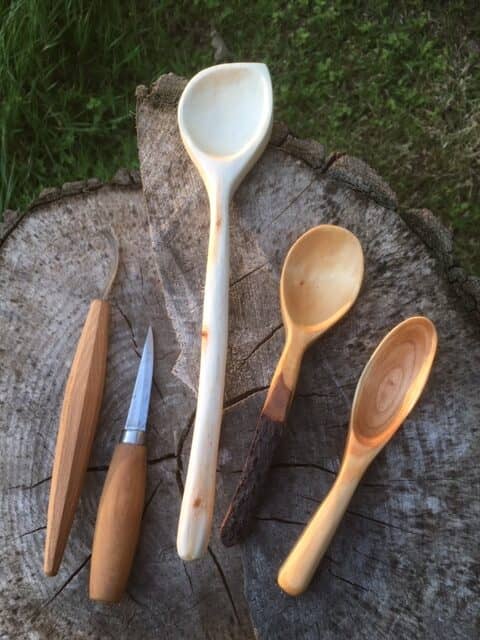 Under a wide Broadland sky embark on an enjoyable immersive introduction to spoon carving at Alderfen Marshes. Let your creative juices flow as you select, cut, split, chop and carve your chosen wood into a unique handcrafted spoon. You'll be shown all the necessary skills required to make your own spoon from green woods, such as coppiced willow, alder and silver birch sourced sustainably from the marshes surrounding you. It's a mindful process, a million miles from idly scrolling onscreen, out with the sound and scent of the marsh in warm sunlight or cosy under cover with gentle rain pattering on your shelter.
Learn how to choose your wood and use a carving axe to prepare your spoon blank. Then get working with a variety of straight carving knives and hook-knives to shape your spoon. You'll discover finishing techniques, use of oils and how to care for your new spoon. It's an outdoor, all weather experience, covered if it's a rainy day with a welcoming fire bowl to ward off the chill. Considering the wood grain and shaping your spoon is wonderfully tactile, allowing the tree to speak in your hands. Working with green wood is good for wellbeing, using your body to create a beautiful, functional object which tells its own story. Even a rough looking first attempt has its charm. Fabulous for team building or a day to remember with friends, you may discover a new creative hobby bringing you closer to nature.
Day 2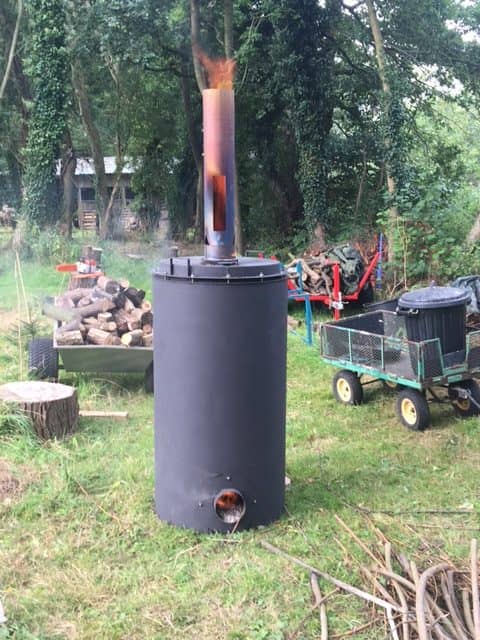 Enjoy learning a traditional rural skill in the beautiful Norfolk Broads National Park. For over 3,000 years people burnt charcoal to create fuel. Charcoal makers were once a familiar sight in the woods and a key part of the historic rural economy. Today it's estimated there are only around 250 left and the best way to learn about their work is to give it a go for yourself. At Alderfen Marshes making charcoal is a great way to use wood cleared from the marsh during conservation work. The lump wood charcoal makes fantastic smokeless BBQ fuel while smaller pieces are crushed and added to composted marsh cuttings, an effective method of carbon capture. During this interactive session, you'll get hands-on with the charcoal making process. When you snap the lump wood charcoal and it makes the tinkling sound of chandeliers in a breeze, you'll know you've done a good job!
You'll learn useful techniques and have the opportunity ask lots of questions, while exploring the art and science of turning wood into charcoal. Find out how to select, prepare and store the wood, and have a go at loading and firing the charcoal retort and the char kiln. Finally, you'll be shown the art of grading and bagging the finished product. Working outside beside the roaring brazier, surrounded by wide open space as thin plumes of blue smoke weave into the autumn air you'll sense the evocative energy of an older era, a satisfying escape from modern life.
If you fancy creating your own itinerary for a day trip to Norfolk or a longer visit, it couldn't be simpler. Just go to Search Activities and select from our wide range of free and paid-for experiences, saving any that capture your imagination with the click of a button.
Once you've finished, you'll find all the information stored in My Favourite, where you can drag and drop activities to create your own day-by-day itinerary! You can download this to a calendar and even share it with friends.