Cromer is an artsy North Norfolk seaside town with an independent spirit and proud seafaring heritage. It's famous for cracking seafood; Cromer crabs are celebrated by chefs all over the UK. And nowhere better to try them than here, super fresh in the salty air. Fabulous for a winter weekender, Cromer's eventful history goes back into Deep Time. It's got a fair share of heroes too, from lifeboatman Henry Blogg who saved hundreds of lives to Olive Edis, the pioneering photographer who took portraits of both fishermen and kings. But beware Black Shuck…spooky howling means head straight to the pub!
Day 2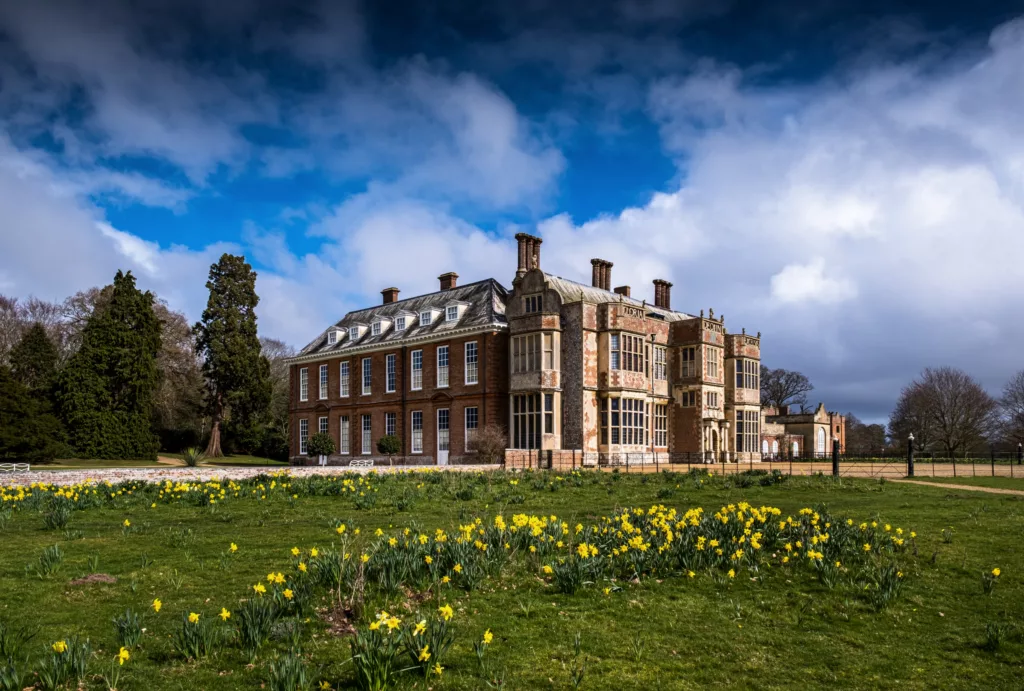 Felbrigg Hall is one of East Anglia's most delightful 17th century country houses, an elegant blend of opulence and comfort, with rooms full of pleasure and surprise. Accessible walks are wonderful in all seasons, with 380 acres of parkland, woods and a beautiful Walled Garden. After a stroll, wander over to The Squire's Pantry tea room for a hot lunch, afternoon tea or ice cream in the pretty courtyard.
There's also a well-stocked second-hand bookshop, which would delight at least one of Felbrigg's historic owners…
William Windham III, a Whig politician, inherited the hall in 1749. Fanny Burney wrote he was 'one of the most agreeable, spirited, well-bred and brilliant conversers I have ever spoken with', no doubt due to his voracious reading. He was a total book fanatic. But he paid for it with his life.
One summer night in 1809 he saw a house fire in Conduit St, London, a few doors away from the property of a friend with a valuable library. Although nicknamed 'Weathercock Windham' for his notorious political indecision, this time he didn't hesitate and rushed to rescue the books before they were caught in the flames. Running with heavy volumes, he fell and damaged his hip which developed a tumour needing surgery the following year. He never recovered and died in June 1810.
But there's one more chapter. With all eternity to catch up on his reading, Felbrigg staff sometimes see Windham's ghost sitting in the library, peacefully enjoying his books.
Looking for Norfolk's best winter walks? Try Sheringham Park. Rolling over nearly 1,000 acres of landscaped parkland and wooded glades it was designed by Humphry Repton to frame some of Britain's most magnificent sea views.
Repton's landscape proposals of 1812 are documented in one of his famous red leather books of which only 200 survive. He wrote 'Sheringham possesses more natural beauty and local advantages than any other place I have ever seen'. Thus enchanted, Sheringham Park stands as one of the finest examples of Humphry Repton's work and vibrant source of inspiration for landscape designers. Many of his plans were implemented by others, but Sheringham is true to Repton's original vision; perhaps that's why it was one of his favourites.
Paths meander through magical woodlands, farmland and down to coastal cliffs, glorious walking all year round. In late spring, shiny evergreen rhododendrons burst into gorgeous bloom, starred with abundant azaleas. Hot pink, bright orange, sassy purple, aflame with showy reckless energy. No wonder the Victorians associated them with danger as well as passion and abundance! See the clouds of vibrant colour from the tree-top tower which gives a 360º view of the park.
Four routes explore different aspects of this idyllic Victorian landscape. Time the Red Route to meet the steam train at Weybourne Station for a heritage ride back to Sheringham. Sheringham Park is brilliantly accessible for disabled visitors, with hearing loops, large print maps, Braille guides, wheelchairs and battery powered vehicles available at the Visitor Centre.
If you fancy creating your own itinerary for a day trip to Norfolk or a longer visit, it couldn't be simpler. Just go to Search Activities and select from our wide range of free and paid-for experiences, saving any that capture your imagination with the click of a button.
Once you've finished, you'll find all the information stored in My Favourite, where you can drag and drop activities to create your own day-by-day itinerary! You can download this to a calendar and even share it with friends.