In the days when you could walk from Norfolk to Africa, a group of nomadic hunter-gatherers crossed a rolling ridge of chalk and left their footprints in the Norfolk mud. Uncovered over 850,000 years later, their marks became the first chapter in Britain's human history. Yet humanity has been here for only the blink of an eye. Geological time moves at a glacial pace and we glean clues by deciphering fossils found along the stunning coastline you'll discover on this route. Visit Norwich Castle and Lynn Museums to learn more secrets from our distant past and see Norfolk differently.
Day 1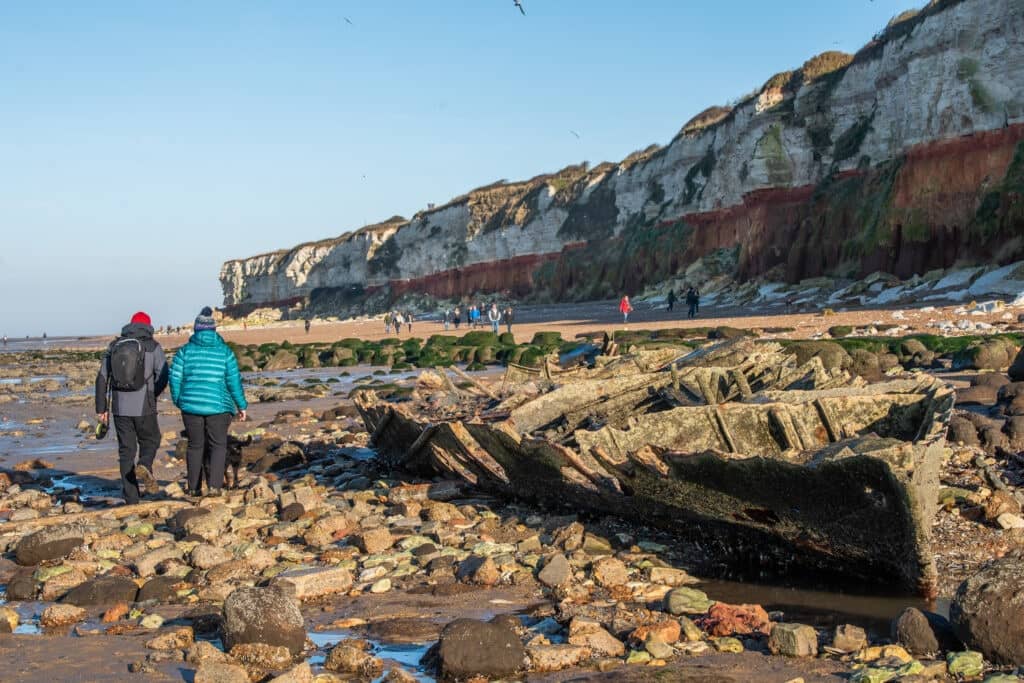 Famed for vast beaches and wild saltmarsh, Norfolk has an amazing coastline  including a rocky cragwhich is  striped like a circus tent.
Hunstanton cliff's eye-catching bands of red, white and burnt orange sedimentary rock featured in the film 'Spencer' (2021). The colours are a joy for photographers, capturing their glowing beauty from this west-facing shore, especially dramatic during stormy sunsets.
A Site of Special Scientific Interest, the stunning stripy cliffs are part of a sweeping chalk ridge that once extended from the Chilterns to Yorkshire. In a fast-paced world, it's calming to experience their slow majesty, knowing those ancient chalk layers accumulated at the steady rate of one foot every 30,000 years.
Chalk is the remains of organisms which once swam in the warm, tropical Cretaceous sea that covered Norfolk between 135 and 70 million years ago. The bottom layer of red brown carrstone is considered to be c.108 million years old and above it is a broad stratum of red chalk coloured by iron pigments and rich in fossils. Fossil hunters may find coccoliths, bivalves, belemnites and even shark's teeth. But be careful! The cliffs are fragile and coastal erosion causes large chunks to fall quickly, so walk well clear of their shadow and stay safe.
And if rock fans think these cliffs look familiar, check your Stranglers albums. The punk band used Hunstanton cliffs as the location for the cover shoot of their aptly named 'Norfolk Coast' album. It's official. Hunstanton rocks.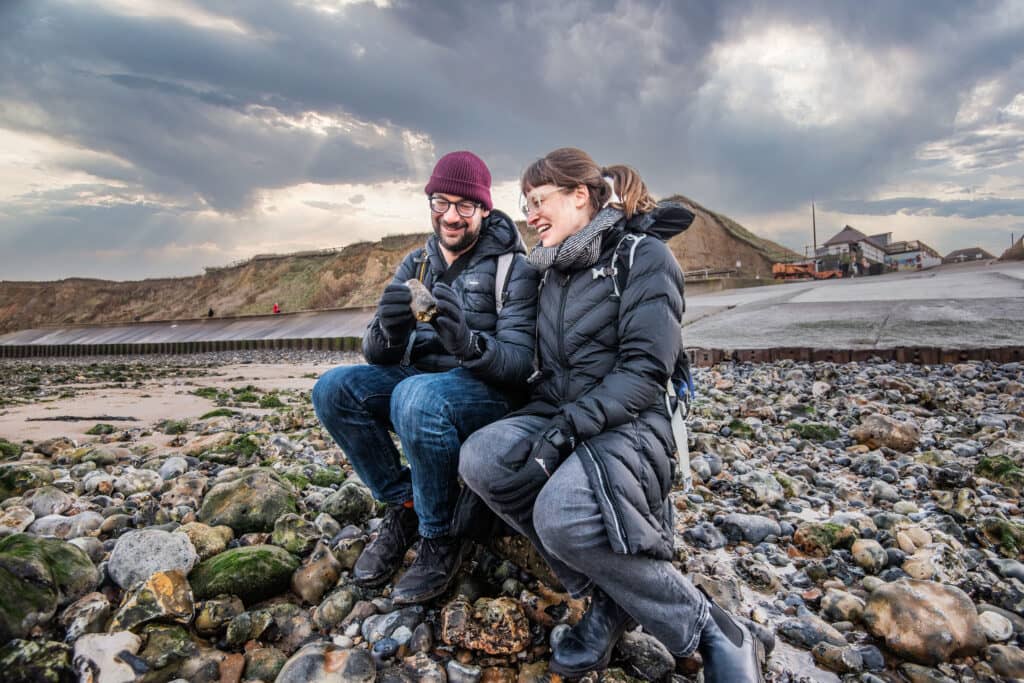 On a winter walk at West Runton you'll probably see a few happy dogs racing on the beach. Yet go back about 600,000 years and you'd be more likely to see elephants. Actually, Harold and Margaret Hems did see one, in December 1990. At least, they saw its pelvic bone, poking out of the cliff after a violent winter storm. Five years later a full excavation unearthed the oldest and largest Steppe Mammoth skeleton ever found in the UK. Standing at 4m tall and weighing 10 tonnes, this gigantic prehistoric mammal has become a local legend.
A towering creature, the Steppe Mammoth – Mammuthus trogontherii – roamed this ancient place with rhino, bison, beaver, hyena and also stone age settlers. But they shared a very different view to the one we see today. In fact our ancestors could have walked from Norfolk to Holland without getting their feet wet because the choppy North Sea was a land of rivers, grasses and savannah. Imagine that as you gaze at the horizon!
The mammoth's near complete but fragile skeleton is preserved by Norfolk Museum Services. You can see part of it in Cromer Museum and find out more at West Runton Beach Café's learning hub.
When winter gales scour the Norfolk coast and chunks of eroding cliff crumble down, a walker might scout a pre-historic fossil, perhaps a fragment of deer antler or mysterious mammal bone. But no one has been as fortunate as Mr and Mrs Hems. At least, not yet…
Day 2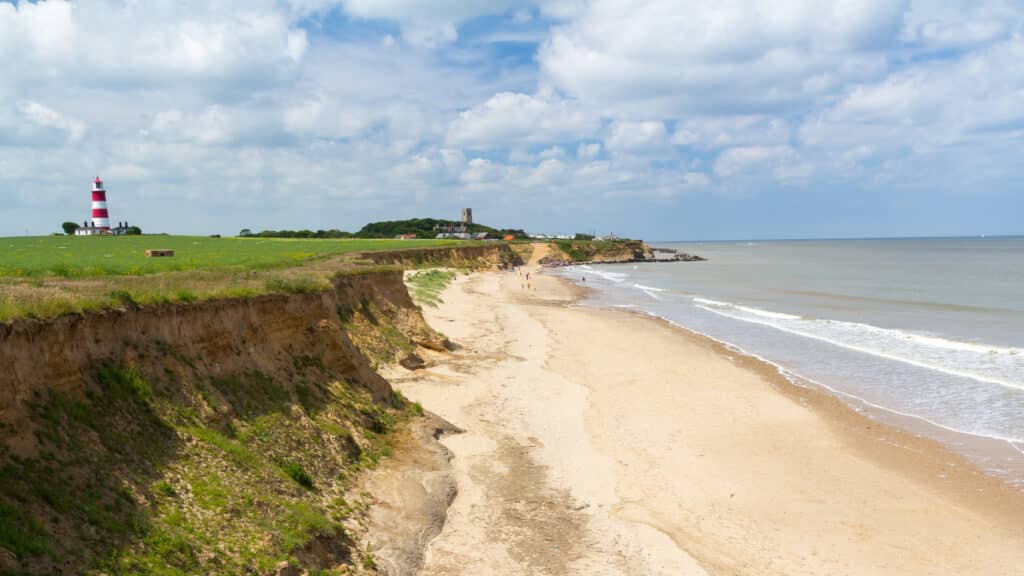 Walkers love Norfolk's stunning coastal paths. If you're one of them, you'll be following in the footsteps of people who've walked here for hundreds of thousands of years.
In fact, actual footprints were discovered at Happisburgh, left in the ancient estuary mud by people roaming this land before the Ice Age. Over 850,000 old, it's possible they were made by nomadic hunters, following migratory animals such as mammoths, bison, rhinos and deer in the days when Britain was connected to mainland Europe by a great plain, similar to East Africa's Serengeti. Or perhaps searching the mudflats for seaweed and shellfish.
Amongst the earliest evidence of humans in Britain, these amazing footprints were found accidently during a geophysics survey in 2013. Around 50 footprints were discovered, two showing details of toes. Approximately five individuals were identified, both adults and children. Their footprints were carefully photographed in 3D before being washed away forever by the tides of the North Sea, lost deep in time.
The course of the river where our ancestors once walked has now moved south and is today known as the Thames. Standing on the flint shingle banks, imagine the rolling waves as a vast flowing grassland of creeks and scrub allowing direct passage from Norfolk all the way to Africa.
Close your eyes and listen intently. The hyena and bison have long gone, but sometimes the sea sounds like swishing grass and wind like the mournful trumpet call of a mammoth.
If you fancy creating your own itinerary for a day trip to Norfolk or a longer visit, it couldn't be simpler. Just go to Search Activities and select from our wide range of free and paid-for experiences, saving any that capture your imagination with the click of a button.
Once you've finished, you'll find all the information stored in My Favourite, where you can drag and drop activities to create your own day-by-day itinerary! You can download this to a calendar and even share it with friends.