One the most famous sons of Norfolk is, of course, Admiral Lord Nelson who learned to sail on the coastal creeks near Burnham Overy Staithe. Norfolk's gloriously varied waterlands have so much to offer everyone from keen sailors honing the skills Nelson once learned, to those who just want to go with the flow, watch wildlife and relax. You have all kinds of options for exploring the coastal waters and a fabulous choice of vessels from traditional crabbing boats and reconditioned mussel flats to whelkers and cheerful little boats like the 'Lucy Lavers', a real life survivor of Dunkirk.
Day 1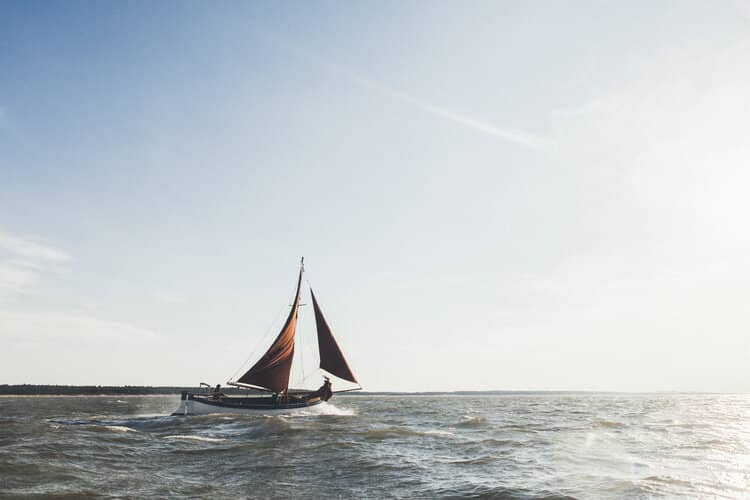 Nothing frees the mind like the freedom of an open sea. Catch the early morning tide from Wells harbour for a day sailing along the stunning Norfolk Coast. Pass brightly coloured beach huts, cross Wells bar and head out into the North Sea, then it's up to you whether to go east to Blakeney Point or west to Scolt Head. Perhaps the wintry cry of wild geese will call you further on, towards Brancaster or Thornham. Tuck into a sheltered island or stay at sea for the whole day, travelling with the weather. Chat with your skipper and make the day all yours!
Do as much or as little as you wish. Take the tiller, handle the sails or just lie back and watch clouds racing high in the Norfolk sky as light glitters on the waves. You're part of something that began long ago, woven into centuries of seafaring stories from these salt washed islands. The Coastal Exploration Company's heritage boats, are beautifully refurbished traditionally rigged fishing vessels taking 6 or 8 people. Just being aboard makes memories to treasure.
Jolly sailors are well fed, so you'll be looked after with a hearty breakfast, lunch and afternoon tea, all delicious and locally sourced from Norfolk's top artisan producers. You can be driven the last leg back to Wells or take it slow, surrendering to nature's own sweet rhythms. The breeze gets up, soft rain's coming in, the harbour lights are shining and you're sailing home on a rising tide.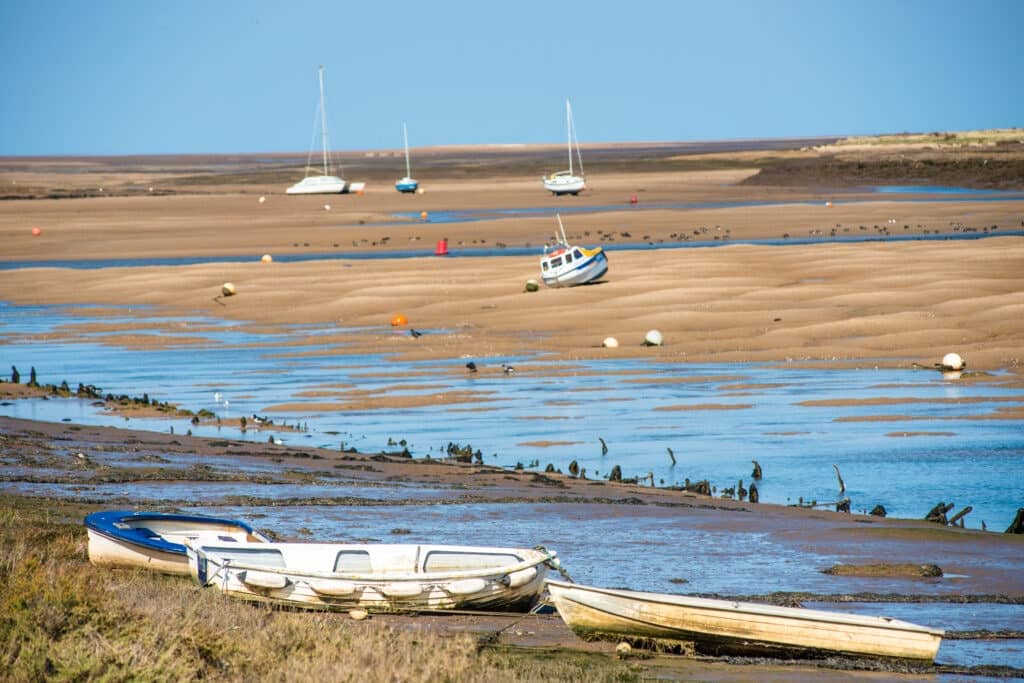 It's bitterly cold. Yet January is an excellent time to head outside and witness one of Britain's most magnificent dawn experiences. Huddle in the shelter of sand dunes or a Wells beach hut. And wait.
Light glimmers in the east. Day is breaking and with it, an awakening. Ragged cries spike the dark silence. Slowly, quietly it begins. Excitement mounts in rousing crescendos, spreading among thousands of wildfowl, restless on the cold mud.
And then they rise. A wild chorus fills the air, elemental and unrelenting. Thousands of pink footed geese lift almost as one continuous wave of breathtaking joy. Great skeins make V patterns overhead, calling all the while, formations shaping the fading dark. Over the watchers they fly inland, hungry from their night fast, searching for sugar beet tops in newly harvested fields.
In the not too distant past, wildfowlers lined up here, guns loaded to shoot the birds down. Professional wildfowling guides were a cutthroat bunch, guarding their secret shooting locations well. Around this time, Sir Peter Scott, son of the polar explorer Robert Falcon Scott, wrote his book Morning Flight, describing being here as a pilgrimage. His love of such glorious natural spectacle surely informed his work as a conservationist. He established the Wildfowl and Wetlands Trust (WWT) in 1946 and later co-founded the World Wildlife Fund.
And so, morning has come and the geese are off to find breakfast. Time you head back to the warmth of Wells and do the same!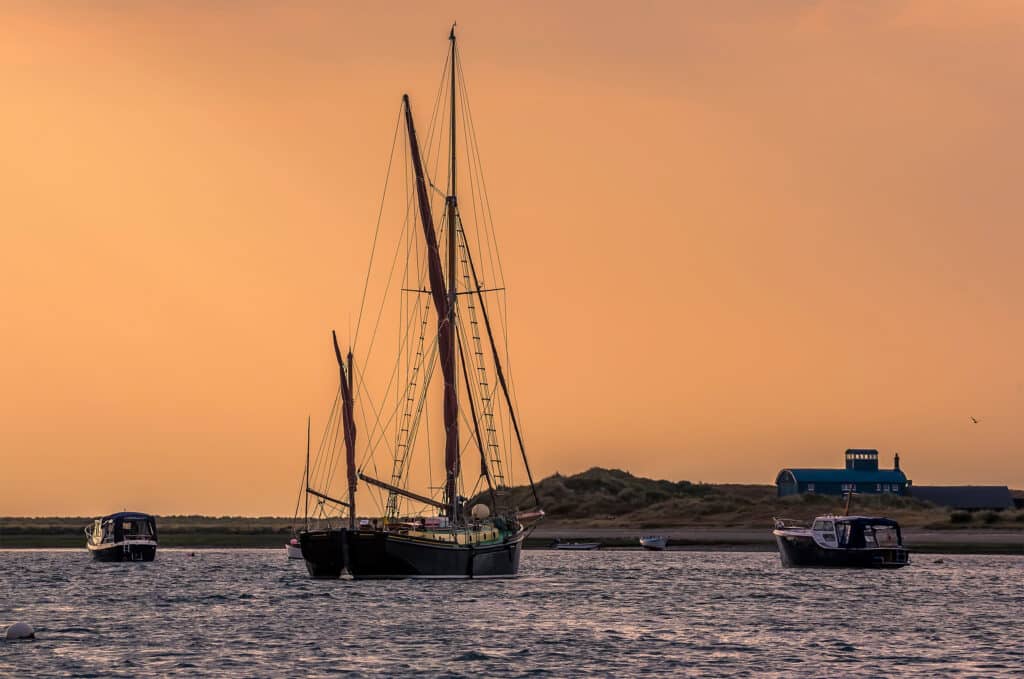 Norfolk is awash with picturesque coastal towns and villages, but the wayward salt marsh has transformed the landscape over the centuries, and with it the livelihoods of places like Cley, Blakeney, Wiveton, and the Burnhams. Hard to imagine as you wander along the seawall listening to the wild gulls call, but these were once important trading ports. Former Stiffkey resident, Tarka the Otter author Henry Williamson wrote:
'Once the coast here was lower, and the sea came up the channels with every tide, bearing wooden ships burthened with cargoes which were unloaded on the quays and taken in inland wagons. Many sailed away with grain, to other ports in England, who wanted the North Norfolk barley for beer. Gold was the medium by which payments were made, but not the paramount purpose of the exchange. The general principle was that exchange of goods in the community. Northumbria wanted barley to make beer to feed the coal miners, and East Anglia wanted coal. So barques with coal left Newcastle and drew into Cley and Blakeney and Overy and Burnham and returned with barley and wheat. The farmer sent his loaded wagon, painted with bright colours, drawn by four horses, from his black barn door to the quayside granary of his merchant, trusting him to pay the right price for the grain, and often as not the wagon came back with a load of coal and other goods.'
Henry Williamson,'Green Fields and Pavements' by permission of The Henry Williamson Literary Estate ©
Day 2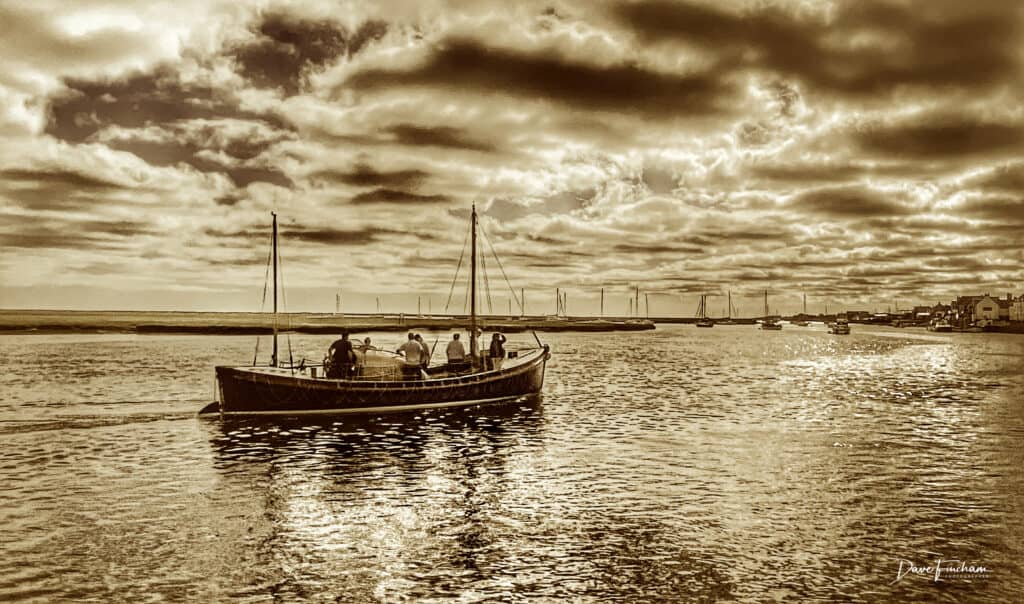 Float away from dry land and explore the Norfolk's ever changing coast by boat, out into the natural wilderness of creek, beach, and sea. The 'Lucy Lavers' charter is a newly restored survivor from the Second World War 1940's 'Operation Dynamo', or as it's more commonly known, Dunkirk. She was one of two Aldeburgh RNLI vessels to cross the Channel. She also served two stints as Wells-next-the Sea support lifeboat. Now she takes you on a unique peaceful exploration of secret beaches, ever changing tidal creeks flowing under huge skies that are laced with the sounds of geese and curlew. Look carefully and you might catch a glimpse of the delicate redshank probing the mud, with its bright red legs or perhaps the inky black brent goose with its half white collar. Charter Lucy Lavers and create your own itinerary, perhaps visit Blakeney Point, arriving offshore you will see seals laying on the sand glancing up at your boat as it bobs gently on the tide. If you are lucky, curious seals will appear near the boat, undoubtedly wondering who you are and what are you doing. Or perhaps head to Scolt Head, an island of sand and marram grass, a place of isolation in the winter, quiet reflection and nature. You can charter the boat for a unique bird watching trip or perhaps a fishing experience, alternatively just take time to relax on the ebb and flow of the tide.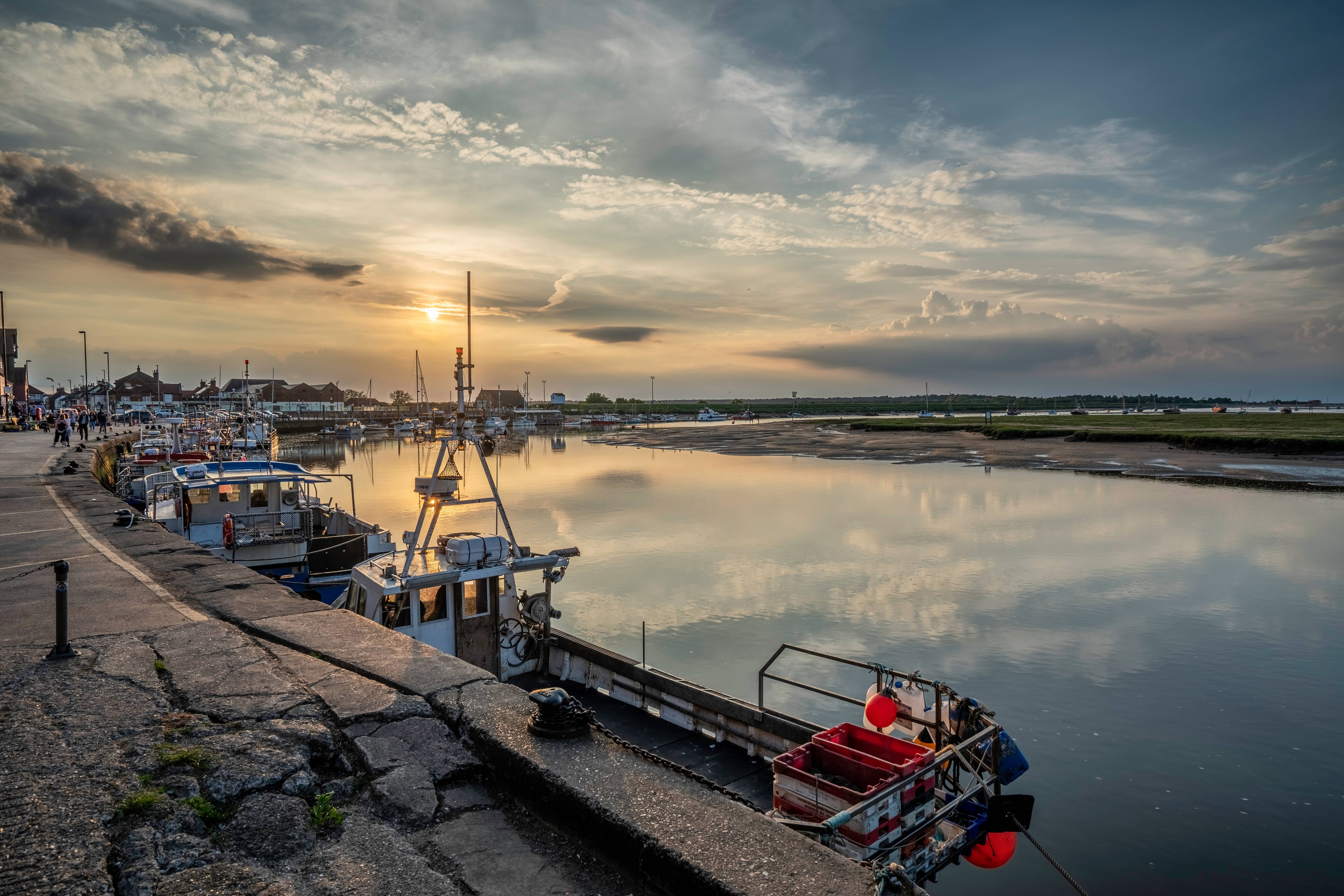 The small working harbour at Wells-Next-The-Sea has stunning views over shining mud creeks, shifting sand and wild saltmarsh. In winter inky black Brent geese fly low over the reeds and the masts of huddled dinghies, wrapped in their winter coats, clatter in the salty wind. Look out for the 'Lifeboat Horse' created by artist Rachel Long to honour the heroic horses who pulled lifeboats to the sea during the 1800s. The quiet winter season is a magical time to explore the narrow sheltered streets winding up from the blustery quayside.
If heavy weather rolls in, cosy up at Wells Maltings on Staithe Street. It features a state-of-the-art theatre, cinema, fabulous café, Heritage Centre, Visitor Information Centre, modern art gallery and spaces for community classes and events. With such a vibrant arts scene you'll hope it rains again tomorrow! Don't miss the giant whelk sculpture, which brings us to shellfish.
For thousands of years cold water currents have swept nutrients from Norway, resulting in a rich variety of seafood along the Norfolk coast. October to March, the cold weather season, is when the town's mussel beds are seeded, ready to be harvested after 2.5 years. It's hard work, but dedication and passion ensure Norfolk's world class seafood. Wells has plenty of places to seek out these winter feasts from the sea. Try the Wells Crab House, Nelson's Coffee House, Sands, Ollie's, and Season. Where do they get their ingredients? All fresh from the sea!
Day 3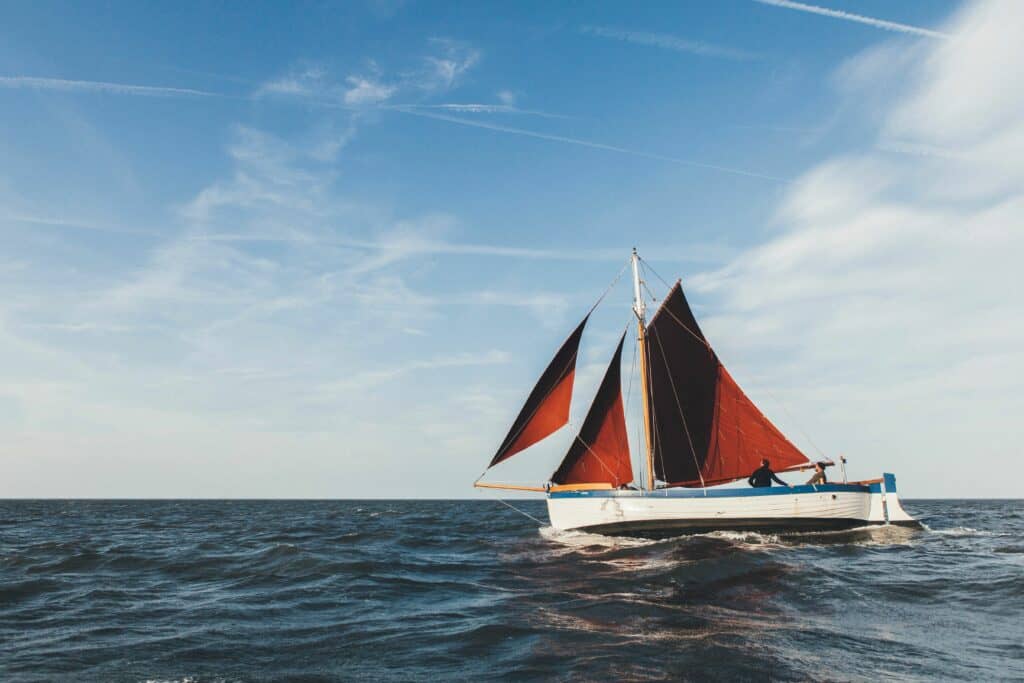 Seafarers have honed their knowledge along Norfolk's coast for centuries. Now it's your turn to take the helm! Learn sea craft on traditional working sail boats. Vessels like the mussel flat, lug rigged crab boat and gaff rigged whelker have been sailed by local people working the marshes and sea, earning a living from this wild landscape throughout history.
Coastal Exploration Company's Traditional Sea School gives you the chance to sail these beautifully restored heritage boats, feeling the wind's kick and salt spray. In fact, you may have seen the mussel flat before, it's the very same boat used in The Personal History of David Copperfield starring Dev Patel.
Your 8 hour day begins in Wells, heading out on the morning tide in the safe hands of expert local mariners. You'll be taught how to handle the boat and practice skills to help you survive in an unpredictable environment. When the tide ebbs you'll forage along the sandbanks and lonely creeks of this salt-ringed county, an ancient, wild place that speaks to the soul.
You'll breakfast on local bacon and eggs or halloumi, mushrooms and tomatoes with plenty of hot tea and Norfolk ground coffee. For lunch the crew will demonstrate how to fillet fresh mackerel, served with a picnic or hot soup.
At the close of the day, a short walk takes you off the salt marsh to be picked up and taken back to Wells where there are some lovely pubs to toast your new skills!
If you fancy creating your own itinerary for a day trip to Norfolk or a longer visit, it couldn't be simpler. Just go to Search Activities and select from our wide range of free and paid-for experiences, saving any that capture your imagination with the click of a button.
Once you've finished, you'll find all the information stored in My Favourite, where you can drag and drop activities to create your own day-by-day itinerary! You can download this to a calendar and even share it with friends.