Do Different. That's what Norfolk's all about! We'll bet not many people spend the day making beautiful glass beads, then bed down for the night in a stunning church designed by a relative of Pocahontas. 'The Cathedral of the Fields' is an amazing Champing™ space a stone's throw from Reepham with its friendly pubs and award-winning Dial House restaurant, which also houses Vegas Vintage, top shop for sassy second hand style. Next day, head up the country lane to Salle and All Day Brewing's rural Taproom to sample the most deliciously unusual local beers you'll ever taste!
Day 1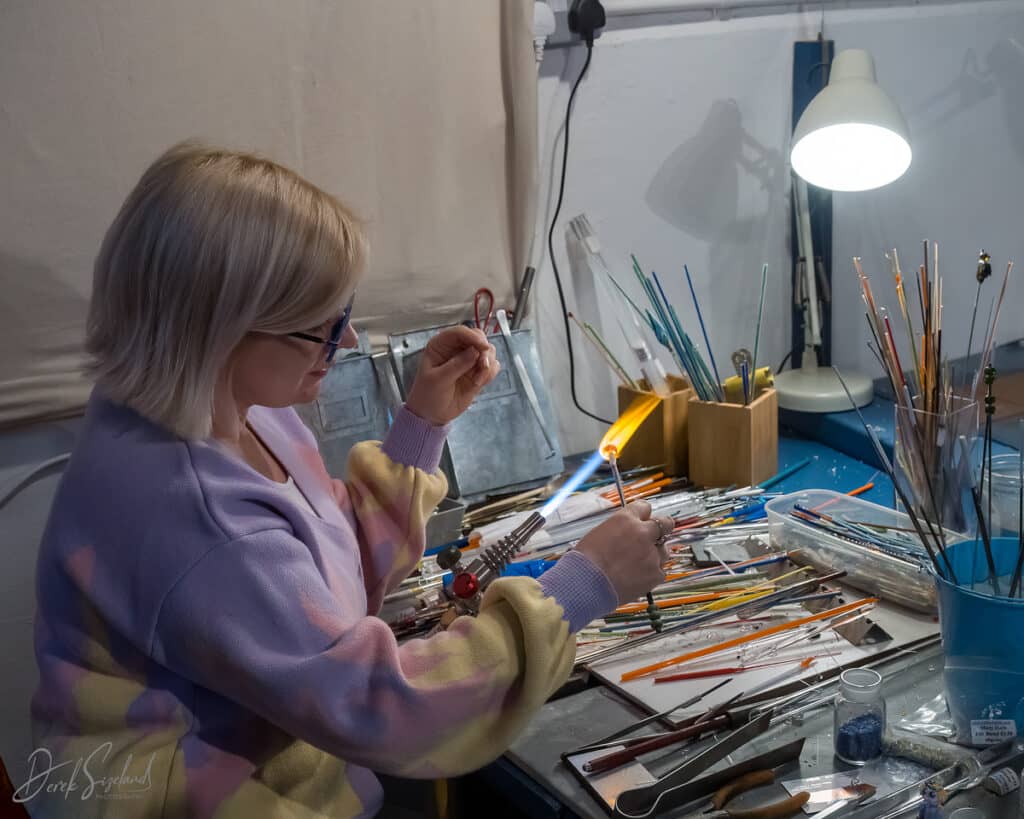 Have you ever been intrigued by the beautiful glass beads in museums, looking like lovely little sweets? Decorative glass beads have been popular down the ages, from ancient Egypt and throughout the Roman Empire to the Vikings and ancient Britons. They even prompted Harold Monro's poem, 'Overheard on a Saltmarsh' about a goblin begging for green glass beads stolen out of the moon. Inspired by Anglo Saxon beads found in East Anglia, this historic glass bead making experience uses modern equipment at the Blue Flame Glass Studio. Staring with the basics, it's a fantastic gift for crafters, budding archaeologists and history lovers. Either book a one-to-one or bring a couple of friends (up to 3 with prices per person).
Lasting about 3 hours, you'll have a fun time being creative in Claire's relaxing company. She'll teach you the secrets of glass lamp working and help you create your own beautiful designs for jewellery and meaningful gifts! Bring your glass dreams to life and rest assured, Claire welcomes a challenge! The Blue Flame Glass Studio is based at Salle Moor Hall Farm, near Reepham in the heart of Norfolk. It's surrounded by other cool little indie businesses so go along and be enchanted by the gorgeous countryside, fabulous walks, pretty cycle routes and breathtaking big blue skies. OK, sometimes they're grey. But no less glorious for that! Marvellously, there's a craft tap room next door so you could pop in for a pint of delectable lambic beer afterwards.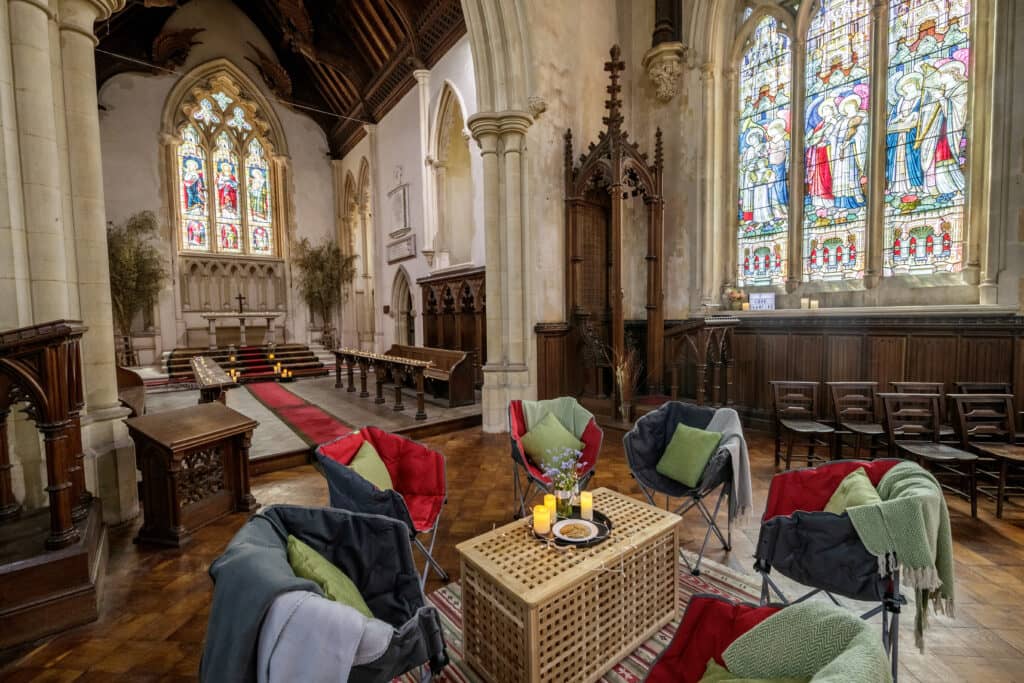 Feeling angelic? Time to go Champing™! Say what?! |t's camping in historic churches! A cool idea from The Churches Conservation Trust (the national charity protecting historic churches at risk) to help preserve these ancient spaces for the future. And no, you don't have to be a Christian. All are welcome. Even dogs!
St Michael's the Archangel is in Booton, close to Norwich and the Norfolk coast, amid a patchwork of green farmland on the edge of Reepham, a beautiful Georgian market town with great pubs and an award-winning restaurant. Nicknamed the 'Cathedral of the Fields' it's a huge yet cosy space with slender towers dominating the wide East Anglian landscape for miles around. Designed by an eccentric clergyman descended from Pocahontas and mates with Charles Darwin, this extraordinary building is amazingly decorative – definitely no bell tent! Word is the Reverend Whitwell Elwin had no help from an architect and just nicked ideas from all his favourite churches. Cheeky!
St Michael's is one of the most popular Champing churches, large enough for up to 16 guests. All Champers get exclusive use of their heritage church, no matter how many are staying. Tea and coffee is provided, along with camp-beds, battery lanterns and cosy seating – just bring your favourite glamping essentials. A fabulously unusual choice for walkers and cyclists and special occasions!
All Champing churches are consecrated and open for worship during the day, with overnight visitors welcomed from 4pm to 10am. Will you be a happy Champer?
Day 2
At a magnificent 500 year old barn in the heart of Norfolk, All Day Brewing pour passion into distinctive beers made in an entirely different way. Exciting and experimental, Norfolk's first and only lambic brewery blends contemporary environmental ethics with traditions going back thousands of years – including an annual hop picking festival in mid-late September. Brewing flavour-rich beers in the most natural way is an extraordinary alchemy. Lambics are spontaneously fermented ancient beers with complex flavours and a profound connection to local nature. Relying on microbes and yeasts in the air, these beers are a magical distillation of place, culture and craft.
Take a tour of their farmhouse microbrewery on the working Salle Moor Farm Estate to discover this fascinating process and chat to the brewers themselves. With ingredients so local you can see them growing from the brewery, you'll learn about the organic hop-garden, 20 acres of organic orchard and fruits specially nurtured to flavour the beers. And of course you'll enjoy a beer tasting and chance to buy some for home.
All Day Brewing specialises in wild and mixed fermentations and have a big barrel ageing project underway. They also make real cider and raw kombucha plus seasonal cordials and sodas. And their special green hop beers, brewed with freshly picked green hops, have a unique flavour profile completely different from the usual hot-air dried hops – definitely one to try in the funky rustic Taproom Bar and Kitchen!
If you fancy creating your own itinerary for a day trip to Norfolk or a longer visit, it couldn't be simpler. Just go to Search Activities and select from our wide range of free and paid-for experiences, saving any that capture your imagination with the click of a button.
Once you've finished, you'll find all the information stored in My Favourite, where you can drag and drop activities to create your own day-by-day itinerary! You can download this to a calendar and even share it with friends.