33 Days Wild: Monks, Murder and Black Gold
Walk the Nar Valley Path, with its rare chalk stream, rich wildlife and stories told in silver and shards of whalebone. This salt-scoured landscape has been home to Romans, Vikings, monks, visionaries, smugglers, soldiers, traders, renegade queens and even oil prospectors. In 1918 black gold was discovered under the fields of Setchy and a shanty town sprung up complete with refinery, railway and football team. But the oil contained sulphur, and boom quickly turned to bust. English Oilfields are still listed as previous owners on several local property deeds, recent relics of the Nar Valley's strange, eventful history.
Day 1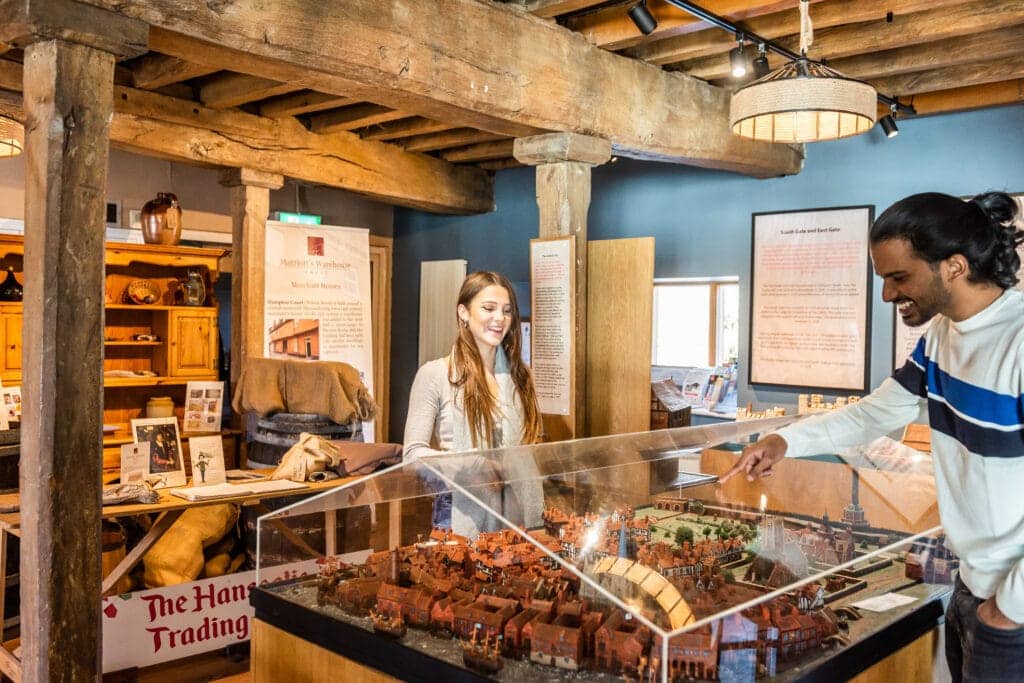 On the banks of the River Ouse in King's Lynn stands the last surviving Hanseatic building in England. The brick Hanse House gets its name from the German traders who once owned it, a relic from the days of the Hanseatic League, the powerful medieval trading bloc that stretched all the way from King's Lynn to the heart of Russia. Lasting hundreds of years, it was one of the most successful trade alliances in history, winning the loyalty of nearly 200 towns around the North Sea and the Baltic and securing the prosperity of north west Europe.
Another reminder of King's Lynn's global trading prominence is Marriott's Warehouse, now a popular restaurant with some of the finest views in town. It's thought to have been built in its present form by local merchant Thomas Clayborne around 1580 as a store for corn, salt and wine. However, some of great oak beams date back to the 1300s, when the site was already a bustling riverside quay. It's quiet down by the river these days, but back then the whole quayside would have been rammed with every kind of landing stage, or 'staithe', both public and private, where cargoes of wax, wool and pepper were unloaded by sailors and merchants, yelling orders and oaths in a cacophony of languages. Then, the tidal waters of the Ouse would have lapped around the warehouses with ships moored right outside, and by evening the town taverns were full of characters from all over Europe.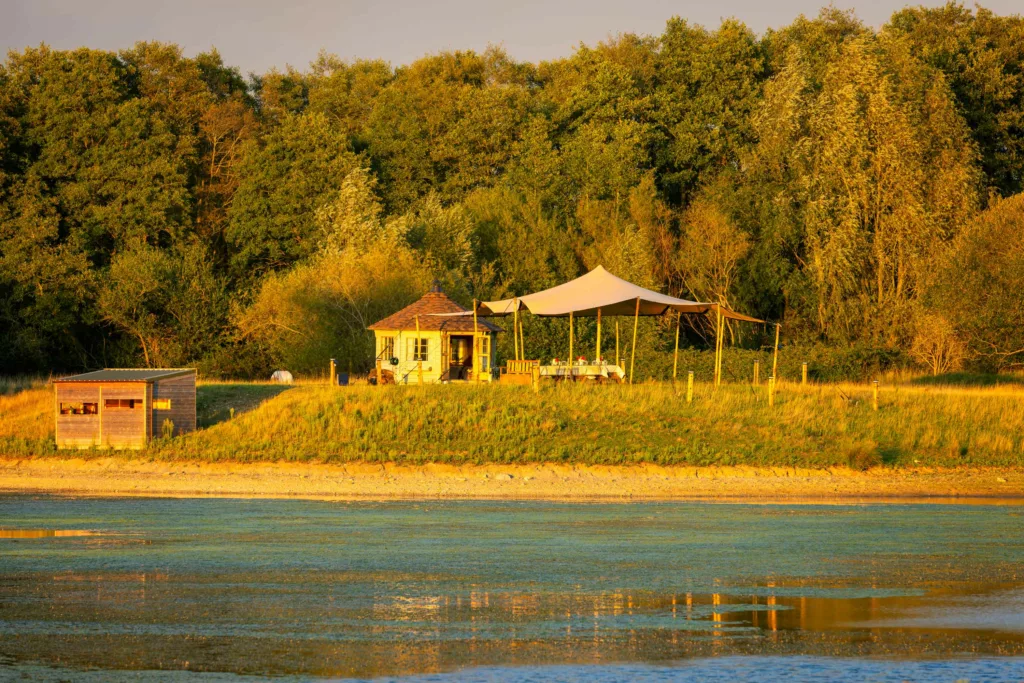 Watatunga Wildlife Reserve is a stunning new ecotourism destination in west Norfolk, dedicated to protecting some of the world's most endangered deer, antelope and bird species.
This is your chance to go behind the scenes with the rangers amidst lakes, woods, animals and birds, learning about the conservation work of the acclaimed team at Watatunga on a private catered safari experience. From the comfort of a state-of-the-art safari trailer, you'll travel through a unique environment where animals and birds roam at will. You might spot a herd of blackbuck grazing on the rich grasslands, see mighty stags drinking at the lakeside or come nose to nose with an eland wandering in dappled woodland light. With over twenty different deer and antelope species, not to mention rare and endangered birds, your private guide will hold you spell-bound with stories of the animals, their habitats and homelands.
After your tour (approx. 90 minutes) you'll be welcomed to the lakeside bird-hide for a drink and canapés while you scan the distance with the telescope and look through a fascinating collection of bird books. When you're ready, sit around a glowing fire inside the BBQ hut or out by the water while the Watatunga team prepares a fabulous feast of local produce.
After dinner you'll have time to relax and chat. The team will be on hand at a discreet distance, ready if you need them, but giving you space to yourselves before escorting you back to reality.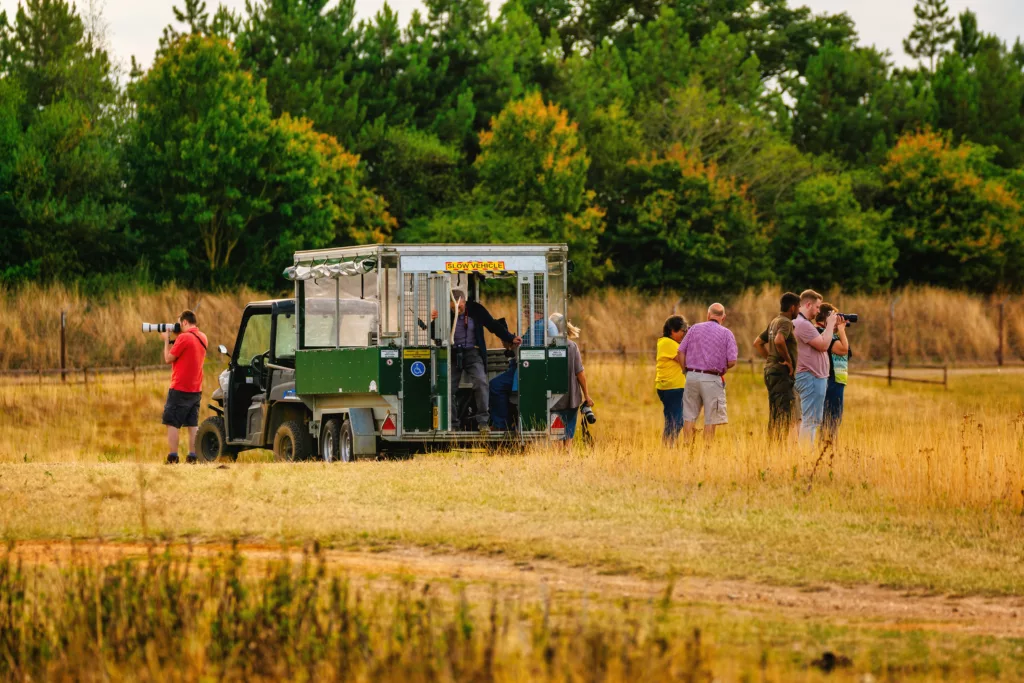 Watatunga Wildlife Reserve is an award winning new Norfolk wildlife reserve dedicated to the conservation of some of the world's most endangered deer, antelope and bird species. This is your chance to get out amidst the beautiful lakes, woods and animals for an extraordinary photography experience. Whether you're a new photographer with a digital DSLR or nature enthusiast with a smart phone, you can get stunning wildlife shots at Watatunga.
While you get up close to some amazing wildlife, you'll learn about the conservation work of the acclaimed Watatunga team. On arrival at reception, Watatunga's dedicated photography tutor will give you a briefing and discuss recommended settings and considerations for wildlife photography.  Then you'll set off on an open sided safari-trailer tour with an expert guide. Watatunga's endangered species enjoy the freedom to roam and behave naturally across the Reserve, wonderful for pictures to be proud of. You'll learn about different photography techniques, how to take better pictures, and how to edit.
As an added bonus, you'll have the unique opportunity to leave the trailer and sensitively approach your subject on foot, allowing you the freedom to compose your perfect photo.
After approximately 90 mins you'll reconvene at reception for the chance to look at some of your best shots on a projector and share tips and your best sightings over refreshments. This is a great opportunity for anyone who loves photography and wants to get closer to nature. Watatunga is waiting. See you here soon!
Day 2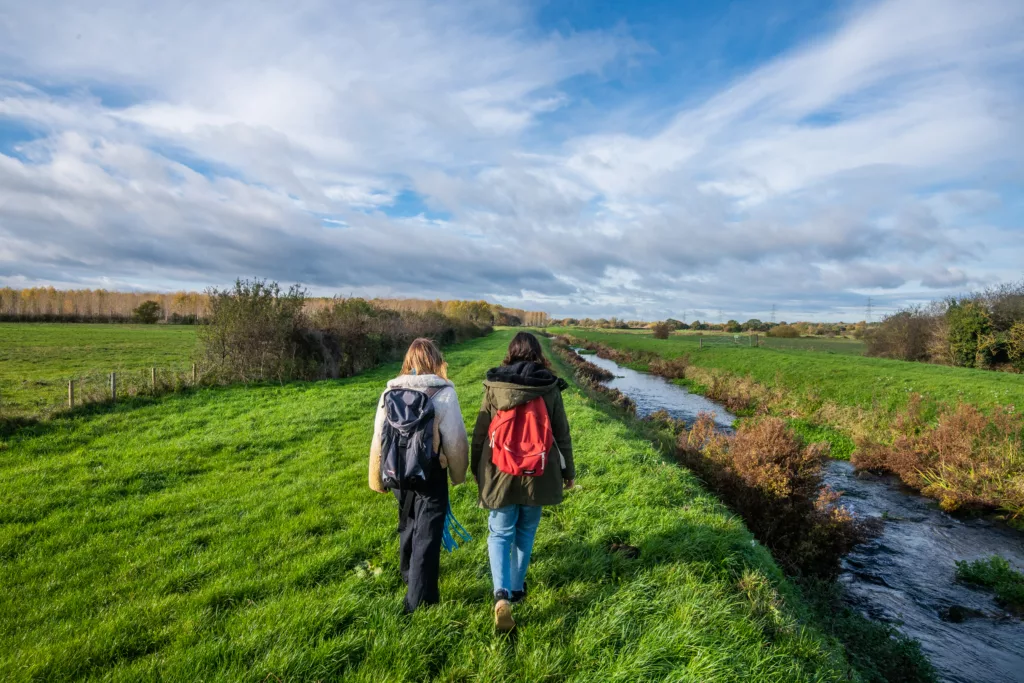 What does it mean to be spiritual? Interpretations are highly individual, as hard to pin down as sunlight and the ripples on the river, clear as day, obscure as night. This journey has its roots in the centuries-old devotional pilgrimages, when people set out on sacred travels far from the comforts of home in search of spiritual enlightenment.
The Nar Valley Path leaves King's Lynn taking you through what's now a rich agricultural tapestry, but once was a watery landscape of reed and marsh, home of 'fowle' and geese, fish and eel. English writer Augustus Jessopp called the Nar Valley Norfolk's 'Holy Land', due to the high concentration of priories and friaries that once populated this wild and remote corner of Britain. The solitude of Norfolk's windswept horizons appealed to 'peregrina', as pilgrims were known, the word 'pilgrimage' coming from the original Latin. Like the world's fastest bird, the 'peregrine' falcon, which spends much of its life wandering before returning to breed at its ancestral home.
The physical remains of least six different religious orders can be found in the villages overlooking this picturesque valley. King's Lynn itself was patronised by four major monasteries, including the Carmelites who slept in their own coffins, ever ready to meet their maker. The remains of four motte and bailey castles still guard the river, strategic sentinels, indicating the ancient importance of the Nar valley.
Even today this restless landscape is a place to lose yourself. Or perhaps to find yourself?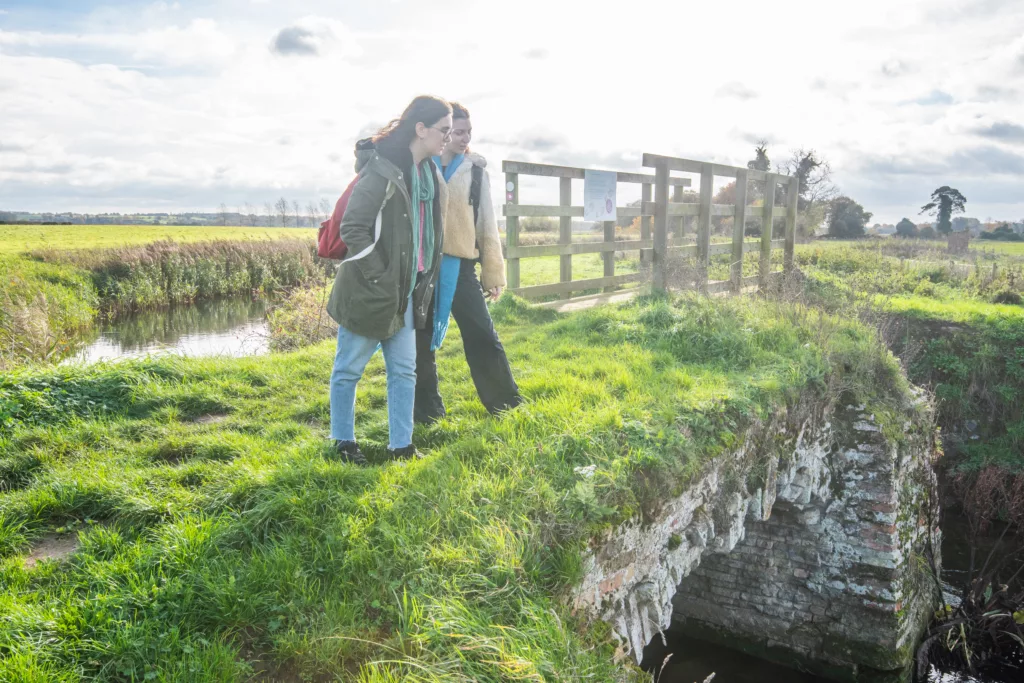 December is made for evenings in the pub. At least that's what Thomas Valentine thought as he walked out of the winter wind and into the warmth of the Windmill on a Monday in 1858. But some nights take a turn for the worse…
There was 'considerable excitement' (according to the Lynn Advertiser & West Norfolk Herald) when Valentine's body was found in the River Nar on Wednesday morning, his skull fractured and arm sticking out of the water. It seemed the gamekeeper had stumbled off the bridge. Or was it a case of murder at the mill?!
At the inquest it was reported Valentine was drinking with the publican, William Rann, and pals who worked on the lighter boats, carrying cargo along the river. He'd been jovial, though not drunk, singing on the bridge. No unpleasantness passed between the men, just a bit of banter and the odd threat which no-one took too seriously. And yet, yards from where you stand, Thomas Valentine met his end. The jury ruled a tragic accident, others believed Rann had clouted Valentine on the head before he fell into the cold water. Whatever the truth, beware muddy river banks after a few pints!
Pentney is also the birthplace of Fred Rolfe, 'King of the Norfolk Poachers', whose tangles with the law and remarkable tales of 1800s East Anglia were recorded by Lilias Rider Haggard in 'I Walked by Night' (1935). It's a fantastic evocation of historic rural life in Norfolk.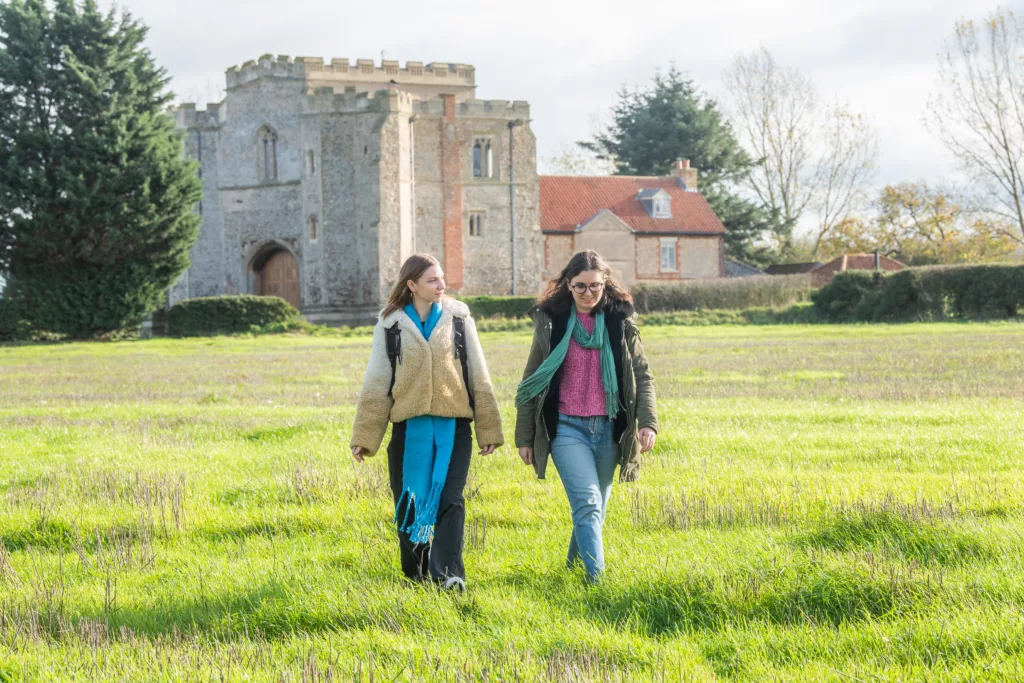 Walk through 'Norfolk's Holy Land', so called by 19th century cleric and writer Augustus Jessop, due to numerous priories and abbeys dotted along the Nar Valley. Ancient Romans, Danes and various religious sects made their homes on the isolated little islands surrounded by a sea of marsh; 'Pentney' means 'Penta's Island'. A starkly beautiful place, for centuries this landscape of quiet power has inspired philosophical thinking, ideal for pondering the meaning of life on winter walks. Around 1130 an Augustinian priory was founded here, by Robert de Vaux who came to England with William the Conqueror. For centuries it was a prosperous place of teaching and farming, although not without political upheavals. It was closed during Henry VIII's Dissolution of the Monasteries and today only the fine gatehouse survives, although Barnack stone from the ransacked priory was used in many local buildings.
Pop into the village and have a look at the 14th century Pentney Wayside Cross, near St Mary Magdalene's Church. Symbols of Christian faith, such crosses marked the way for medieval voyagers finding their way through unknown terrain. Before this became a churchyard, even further back in the 9th century, someone hid a hoard of exquisite silver brooches here. Likely to be a personal jewellery collection, for hundreds of years the six intricate brooches lay in secret under the earth until they were uncovered by gravedigger William King in the 1970s. Skilfully worked with animal and plant motifs, the treasure trove is now displayed in the British Museum.
If you fancy creating your own itinerary for a day trip to Norfolk or a longer visit, it couldn't be simpler. Just go to Search Activities and select from our wide range of free and paid-for experiences, saving any that capture your imagination with the click of a button.
Once you've finished, you'll find all the information stored in My Favourite, where you can drag and drop activities to create your own day-by-day itinerary! You can download this to a calendar and even share it with friends.