33 Days Wild: Call of the Curlew
The spirit of Norfolk invokes ambition and vision. Explore ritual landscapes where our ancestors summoned the powers of earth and water, and an elemental wolf guarded an ancient king. Relive the excitement of Victorian seaside holidays and discover what led an enterprising woman of the Industrial Revolution to Shanghai. And all around, as you explore this inspiring coastline, the air rings with the cry of wild birds. We carry the past down centuries of human dreams. Who once stood, as you do now, enchanted by a curlew's song? And who will listen in the centuries to come?
Day 1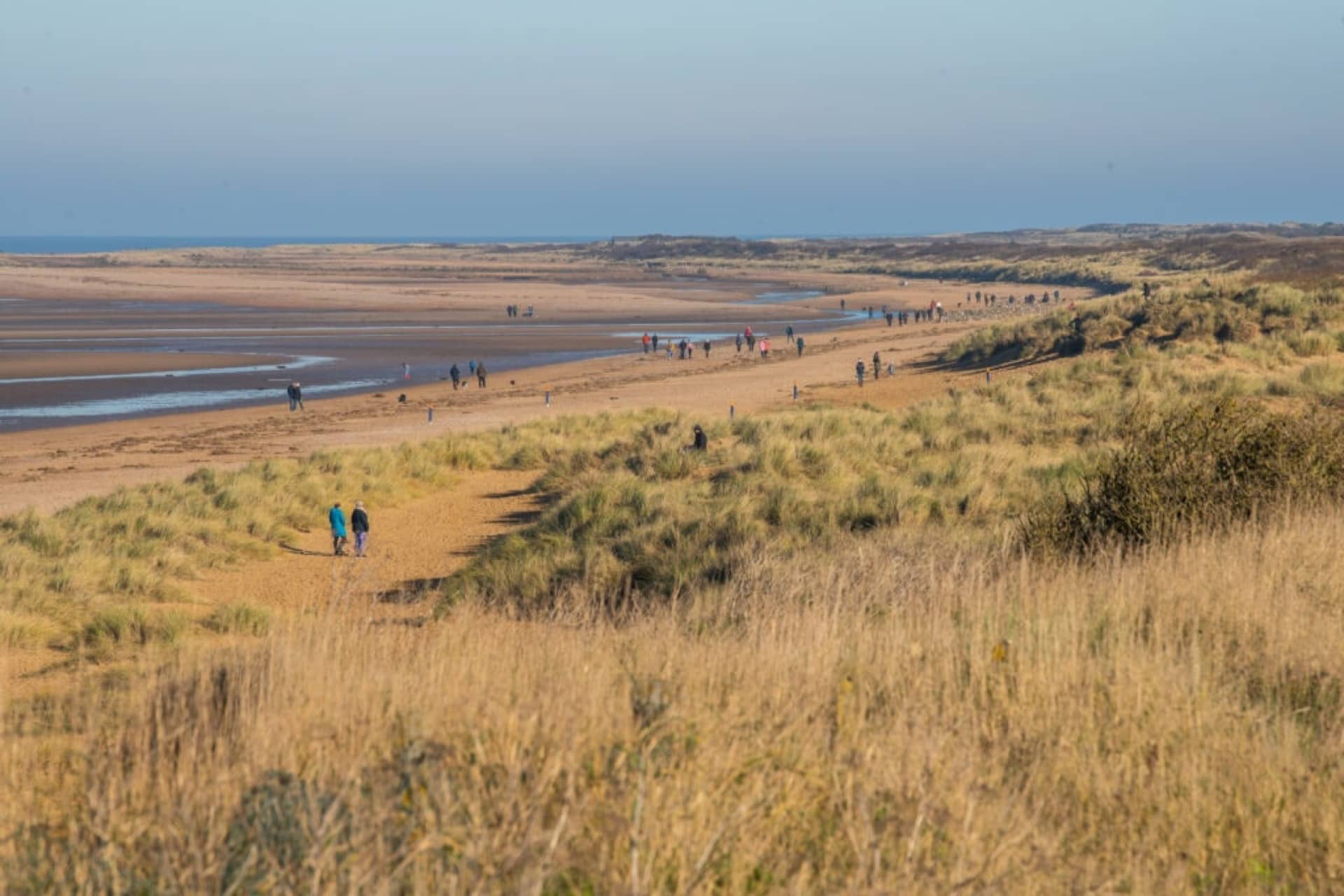 Thousands of holidaymakers have memories of this handsome seaside resort, but not so long ago there was no town here at all.
Hunstanton was the vision of fabulously named Henry Styleman Le Strange, Victorian entrepreneur and landowner who developed part of his Norfolk estate as a coastal holiday village in the mid-19th century. You'll see him on Upper Green at the start of your walk, an imposing bronze statue, proudly surveying the town he never saw in his lifetime.
His son, Hamon, took on the project after Henry's death in 1862. Toast them both at the Golden Lion Hotel, Hunstanton's first building, designed by Decimus Burton, renowned architect of Hyde Park, London Zoo and Kew Gardens.
It's not signposted, but this circular walk is easy to follow with a map. Start at Le Strange's statue. The train tracks round his feet to the success of 'Sunny Hunny'. Head from Upper Green along North Promenade, up toward the distinctive striped cliffs, which featured in the 2021 film 'Spencer'. Then onto the Norfolk Coast Path, past the ruin of St. Edmund's Chapel and Hunstanton Lighthouse to Old Hunstanton and St. Mary's Church, where Henry and Harmon lie buried. Finally, head back into town through the pretty picture postcard Esplanade Gardens.
Dodge the summer crowds and visit as a winter afternoon flares to dusk or on a morning in early spring to enjoy Hunstanton as Henry must have seen it, fresh and full of promise.
It is 855 AD. A small wooden ship cuts through choppy waves, heading for the crew's ancestral home. At the helm is Edmund Wuffing, last of the heroic Wuffing dynasty, guiding his vessel toward the striped cliffs of what is now Hunstanton. He is the ruler of these lands, back from far flung adventures to claim his royal kingdom.
'Wuffing' is the Old English word for wolf, and Edmund was last of a line that had ruled East Anglia for 200 years. Born on Christmas Day 841 AD he was just 15 when came to the throne. Alongside King Alfred of Wessex, Edmund battled the Great Heathen Army, a coalition of Scandinavian 'Viking' warriors who invaded England in 865 AD. In 869 AD Edmund was captured by Ivor the Boneless and his brother Ubba. Refusing to renounce Christ, Edmund was beheaded.
Desperately seeking their fallen king, Edmund's grieving warriors followed the howls of an ethereal wolf who cried 'Hic! Hic! Hic!' (unless the wolf had been swigging ale, this is Latin for 'Here! Here! Here!') They found the spectral beast standing guard over their lord's severed head. Later, Edmund received martyrdom, becoming the first patron saint of England – until St George took over. Goes to show, never work with wolves or dragons.
Discover more about Edmund by following the Wolf Trail at the entrance to the to the Esplanade Gardens. Six 'Wolf Trail' markers lead to St Edmund's Chapel and the handsome oaken statue of a howling wolf.
Day 2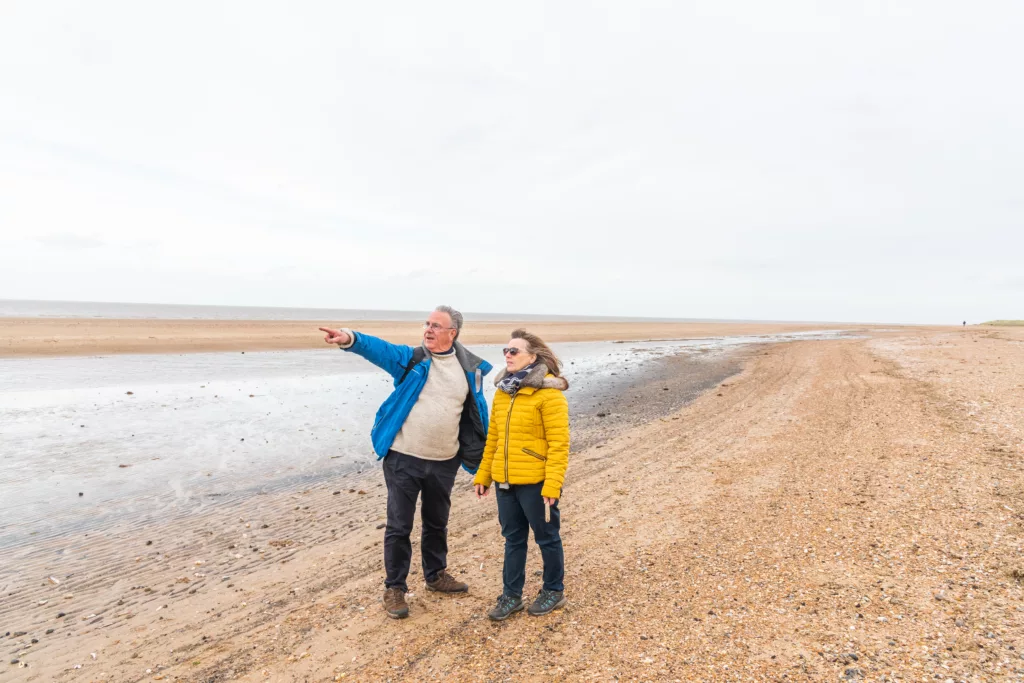 In spring, 2049 BC, early Norfolk dwellers gathered at a place of sacred ground. Impressive oak trees, felled with flint tools, had been carried here to the saltmarsh. The largest stump was placed upside down in a pit, roots pointing up to the sun and moon. It was surrounded by a timber wall, made of 56 stakes standing two metres tall. About 100 metres to the east, further circles of wicker and timber were made. Seahenge and its sister.
Before being discovered in 1998, these ancient timbers had not been touched by human hands for over 4,000 years. What did this liminal place of earth and water mean to our ancestors? Was this where the dead lay under open sky as their spirits moved on? Did the careful placing of mighty trees relate to the pattern of the stars? And in the sister circle, logs seem positioned to bear a coffin or revered object. One of the most important archaeological sites in East Anglia, Seahenge is now conserved and partly on display in Lynn Museum.
Walk across the marshlands of Holme and Thornham where the mystical land shivers with deep history. Then snuggle up, winter rain at the window, and tuck into Elly Griffiths' addictive Ruth Galloway mystery novels. Start with The Crossing Places, featuring a Bronze Age henge discovered on a lonely Norfolk saltmarsh…
The stories of our prehistoric past are written in wood and mud. What do we learn about ourselves from these wild and ancient places?
Day 3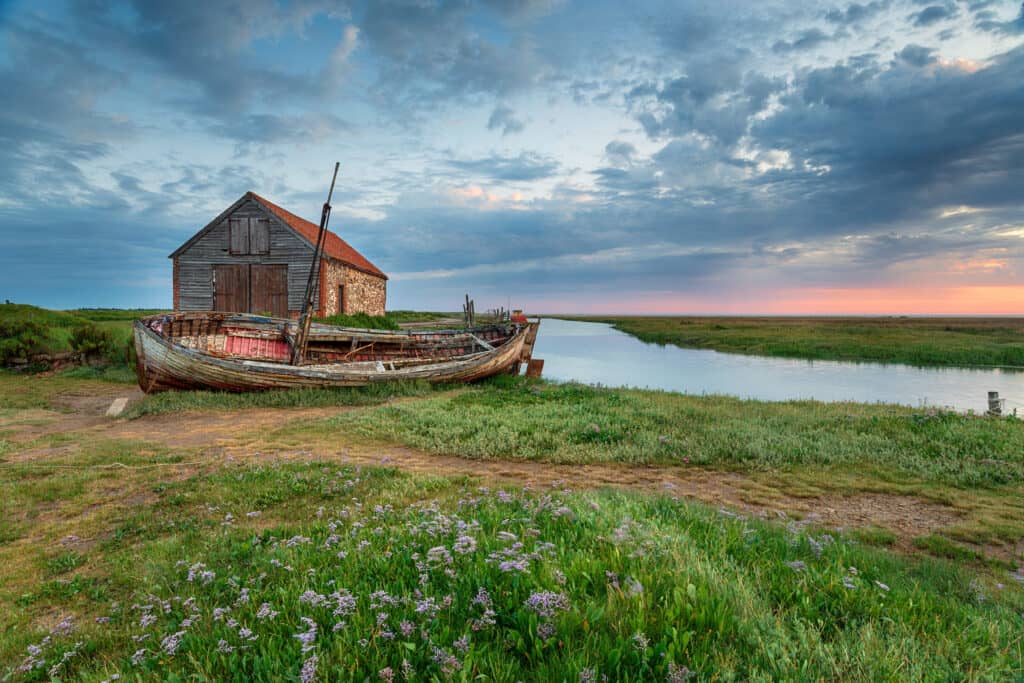 Picture the Industrial Revolution. Does Norfolk spring to mind? Many think industrial history bypassed this rural region but Norfolk's industrial heritage is dotted all across the landscape, from water and windmills to railways, canals, timber plantations, chalk works, sand quarries and factories for making fertiliser, brushes or canning fish.
True, no coal mines opened in Norfolk, but there were coal merchants. Nathaniel Woods was last to use the port at Thornham. His ship, the Jessie Mary, left packed with grain and returned with coal. Her last voyage was in 1914, but Nathaniel's coal barn still stands on Thornham harbour, although the granary was demolished after the great flood of 1953. There's a dedication to Nathaniel on the lych-gate at All Saints' Church.
The church was renovated in part thanks to donations from another enterprising and socially progressive local. Edith Ames Lyde founded the Thornham Art Ironworks in 1887 to provide entertainment, employment and training for villagers. Renowned for highly decorative pieces such as signs, railings, balconies, fire screens and weathervanes, the works made gates and lamps for Sandringham and other great estates including Balmoral Castle, plus royal commission for exhibitions across Europe.
Edith died on a design research trip in Shanghai in 1914 and that fateful year led to most employees becoming casualties of the First World War. In 1920 the Ironworks closed. You can see a sign produced at Thornham Ironworks hanging outside The Orange Tree, still advertising the pub's original name, The Kings Head.
If you fancy creating your own itinerary for a day trip to Norfolk or a longer visit, it couldn't be simpler. Just go to Search Activities and select from our wide range of free and paid-for experiences, saving any that capture your imagination with the click of a button.
Once you've finished, you'll find all the information stored in My Favourite, where you can drag and drop activities to create your own day-by-day itinerary! You can download this to a calendar and even share it with friends.